Mint Truffle Muddy Buddies
This post may contain affiliate links, meaning that I may receive a commission at no cost to you if you use a link provided. All opinions shared are my own. You can review my full disclosure policy here.
I am a muddy buddy fan! There is nothing quicker to whip up for a fun party snack than any version of these tasty treats! Last year I made a Gingerbread Puppy Chow that was crazy good!
So, continuing with my Christmas tradition of muddy buddies, I have made the easiest Mint Truffle variation! This one is probably the easiest flavors to make because it's only four ingredients. I have also learned that these are a fabulous snack to have on hand for your children to munch on as you grocery shop.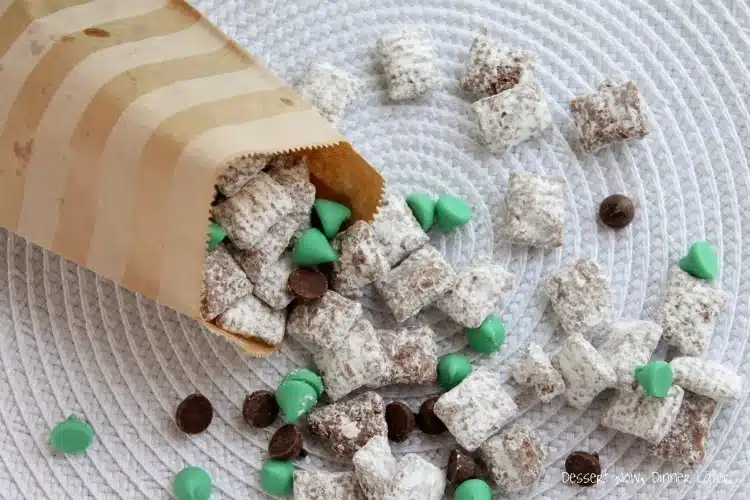 Well, they get a little messy, but my daughter was so quiet & good in the cart the whole time as she snacked on these! Haha. Just sayin'…. Make these on Christmas eve & watch a good old Christmas classic movie & you've got yourself a fun night!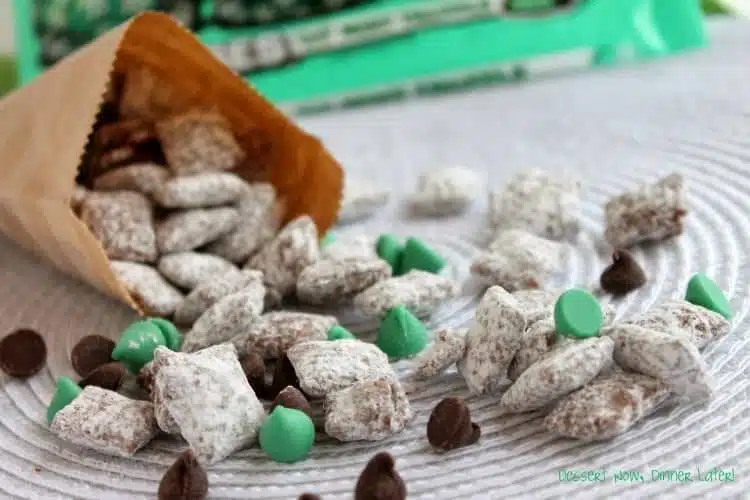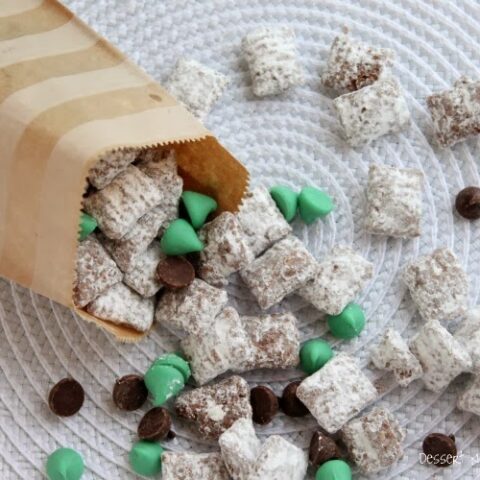 Mint Truffle Muddy Buddies
Ingredients
5 cups Rice Chex Cereal
1 (10oz) bag Hershey's Mint Truffle Kisses
1 Tbsp shortening
1 1/2 cups powdered sugar
Optional: Mint & Semi-Sweet Chocolate Chips for garnish
Instructions
Unwrap the whole bag of Mint Truffle Kisses & place the chocolates into a large bowl with 1 Tablespoon of shortening (this makes it a smoother consistency once it's melted).
Microwave for 30 seconds. Stir. Microwave 15 seconds. Stir. Microwave 15 seconds. Stir. Continue until chocolate is completely melted, but don't burn it. Add cereal to bowl & GENTLY fold the chocolate over the Chex cereal until the it's fully coated.
Place powdered sugar into a gallon-size zip-top baggie. Add the coated cereal, zip the bag shut, & shake the bag until all the cereal is covered with powdered sugar & no longer sticking together. Empty into a bowl & start snacking. *Optional: Toss some mint & semi-sweet chocolate chips into the bowl with the muddy buddies for a pop of color & additional treats to eat.
Nutrition Information:
Yield: 10
Amount Per Serving:
Unsaturated Fat: 0g