Triple Chocolate Brownies
This post may contain affiliate links, meaning that I may receive a commission at no cost to you if you use a link provided. All opinions shared are my own. You can review my full disclosure policy here.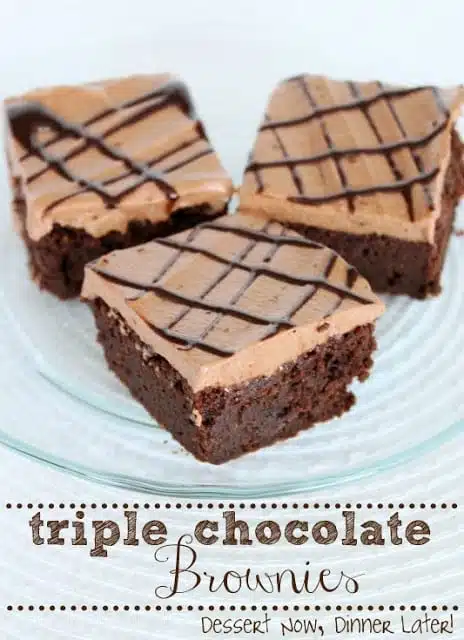 Hi, my name is Amber & I am a chocoholic. It's true! There are few things that can make my day better than a small piece of smooth, velvety chocolate. I keep a private mommy stash in my child-proof pantry for emergencies. It's always best to be prepared!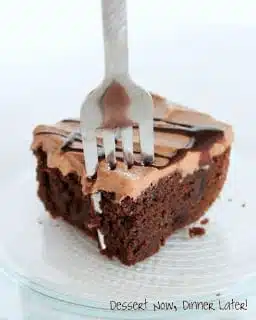 These brownies, are incredibly chocolatey. A fudgy brownie base with chunks of chocolate chips, a light whipped chocolate frosting, & a thin ganache drizzle.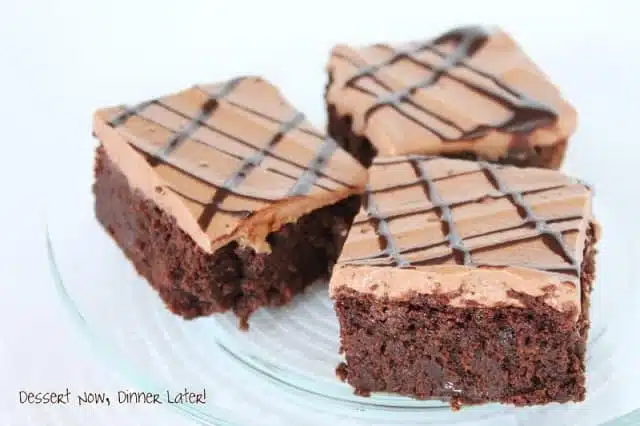 The brownie itself is probably my favorite brownie base of all time. Nothing beats this fudgy homemade brownie recipe, even if it takes longer than a box from the store, it's worth it! You are going to love these chocolate-lover brownies! Feel free to double or triple the frosting & ganache layers. I like to go light on toppings, but I know some people love all the extra goodies.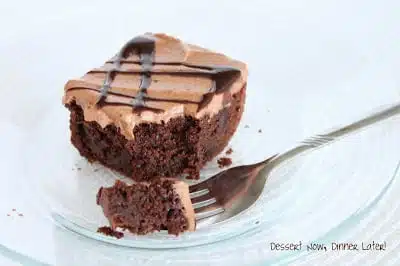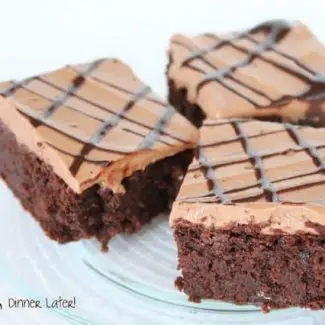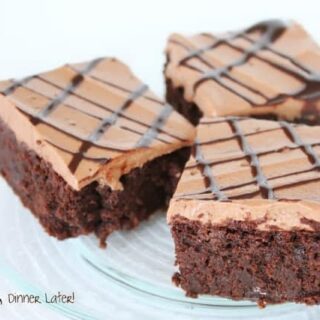 Triple Chocolate Brownies
Ingredients
Brownie:
4 oz unsweetened chocolate baking squares
2/3 cup unsalted butter
3/4 cup semi-sweet chocolate chips + 1/2 cup extra semi-sweet chocolate chips
1 1/3 cup all-purpose flour
1 tsp baking powder
1/2 tsp salt
4 large eggs
2 cups sugar
2 tsp vanilla
Whipped Chocolate Frosting - Makes 1 1/4 cup (Frosting lovers will want to double this part):
1/4 cup sugar
4 Tbsp cocoa
1 cup heavy cream
1 tsp vanilla
Ganache Drizzle (Double or triple this to spread over the whole pan for a 3rd layer):
1/4 cup semi-sweet chocolate chips
2 Tbsp heavy cream
1/8 tsp vanilla
Instructions
For the brownie: Melt chocolate squares, butter & ¾ cup chocolate chips in a saucepan over medium-low heat. Cool 5 minutes. Sift flour, baking powder & salt into a bowl.
In a large bowl, whisk eggs, sugar & vanilla. Add slightly cooled, melted chocolate mixture. Add dry ingredients until incorporated. Fold in extra ½ cup chocolate chips.
Pour batter into a greased 13x9 inch pan & bake at 350*F for 25-30 minutes.
After brownies have cooled completely, make the Whipped Chocolate Frosting: In a stand mixer with the whisk attachment, whisk all the ingredients until stiff peaks. Spread over cooled brownies. (This layer may lose some of it's volume over time.)
For the Ganache Drizzle: Heat ingredients in the microwave for 10 to 15 seconds. Stir until smooth. Drizzle over frosting. Refrigerate until solid. (*If doubling or tripling the ganache for an extra layer of frosting: Heat ingredients in short 10-15 second bursts in the microwave until melted, stirring in between bursts; do not burn chocolate. Allow to cool slightly & then spread over frosting & refrigerate until solid.)
Nutrition Information:
Yield: 24
Amount Per Serving:
Unsaturated Fat: 0g