Crockpot Jerk Pork Tacos with Avocado & Mango Salsa
This post may contain affiliate links, meaning that I may receive a commission at no cost to you if you use a link provided. All opinions shared are my own. You can review my full disclosure policy here.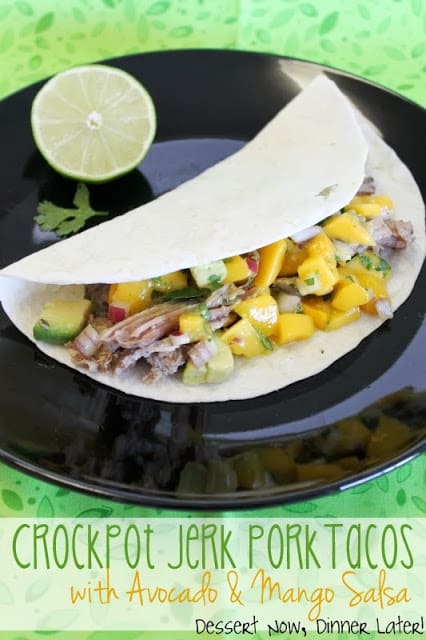 I've been wanting to try something new for dinner & it had to be something in the crock pot because I am dying in this heat. I had bought a pork roast on sale & I found this recipe & absolutely loved it!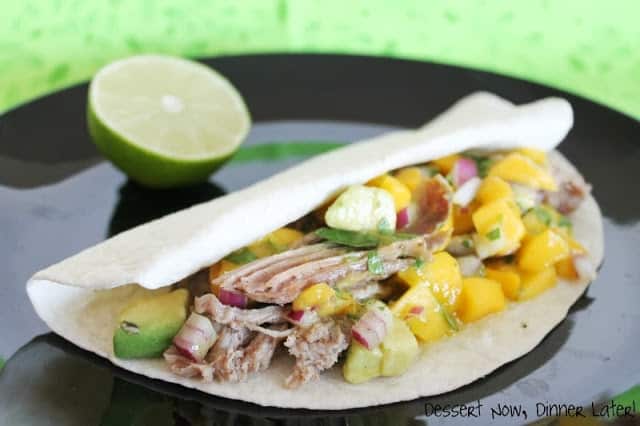 You can totally substitute chicken if you want, just slow-cook it less time. The combination of the savory pork with the sweet, chunky avocado & mango salsa is right on the money! It's a fabulous, perky summer taco.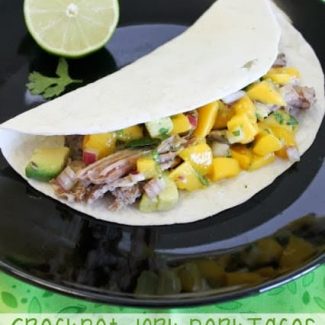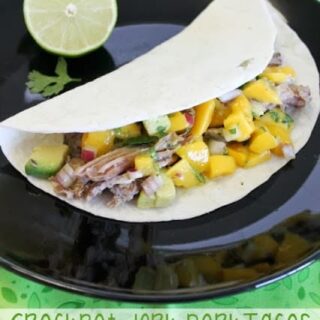 Crockpot Jerk Pork Tacos with Avocado & Mango Salsa
Ingredients
Jerk Rub:
1 Tbsp dried onion flakes
1/2 Tbsp garlic powder
2 tsp dried thyme
1 1/2 tsp kosher salt
1 tsp allspice
1/4 tsp dried nutmeg
1/4 tsp ground cinnamon
1/2 Tbsp sugar
1 tsp black pepper
1/2 tsp cayenne pepper
Pork and Marinade:
3 lbs pork roast
6 cloves garlic, minced
Jerk Rub (from recipe above)
1 fresh lime, squeezed (3-4 Tbsp)
1/2 cup orange juice
Avocado and Mango Salsa:
1 large avocado
2 large mangoes (or about 2 cups frozen chunks, thawed)
3 Tbsp finely diced red onion
2 Tbsp fresh cilantro, chopped
1 fresh lime, squeezed (3-4 Tbsp)
Salt & Pepper
Instructions
Combine all the ingredients in a bowl for the jerk rub & stir together. Makes approximately 4 Tablespoons.
Place pork roast into a crock pot. Using a knife, score the pork roast & rub the minced garlic into the slits. Sprinkle 3 Tablespoons of the jerk rub (saving 1 Tbsp for later) over the pork roast. Pour the lime & orange juices over the top. Let the pork marinate, covered in the fridge for 4 hours, spooning marinade over the top occasionally.
Once the pork has been marinaded, cook it in the crock pot on low for 8-9 hours, or until shreddable. Once meat is tender, remove from crock pot & shred. Strain the juices from the meat & SAVE. Put shredded meat & strained juices back into the crock pot. Add remaining 1 Tbsp jerk seasoning to the mixture, stir & let the pork heat up for another 15-30 minutes on low.
Meanwhile, dice the avocado & mangoes & put them in a medium sized bowl. Add the finely diced red onion, chopped cilantro, and fresh lime juice & season to taste with salt & pepper.
When ready to serve, place meat mixture onto soft flour tortillas & top with salsa. Enjoy!
Nutrition Information:
Yield: 6
Amount Per Serving:
Unsaturated Fat: 0g