Pesto Gnocchi with Sausage and Peppers + Video
This post may contain affiliate links, meaning that I may receive a commission at no cost to you if you use a link provided. All opinions shared are my own. You can review my full disclosure policy here.
This Pesto Gnocchi with Sausage and Peppers whips up in less than 30 minutes for a fresh, vibrant, and hearty dinner!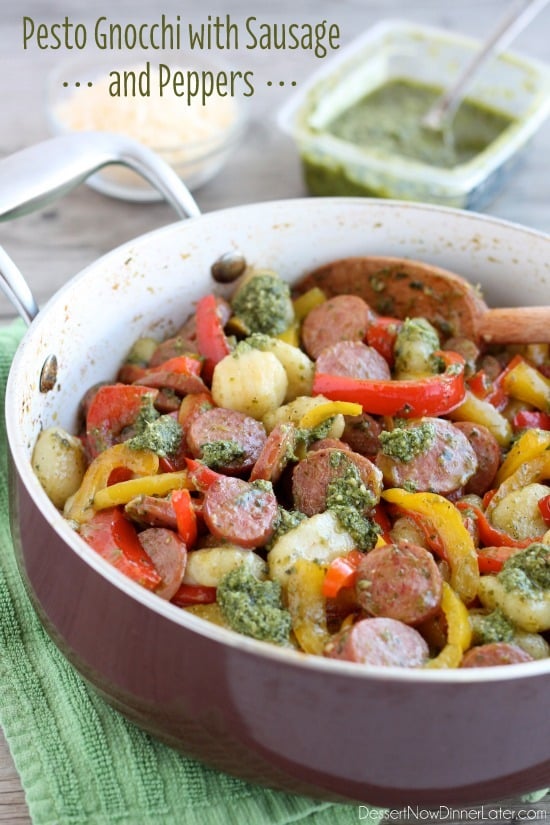 There's just something delicious about Italian food. Maybe it's the herbs and spices, maybe it's the cheeses, but all I know, is I love it! This Pesto Gnocchi with Sausage and Peppers is so FAST to throw together for dinner-time! We're talking 15 to 20 minutes fast! I guess it depends on how fast you can cut veggies and the sausage…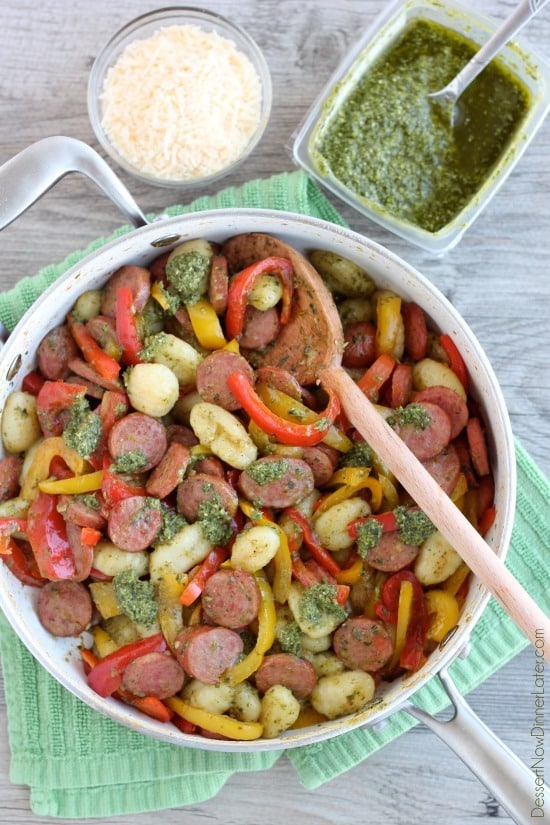 Let's talk about gnocchi! Have you had it? Do you know what it is? It's basically a potato pasta. Just plump, round balls of potato goodness! It cooks up fast, like 3 minutes, in a pot of boiling water!
Now let's talk about pesto! I LOVE PESTO! It's traditionally basil, toasted pine nuts, parmesan, and olive oil blended together. I accidentally killed my pesto plant this year, so I cheated and got store-bought, but let me tell you, I tried a new brand for today's post. It's called Three Bridges Basil Pesto Sauce and you find it in the refrigerated section, but it's the GREENEST jarred/packaged pesto sauce I have ever seen. The ingredients are all things you recognize and can read on the label, which also impressed me, and it was probably the tastiest packaged pesto I have ever had! (This is not sponsored, by the way!) So if you see it, you need to try it!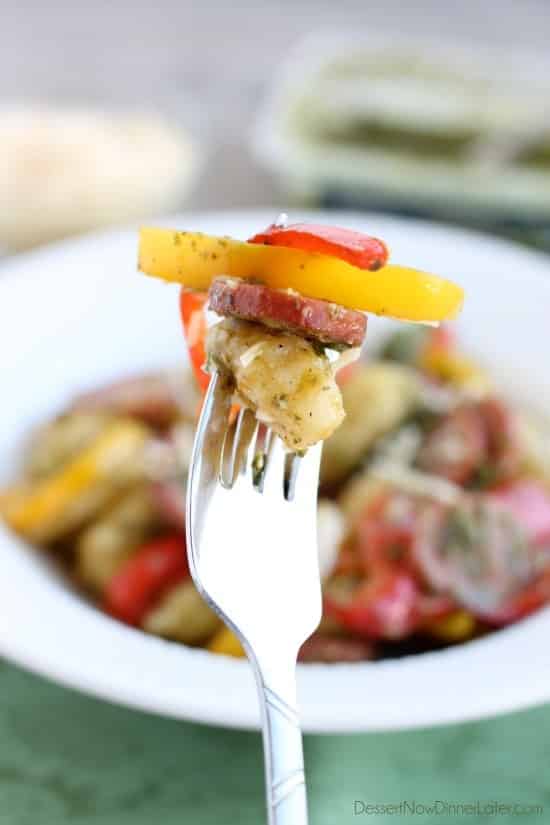 The fresh bell peppers and smoked sausage give this dish color, texture, and heartiness, while the parmesan on top completes the dish! Simple ingredients, simple prep, delicious dinner!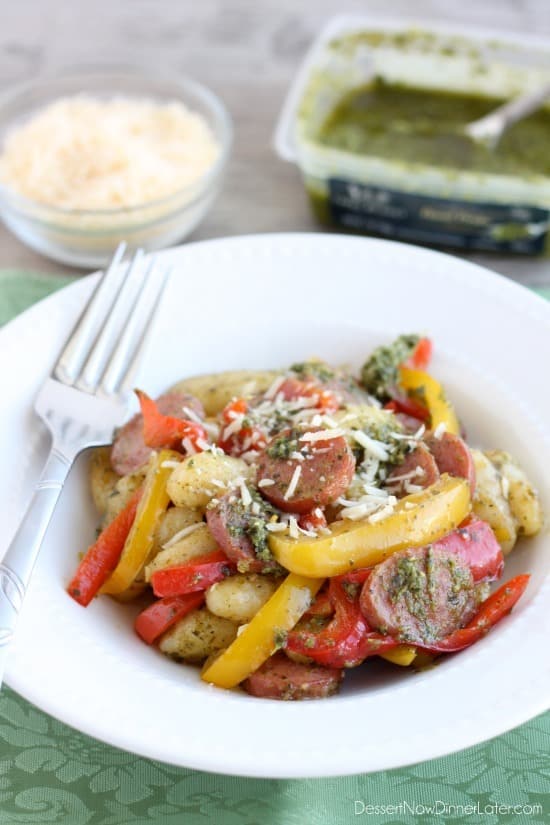 I hope you are as excited to try this dish, as I am about sharing it with you! It's already listed on our dinner rotation again!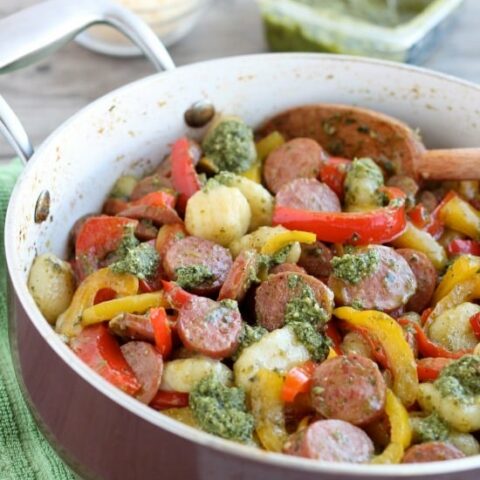 Pesto Gnocchi with Sausage and Peppers
Ingredients
1 Tbsp olive oil
1 tsp minced garlic
13 oz smoked sausage, sliced
1 red pepper, thinly sliced
1 yellow pepper, thinly sliced
16 oz gnocchi
4 Tbsp basil pesto
shredded parmesan cheese
salt and pepper, to taste
Instructions
Set a pot of water on the stove to boil for the gnocchi.
Heat the olive oil in a large skillet. Sauté garlic until fragrant; about 30 seconds. Add smoked sausage and cook until starting to brown.
Add the sliced peppers and cook for another 5 minutes, until tender.
Meanwhile, boil gnocchi until it floats, about 3 minutes. Drain and add to the skillet.
Add pesto and toss everything together. Season additionally with salt and pepper, if needed. Serve with a sprinkle of shredded parmesan cheese.
Nutrition Information:
Yield: 6
Amount Per Serving:
Unsaturated Fat: 0g