Soft-Baked Kitchen Sink Cookies
This post may contain affiliate links, meaning that I may receive a commission at no cost to you if you use a link provided. All opinions shared are my own. You can review my full disclosure policy here.
These huge soft-baked cookies are loaded with literally everything but the kitchen sink! You'll fall in love with them at first bite.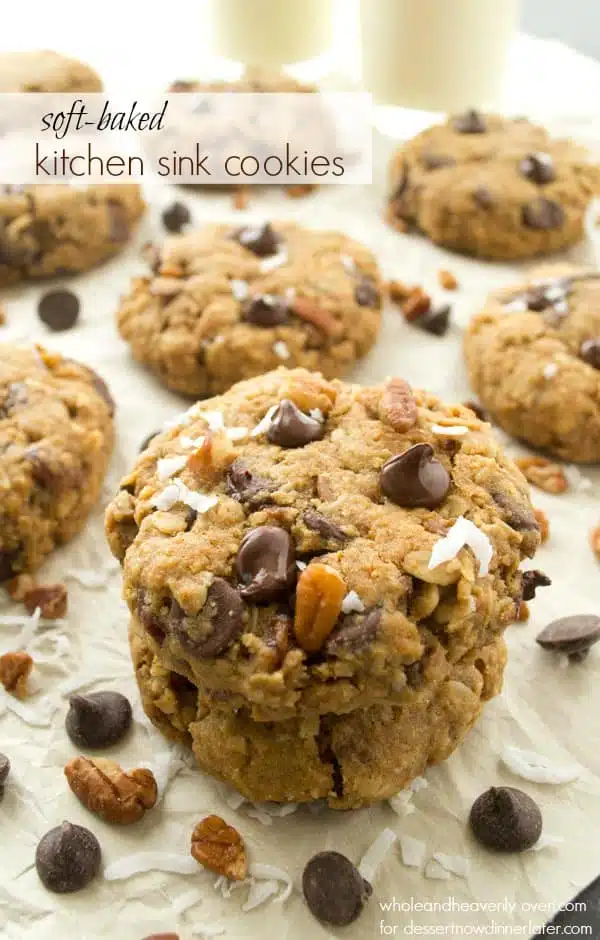 Hey everyone! Happy weekend! Sarah here again from Whole and Heavenly Oven. Today feels like a cookie-kinda day, doesn't it? (what day doesn't call for cookies??)
So guess what? We're doing cookies.
Happy weekend. Sorry did I already say that? Must be the cookies on my brain.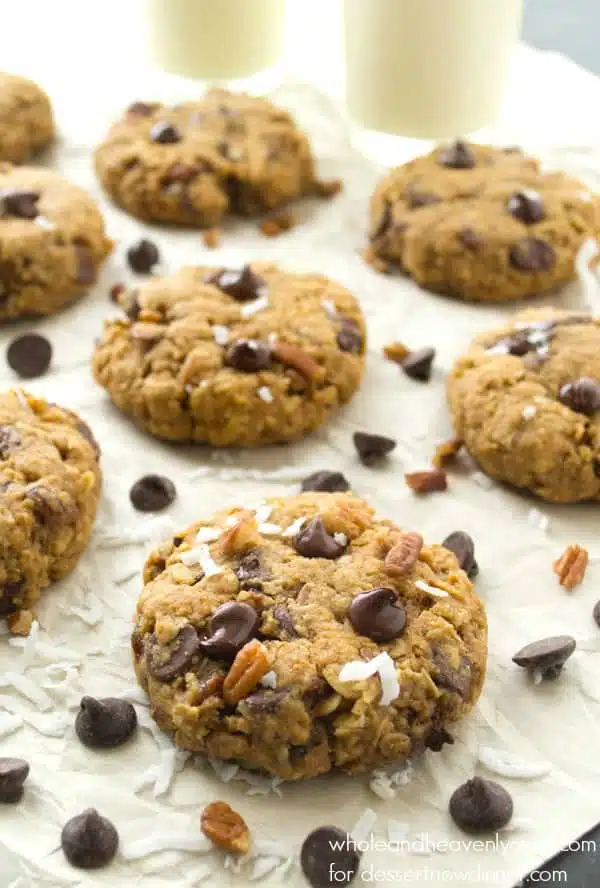 Today I'm sharing my current favorite cookie in pretty much the entire world. Kitchen sink cookies. Otherwise known as THE most loaded cookie ever.
Don't worry. There aren't any faucets or pipes in these cookies. Just a whooooole lotta' awesomeness. 😉
Let's talk about all the yum in these cookies, shall we? We've got the melty chocolate, lots of toasty nuts, nutty oats, chewy raisins, and golden coconut….all wrapped up in a ginormous soft-baked cookie.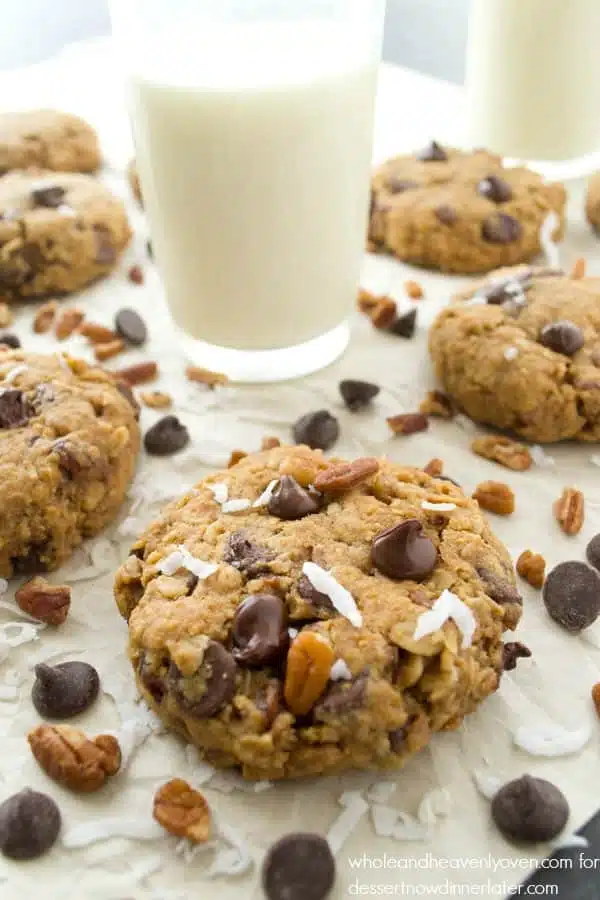 I'm entirely convinced that THESE cookies are the reason treadmills were invented.
O-M-G….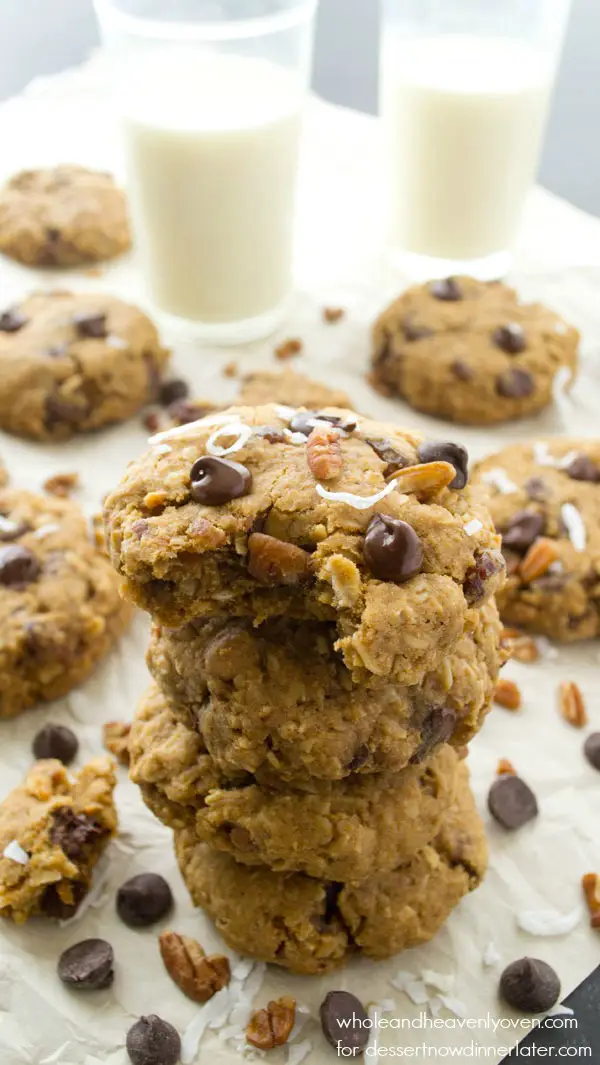 My favorite part? NO chilling of the dough is necessary! These cookies are literally so loaded, it's impossible for them to spread too much. I actually flattened mine slightly before baking to encourage them to spread a little more evenly.
Just mix, mix. Shape 'n' bake. EAT.
And eat, and eat, and eat….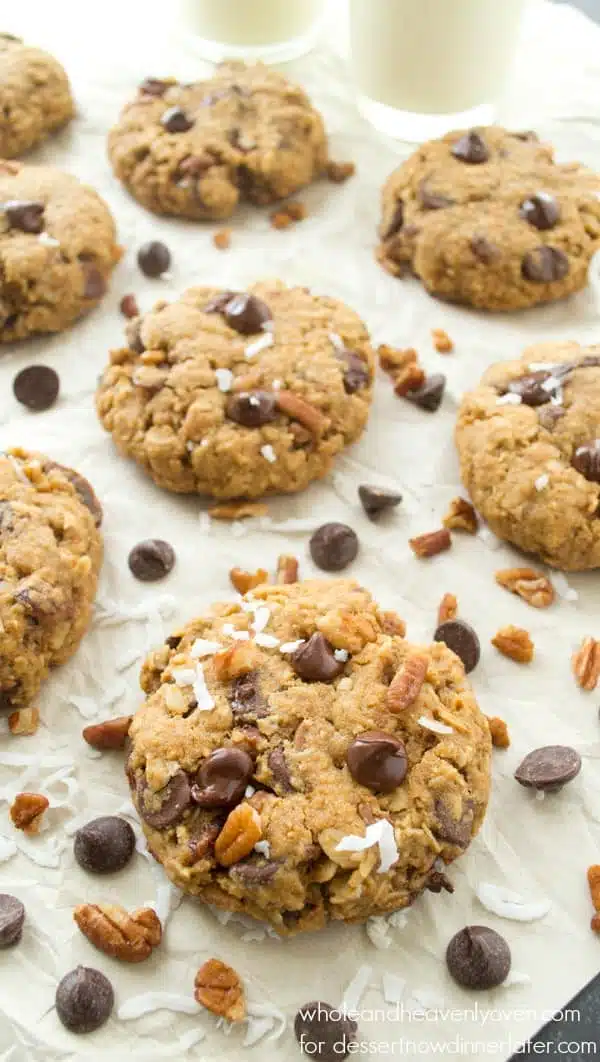 One of my secrets to getting the best depth of flavor in these cookies, is toasting the coconut and walnuts before adding it to the cookie dough. This brings out the nutty-toasty flavors and textures that go beautifully with the pinch of cinnamon and vanilla extract in the cookie dough.
It also ensures that these cookies are gonna turn out PERFECTLY soft and chewy. Seriously, I don't think I've ever had a chewier cookie in my life. Just….wow.
I'm also a total texture-cookie kinda gal, so it would stand to reason that I'm kinda obsessing here…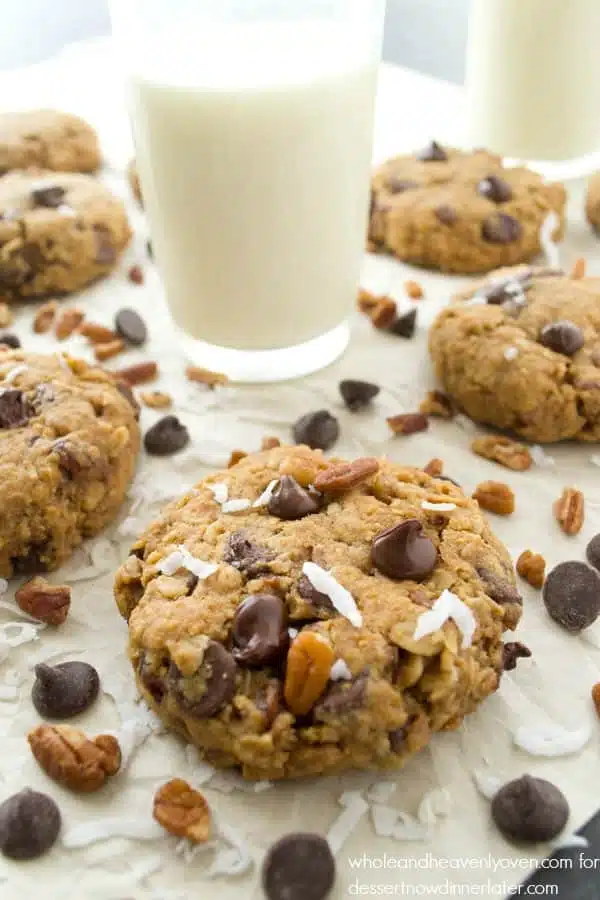 Okay, actually I'm kinda freaking out. These cookies are SO good, guys! If you like your cookies loaded to the max with all of the above, you've just met your new best friend.
I think it goes without saying that milk is just necessary with these cookies. NECESSARY.
Proceed to the recipe at your own risk. You're gonna want to eat the entire batch of these cookies. (read: that's 2 dozen cookies—pull out your fat pants)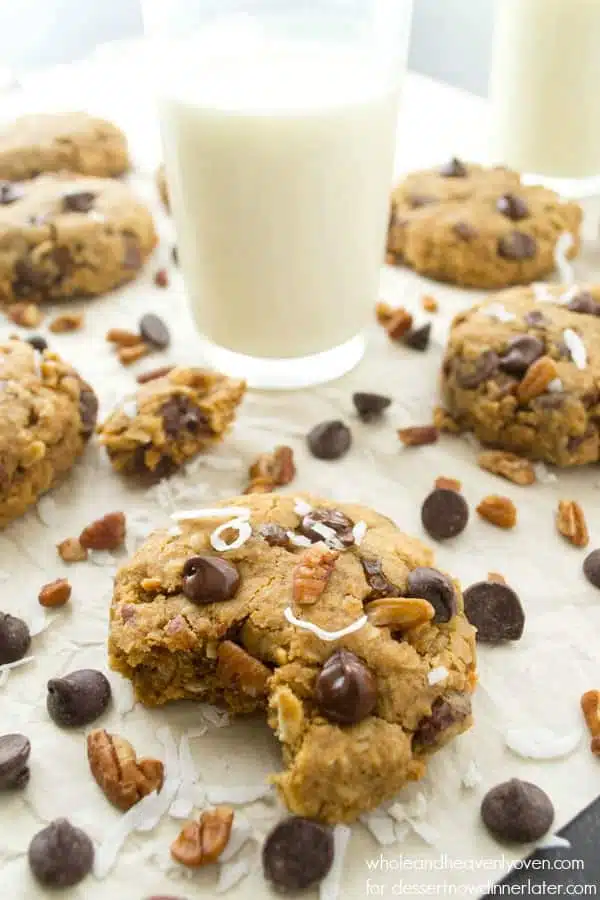 Hope you guys are hungry. It's cookie time!!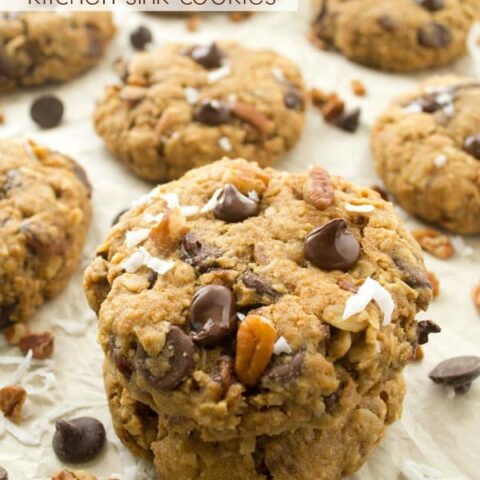 Soft-Baked Kitchen Sink Cookies
These huge soft-baked cookies are loaded with literally everything but the kitchen sink! You'll fall in love with them at first bite.
Ingredients
1 cup unsweetened shredded coconut
1 cup chopped walnuts
1 cup butter, softened
1 cup coconut sugar or brown sugar
2 large eggs
1 teaspoon vanilla extract
2 cups white whole wheat flour
1 teaspoon baking soda
1/2 teaspoon baking powder
1/2 teaspoon salt
1/2 teaspoon ground cinnamon
2 cups quick-cooking oats
1 cup raisins
1 cup semi-sweet chocolate chips
Instructions
Spread coconut and walnuts on a baking sheet lined with parchment paper. Toast at 350 degrees Fahrenheit for 5 to 8 minutes or until golden-brown. (do not burn) Set aside.
In a stand mixer fitted with a paddle attachment, beat butter and sugar until creamy. Mix in eggs and vanilla.
In a large bowl, combine flour, baking soda, baking powder, salt, cinnamon, oats, and toasted coconut/walnut mixture. Add dry mixture to liquid mixture. Mix on medium speed until a dough forms. Mix in raisins and chocolate chips.
Shape dough into 2-inch balls and place on parchment paper-lined baking sheets. Flatten dough balls slightly.
Bake cookies at 350 degrees Fahrenheit for 9 minutes or until just golden (cookies will appear very soft in the middle--this is ok). Cool cookies on baking sheet 5 minutes then transfer to a wire cooling rack.
Nutrition Information:
Yield: 24
Amount Per Serving:
Unsaturated Fat: 0g