Steak & Garlic Parmesan Linguini
This post may contain affiliate links, meaning that I may receive a commission at no cost to you if you use a link provided. All opinions shared are my own. You can review my full disclosure policy here.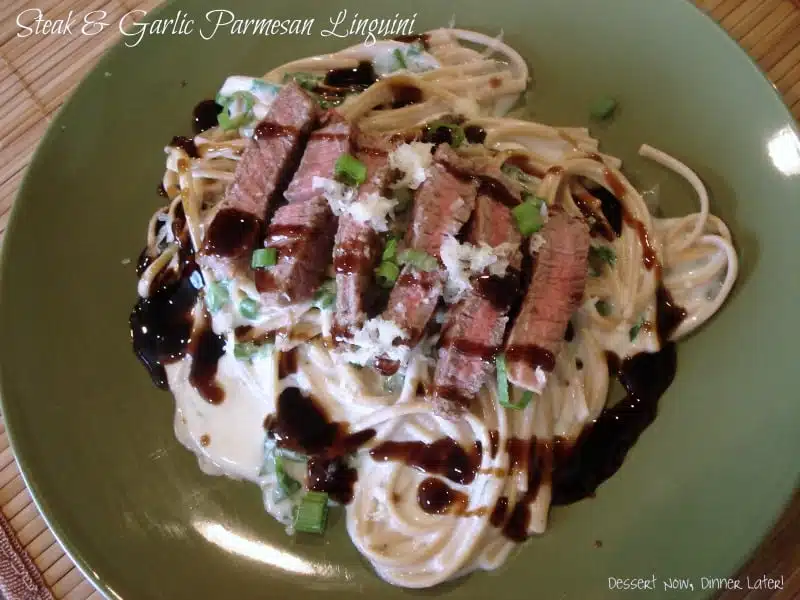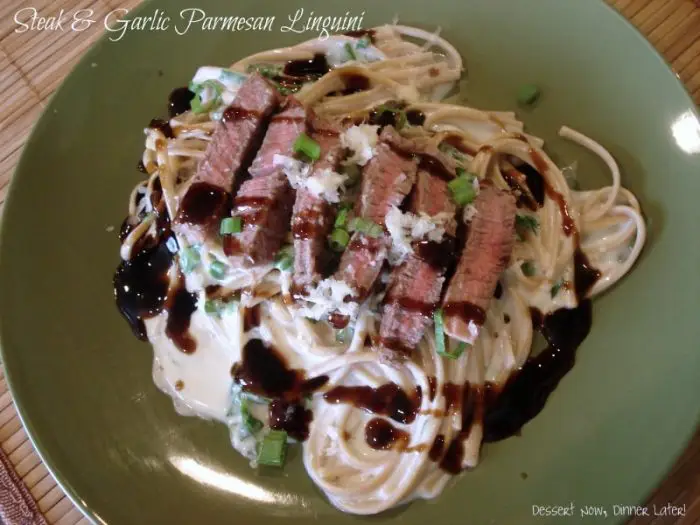 Since we had our dessert in yesterday's post, here is part two: the Dinner Later version of my Valentine's Date Night idea.
This dish is inspired by another of my Olive Garden favorites: Steak Gorgonzola Alfredo. I love the combination of steak, creamy sauce, & zesty balsamic glaze. Perfection!
My hubby & I have made this the past couple of Valentine's Days & any other time we want a "fancier" type meal. The way I've re-done the recipe has made it healthier, but keeping lots of flavor. This dish is one to impress with, so I hope you consider it for your romantic day.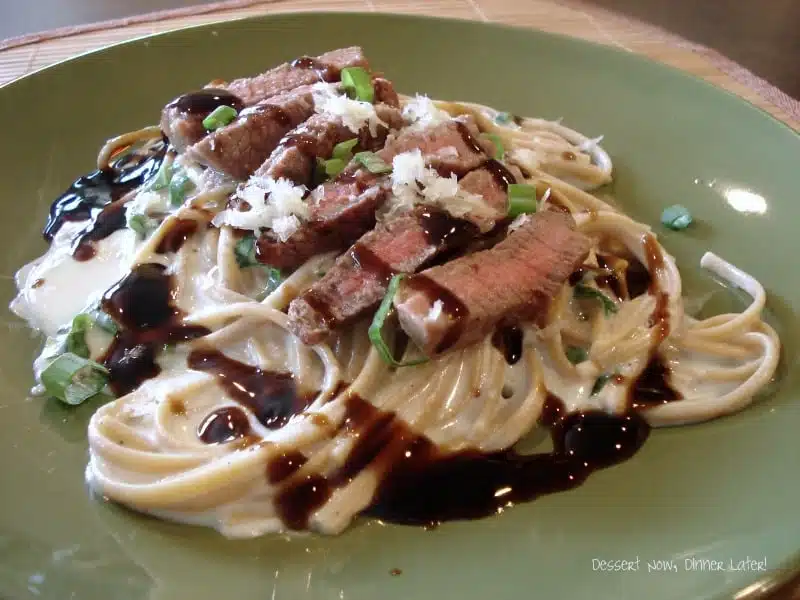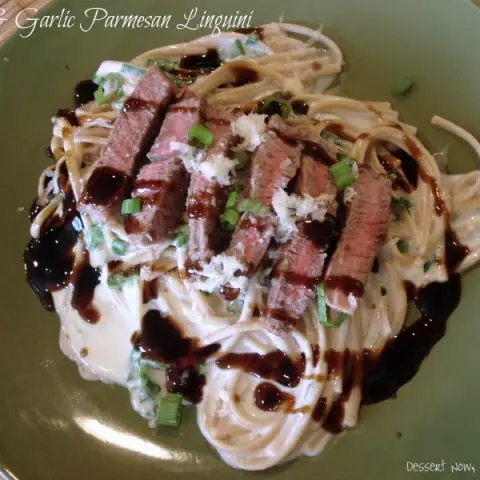 Steak & Garlic Parmesan Linguini
Ingredients
Steak:
1 1/2 lbs eye of round steaks (about four 1 1/2" steaks)
1.5 cups Italian dressing
1 Tbsp chopped rosemary
1 Tbsp lemon juice
Balsamic Glaze:
1/2 cup balsamic vinegar
1/2 cup water
3 Tbsp brown sugar
1 Tbsp cornstarch
1 Tbsp COLD water
Alfredo:
1 Tbsp butter
3 garlic cloves, minced
2 Tbsp flour
1 tsp salt
1/4 tsp ground black pepper
2 cups fat-free milk
4 oz Neufchatel Cream Cheese
1 cup freshly grated parmesan cheese
1 1/2 cups spinach, chopped or chiffonade
1/3 cup green onions, chopped
1/2-3/4 (13.25oz) box of whole wheat linguini
Instructions
STEAK: Combine Italian dressing, rosemary, & lemon juice. Marinade steaks in mixture overnight in a Ziploc bag. (Can marinade 1 hour if desired, but we like to do it overnight.)
Grill steaks when your pasta & sauces are just about done: Remove steaks from marinade & grill according to desired doneness. Let rest a few minutes before slicing & placing on pasta.
BALSAMIC GLAZE: In a small saucepan heat balsamic vinegar, ½ cup water, & brown sugar until boiling. Whisk 1 Tbsp cold water & cornstarch in a small bowl to make a slurry. Once balsamic mixture is boiling add slurry & whisk until it's thick & glossy. Hold glaze on low temperature until ready to serve with steak & pasta.
ALFREDO: Make alfredo sauce by melting butter & sauteing garlic for about 30 seconds. Add flour, salt & pepper, to make a roux. Gradually whisk in milk. Let heat until boiling & thickens slightly. Remove from heat & add cream cheese & grated parmesan. Stir until cheese melts & let stand. Will thicken as it cool slightly. (*If you want to cheat & buy store bought alfredo, I find adding extra garlic, salt & pepper, makes it taste better & then you can just add the greens.)
In a separate pot, boil enough water for the pasta. Cook pasta until al dente. once pasta is cooked, add spinach & green onions to the alfredo sauce. Toss pasta with sauce.
ASSEMBLE: Place desired amount of pasta with sauce on the center of a plate.
Slice steak & fan over the top of the pasta.
Drizzle balsamic glaze on top & sprinkle with extra shredded parmesan.
Top with extra chopped green onions.
Enjoy with a side salad, breadsticks, & a bubbly drink!