Instant Pot French Dip Sandwiches + Video
This post may contain affiliate links, meaning that I may receive a commission at no cost to you if you use a link provided. All opinions shared are my own. You can review my full disclosure policy here.
Instant Pot French Dip Sandwiches are full of fork-tender beef roast cooked in a flavorful broth that makes the perfect au jus dipping sauce. A family favorite, easy pressure cooker dinner!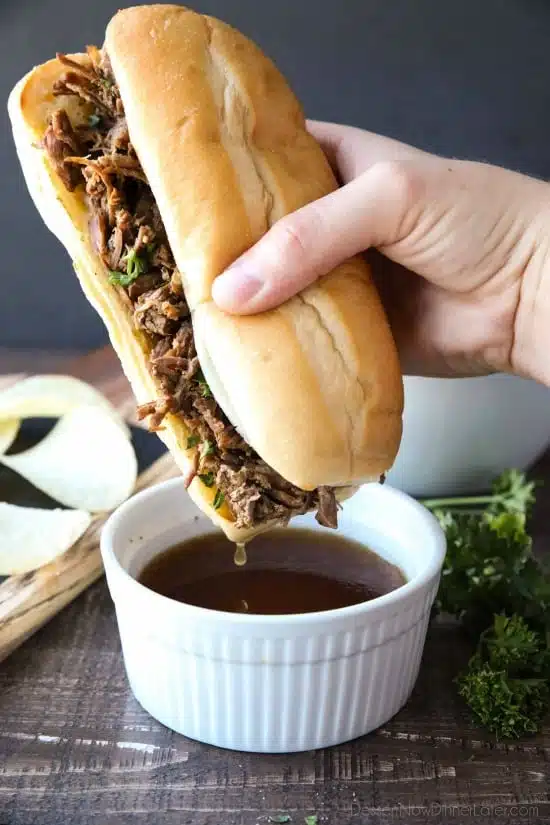 If there is one meal I feel that I have perfected in the instant pot, I would say it's these Instant Pot French Dip Sandwiches! We make them A LOT. I love how tender the meat gets in the pressure cooker and it's ridiculously easy! I even prefer this over our slow cooker method.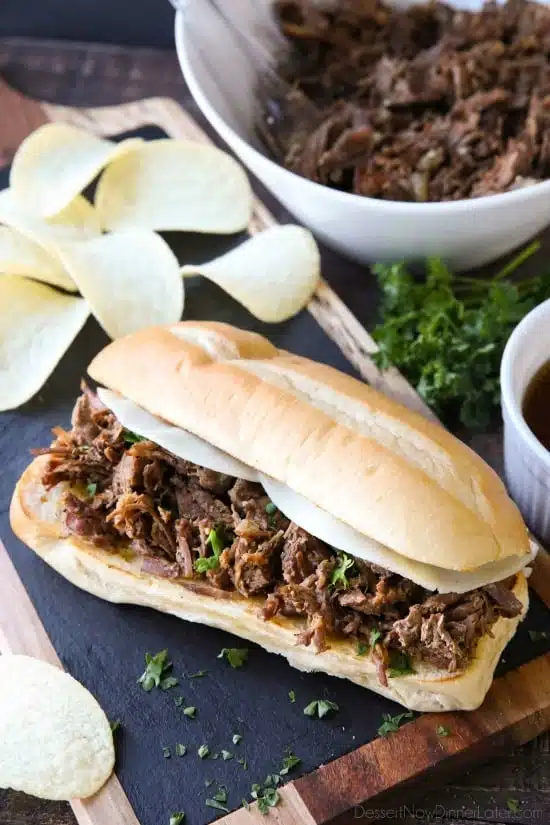 The trick is cubing your meat so it cooks faster and is easier to shred. We've done a whole roast in the instant pot, but I haven't perfected the timing on that yet to make it super tender. Hopefully soon!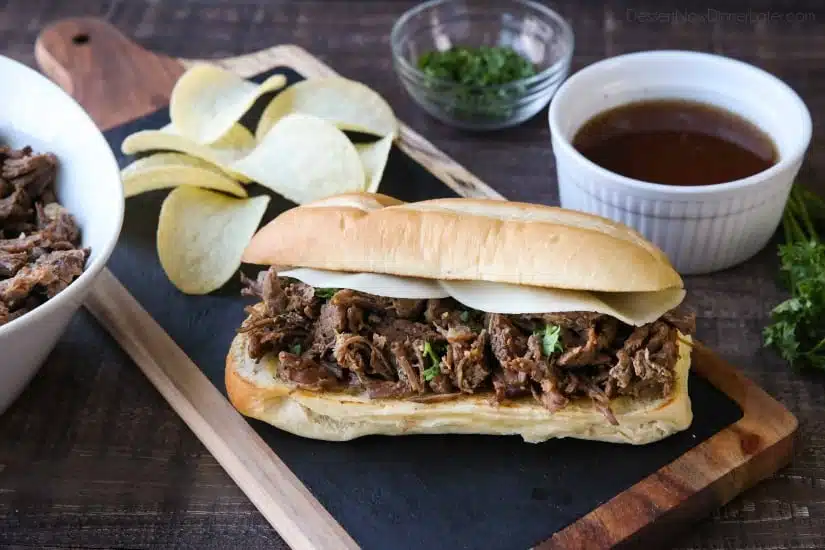 Cutting up the meat beforehand is simple, and actually makes the shredding faster and easier. And by shredding, I mean pressing with a fork, because this meat is super tender it falls apart with very little effort! Plus, it's the perfect size for French Dip Sandwiches.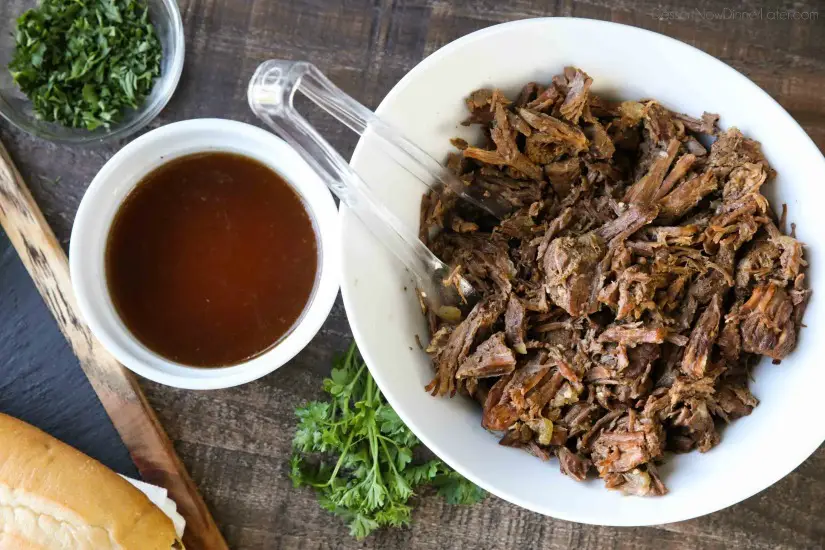 We love toasting the hoagie bread with garlic butter, and topping the meat with some provolone cheese. The au jus for dipping is full of flavor because it was made with the meat. All you have to do is strain it.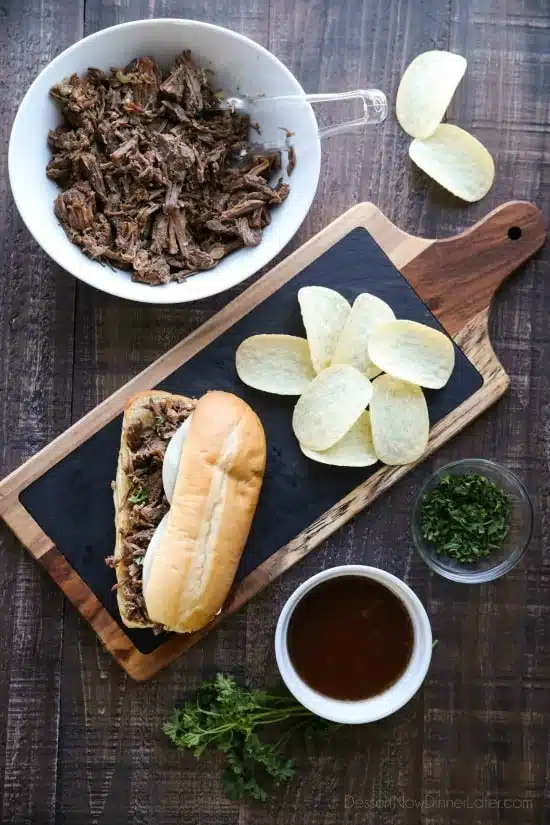 These Instant Pot French Dip Sandwiches are so good, and so simple! You will love them! Check out the video to see just how easy it is to make them and enjoy!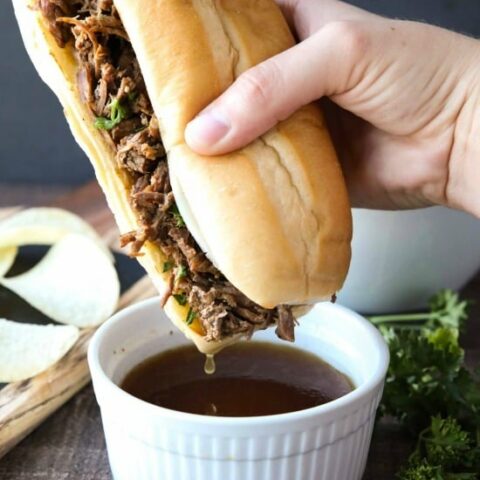 Instant Pot French Dip Sandwiches
Prep Time: 15 minutes
Cook Time: 45 minutes
Total Time: 1 hour
Yield: 8
Ingredients
3 lbs beef roast, cut into 2-inch cubes
2 Tbsp oil, divided (olive, vegetable, canola, etc.)
4 tsp low-sodium steak seasoning, divided
1 large onion, sliced
1 Tbsp worcestershire sauce
1 1/2 cups low-sodium beef broth
sub rolls
provolone cheese slices
Instructions
Slice onion and cube meat. Heat instant pot to hot on "Sauté" option. Place 1 Tbsp of oil in the hot pot. Add onions and 2 tsp of steak seasoning. Cook until starting to brown/caramelize, stirring occasionally. Remove onions with a spoon. Set aside.
Add 1 Tbsp of oil to the hot pot. Add cubed beef roast and 2 tsp steak seasoning. Stir just enough to sear the meat a little bit. Add onions, worcestershire sauce, and beef broth.
Close and lock the lid and make sure the vent on top is closed.
Cancel "Sauté" button and press the "Meat/Stew" button, adjusting the time to 45 minutes.
Let cook. Once finished, turn the vent/quick release valve to the open position until you no longer hear or see steam, and the float valve is down.
Open lid. Using a slotted spoon, scoop the meat out of the instant pot and shred with a fork. Drain the broth/au jus with a fine mesh sieve.
Toast sub rolls with butter (or garlic butter) in a large pan until golden brown. Fill with meat, and top with provolone cheese. Serve with au jus for dipping. Enjoy!
Nutrition Information:
Yield: 8
Amount Per Serving:
Unsaturated Fat: 0g