Baked Honey Lime Chicken Taquitos
This post may contain affiliate links, meaning that I may receive a commission at no cost to you if you use a link provided. All opinions shared are my own. You can review my full disclosure policy here.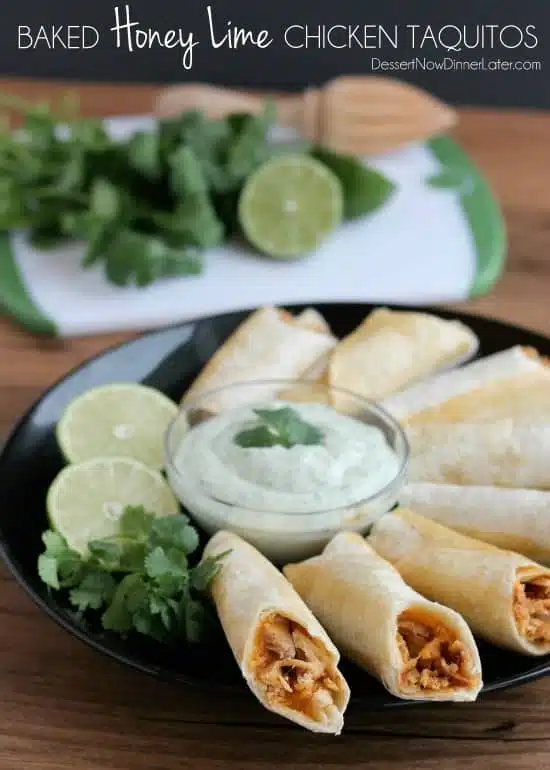 Oh. My. Gosh. You guys! These Baked Honey Lime Chicken Taquitos are EPIC! Like I can't wait to make them again next week epic! They're sweet, they're savory, they are little bites of heaven, picky eater approved and just plain awesome!
I'm a southwest flavor kind of gal, so I love smokey cumin, chili powder, and tangy lime flavors combined in anything I can get it in! I am just so excited about sharing these with you, that I really need to just calm down already. Phew! For real… Make these for an appetizer at your next party, and I promise you, they will be gone first.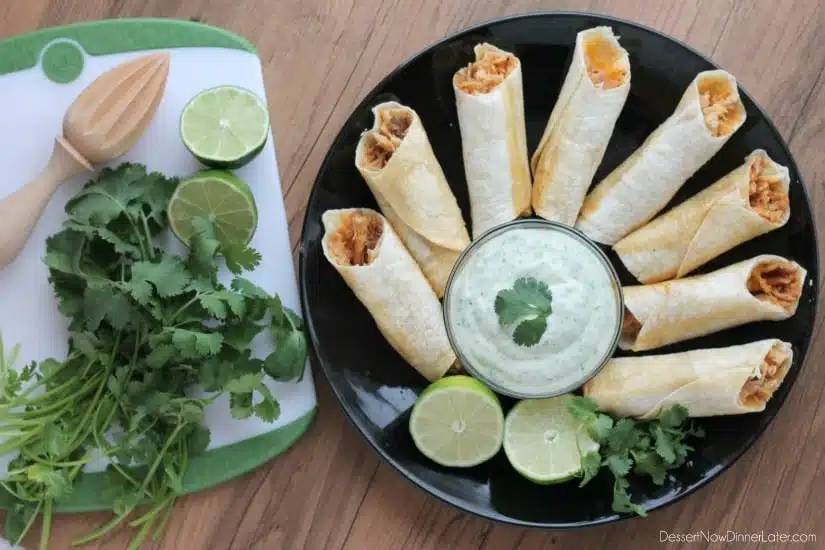 And don't get me started about the dip either. Creamy, cool, cilantro perfection with a little verde flair. You want this! Oh and another one of my favorite things about this recipe, is that it uses ROTISSERIE CHICKEN!
I buy one big rotisserie chicken at Sam's Club, shred it, split the meat in half or thirds, depending on how much meat I got, freeze what I don't use right away and I can make this again and again later on. I'm telling you, it's on next week's menu with my leftover chicken in the freezer right now. The best! Make it!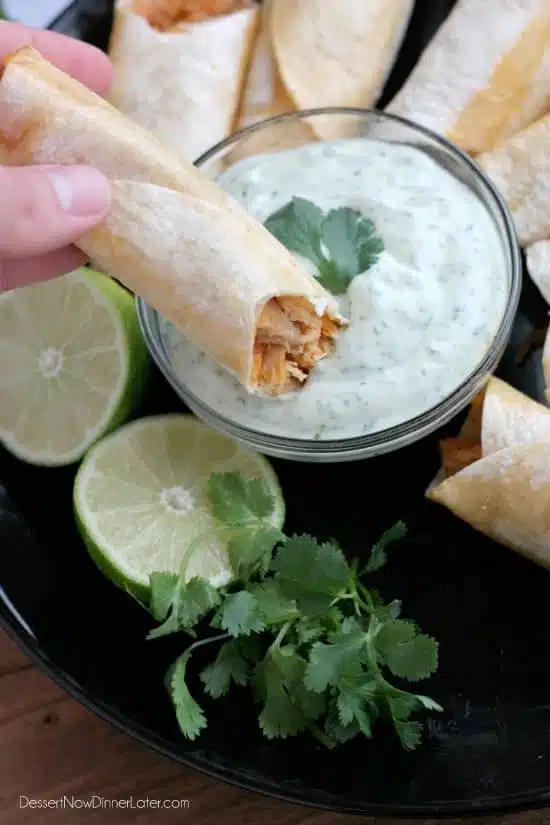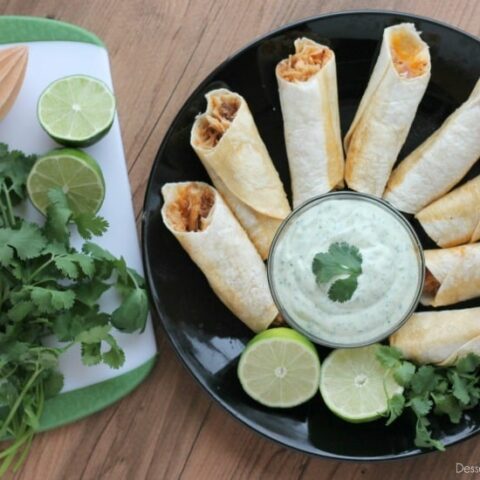 Baked Honey Lime Chicken Taquitos
Ingredients
Honey Lime Chicken Taquitos:
3 cups cooked, shredded chicken (Rotisserie chicken is awesome for this!)
2 Tbsp fresh lime juice
1/3 cup honey
1 Tbsp chili powder
1 tsp cumin
1/2 tsp garlic powder
1/2 tsp kosher salt
2 cups shredded cheddar cheese
10 soft taco sized flour tortillas
1 Tbsp olive oil
1 tsp kosher salt, for sprinkling on top
Cilantro Lime Cream:
1 cup light sour cream
1/3 cup green taco sauce, medium heat
1 Tbsp fresh lime juice
1/2 tsp salt
1/2 bunch fresh cilantro
Instructions
Preheat oven to 350 degrees Fahrenheit.
In a large bowl, combine chicken, lime juice, honey, chili powder, cumin, garlic powder, and kosher salt; mix to coat.
Lay out your tortillas and divide chicken evenly in a line on the center of each tortilla. Top each one with cheese. Roll each tortilla tightly, leaving the ends open, and place them on a baking sheet sprayed with cooking spray.
Brush the tops with the olive oil and sprinkle with salt.
Bake 5 minutes, flip them over. Bake 5 minutes more, flip them over again. Bake 5 more final minutes and you are done, for 15 minutes baking time total. (Make sure the centers have reached 165 degrees Fahrenheit.)
In a food processor or blender, combine all ingredients for the cilantro lime cream and blend until smooth. Dip hot taquitos in the cool dip. Enjoy!
Nutrition Information:
Yield: 5
Amount Per Serving:
Unsaturated Fat: 0g