Cheesy Potatoes & Ham Casserole
This post may contain affiliate links, meaning that I may receive a commission at no cost to you if you use a link provided. All opinions shared are my own. You can review my full disclosure policy here.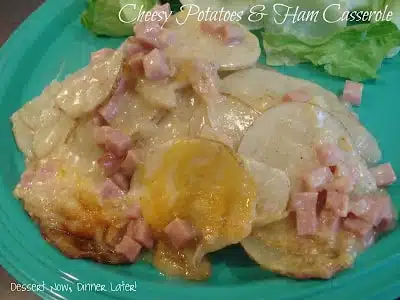 When I was working in a restaurant that also catered, we made a lot of scalloped or funeral type potatoes for the catered events.
We would have bags of diced potatoes already prepped that we would dump into a big bowl, put our sauces & spices in, & with gloves, dig in with our hands & mix it all up. It was kind of fun actually.
This recipe is basically the same one I made while working in that restaurant, but made into a meal with ham.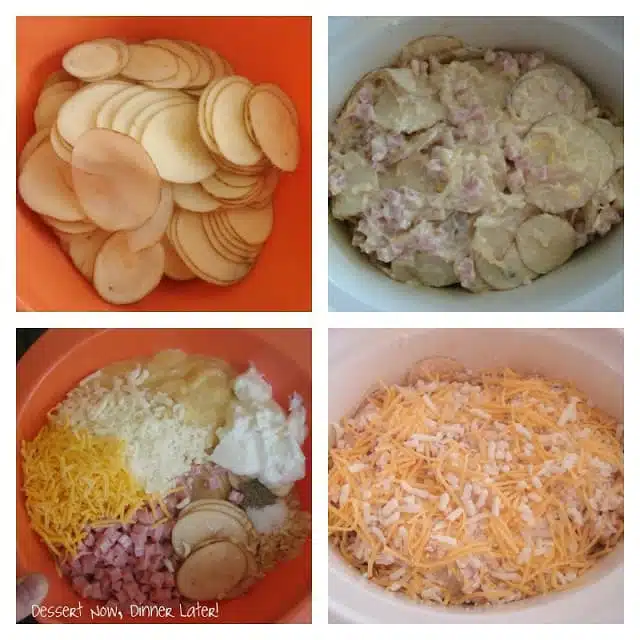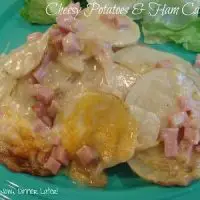 Cheesy Potatoes & Ham Casserole
Ingredients
3 medium potatoes, scrubbed & rinsed
1/2 cup sour cream
1 can cream of chicken soup
2/3 cup of cheese, plus extra for the top (I use half cheddar, half mozzarella)
2 Tbsp dehydrated onion OR 1/4 cup fresh onion small diced OR 2 tsp onion powder
1 tsp salt
1/2 tsp pepper
8 oz of small diced ham
Instructions
Using a mandoline, thinly slice the potatoes. You may also small dice them, if you don't have a mandoline.
In a large bowl, combine sour cream, cream of chicken soup, ⅔ cup of cheese, dehydrated onion, salt & pepper.
Add sliced potatoes & ham to the soup mixture & combine thoroughly.
Spray the inside of a 4QT(+) crockpot, & scoop in the potatoes. Top with extra shredded cheese (& even panko bread crumbs if desired.)
Cook on low for 4-6 hours.
If using an oven cover the casserole with foil & bake at 350*F for 45-60 minutes or until potatoes are cooked.