Bacon Potato Salad
This post may contain affiliate links, meaning that I may receive a commission at no cost to you if you use a link provided. All opinions shared are my own. You can review my full disclosure policy here.
There's no mayo in this flavorful Bacon Potato Salad that's dressed with an easy garlic and honey-mustard vinaigrette. Delicious warm or cold, you'll enjoy making this zesty Bacon Potato Salad for picnics, potlucks, parties, and events!
*This post is brought to you by Farberware. Thanks for supporting the brands that make Dessert Now Dinner Later possible.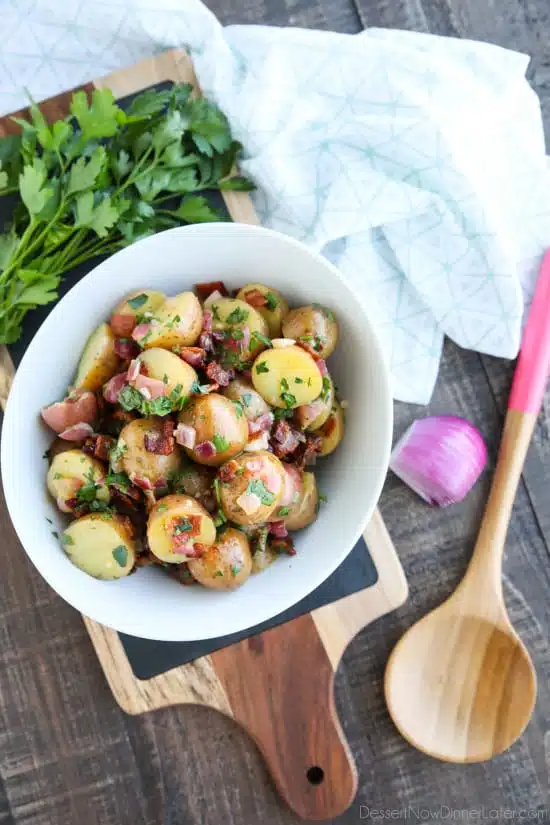 When I was a culinary student, I took a class called World Cuisines. In that class we made a German Potato Salad that was served warm and it was absolutely delicious!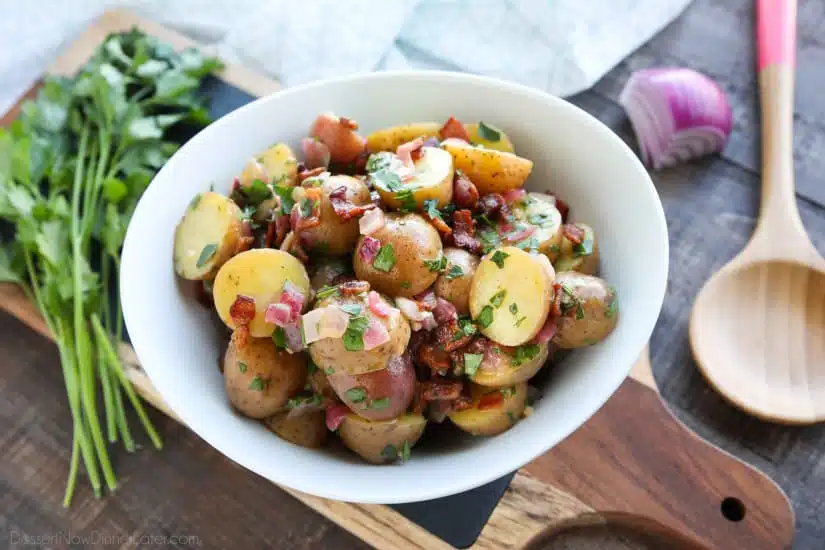 Bacon Potato Salad
I've re-vamped that recipe into this Bacon Potato Salad with the addition of garlic, and I used honey instead of sugar. It reminds me a lot of the sauce that I use in my recipe for One Pan Honey Garlic Chicken and Vegetables, which we love.
The best part about this bacon potato salad is that you can eat it warm or cold. It's delicious both ways, which makes it great to take along for picnics or potlucks.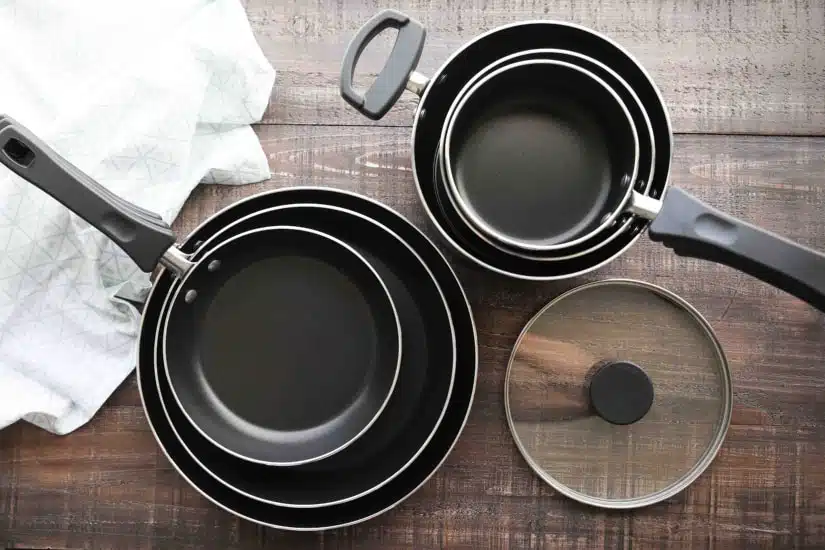 Farberware Cookware
I used my new Stacked and Intact™ Farberware Neat Nest Collection of saucepans and skillets to make this recipe. If you've got a small kitchen, or just want an innovative space-saving solution, then these pans are the perfect fit. You can find them at Kohl's.
The pans and lids nest together for easy storage. The lids have flat handles that stack between each pan, and the handles have hooks on them, so that the pots and pans hover over each other preventing scratches, dings, or dents. Seriously, where have these been all my life?!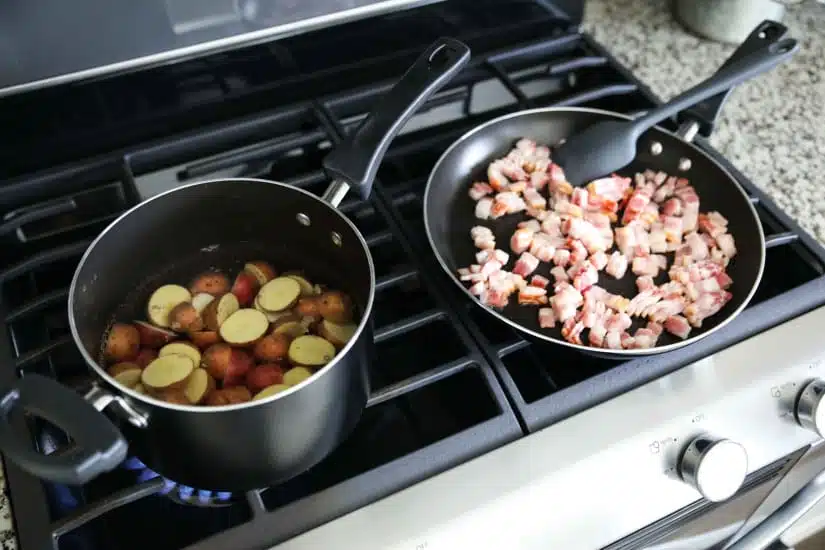 National Parks
Farberware has proudly partnered with the National Parks Foundation, contributing an annual donation of $100,000 to aid with the conservancy of National Parks.
Where I live in Utah we have 9 National Parks and Monuments around the state, so that's great news for me. There is so much beauty to be enjoyed across my state and others. If you're looking for a new place to explore, you can look for a National Park near you.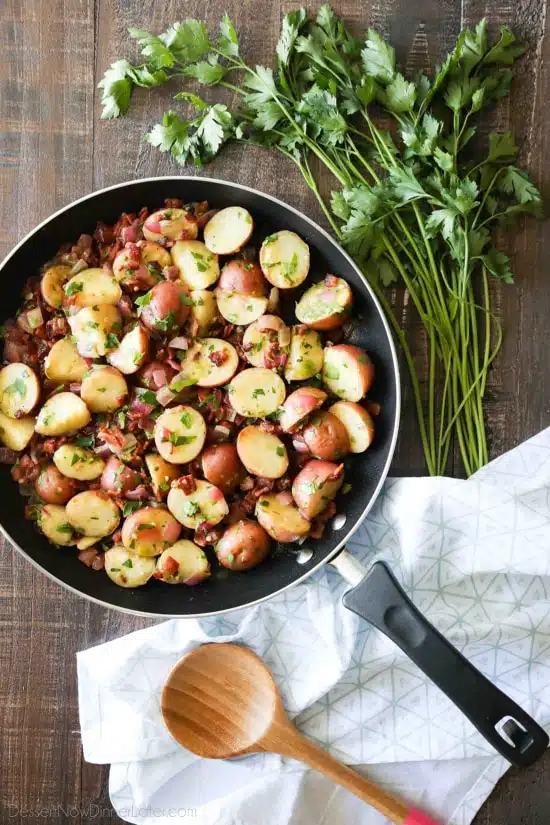 Family Field Trip
Since we live in Northern Utah, and most of the National Parks are in Southern Utah, our nearest National Monument is the Golden Spike National Historic Site, where the first transcontinental railroad was completed.
We had never been before, so we picked a day, packed up our bacon potato salad to take with us, and went on a fun family field trip to go see the trains. My kids were pretty darn excited!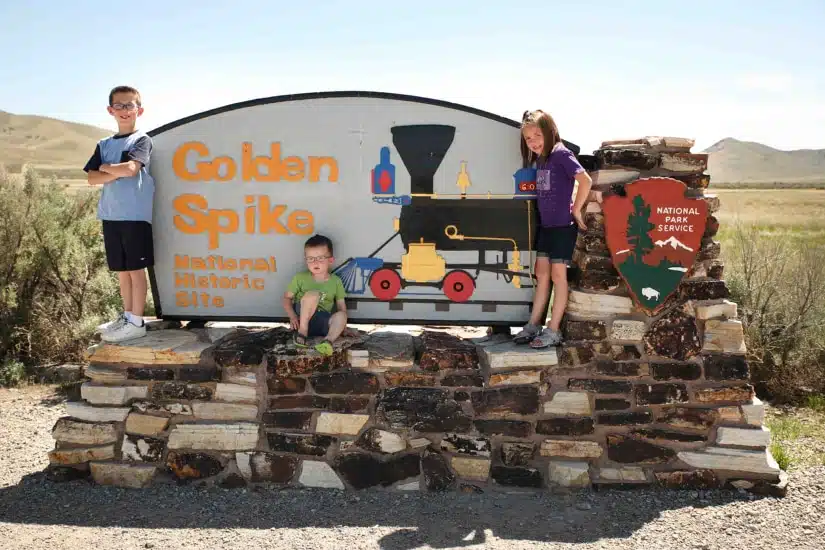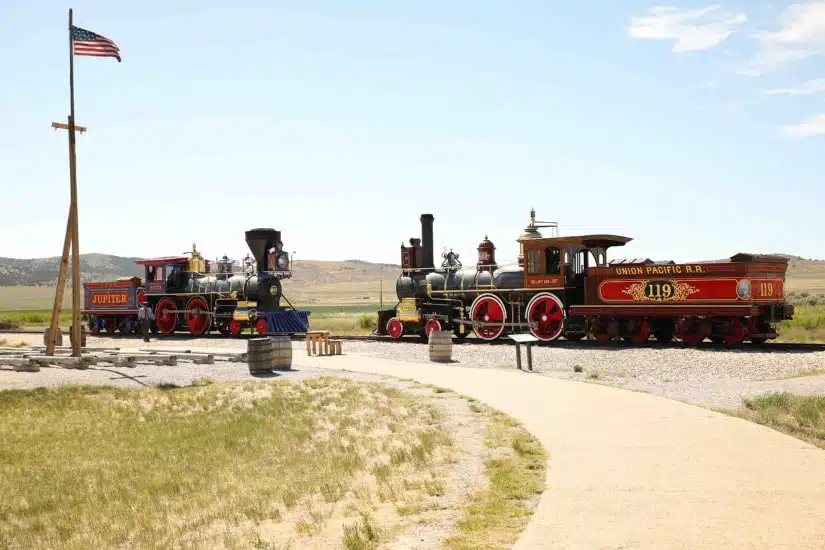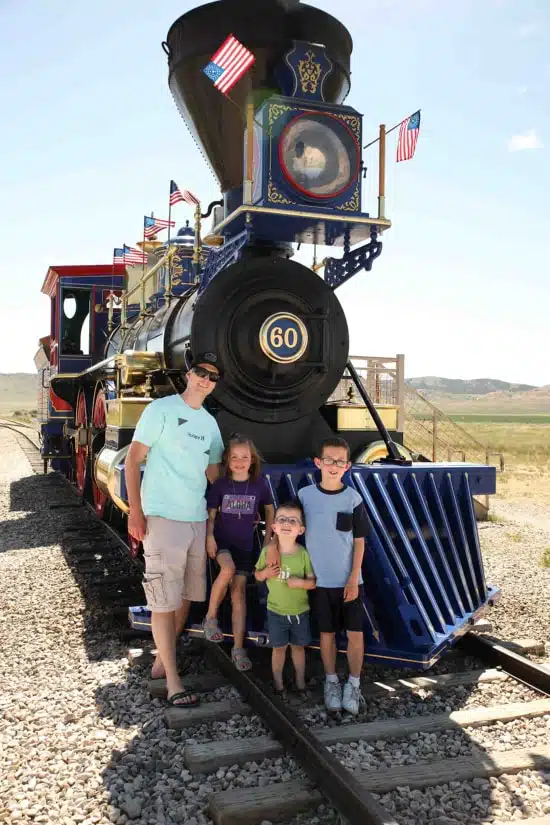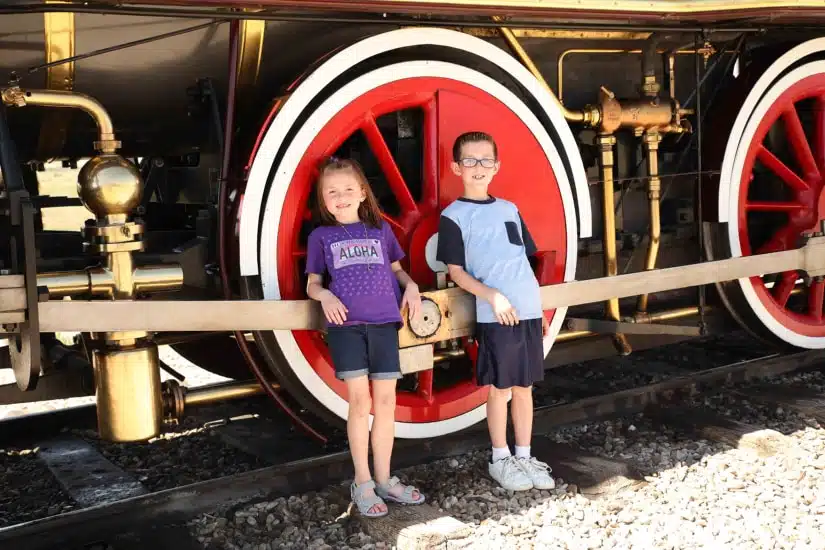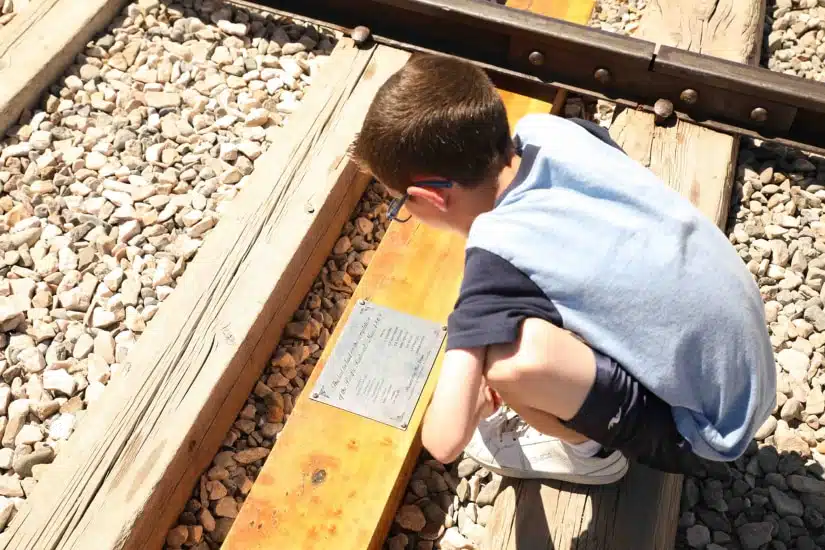 My son really loved getting to read about the history of Golden Spike. Here he is reading about the last tie laid on completion of the Pacific Railroad.
We've decided that we need to visit more National Parks in the future! They even have a program where 4th graders and their guests get in free! My son is in 3rd grade, but next year we are totally taking advantage of that!
Our Bacon Potato Salad was perfect to pack along for this trip. We saw the trains, and then fueled up for the trip back home.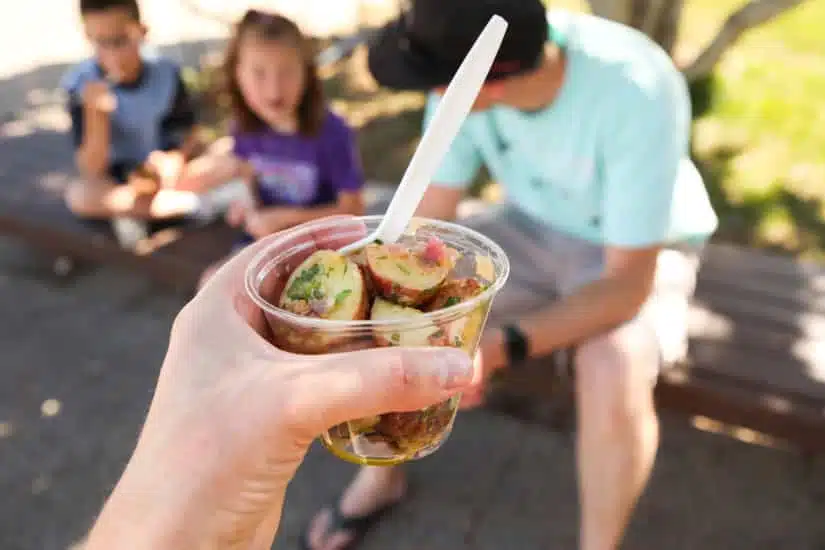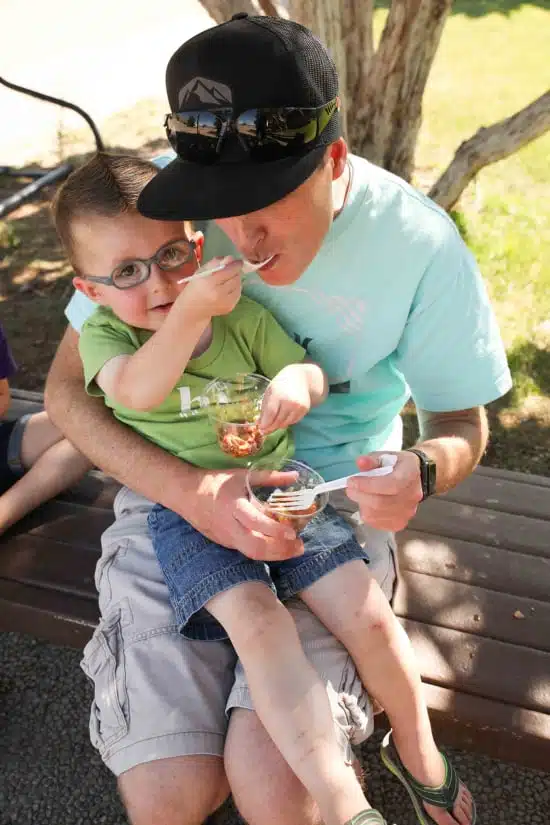 Recipe
This Bacon Potato Salad is so delicious! Bring it on your next outing! You are going to love it!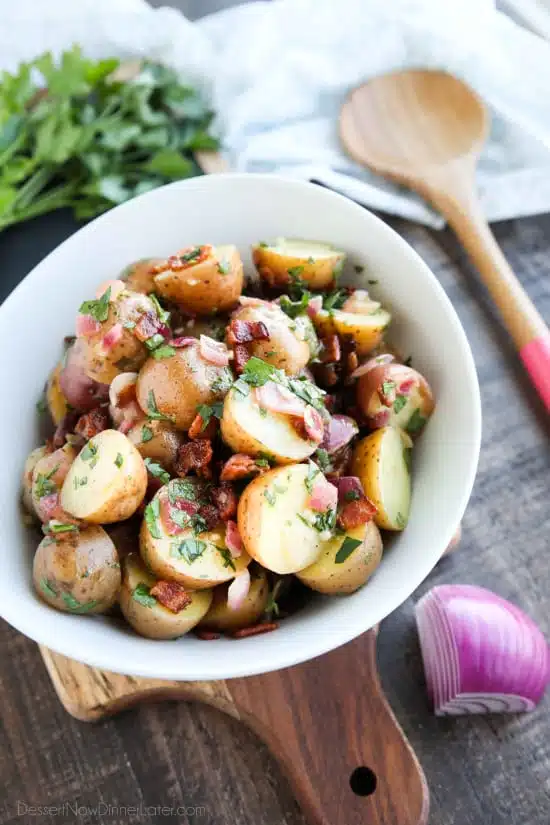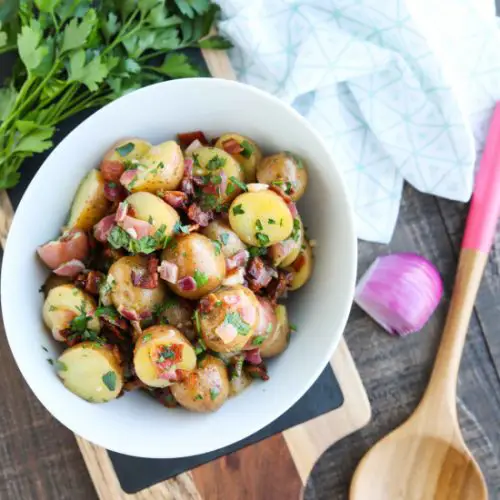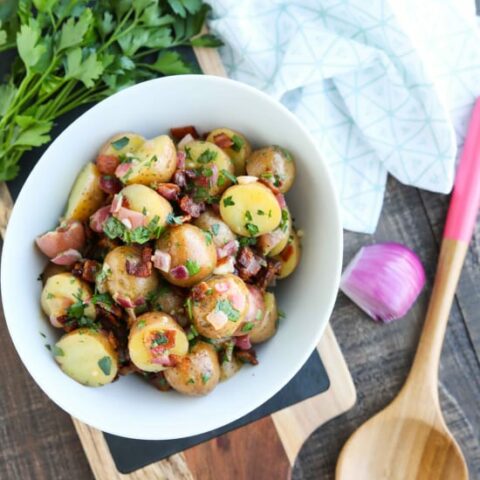 Bacon Potato Salad
Prep Time: 10 minutes
Cook Time: 20 minutes
Total Time: 30 minutes
Yield: 8 to 10 servings
Ingredients
1 1/2 lbs petite red potatoes, cut in half or fourths (depending on size)
2 tsp salt (for boiling the potatoes)
12 oz bacon, diced (about 12 strips)
1 small red onion, diced (about 1 cup)
1 tsp minced garlic
Dressing:
1/4 cup oil (canola/vegetable/olive)
3 Tbsp red wine vinegar
1 Tbsp Dijon mustard
1 Tbsp honey
1/4 cup chopped parsley, optional
salt and pepper, to taste
Instructions
Place the cut potatoes in a large saucepan and cover with water. Add salt and bring to a boil. Simmer for 10-15 minutes or until potatoes are fork tender. Drain potatoes and set aside.
Cook the diced bacon in a large skillet until crisp. Use a slotted spoon to remove the bacon pieces from the pan and place onto a paper towel lined plate. Save 1-2 Tbsp of bacon fat in the skillet. Discard the rest of the bacon fat after it has cooled completely.
Cook the red onion in the skillet with the bacon fat for 5 minutes, until softened. Add the garlic and cook 1 minute, until fragrant.
Whisk together the dressing ingredients in a bowl until creamy and emulsified. Season to taste with salt and pepper. Toss the potatoes, bacon, and onion and garlic mixture together with the dressing. Serve warm or refrigerate and serve cold.
Notes
*If the dressing solidifies when cold, just bring the potato salad to room temperature before serving.
Nutrition Information:
Yield: 8
Amount Per Serving:
Unsaturated Fat: 0g
*This recipe is also published on Farberware's Website.