Garlic Parmesan and Cinnamon Sugar Pretzel Bites
This post may contain affiliate links, meaning that I may receive a commission at no cost to you if you use a link provided. All opinions shared are my own. You can review my full disclosure policy here.
These Pretzel Bites are super simple and can be made sweet or savory. Which flavor do you think you'll like better? Garlic Parmesan or Cinnamon Sugar?
*This post is brought to you by Rhodes Bake-N-Serv. Thanks for supporting the brands that make Dessert Now Dinner Later possible.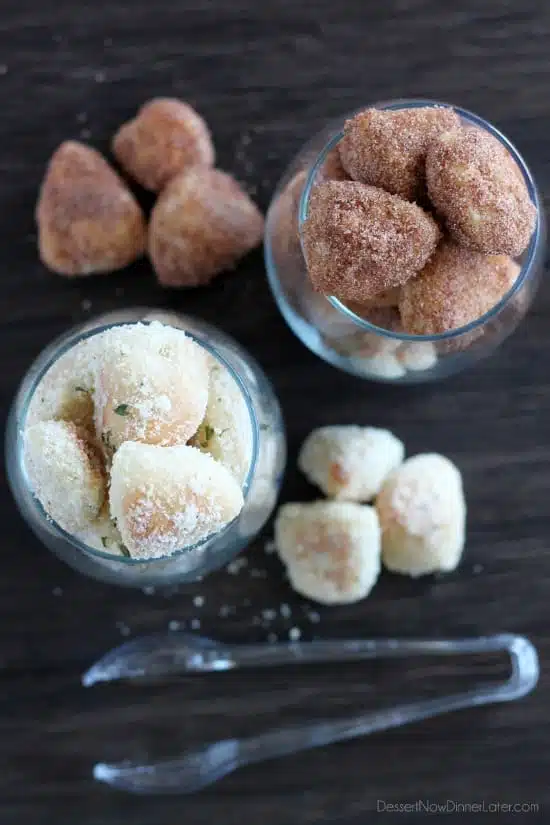 Woohoo! School is back in session and everyone is back into a scheduled routine. Life is wonderful! My little guy just started Kindergarten and it's already been a lot of fun to see him getting his brain back to activity over the summer brain drain! He loves to learn and share what he's learned in school.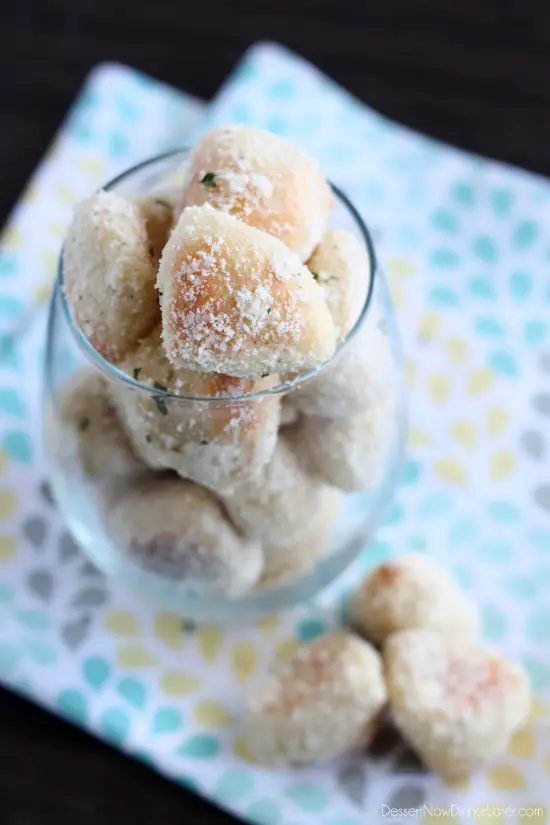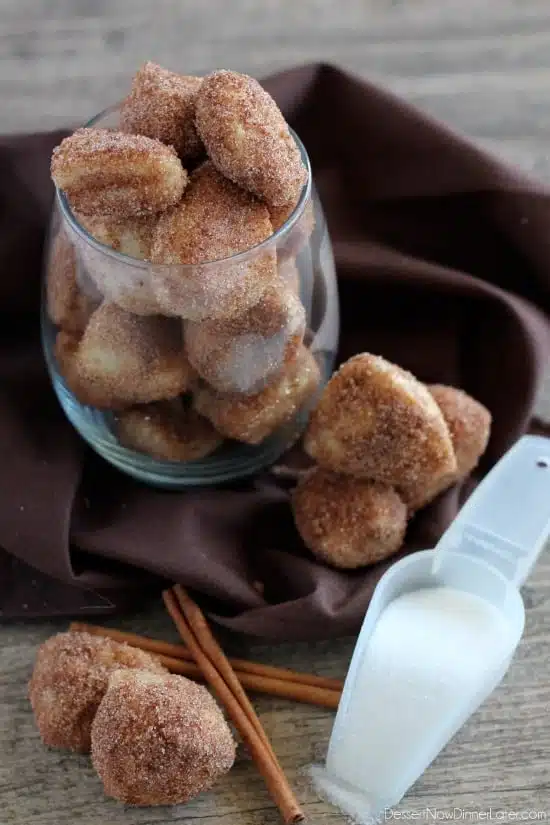 Today's post is a great one for after school snacks or even for football food. Pretzel bites are so versatile. You can make them savory, like these cheesy Garlic Parmesan ones…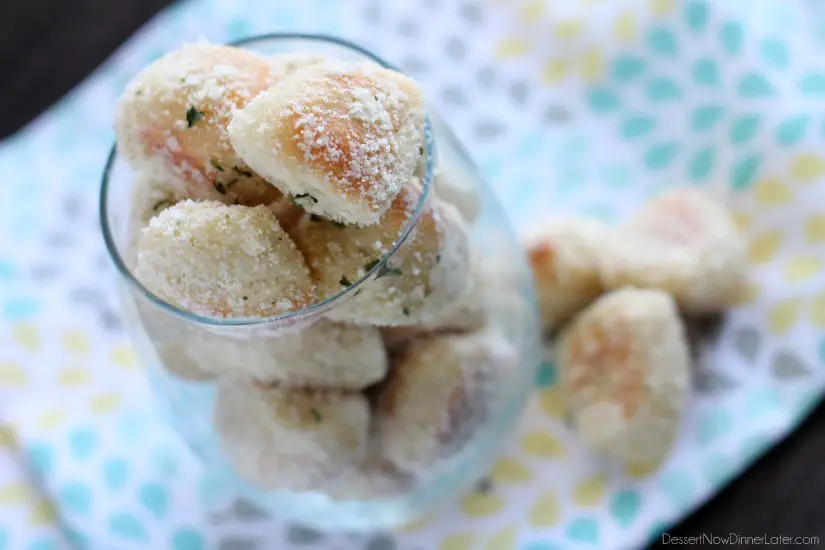 Or sweet like these Cinnamon Sugar ones, which basically taste like pretzel churros. Holy delicious!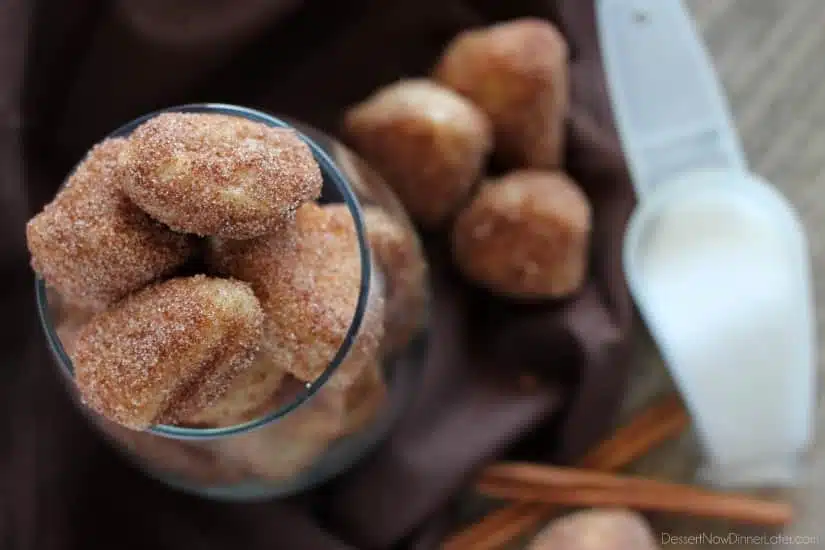 I had a really hard time deciding which flavor I liked better, but it doesn't matter because with this recipe, you can make both!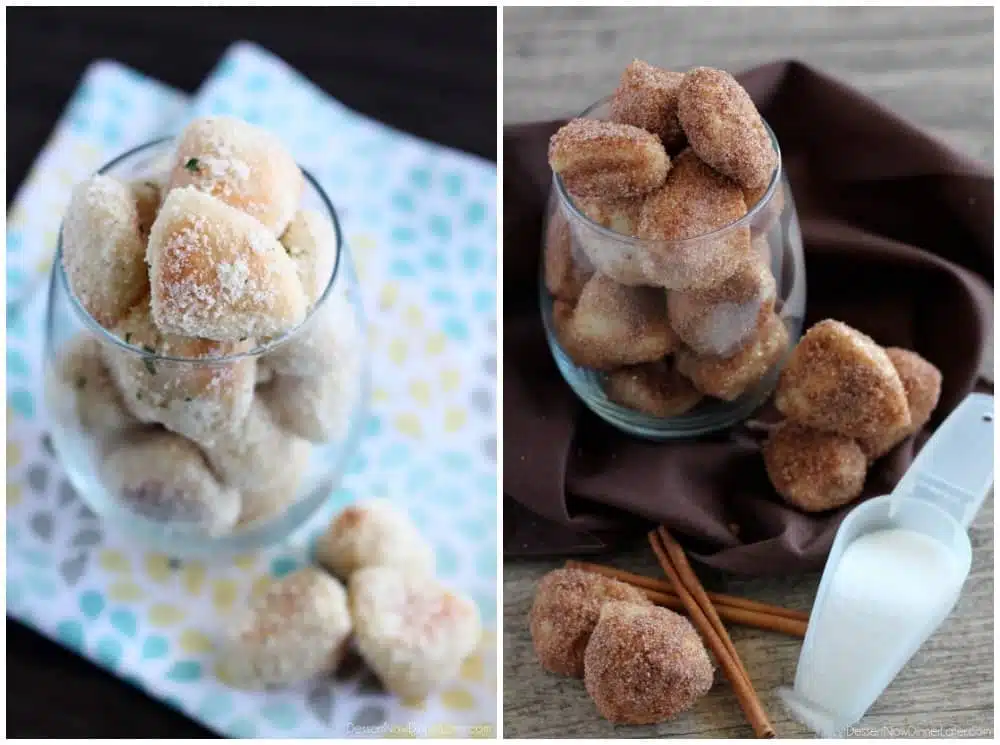 Or brush them in butter and salt them like a regular pretzel. But seriously, the sky is the limit with the flavors here. You can create anything! Which flavor do you think you'll like better? Garlic Parmesan or Cinnamon Sugar?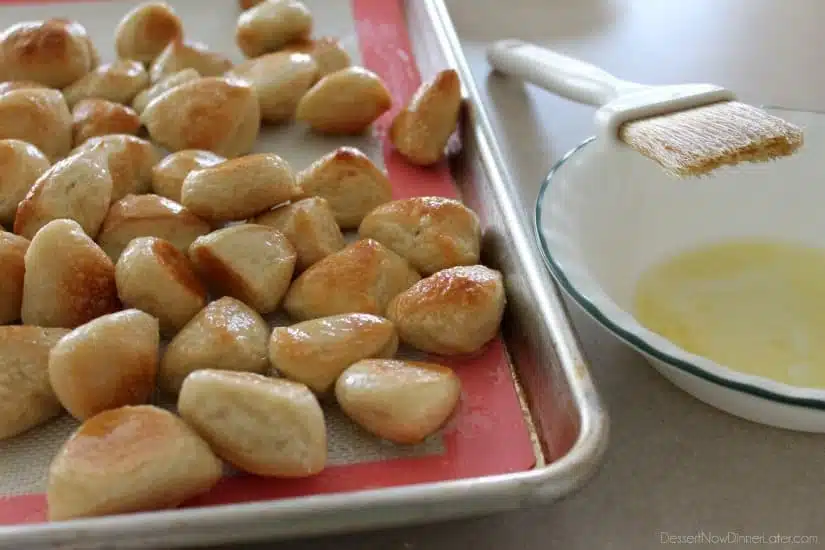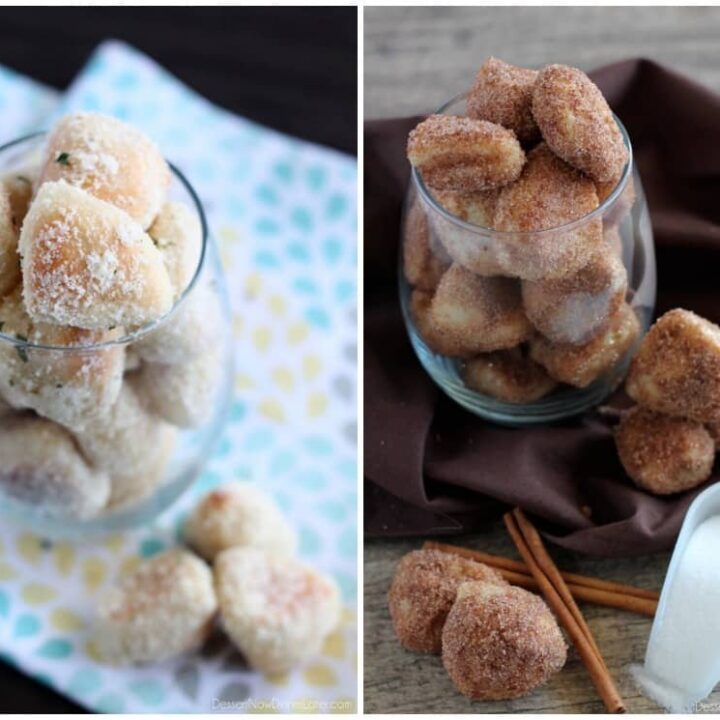 Garlic Parmesan and Cinnamon Sugar Pretzel Bites
Prep Time: 30 minutes
Cook Time: 25 minutes
Total Time: 55 minutes
Yield: 12 servings
Ingredients
12 Rhodes Rolls, thawed and slightly risen
1/4 cup unsalted butter, melted
1/4 cup sugar
1 tsp cinnamon
1/4 cup grated parmesan
1 teaspoon garlic salt
Instructions
Take some scissors and cut each roll into fourths.
Next, boil a pot of water. Boil about half the dough pieces at a time, whatever you are comfortable with and have space for, but won't keep the water from boiling and the dough from moving around. Boil for 45 seconds, stirring and flipping pieces constantly, until puffy and boiled on all sides.
Remove with a slotted spoon and place on the silicone lined baking sheet, or a paper towel; if using a paper towel, make sure you transfer dough to a lightly greased baking sheet. Repeat with remaining pieces of dough until everything has been boiled. It's okay if the pieces shrivel up a bit, they will puff back up in the oven.
Bake at 375 degrees Fahrenheit for 21 to 25 minutes or until golden brown.
Melt ¼ cup of unsalted butter, and brush all of the pretzel bites thoroughly.
Combine cinnamon and sugar in one bowl, and parmesan and garlic salt in another bowl. Coat several pretzel bites at a time until covered on all sides. Transfer seasoned dough to a serving dish, and repeat with all of the pretzel bites.
Store in a zip-top bag, airtight container, or cover the serving dish with plastic wrap for up to 3 or 4 days.
Nutrition Information:
Yield: 12
Amount Per Serving:
Unsaturated Fat: 0g