Easy Garlic Naan
This post may contain affiliate links, meaning that I may receive a commission at no cost to you if you use a link provided. All opinions shared are my own. You can review my full disclosure policy here.
This buttery Garlic Naan flatbread is made easy with store-bought frozen dough. Enjoy restaurant-style Indian bread with dinner anytime, it's so easy!
*This post is brought to you by Rhodes Bake-N-Serv. Thanks for supporting the brands that make Dessert Now Dinner Later possible.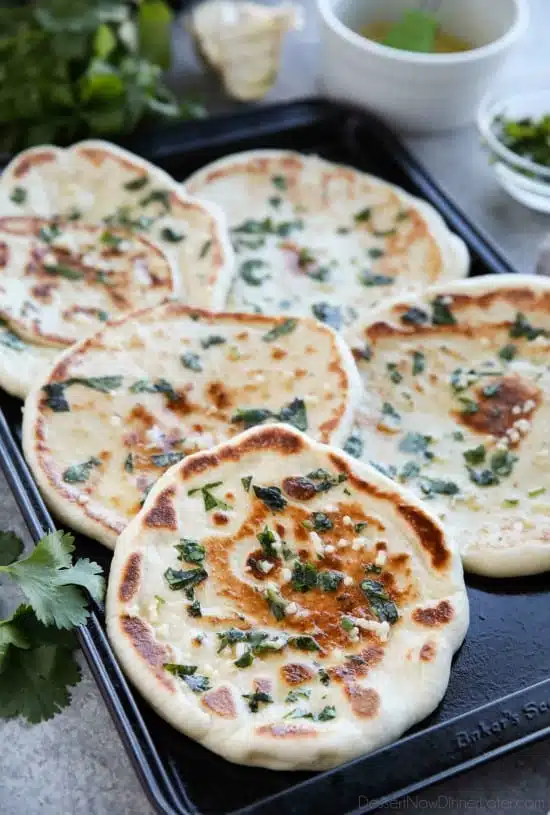 Around 11 years ago I was a Culinary Arts Student taking a World Cuisines class. One of our assignments was to go to an ethnic restaurant and try some new foods.
My family didn't eat out much growing up, so I don't think I had tried anything out of the ordinary. My mom is from Wyoming and my dad is from Louisiana, so the closest thing to cultural food that I had tried was some dirty rice and beans that my dad made like once. Which is also still just American food.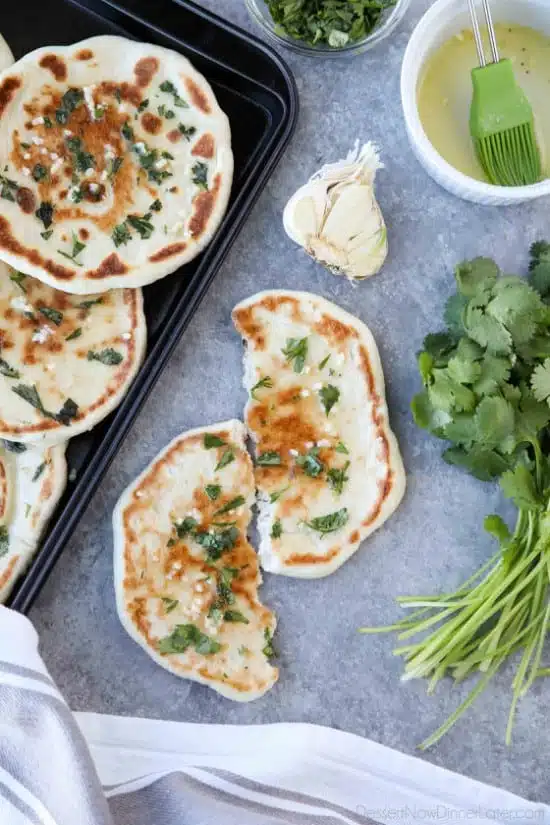 The closest thing to ethnic food that I had experienced was tacos, but not the delicious street tacos I can find at a food truck nowadays. Just boring old ground beef tacos with a store-bought taco packet with some water added in.
I was excited for this fun assignment to try some new, ethnic, foods. My boyfriend (now husband) and I decided to go to this little Indian restaurant in town that was really popular. It was actually located inside a gas station, but they had some award-winning food.
I believe we had some vegetable samosas, chicken tikka masala, and garlic naan. I loved every bit of it! The garlic naan was especially addicting, so I thought of a super easy way to make it at home.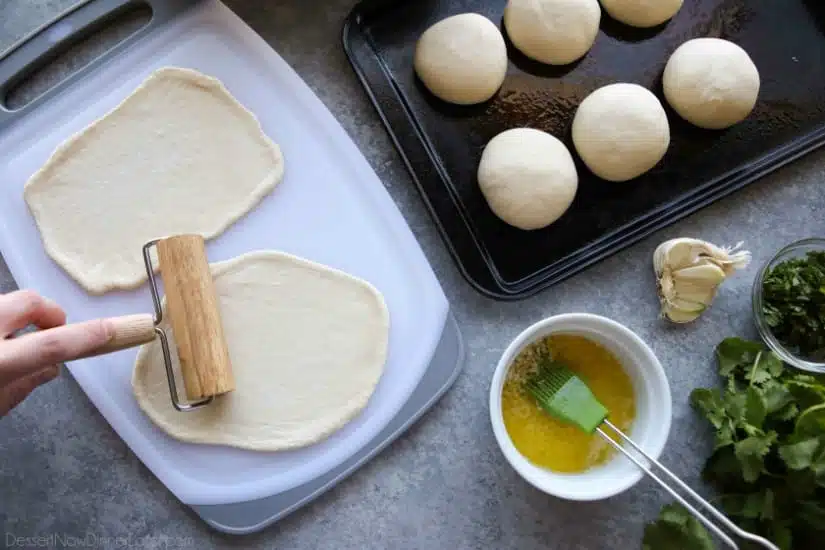 I took my favorite Rhodes Texas Rolls, let them rise a little bit, rolled them out really thin, and cooked them in a large cast iron skillet. (You could also use a griddle to cook more than one at a time.)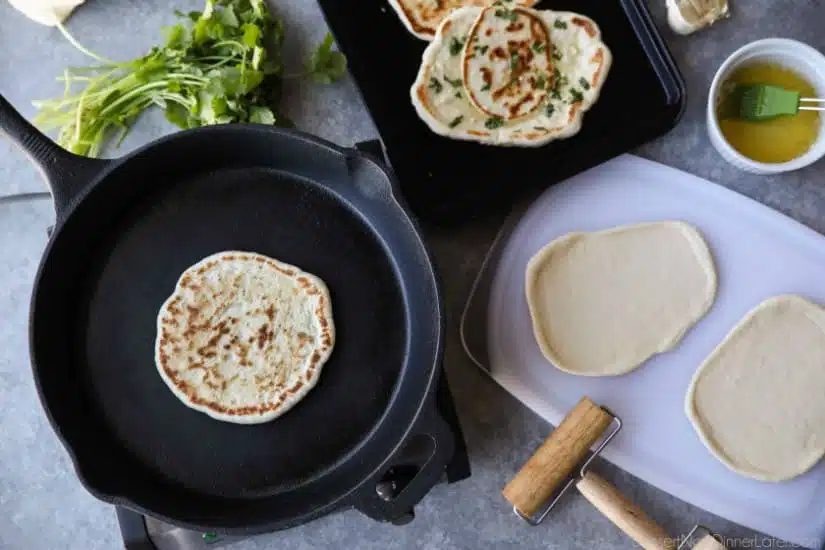 Then I brushed some sautéed garlic-butter over the hot bread, and finished it with a little bit of chopped cilantro. Perfection!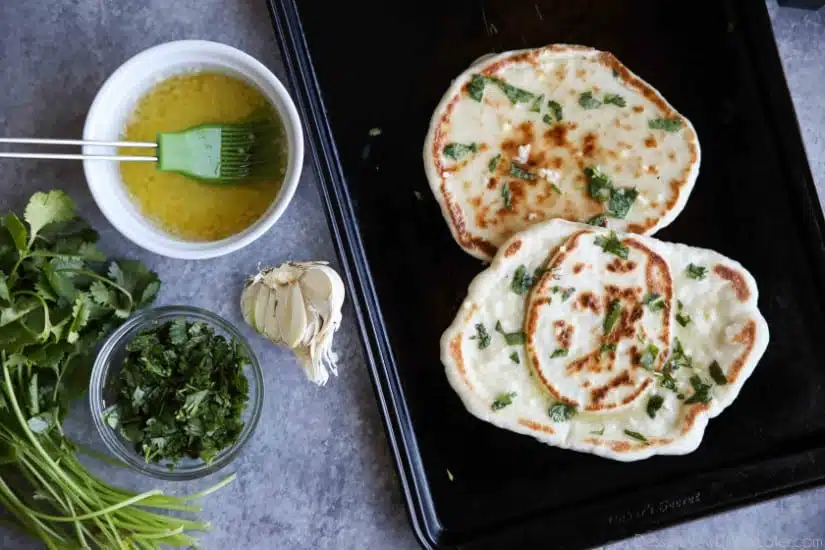 My kids are picky, but occasionally they are interested in trying some of our favorite ethnic foods. They gave this garlic naan recipe two thumbs up! It smells wonderful and tastes delicious! They even ate the cilantro.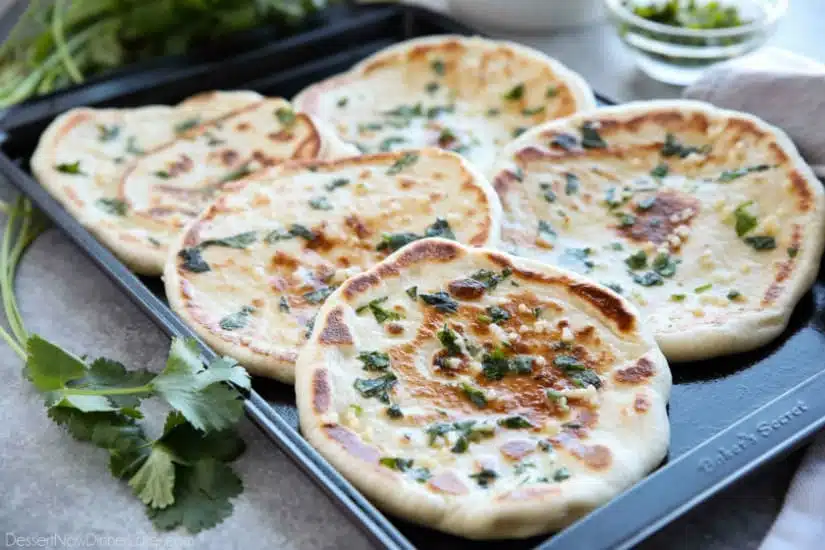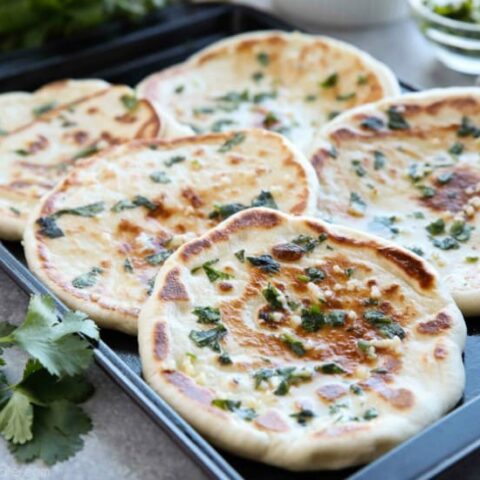 Easy Garlic Naan
Prep Time: 20 minutes
Cook Time: 3 minutes
Total Time: 23 minutes
Yield: 8 flatbreads
Ingredients
8 Rhodes Texas Rolls, thawed and risen slightly*
1/4 cup salted butter
2 tsp chopped garlic
chopped cilantro, for garnish, optional
Instructions
*Place frozen rolls on a greased baking sheet. Cover with sprayed plastic wrap and refrigerate overnight OR thaw at room temperature until slightly risen. (About 2 hours at room temperature.)
Melt butter in a pan over the stovetop, add garlic and sauté for 30 seconds to 1 minute or until fragrant, but not burnt.
Use a rolling pin to roll thawed dough into thin circles. The thinner the better, about 1/8-inch thick. (Use flour if needed to prevent sticking.)
Heat a skillet or griddle to medium-high heat. Cook dough for about 1 minute on one side until the dough starts to bubble and brown on the bottom. Flip the dough and cook 30-60 seconds more, until golden brown. Press dough down with a spatula if it's bubbling up too much.
Immediately brush with the melted garlic-butter and sprinkle with chopped cilantro. Enjoy warm! Store leftovers in an airtight zip-top bag at room temperature.
Notes
* To REHEAT, toast naan in a skillet for about 30 seconds on each side over medium-high heat.
Nutrition Information:
Yield: 8
Amount Per Serving:
Unsaturated Fat: 0g