Banana Chocolate Toffee Cupcakes
This post may contain affiliate links, meaning that I may receive a commission at no cost to you if you use a link provided. All opinions shared are my own. You can review my full disclosure policy here.
These Banana Chocolate Toffee Cupcakes are made with browned butter and loads of banana, all topped with vanilla buttercream that's been speckled with chocolate toffee bits.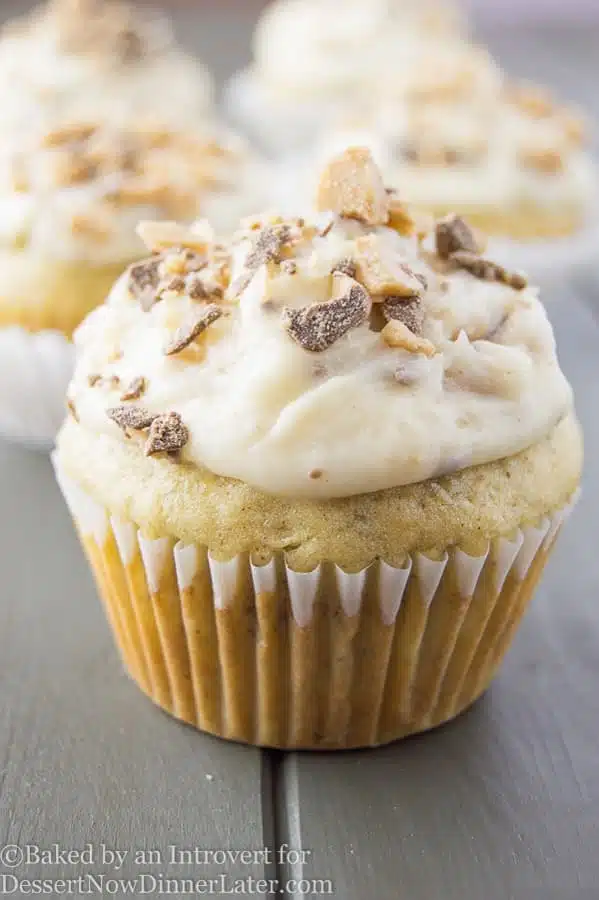 Hey guys! My name is Jen, and I share creative and delicious recipes on my blog, Baked by an Introvert. I'm so happy to be joining Amber as a contributor here. I had a really hard time deciding what kind of recipe to share first, but since I specialize in recipes that are different, these scrumptious banana chocolate toffee cupcakes seemed perfect for my introduction.
This is actually my first time ever making banana cupcakes. I make banana bread all the time but never cupcakes. These banana cupcakes are much lighter than bread, but they are packed with all that delicious banana flavor.
Oh! And I browned the butter before adding it to the batter.
These cupcakes are the best. The browned butter adds a rich depth of flavor to the cupcakes making them irresistible. Browning the butter and all that jazz sounds complicated, but it is extremely easy. You simply cook the butter over medium heat until it turns brown. That's it!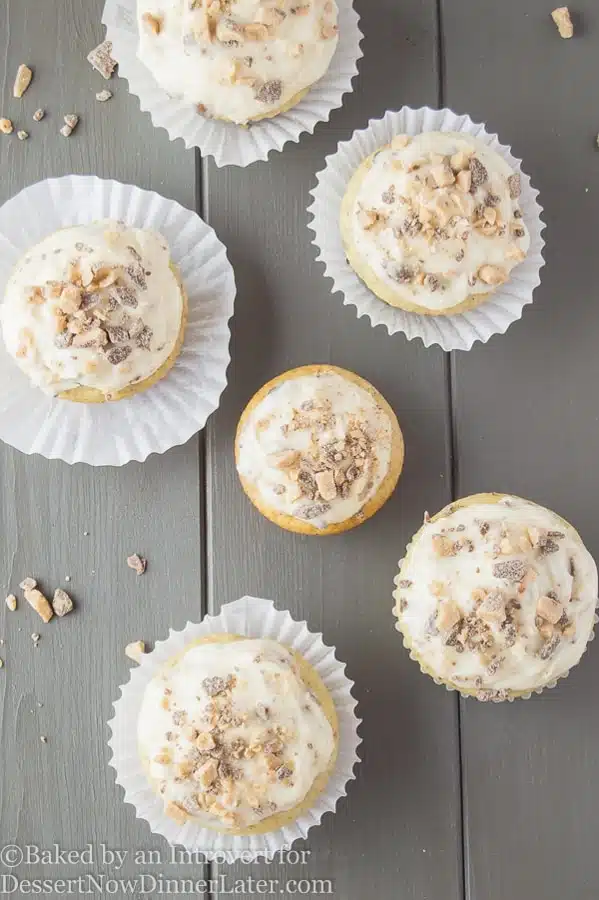 The batter is full of ingredients that will keep the cupcakes moist. These star ingredients are of course eggs, butter, and bananas.
And there's a touch of cinnamon for good measure.
The vanilla buttercream frosting is speckled with bits of chocolate toffee. That frosting and the banana cupcakes are an insanely good combination. I love chocolate coated toffee to begin with, so this frosting was right up my alley. After smearing it on the cupcakes I proceeded to scrape lick the bowl clean. Don't judge. You know you do it too.
This buttercream frosting is so easy. Mix room temperature butter with powdered sugar, heavy cream, vanilla extract, and of course chocolate toffee bits. You can find packaged chocolate toffee bits in the baking section of the super market.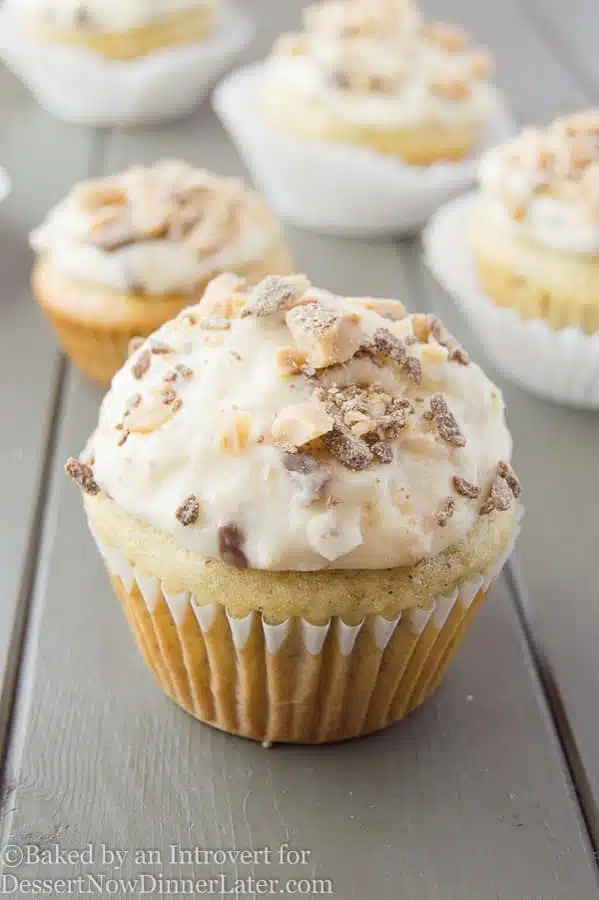 Top the cupcakes with a generous amount of that frosting! I sprinkled a few more toffee bits on top of the frosting. That just made the cupcakes look a bit fancier.
I know you are going to love these banana chocolate toffee cupcakes. 🙂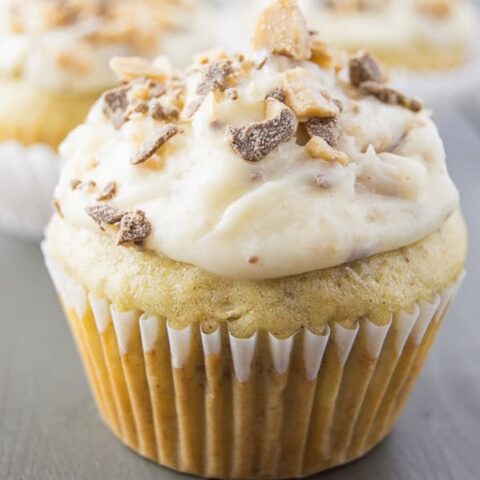 Banana Chocolate Toffee Cupcakes
Ingredients
For the cupcakes:
1/2 cup unsalted butter
1 cup mashed ripe banana (about 2 large bananas)
3/4 cup granulated sugar
2 large eggs
1 tsp vanilla extract
2 cup all-purpose flour
1 tsp baking powder
1/2 tsp baking soda
1/4 tsp salt
1/8 tsp cinnamon
1/2 cup whole milk
For the frosting:
3/4 cup unsalted butter, room temperature
2 cups powdered sugar
1/2 tsp vanilla extract
2 Tbsp heavy cream
3 Tbsp chocolate toffee bits (you can always add more if desired)
Instructions
Preheat oven to 350 degrees Fahrenheit.
Heat butter in a small saucepan over medium heat for 2 to 4 minutes, or until browned.
In a large bowl, combine the browned butter, banana, and granulated sugar; beat on medium speed until smooth. Add the eggs one at a time; beat well after each addition. Beat in the vanilla extract.
Measure flour by fluffing it with a fork then lightly spoon it into a dry measuring cup, level the top with the back of a knife. Combine the flour, baking powder, baking soda, salt, and cinnamon in a medium bowl; stir with a fork or whisk. Gradually add the flour mixture to the banana mixture alternating with the milk. Begin and end with the flour mixture.
Line a 12 cup muffin pan with paper cups. Spoon ¼ cup of batter into each cup. Bake for 20 to 24 minutes or until the cupcake springs back when touched. Remove from pan immediately and allow the cupcakes to cool completely on a wire rack.
To make the frosting: Beat the butter on medium speed until fluffy. Add the powdered sugar; beat on low until smooth. Beat in vanilla extract and heavy cream just until incorporated. Fold in toffee bits. Spread the frosting over the cupcakes and top with additional toffee bits if desired.
Nutrition Information:
Yield: 12
Amount Per Serving:
Unsaturated Fat: 0g
You may also want to try these other banana recipes from Baked by an Introvert.