Nacho Supreme Skillet Pasta
This post may contain affiliate links, meaning that I may receive a commission at no cost to you if you use a link provided. All opinions shared are my own. You can review my full disclosure policy here.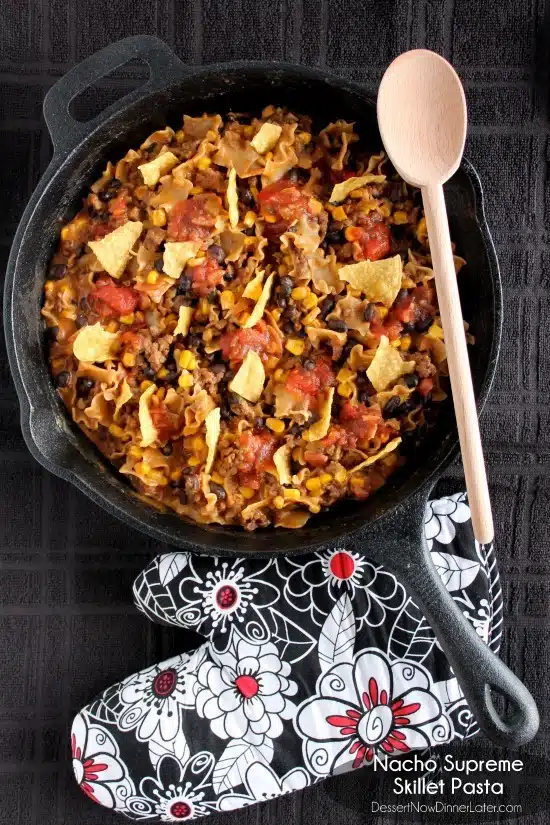 This post has been sponsored by VELVEETA Cheesy Skillets/Kraft Foods. All opinions are 100% mine.
I am a big fan of one pot, or in this case, one skillet meals! So when VELVEETA Cheesy Skillets asked me to be an ambassador for them, I didn't hesitate! VELVEETA Cheesy Skillets are premium dinner kits that offer consumers delicious and easy dinnertime solutions, featuring that smooth, creamy Liquid Gold VELVEETA cheese sauce we all know and love. My favorite part is that it takes ONE skillet to make!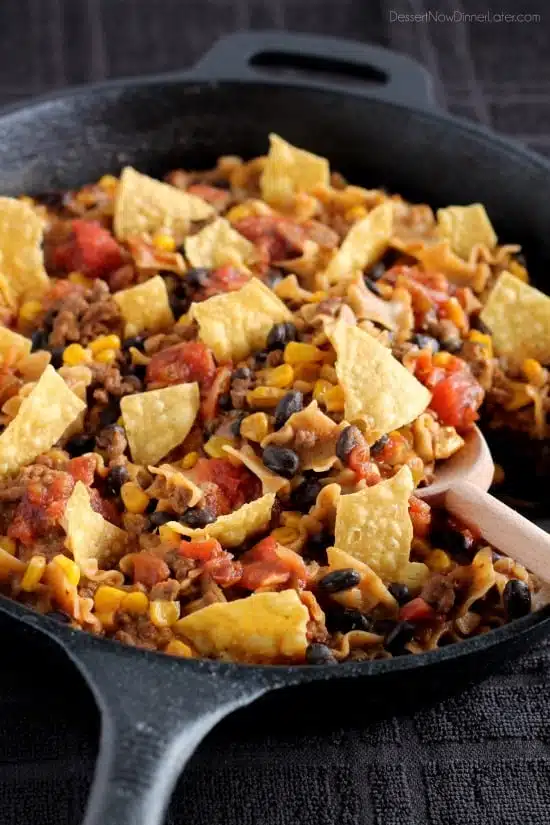 Apparently, there were THOUSANDS of skillets listed on online auction sites. When VELVEETA noticed this, they thought the only explanation for this is that these sellers must not know, or have forgotten, what their skillets are for. Now, check this out: VELVEETA bought more than 1,000 of these skillets and sent them back to their sellers with a box of VELVEETA Cheesy Skillets to show these sellers what their skillets are for. I'm not even kidding, just check the hashtag #whatmyskilletisfor on twitter or instagram. I had a great time seeing how shocked some people were to get their skillets back with dinner included! That's like the best day ever, don't you think?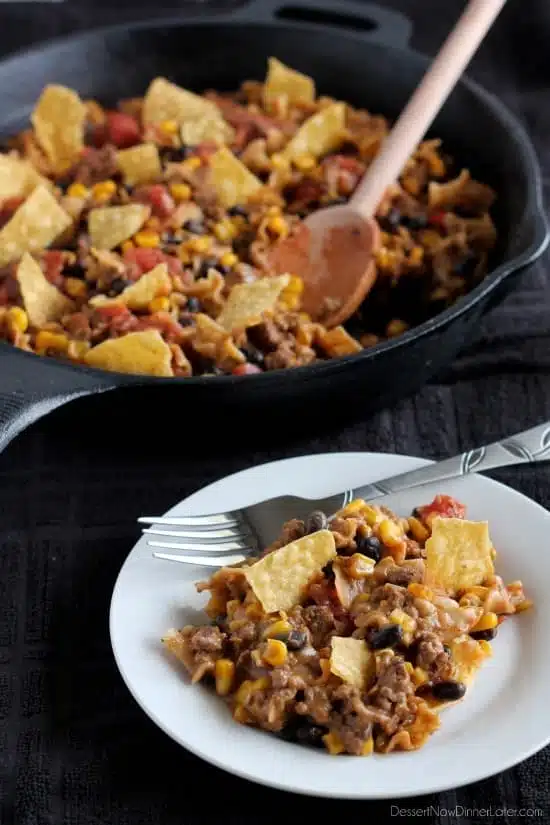 As part of this campaign, VELVEETA is asking fans to spread the word with the hashtag #whatmyskilletisfor. If your tweet or Instagram or Facebook post helps just one person realize that their skillet is for making VELVEETA Cheesy Skillets, then you've done your part to save another skillet from being sold in an online auction. So in essence, VELVEETA is saving skillets and bringing families together for dinnertime! I love it! For more information about this campaign visit: http://www.whatmyskilletisfor.com/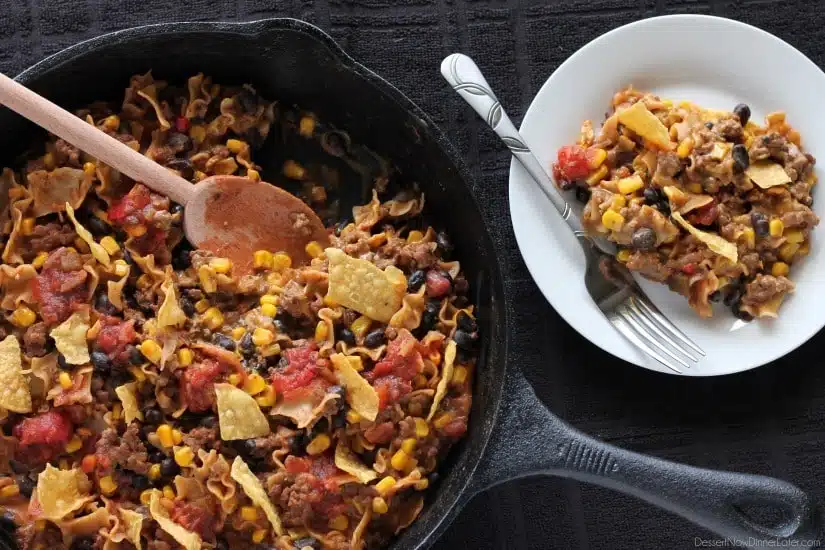 Now let's get to today's recipe, it of course uses VELVEETA Cheesy Skillets. I chose Nacho Supreme and added black beans and corn for more color and for a fun festive twist, topped it with some broken tortilla chips and spoonfuls of salsa. It only took 20 minutes or less, start to finish, and was done all in ONE SKILLET! Love these kinds of meals!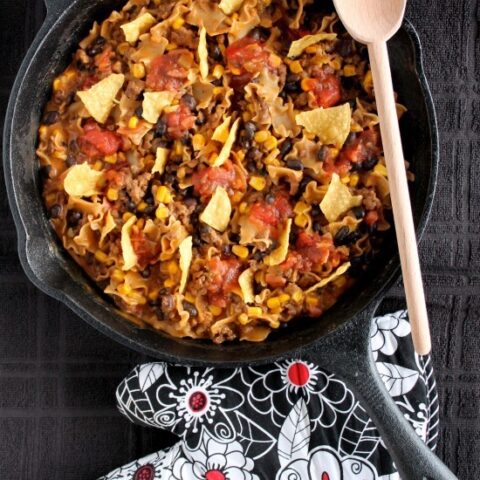 Nacho Supreme Skillet Pasta
Ingredients
1 box Nacho Supreme VELVEETA Cheesy Skillets Dinner Kit
1 lb lean ground beef
2 cups water
1 (15oz) can black beans, rinsed and drained
1 (15oz) can corn, drained
10 tortilla chips broken into large pieces
1/2 cup salsa, optional (as desired for color)
Instructions
Brown the beef in a large skillet. Drain the fat and return the beef to the skillet.
Add 2 cups of water, and the seasoning packet and pasta from the dinner kit. Add the drained beans and corn now as well. Cover the skillet with a lid.
Simmer and stir often until most of the water is gone, about 9 to 11 minutes. Remove from heat.
Add the VELVEETA cheese sauce pouch and salsa pouch from the dinner kit. Top with broken tortilla chips.
Nutrition Information:
Yield: 5
Amount Per Serving:
Unsaturated Fat: 0g