Jalapeno Popper Bread
This post may contain affiliate links, meaning that I may receive a commission at no cost to you if you use a link provided. All opinions shared are my own. You can review my full disclosure policy here.
Jalapeno Popper Bread can double as a delicious appetizer or easy pizza dinner with bacon, cream cheese, and jalapeno slices for maximum flavor!  
*This post is brought to you by Rhodes Bake-N-Serv. Thanks for supporting the brands that make Dessert Now Dinner Later possible.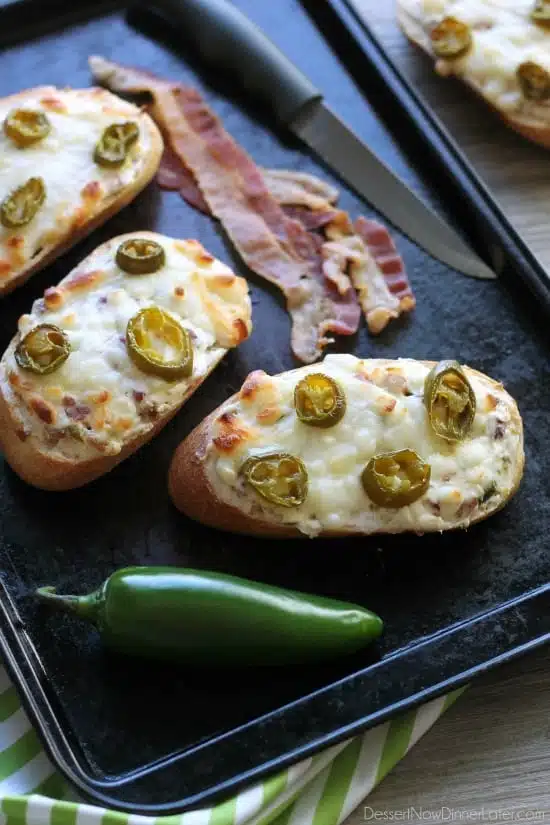 This is one of those recipes that's tasty enough to bring to a party as an appetizer, but SO tasty that you'll want to eat it for dinner. My husband even had people offering him money to buy his lunch when he brought the leftovers to work. It was quite hilarious!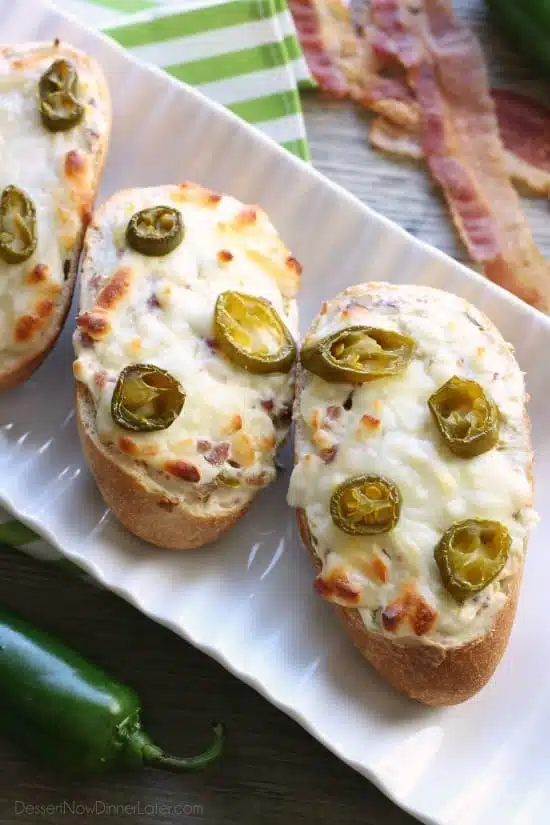 So, today's my birthday. Not just any birthday … my 30TH birthday. I didn't think it would bug me so bad to turn 30, but it is. It's like I can see my life flashing before my eyes. It's ridiculous, but true, and I just want to grab onto each moment and enjoy it that much more. And for my birthday weekend I'm headed to Sacramento, California for IFBC (International Food Blogger Conference). There's going to be amazing food, fun excursions, lots of other bloggers and companies to connect with, and great things to learn. It should be a good time. I'll let you know how it goes when I get back.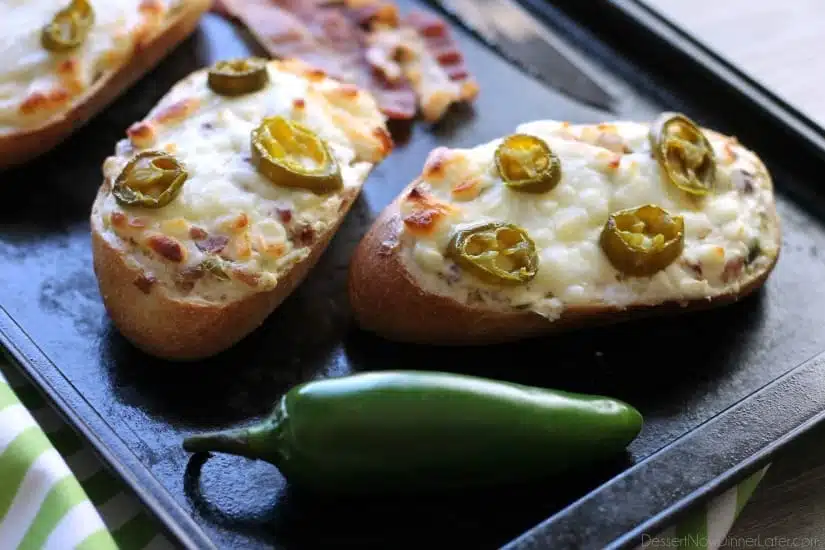 As for today's recipe, this jalapeno popper bread has ALL the good stuff! Cream cheese, garlic, bacon, jalapenos, and mozzarella cheese. It's like garlic bread, but 10x better! That is, if you like spicy food. Heck, I don't even love spicy food, but this bread wasn't too hot for me to enjoy, thanks to the cream cheese. And it was still spicy enough for my spicy lovin' husband to go nuts for.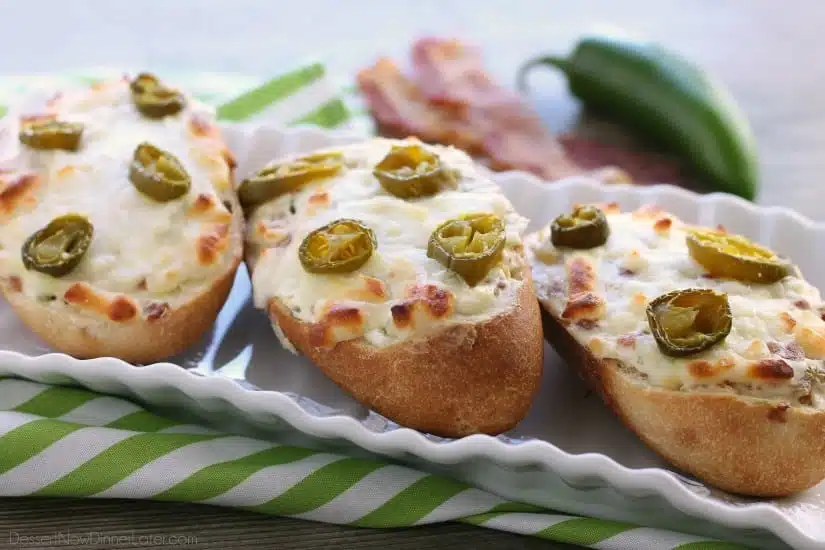 It's really hard to eat just one of these, so if you eat it like pizza for dinner, I won't blame you. 😉  The bread we used for this amazing jalapano popper bread is Rhodes' Artisan Mini Baguettes and they are delicious! They have a crusty exterior and are super soft and fluffy on the inside. Perfection!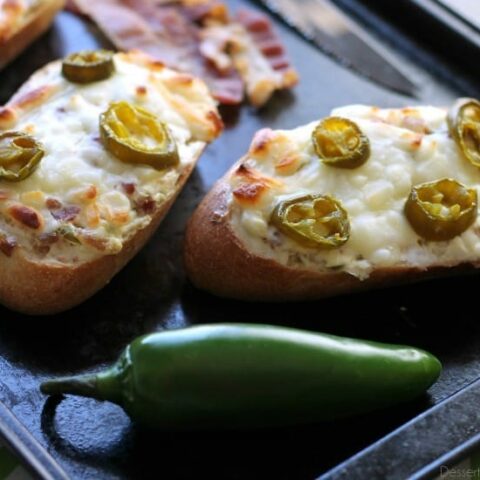 Jalapeno Popper Bread
Prep Time: 10 minutes
Cook Time: 20 minutes
Total Time: 30 minutes
Yield: 8 servings
Jalapeno Popper Bread can double as a delicious appetizer or easy pizza dinner with bacon, cream cheese, and jalapeno slices for maximum flavor!
Ingredients
1 package of Rhodes Warm-N-Serv Artisan Mini-Baguettes (4 baguettes), room temperature
8 oz cream cheese
1 tsp minced garlic
1/4 cup cooked chopped bacon
2 Tbsp jalapeno slices chopped (from a jar or can) + extra slices for on top (about 2-3 Tbsp extra slices)
1 cup shredded mozzarella cheese
Instructions
Combine the cream cheese, garlic, bacon, and chopped jalapeno in a bowl. Beat together with a hand mixer until combined.
Cut each baguette in half width-wise. Spread the cream cheese mixture evenly among the slices of bread.
Top with mozzarella cheese and extra jalapeno slices. Bake at 350 degrees Fahrenheit for 15-20 minutes, until golden brown and bubbly.
If serving as an appetizer, slice each bread into two or three pieces. If eating like a main dish/pizza, each bread is like one slice of pizza. Enjoy!
Nutrition Information:
Yield: 8
Amount Per Serving:
Unsaturated Fat: 0g