Tasty Ways to Eat Peanut Butter For Breakfast & On-The-Go
This post may contain affiliate links, meaning that I may receive a commission at no cost to you if you use a link provided. All opinions shared are my own. You can review my full disclosure policy here.
Enjoy peanut butter for breakfast and on-the-go with these quick and tasty ideas!
*This is a sponsored conversation written by me on behalf of The J.M. Smucker Company. The opinions and text are all mine.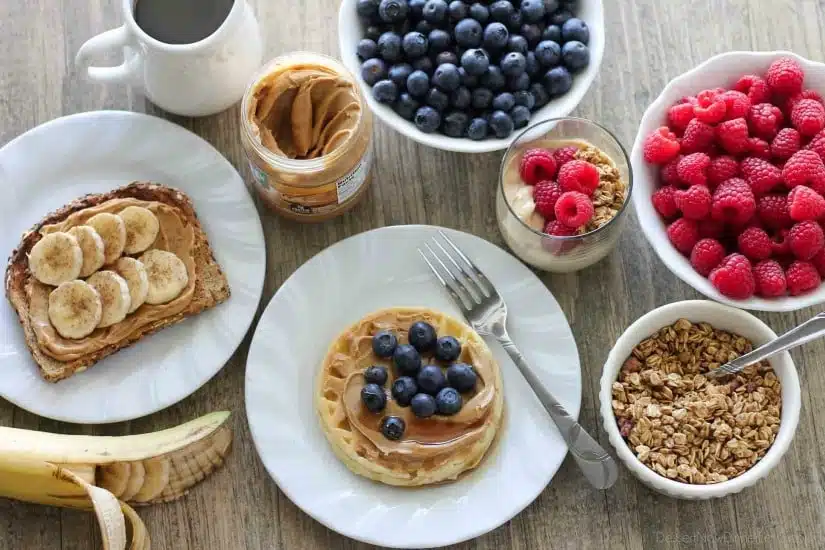 I know I've mentioned this before, but I'm a peanut butter fanatic! I literally have peanut butter toast and a smoothie for breakfast every morning. I also have peanut butter toast for dessert sometimes. It's true! There's just something that I love about that creamy, sweet, peanut butter spread that makes it desirable any time of day. It makes me peanut butter happy!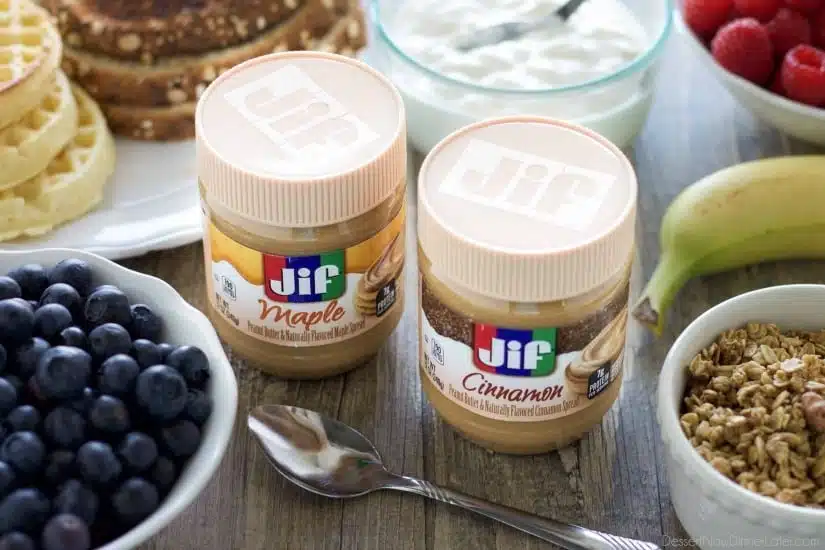 I'm one of those people who buy the big, two-pack containers of Jif peanut butter at the store because we go through it so fast. It's my peanut butter of choice. (I even use it to prop up my white boards when I take photos for this blog, haha!) So when The J.M. Smucker Company told me about these maple and cinnamon flavored spreads, I hopped right into my car to go to Walmart and buy them.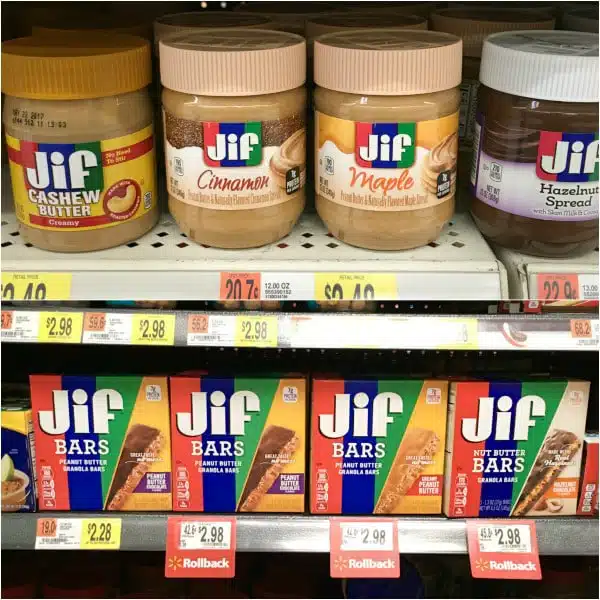 Jif also has some tasty granola bars that are perfect to take on-the-go, (or have indoor picnics with) and I hadn't tried the hazelnut chocolate flavored bars yet, so I grabbed a box of those while I was at Walmart too.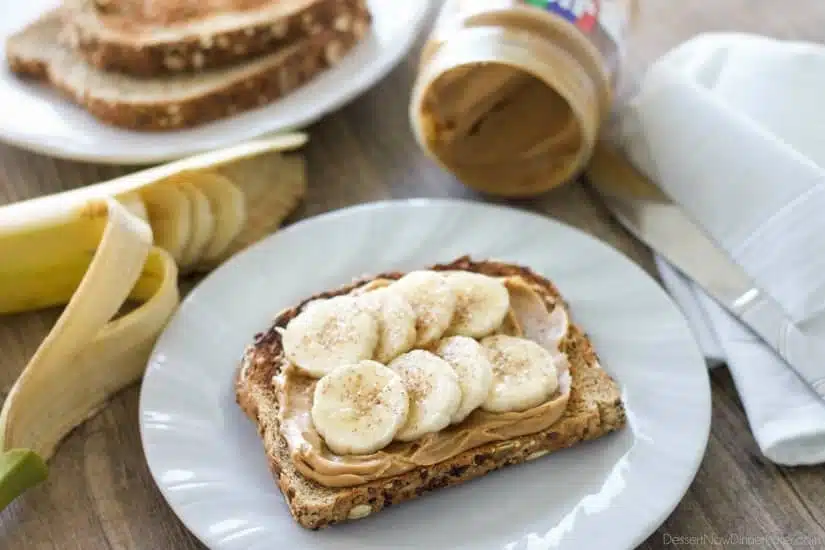 Now, let's talk about breakfast! I've said it before, but I LOVE peanut butter toast, and this version is slightly elevated, but almost as simple. I used the Jif Cinnamon Peanut butter, added some fresh slices of banana, and an extra sprinkle of cinnamon on top. Delicious! This idea is also really good on pancakes, with honey drizzled on top.
Sometimes I simply dip my banana (or apple slices) in Jif peanut butter. It makes me #PeanutButterHappy! If you're a snacker who loves peanut butter, try it! Bananas and apples both taste great with the maple and cinnamon flavors too.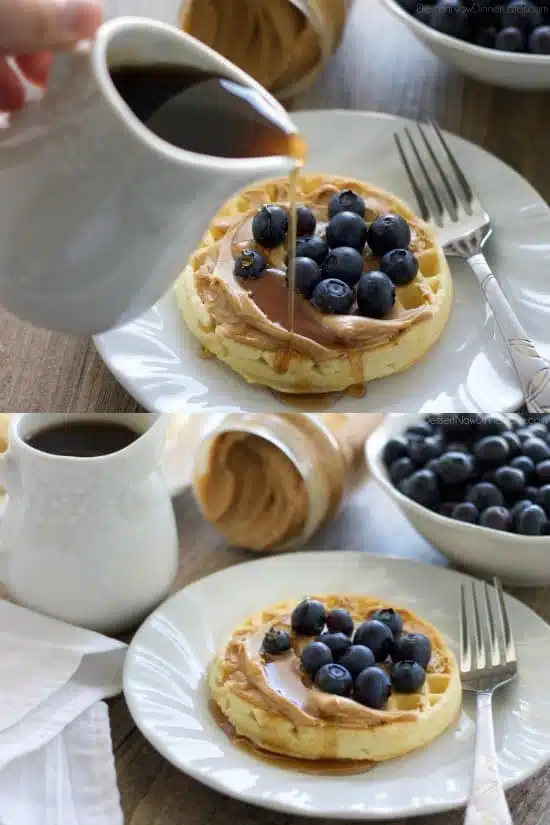 When we have busy mornings, especially with school approaching again, we keep frozen waffles on hand. Many people put butter on their waffles, but I put peanut butter on mine. This time I did the Jif Maple Peanut Butter with fresh blueberries and extra maple syrup. It was delightful!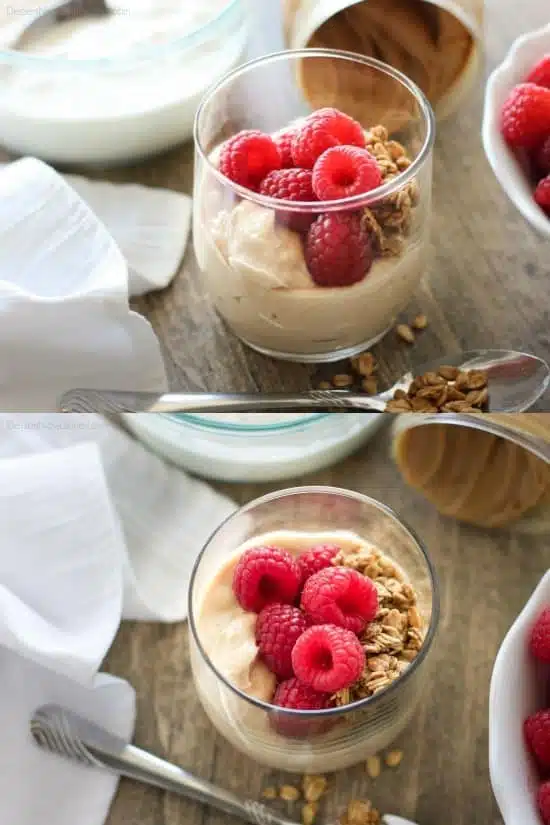 This next idea is a new favorite of mine. Peanut Butter Yogurt Parfaits! I mix up a hefty spoonful of peanut butter with approximately 1/2 cup of Greek yogurt (plain, honey, or vanilla flavored works best) and top it with fresh raspberries and crunchy granola. My kids love these little parfaits as much as I do! The Maple and Cinnamon flavored Jif Peanut Butter Spreads both work great for this one, and it can double as an after school snack too! Win-win!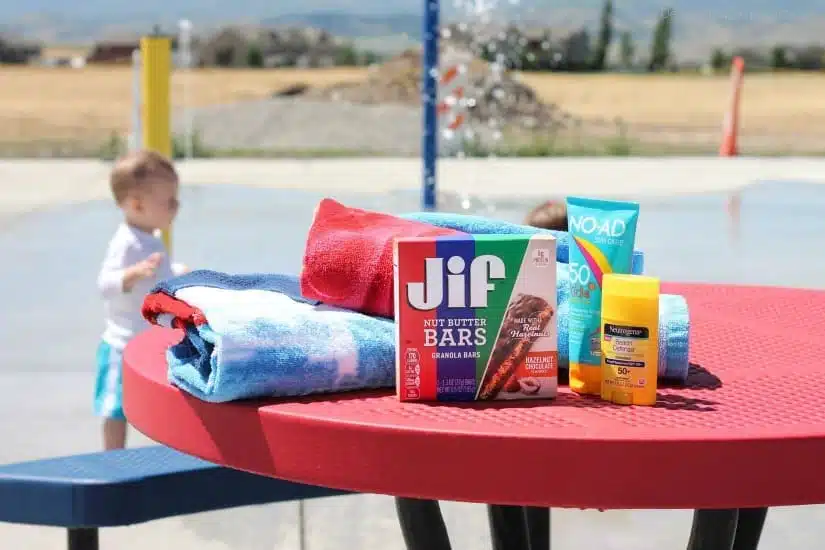 I really don't want to think about school yet though, so for now, we are thoroughly enjoying all that summer has to offer. Our friends invited us to the splash pad on a whim yesterday, and I'm so glad that I had these Jif Hazelnut Chocolate Flavored Bars to take with us to snack on. They are SO good! I might have to buy another box and hide it in the closet just for me!
What are some of your favorite ways to eat peanut butter?