Fancy S'mores
This post may contain affiliate links, meaning that I may receive a commission at no cost to you if you use a link provided. All opinions shared are my own. You can review my full disclosure policy here.
Fancy Fruit S'mores are made with Brookside's smooth dark chocolate and fruit bars, real fresh fruit, and toasted marshmallows sandwiched between honey or chocolate graham crackers. A delicious and unique treat to serve at your next gathering.
This shop has been compensated by Collective Bias, Inc. and its advertiser. All opinions are mine alone. #DiscoverBrookside #CollectiveBias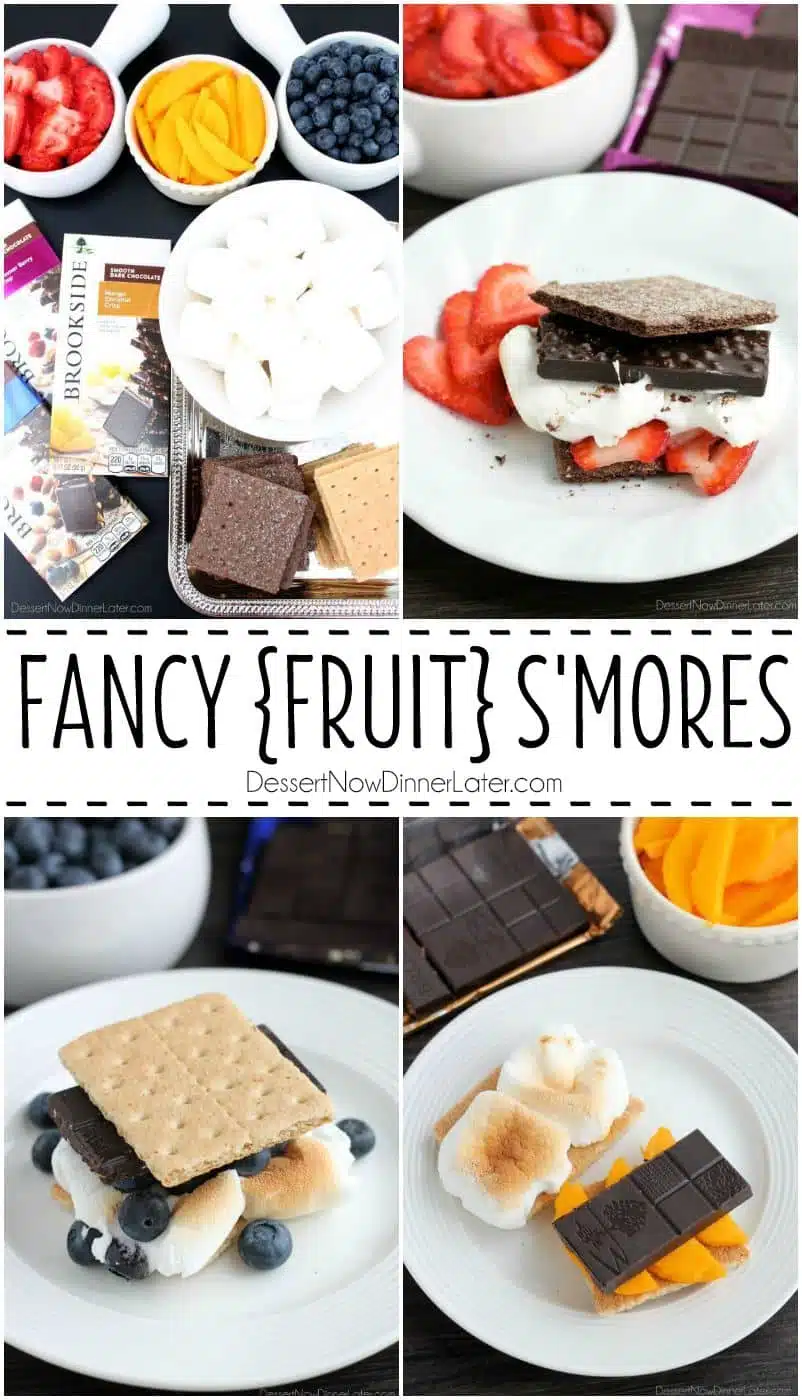 Summer is winding down and school for my kids starts next week! (Didn't summer just start?!) So, in an effort to grasp what's left of the hot summer days, I decided we should make some s'mores. Now these aren't just any s'mores. They are what I like to call, "fancy s'mores" because they have fresh fruit and premium chocolate in them.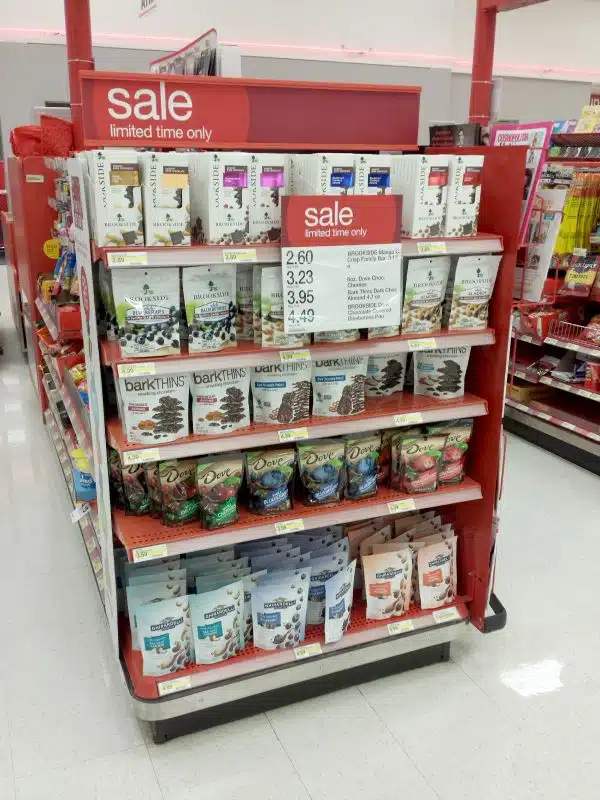 I'm a HUGE fan of Brookside chocolates! The Dark Chocolate Mango Mangosteen is my favorite flavor. We even used the Dark Chocolate Pomegranate chocolates in some nut cups for my brother's wedding a few months ago. Delicious! So when I saw this display with 7 new varieties of Brookside chocolates at Target, I couldn't wait to try them all. And I did, except for the cranberry almond bar, because it's not cranberry season and I wanted the fresh fruit to match the chocolate bars for my s'mores. I'm picky like that. These new Brookside flavors are exclusive to Target, and right now you can save money if you use the Cartwheel app!
From July 12- Aug 1, use the Cartwheel app to save 30% on Brookside chocolate at Target
From Aug 23- Sept 19, use the Cartwheel app to save 15% on Brookside chocolate at Target
The Cartwheel app is so easy to use. Login, add the deal, and have the cashier scan your phone when you checkout! EASY! I love chocolate and a good deal! Be sure to check out your Cartwheel app for any upcoming Brookside chocolate offers!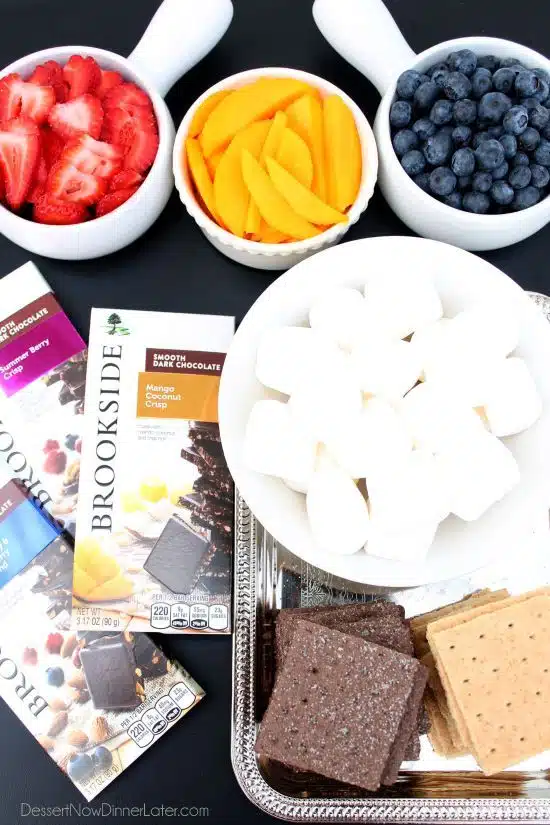 All of the Brookside chocolate bars are made with smooth dark chocolate. We got the Summer Berry Crisp, Blueberry & Cranberry Almond, and Mango Coconut Crisp flavors. (Mango Coconut Crisp was my favorite of the 3 we tried!) Then I just needed some freshly sliced strawberries and mangoes, plump blueberries, and all the regular s'mores fixings of honey graham crackers and large marshmallows. I even got some chocolate graham crackers for extra fancy s'mores!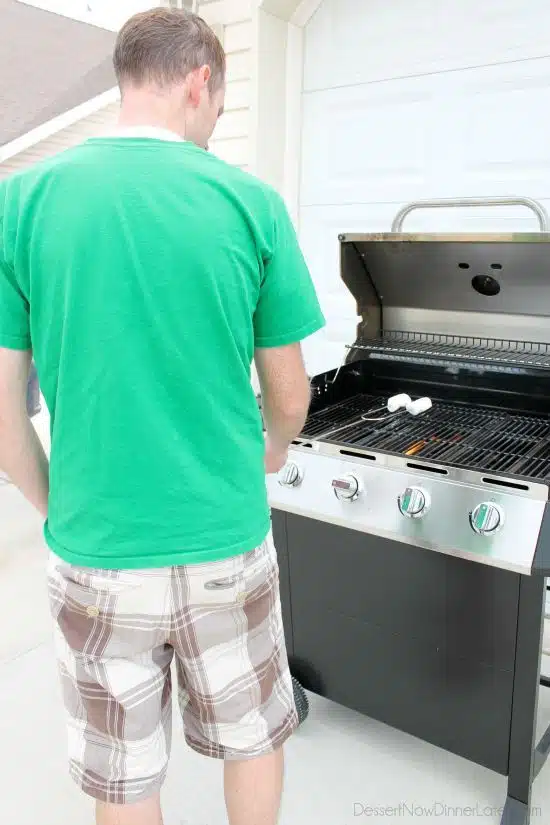 Since we don't have a fire pit, we improvised and used our gas grill to roast the marshmallows. I've roasted marshmallows over an electric stovetop before, but we thought it would be more fun to be outside, as if we were using a fire pit. (It's still summer after all.) Next time, we're using the side burner though because the direct flame is better. So if you use a grill, remove the grates to get as close to the flame as you can.
Graham crackers + toasted marshmallows + fresh fruit + Brookside chocolate bars = fancy s'mores. Put the kids to bed and have your friends over. These s'mores are for people who will appreciate the finer tastes in life.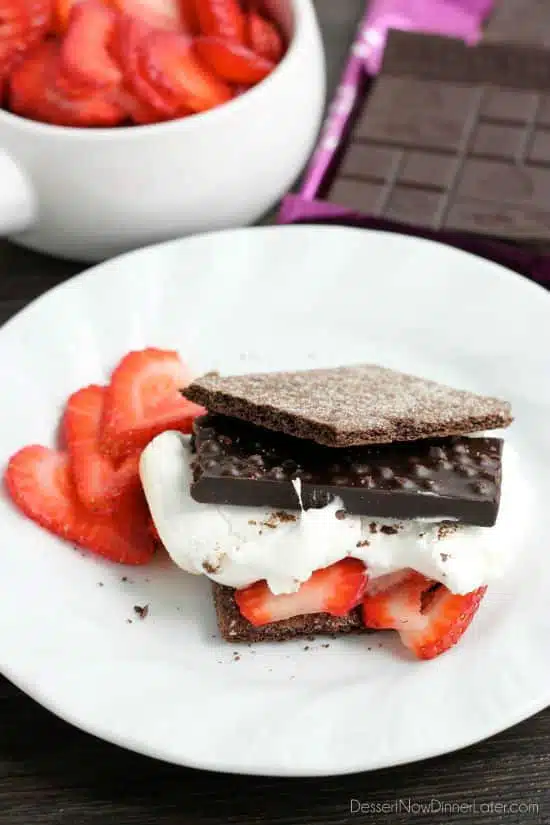 The first fancy s'mores we made used chocolate graham crackers, with freshly sliced strawberries, melty marshmallows, and the Brookside Summer Berry Crisp Bar. It was like eating chocolate covered strawberries! Yum!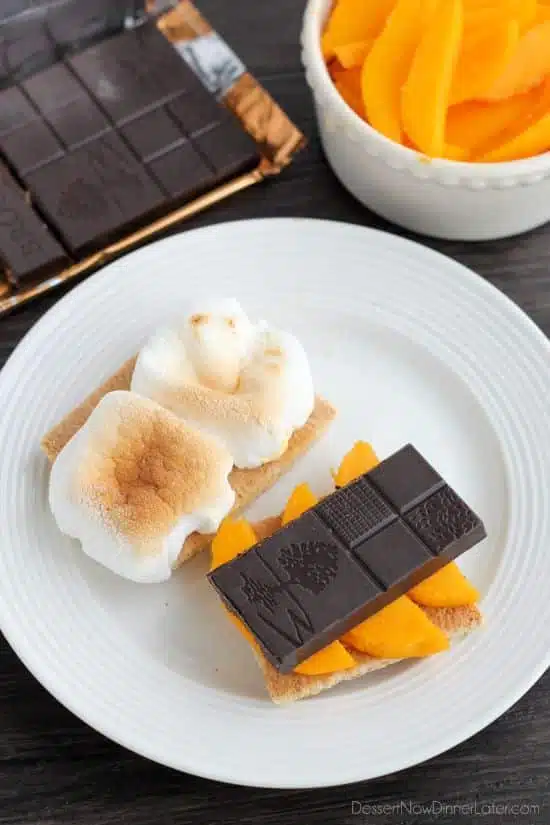 I might just be a sucker for mangoes, but fresh mango slices, toasty marshmallows, and the Mango Coconut Crisp Brookside Bar sandwiched between honey graham crackers was quite a treat! P.S. One of any of these s'mores is quite satisfying, but I definitely savored my taste of this one.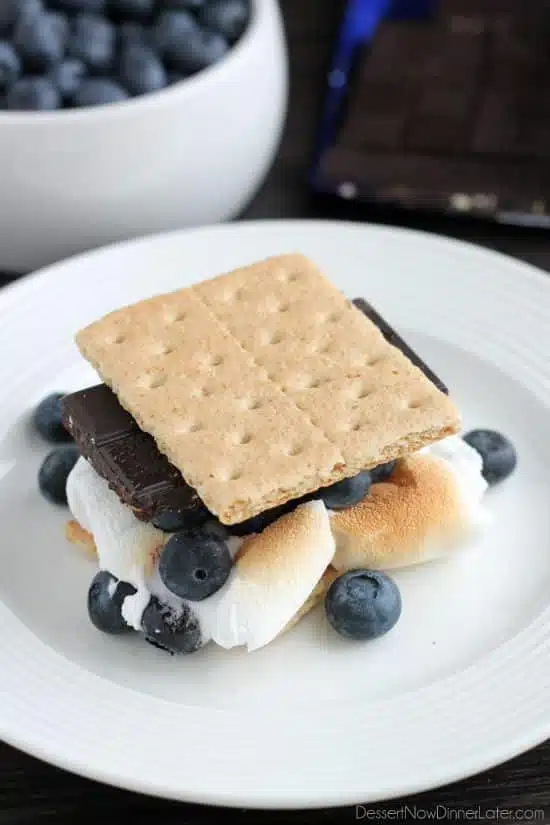 Last, but not least, the honey graham crackers, fresh blueberries, gooey marshmallows, and Blueberry & Cranberry Almond Brookside Bar combination turned out great. I really don't think there is any combination of fruit and Brookside chocolate bars that you could go wrong with for these fancy s'mores. I was matchy-matchy with the fresh fruits and flavors of the bars, but you can most definitely switch it up. There are no rules here.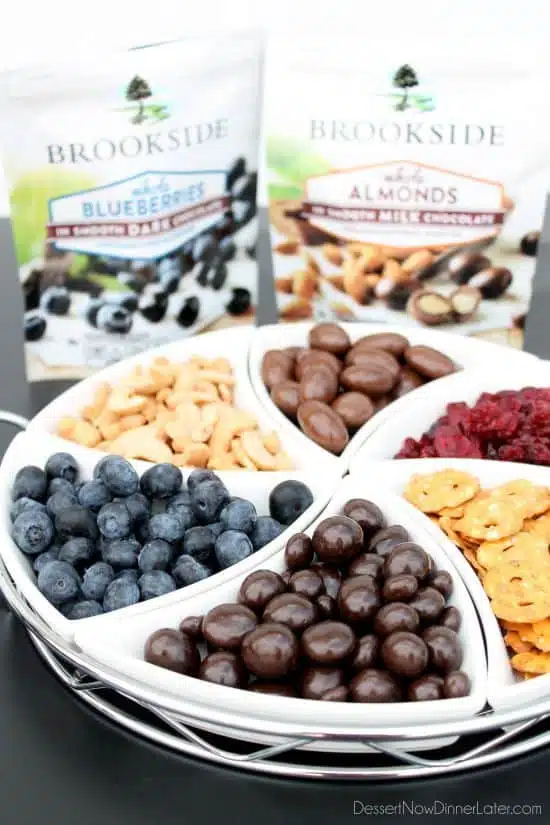 Let's not forget the Dark Chocolate Blueberry and Milk Chocolate Almond Pouches that I bought! They went perfectly in a snacking dish with some fresh blueberries, salted cashews, dried cranberries, and mini pretzel crisps. Sweet and salty is my favorite snacking combo! Plus, you just can't go wrong with chocolate. It was a great snack while we toasted marshmallows and made our fancy s'mores!
What are you doing with family or friends to savor the last few days of summer?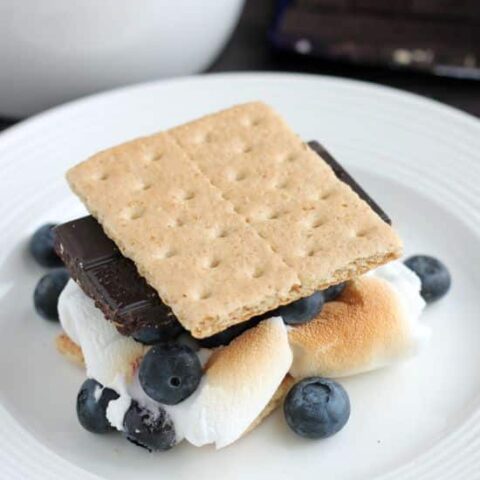 Fancy S'mores
These fancy s'mores have fresh fruit and premium chocolate bars in them for a summer treat worth sharing with friends.
Ingredients
1 Brookside Summer Berry Family Bar
1 Brookside Blueberry & Cranberry Almond Family Bar
1 Brookside Mango Coconut Family Bar
Sliced Strawberries
Sliced Mango Pieces
Fresh Blueberries
Chocolate Graham Crackers
Honey Graham Crackers
Large Marshmallows
Instructions
Roast marshmallows to desired crispness over a fire pit or gas grill.
Layer fruit, chocolate, and marshmallows between two graham crackers of choice.
Enjoy while warm!
Notes
1 chocolate bar = 4 s'mores
Nutrition Information:
Yield: 12
Amount Per Serving:
Unsaturated Fat: 0g