Sweet Fire Meatballs
This post may contain affiliate links, meaning that I may receive a commission at no cost to you if you use a link provided. All opinions shared are my own. You can review my full disclosure policy here.
Sweet Fire Meatballs are sweet with a kick of heat and use frozen meatballs for a super easy dinner any night of the week. 
*This is a sponsored post written by me on behalf of Cooked Perfect® Meatballs. All opinions are 100% mine.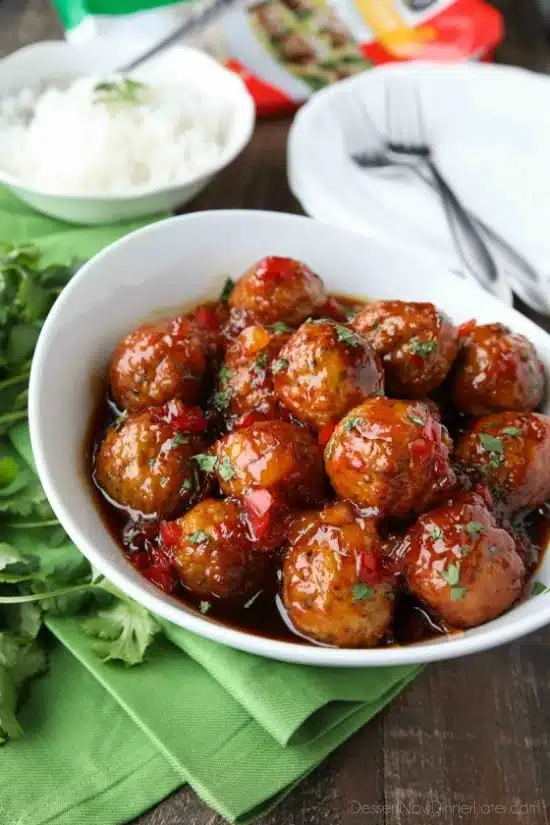 Guess what March 9th is? National Meatball Day! So, I'm sharing a super quick and easy recipe with you all for these Sweet Fire Meatballs. They're sweet and savory with a kick of heat. Plus they could not be any easier to make! (Hello! Busy mom here!)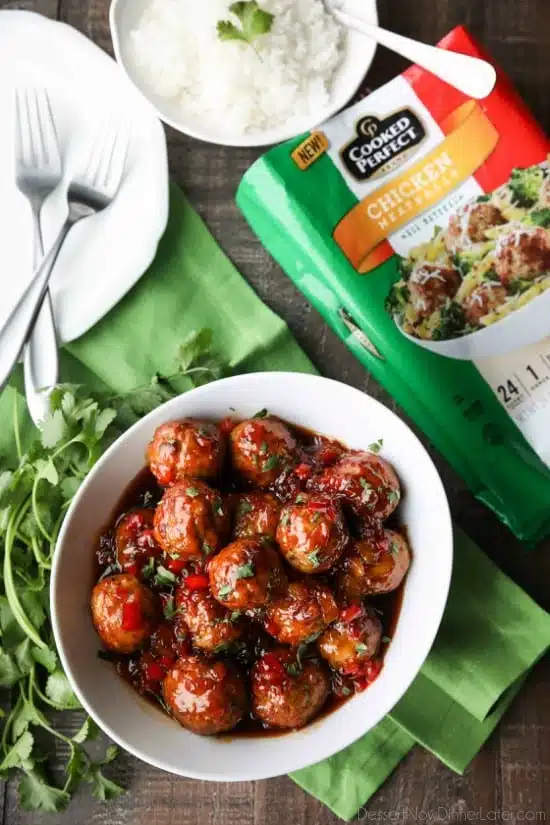 Amidst the homework and after school activities, I'm all for simplifying dinner time, so grabbing meatballs from the freezer section is an obvious choice. They're so convenient! (Especially if you're a busy mom like me!) More than half of the dinner prep is done and all I have to do is figure out what I want to serve with the meatballs. For this recipe, you whip up a little sauce and some rice, and dinner is ready!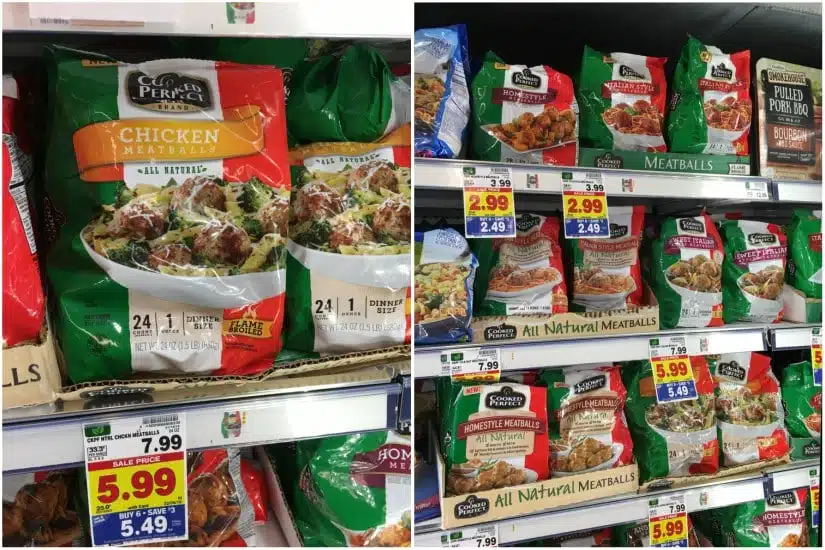 Cooked Perfect® Meatballs have quite the selection of meatballs to choose from. All Cooked Perfect Meatballs are made with select meats, real cheeses, and savory herbs, then flame broiled to sear in the flavor. With so many options it's hard to pick, but I went with Chicken Meatballs for this recipe. I'm sure the Homestyle, Turkey, or Angus Beef varieties would work great too.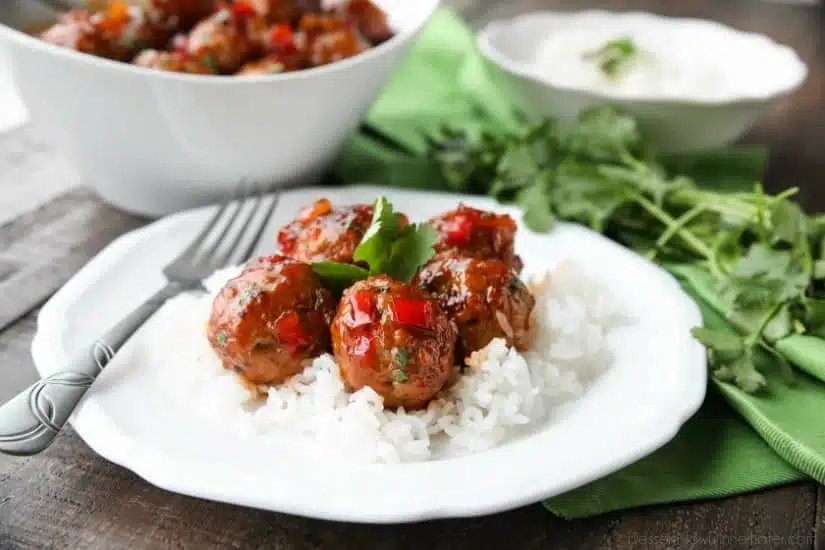 You have two options when cooking these Sweet Fire Meatballs. You can bake them in the oven and then toss them in the sauce, or you can cook them directly in the sauce. So depending on your preference (and tolerance for dishes) you will have tasty meatballs ready in 20-25 minutes.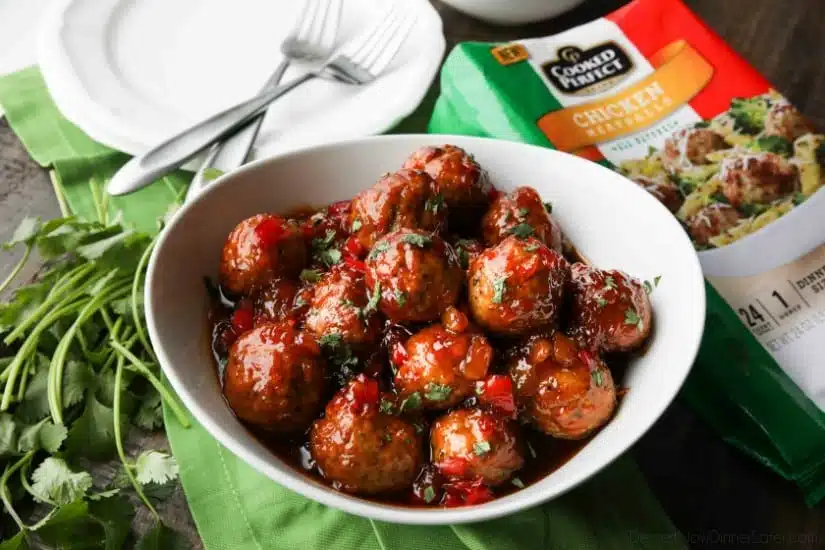 These Sweet Fire Meatballs have small bits of pineapple and red bell pepper to add extra texture to the flavorful meatballs. The sauce is a bit spicy, so if you have young children, I recommend replacing up to half of the hot sauce with pineapple juice or water. My eight year old son could not get enough of these Sweet Fire Meatballs! Want more convenient dinner ideas? Browse more meatball recipes.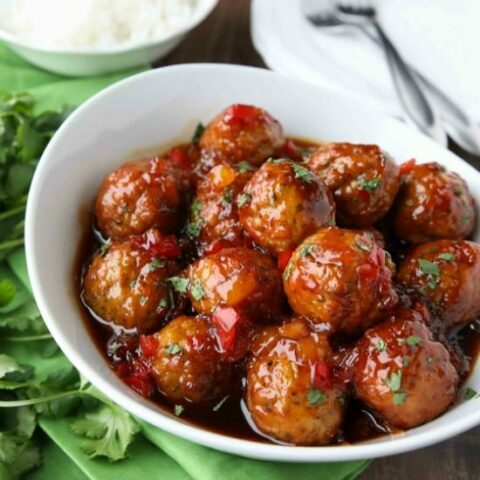 Sweet Fire Meatballs
Ingredients
1 (24 oz) bag frozen Cooked Perfect Chicken Meatballs
1 Tbsp oil (vegetable, canola, or olive)
1 red bell pepper (seeded and diced)
1 (8 oz) can crushed pineapple, juices drained
1/2 cup hot sauce*
1 1/3 cup brown sugar, packed
2 Tbsp apple cider vinegar
1/4 tsp salt
Instructions
Preheat oven to 350 degrees Fahrenheit.
Place frozen meatballs in a single layer on a baking tray. Bake for 15 to 25 minutes or until hot. Alternately prepare sauce, add the frozen meatballs, cover and heat on medium for approximately 25 minutes, stirring occasionally.
FOR THE SAUCE: Heat oil in a large saucepan over medium heat. Add red bell pepper. Sauté for 3-5 minutes, until starting to soften. Add the crushed pineapple, hot sauce, brown sugar, apple cider vinegar, and salt. Simmer until sauce reduces and thickens. Toss with cooked meatballs. Serve over rice.
Notes
*If you are serving young children, replace up to half of the hot sauce with water or juice from the can of crushed pineapple to make it less spicy.
Nutrition Information:
Yield: 6
Amount Per Serving:
Unsaturated Fat: 0g