Grilled BBQ Chicken and Pineapple Quesadillas
This post may contain affiliate links, meaning that I may receive a commission at no cost to you if you use a link provided. All opinions shared are my own. You can review my full disclosure policy here.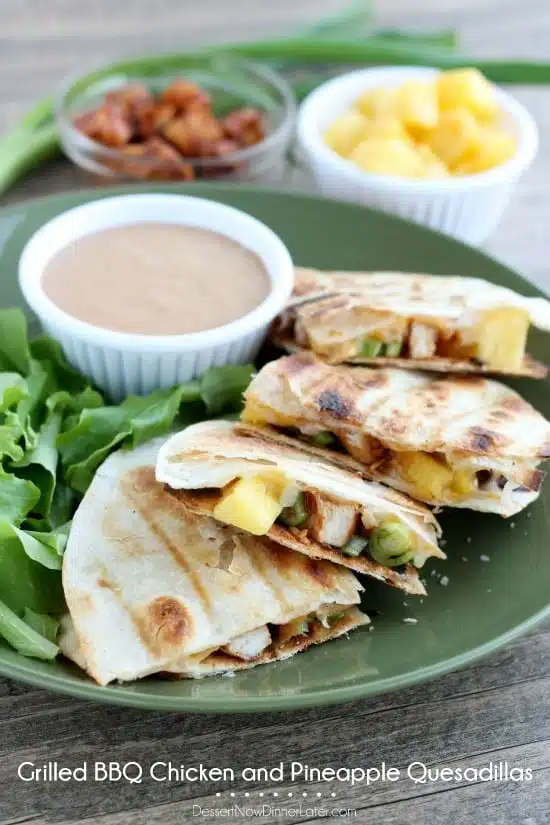 Are you grilling as much as I am this time of year? Oh man! We are having a blast cooking outside several nights of the week, and this time, we thought it would be fun to grill some quesadillas. Now, I am totally fine making my quesadillas on the stovetop, and I don't even think it heats up my house that bad, but there is just something appetizing about the grill marks on grilled quesadillas.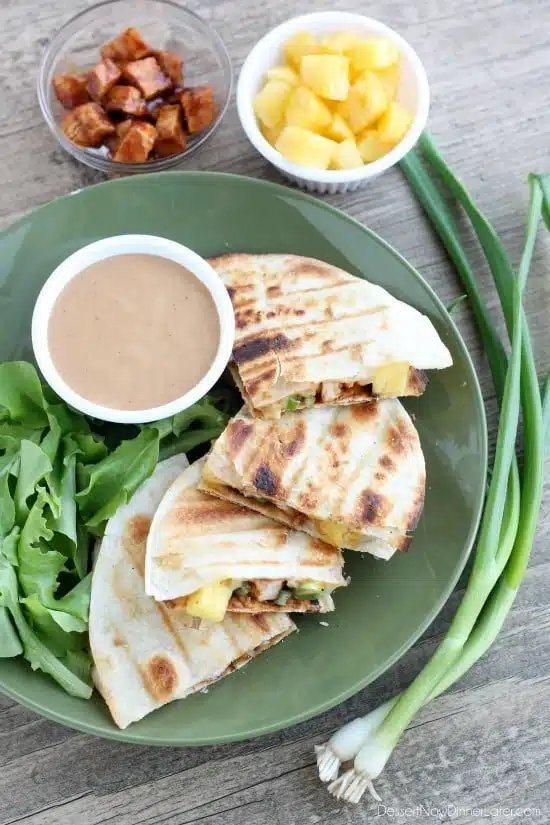 I was a little worried at first that grilling quesadillas wouldn't work out. I was mostly worried that all my fillings would fall out or that the tortilla would slip through the grates, but then I thought of a great way to make it work…
Lightly butter and toast both sides of each tortilla.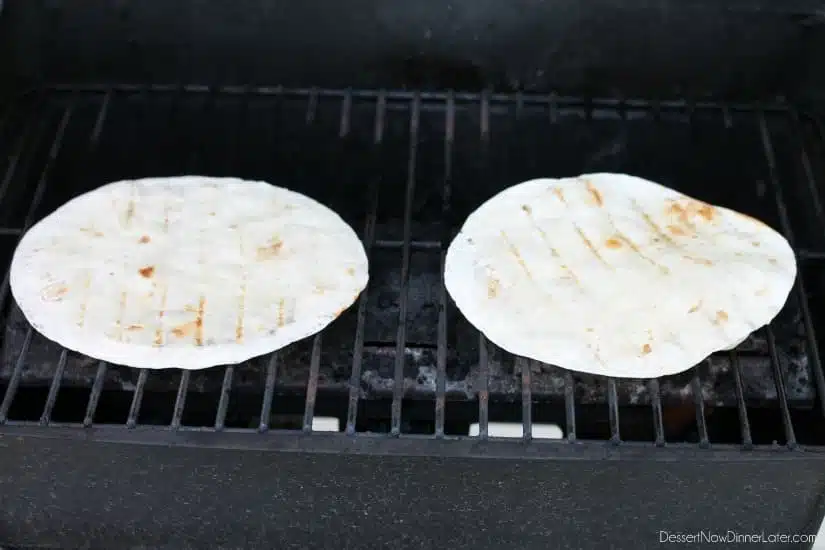 Then add your cheese and toppings. Place another tortilla on top, and grill both sides until golden brown. Lightly toasting the tortilla makes it sturdy enough to hold everything in and durable enough to flip over, plus it melts the cheese faster because it is already warm.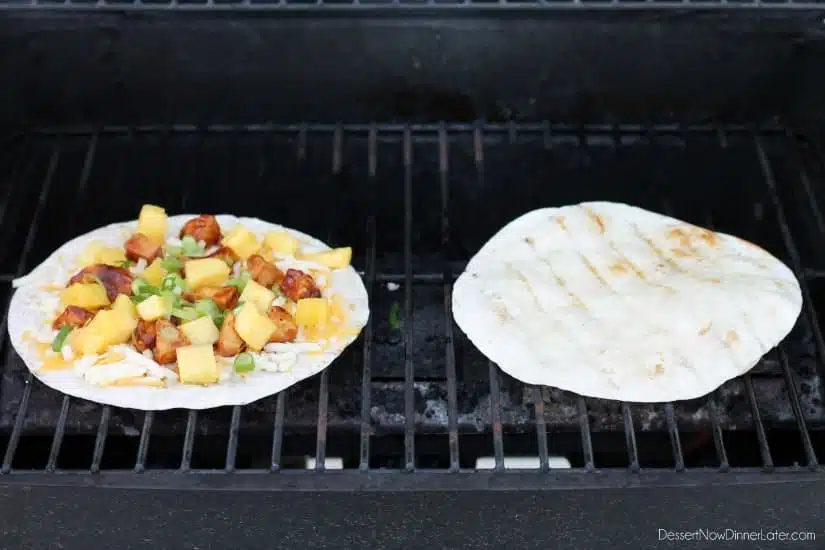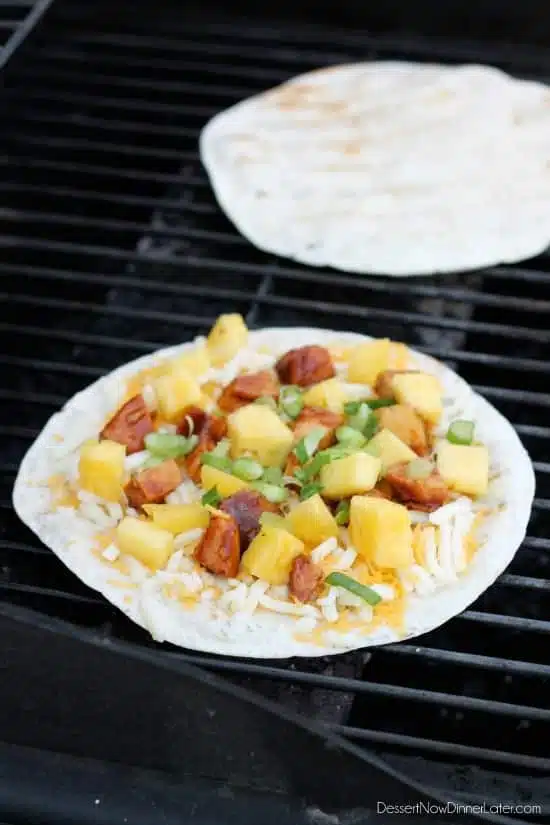 Voila! A delicious, toasted quesadilla! For this recipe, you also grill the chicken, which locks in that caramelized flavor from the BBQ sauce. I also made a side of BBQ Ranch to dip our quesadillas in – delicious! You can optionally grill your pineapple on kabobs or in slices before putting them inside the quesadillas for even more flavor.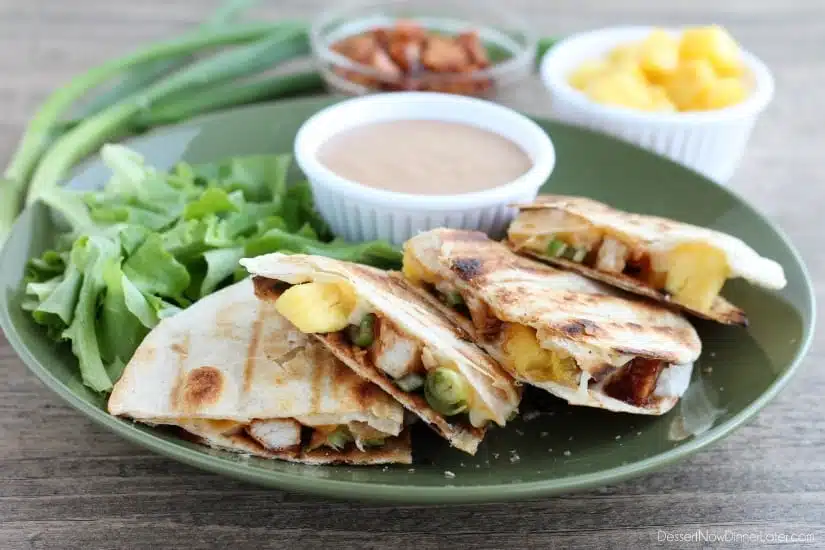 We absolutely loved the flavor of these quesadillas! They were like a bbq chicken pizza, but in quesadilla form, and the green onions added just the right touch. My kids scarfed these down, and we can't wait to make them again! Oh, and if you can't tell from the pictures, we prefer FRESH pineapple over canned. It's like freakin' candy! So good!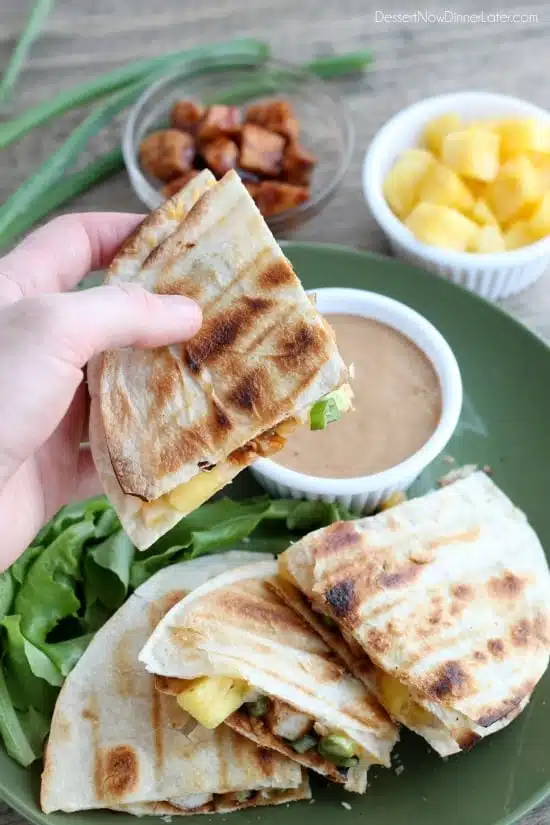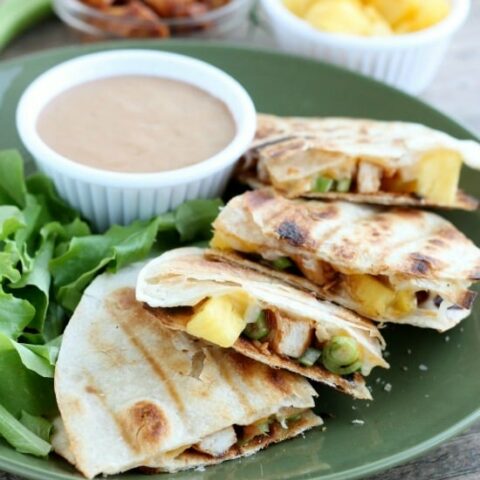 Grilled BBQ Chicken and Pineapple Quesadillas
Ingredients
For the Quesadillas:
2 boneless skinless chicken breasts
1/3 cup BBQ Sauce, divided (we love Bullseye Kansas or Memphis)
8 taco size tortillas
2 Tbsp butter, melted
1 cup shredded cheddar cheese
1 cup shredded mozzarella cheese
1/2 cup small diced fresh pineapple, or canned pineapple tidbits
2 green onions, sliced
For the BBQ Ranch Dipping Sauce:
1/3 cup light ranch dressing
3 Tbsp BBQ Sauce (we love Bullseye Kansas or Memphis Style)
Instructions
Preheat grill. Smother half of the ⅓ cup bbq sauce on both sides of the chicken breasts, being careful not to contaminate the extra sauce with raw chicken, and cook on medium heat for 4 to 5 minutes per side depending on how thick the chicken is. Make sure the centers reach 165 degrees Fahrenheit. Dice the grilled chicken and toss it in the remaining bbq sauce. Set aside.
Combine both cheeses in a bowl, and gather the remaining ingredients next to the grill for quesadilla assembly.
Lower heat on grill to low. Butter both sides of each tortilla and grill a couple at a time, just until lightly toasted on each side.
Add cheese, diced bbq chicken, diced pineapple, and sliced green onions. Top with another toasted tortilla and grill until golden brown on both sides and cheese is melted, using a spatula/turner to flip the quesadillas.
For the dipping sauce, combine the ranch and bbq sauce and whisk until combined. Serve quesadillas warm with the sauce on the side.
Nutrition Information:
Yield: 4
Amount Per Serving:
Unsaturated Fat: 0g