Pizza Breadsticks
This post may contain affiliate links, meaning that I may receive a commission at no cost to you if you use a link provided. All opinions shared are my own. You can review my full disclosure policy here.
*This post is brought to you by Rhodes Bake-N-Serv. Thanks for supporting the brands that make Dessert Now Dinner Later possible.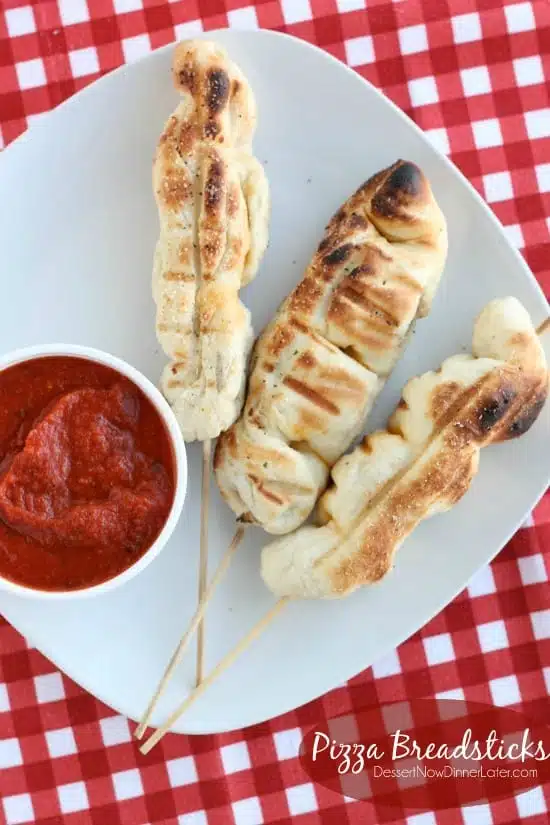 Oh my goodness you guys! I am so excited about this post! Basically the whole family scarfed it, it's SO GOOD! These Pizza Breadsticks were created as I was thinking, "Hey, we like breadsticks and we like pizza, why not put them together?" I'll be honest, my kids eat the breadsticks more than the pizza if we have both, so why not put them together, yeah?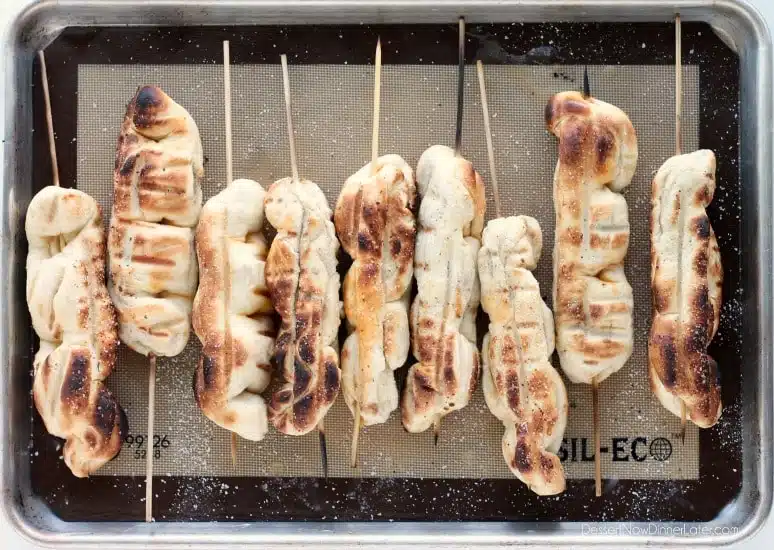 Basically, these are extra awesome because you can grill them, which is what I did, which makes them even more perfect for camping! Fun right?! And we dipped ours in the Classico Traditional Pizza Sauce, which is the best jarred marinara I have ever tasted! (And in case you are wondering, I didn't get paid to rave about the sauce.)
You seriously have to try these! They are made with Rhodes rolls (there's a coupon in my sidebar), so don't worry about making pizza dough, and then you just stuff them with shredded mozzarella and pepperonis, add a little butter and garlic salt, skewer them up, grill them and dip them in some warm pizza sauce.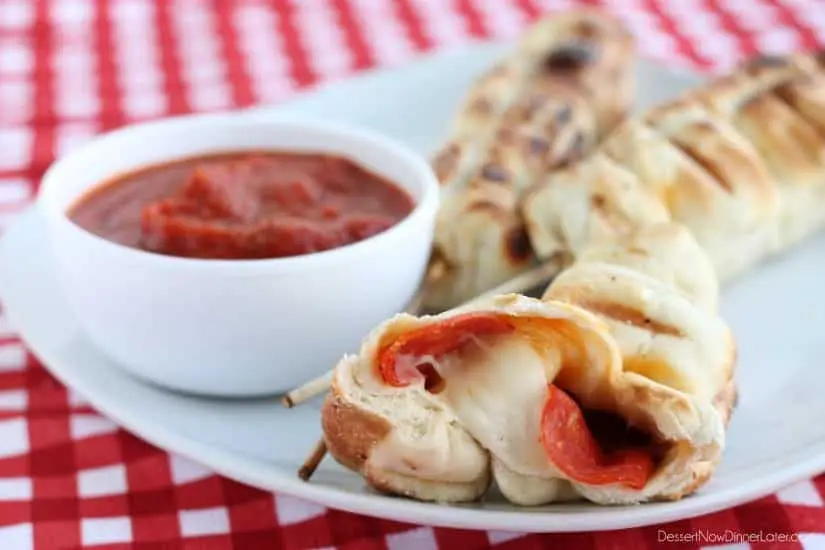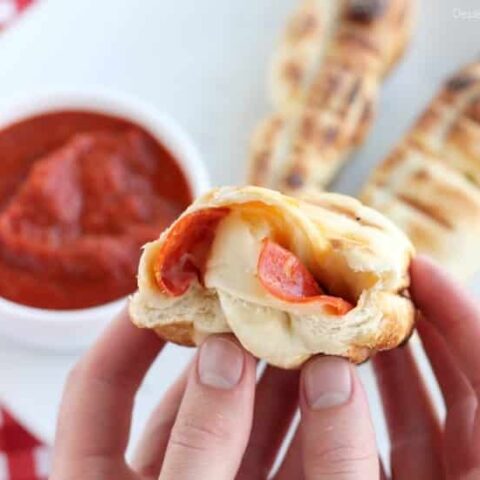 Pizza Breadsticks
Prep Time: 30 minutes
Cook Time: 10 minutes
Total Time: 40 minutes
Yield: 9 servings
Ingredients
18 Rhodes White Dinner Rolls
54 slices of pepperoni
1 heaping cup of shredded mozzarella cheese
2 Tbsp butter, melted
2 tsp garlic salt
water to seal edges
9 bamboo/wooden skewers soaked in water for 15 minutes
Instructions
For each pizza breadstick, stack two rolls together and roll them about 9-inches long and 2 to 3-inches wide. Use a little flour as needed.
Layer 6 pepperonis and about 2 Tbsp of shredded mozzarella in the middle.
Wet your fingers with a little water and dab the edges of the left half of the breadstick. Fold the right half over and pinch the seam shut. Then pick up the breadstick and wrap your hands around it (kind of squeezing it), to press down the seam. Move your hands down the breadstick pressing/squeezing the seam to make it smooth. You can optionally roll it on the counter like you would a normal breadstick.
After having soaked your wooden skewers for 15 minutes, loosely zig-zag your breadsticks onto each skewer. If it's tight, the bread will take longer to cook, so keep it loose. Repeat with remaining ingredients.
Preheat your grill for 5 minutes and then turn it to low. Melt your butter and set it by the grill with your breadsticks, tongs, garlic salt, and pastry brush for the butter. Butter and season one side of each breadstick with garlic salt. Place the buttered sides down on the grill first. Then brush the other side of each breadstick with butter and sprinkle it with garlic salt while it's on the grill. You can shut the lid now or just keep it open and move things around as they cook. It goes kind of fast. You will turn each skewer until it's cooked on all 4 sides. It should be crispy to the touch and golden brown. These take around 10 minutes to cook. Just keep the temperature low so nothing burns, and watch out for flames from dripping butter.
Serve with a side of heated marinara to dip the pizza breadsticks in.
Nutrition Information:
Yield: 9
Amount Per Serving:
Unsaturated Fat: 0g