Red White and Blue Whoopie Pies
This post may contain affiliate links, meaning that I may receive a commission at no cost to you if you use a link provided. All opinions shared are my own. You can review my full disclosure policy here.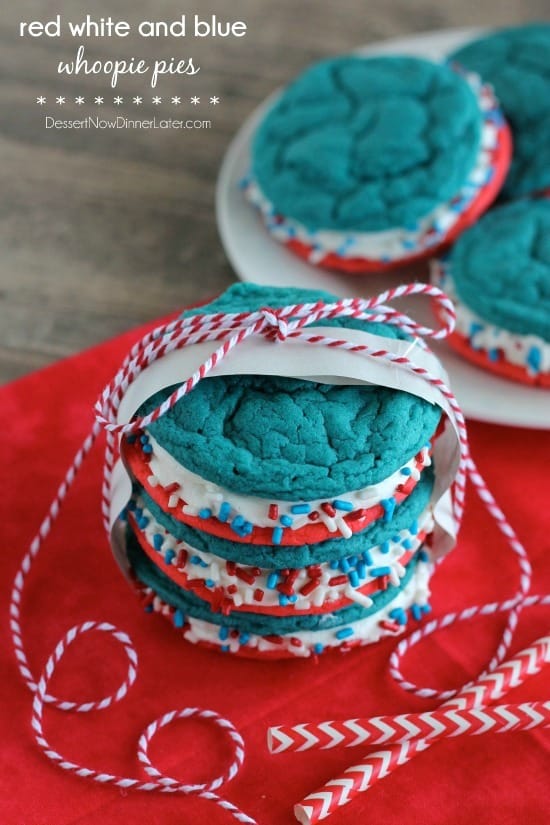 Oh my heck! These Red White and Blue Whoopie Pies are so stinkin' easy to make and even better to eat! The kids love them because of the fun bright colors and they are oh so festive for the 4th of July!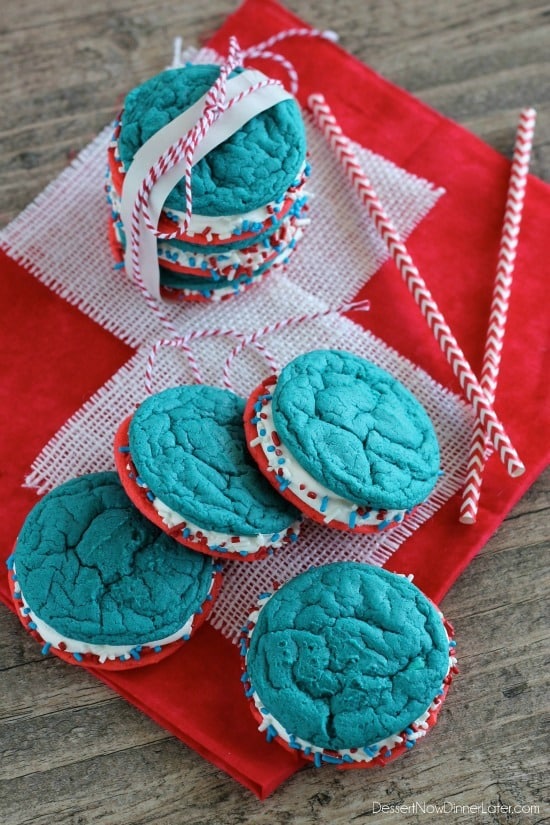 These cookies start with a cake mix AND pudding mix, so you know it's going to be easy and so soft and chewy! Add butter and a couple eggs, divide the batter, add your colors and voila! Red and blue cookies!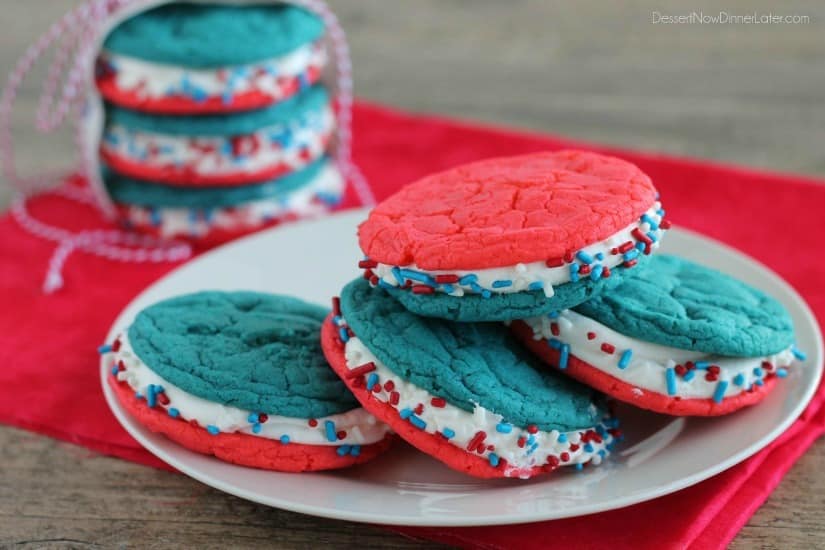 The only thing missing is the frosting in the centers. And guess what?! It's Cool Whip Frosting! Did you even know there was such a thing? Well, there is! And I was pleasantly surprised! It's fluffy, yet has structure and depth. It's almost like whipped cream cheese frosting. YUM!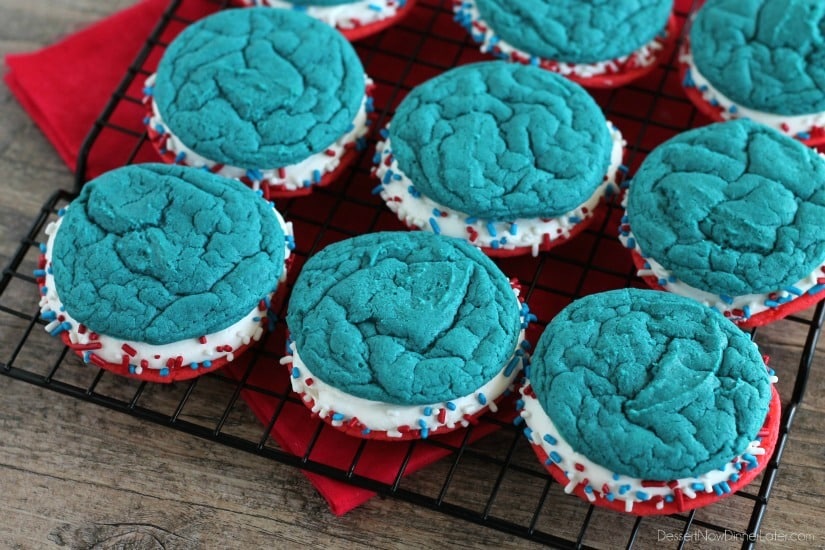 Another great thing about these cookies…the sprinkles! It gives these cookies just the right touch, and who doesn't love festive sprinkles?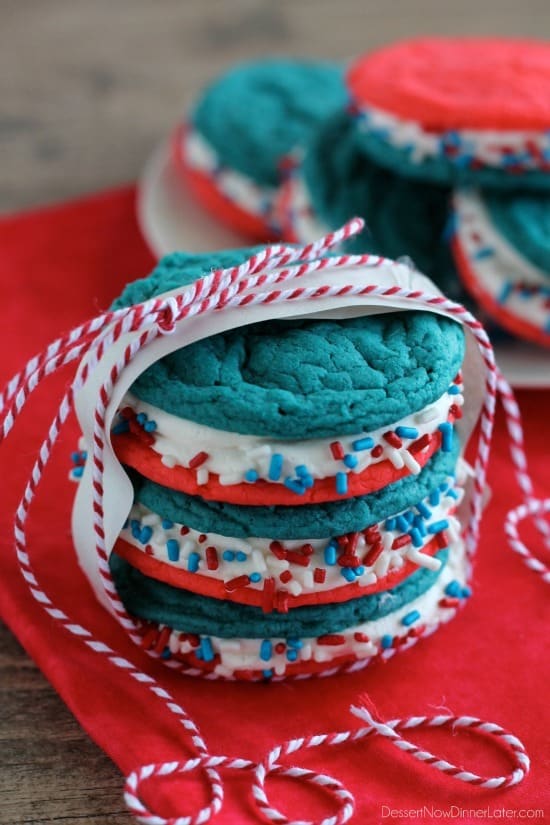 You know everyone is going to be reaching for these cookies at your 4th of July party! And no one has to know how easy they were to make! 😉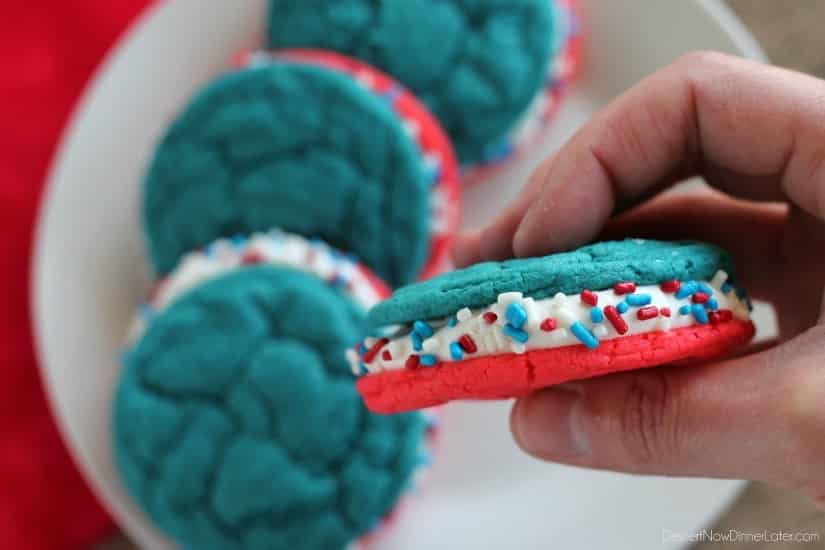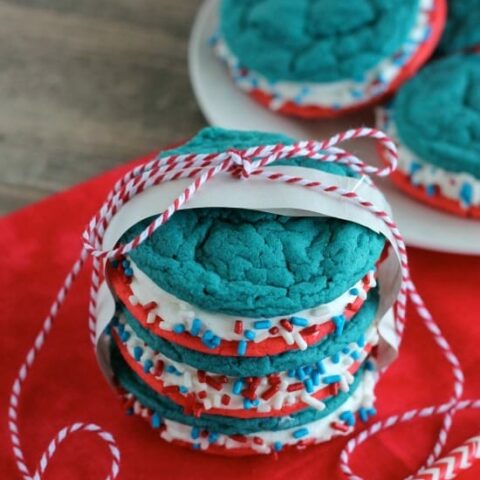 Red White and Blue Whoopie Pies
Ingredients
1 box white cake mix
1 small (3.4 oz) box instant vanilla pudding mix
1 stick (1/2 cup) butter, softened
2 large eggs
Red and Blue food coloring (I used Wilton's gel food colorings)
Vanilla Cool Whip Frosting (comes in a 10.6oz tub) *See Notes for alternative
Red, white, and blue sprinkles (if desired)
Instructions
In a large bowl combine cake mix and vanilla pudding.
Using a hand mixer, blend in softened butter and large eggs until combined.
Divide the batter in half. Color one half blue, and the other half red, mixing until one solid color (no streaks).
With a #50 cookie scoop, spoon balls of cookie dough on a silicone mat lined baking sheet about an inch apart.
Bake at 350 degrees Fahrenheit for 10 to 12 minutes or until the edges are set and the tops are wrinkled. Allow cookies to cool completely.
Fill a plastic sandwich bag with some Vanilla Cool Whip Frosting, zip it shut, cut off one corner and pipe the frosting on the bottom of one cookie. Top with another cookie in the opposite color so you have a red cookie, a white frosting center, and a blue cookie. Sprinkle edges of the frosting with Red White and Blue Sprinkles. Repeat with remaining cookies. Enjoy immediately or store in an airtight container and keep refrigerated until ready to serve.
Nutrition Information:
Yield: 14
Amount Per Serving:
Unsaturated Fat: 0g
Recipe from Neighbor Food and re-written in my own words.