Chipotle Chicken
This post may contain affiliate links, meaning that I may receive a commission at no cost to you if you use a link provided. All opinions shared are my own. You can review my full disclosure policy here.
This Chipotle Chicken is marinated in a bold, sweet and spicy mixture with tasty herbs and spices, creating juicy, flavorful grilled chicken. Our absolute favorite chicken marinade!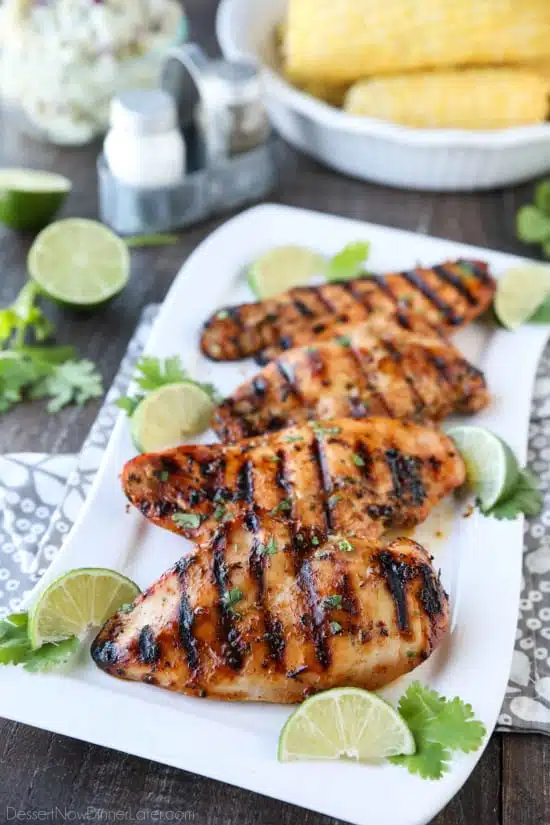 The first time I made this marinade for chipotle chicken was back in 2013. It was for skewers with a creamy dip that went with it.
We have since gone the shortcut route, and just grilled whole pieces of chicken breasts. But it is continuously one of our favorites, so I had to share it on its own.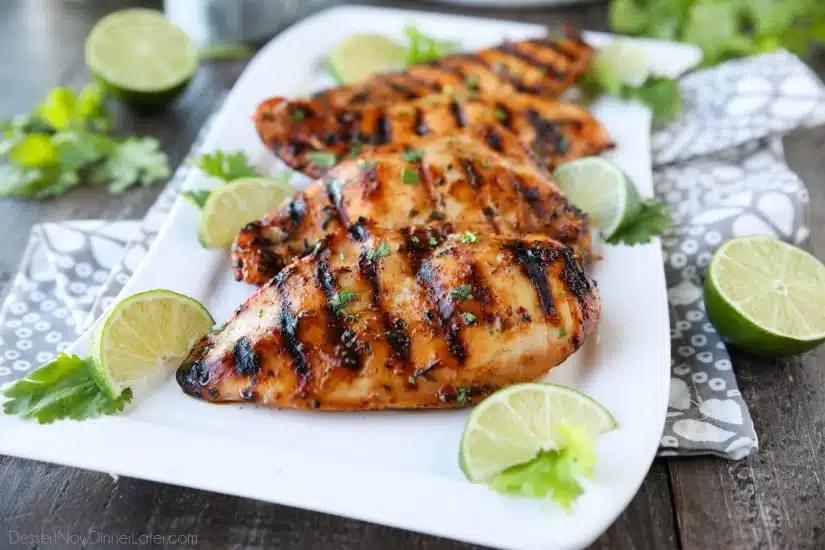 Chipotle Chicken
I feel like a great chicken marinade has to have lots of flavor. This Chipotle Chicken has bold chipotle peppers in adobo sauce, with delicious brown sugar, fresh cilantro, and few other great spices. It creates a symphony of spicy-sweet flavors for your taste buds to enjoy!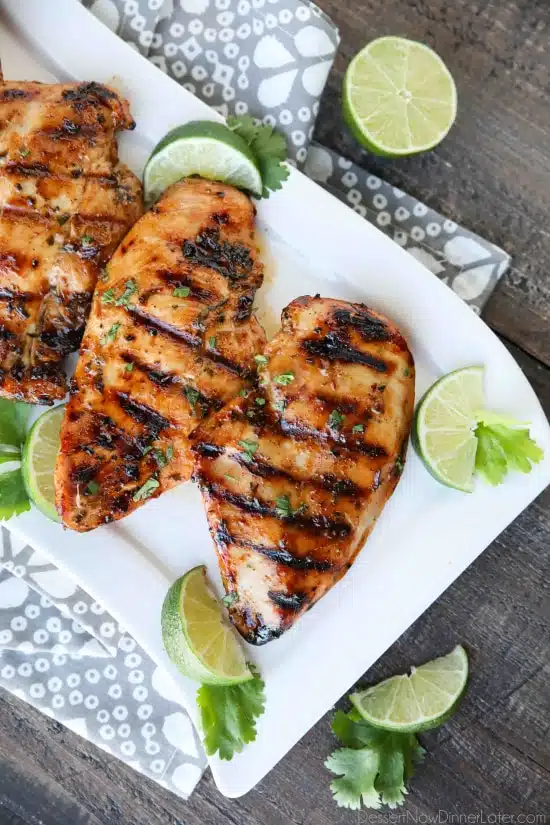 I've been making this chipotle chicken a lot lately for meal prep. I count macros (aka macronutrients — the nutritional components that make up the calorie content in our food: protein, fat & carbohydrates.), and I eat a lot of lean protein. Being someone who hates fish/seafood, I eat A LOT of chicken. So it has to taste good!
This chipotle chicken is great on salad, or re-heated with some veggies and quinoa or brown rice. A squirt of fresh lime on top makes it taste fresh, even if it's eaten a few days later.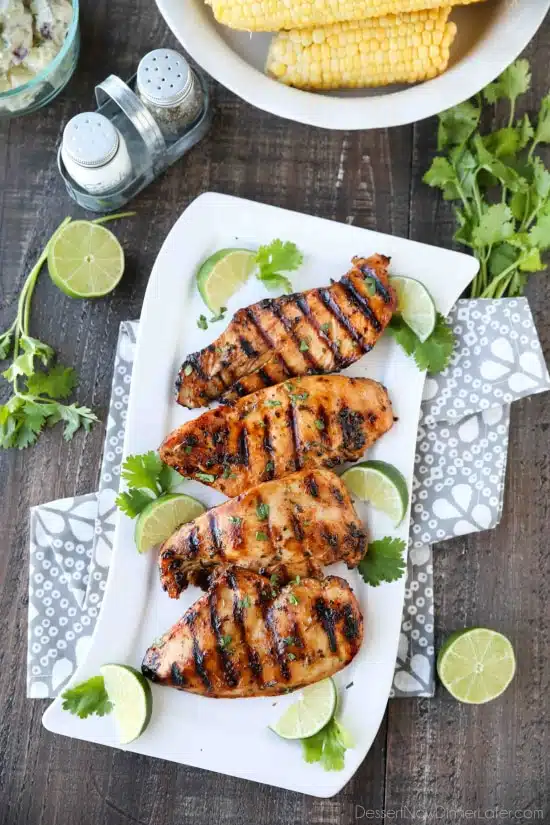 The next time you want to grill chicken, whip up this marinade! It flavors the chicken in as little as 30 minutes, or can stay in the fridge overnight if you like to plan ahead. You'll love this chipotle chicken!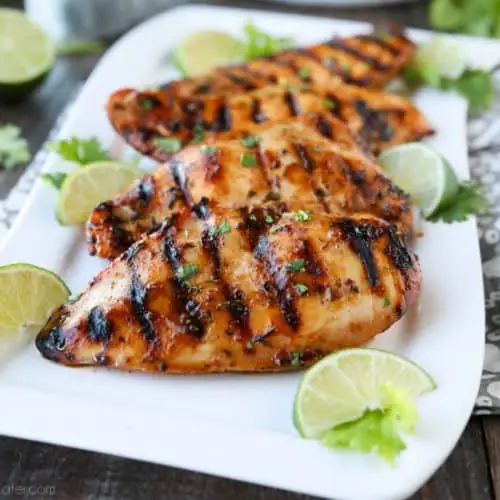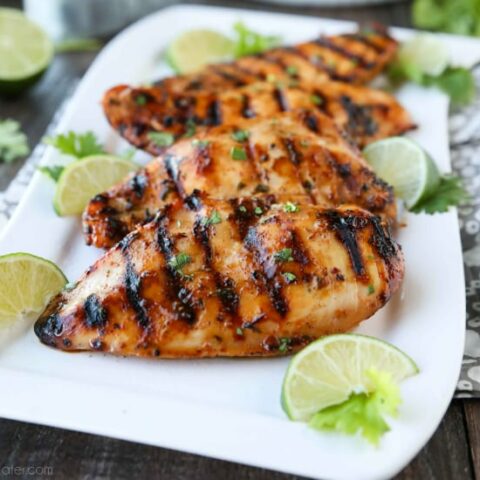 Chipotle Chicken
Prep Time: 5 minutes
Cook Time: 10 minutes
Marinating Time: 30 minutes
Total Time: 45 minutes
Yield: 4 servings
Ingredients
2 lbs boneless skinless chicken breasts (about 4)
1/4 cup light brown sugar, packed
2 Tbsp chopped cilantro (or Gourmet Garden Cilantro Paste)
1 chipotle chile in adobo sauce, minced; remove seeds to reduce spiciness (*I actually puree the whole can with adobo sauce and freeze ice cube portions which equal about 1 1/2 Tbsp each; I use 1 cube, thawed)
2 tsp adobo sauce (if not using the pureed method I just talked about)
1 1/2 tsp salt
1/2 tsp chili powder
1/4 tsp garlic powder
1/4 tsp ground black pepper
fresh limes, for serving
Instructions
In a bowl or gallon size zip-top bag, combine the brown sugar, cilantro, chipotle chile, adobo sauce, salt, chili powder, garlic powder, and black pepper.
Add chicken and mix to coat. Cover and refrigerate for at least 30 minutes or up to 24 hours.
Preheat grill. Once hot, cook chicken about 5-6 minutes per side over medium heat, until internal temperature reaches 165 degrees Fahrenheit. Rest chicken for 5 minutes before slicing to keep juices intact.
Serve with fresh lime wedges to squeeze over the chicken, if desired. (Highly recommended.)
Notes
*You may add 1 Tbsp oil (canola/vegetable/olive) if the marinade needs more moisture other than the chipotle pepper and adobo sauce.
Nutrition Information:
Yield: 4
Amount Per Serving:
Unsaturated Fat: 0g