Chipotle Chicken Skewers with Creamy Cilantro-Lime Dip
This post may contain affiliate links, meaning that I may receive a commission at no cost to you if you use a link provided. All opinions shared are my own. You can review my full disclosure policy here.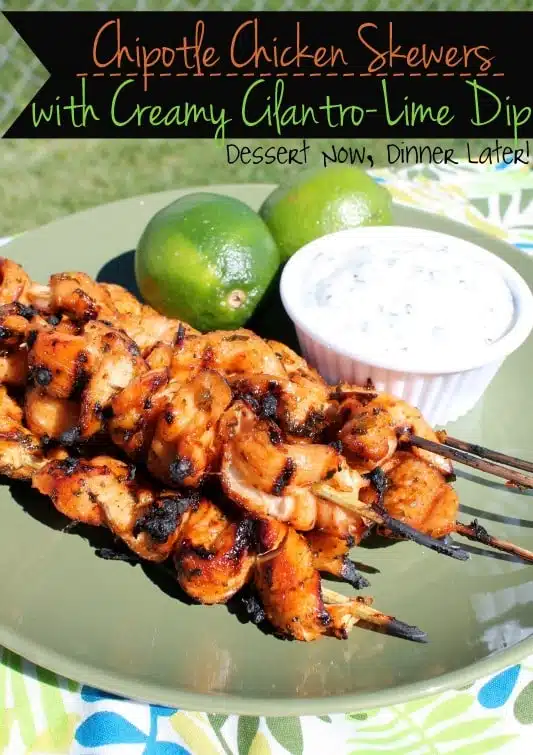 When I saw this recipe, I knew I had to try it & it did not disappoint! You must try this, NOW! The chicken is spicy, yet sweet & the creamy dip is perfectly cooling. Both my kids ate this chicken with no problems at all which is saying a lot, especially for my picky 4 year old. He is picky to the extreme & will not eat anything even slightly spicy. We just took the chicken off the skewers & pre-coated them with the dip. Our kids gobbled it right up, & even said it was, "Yummy!" That is success my friends!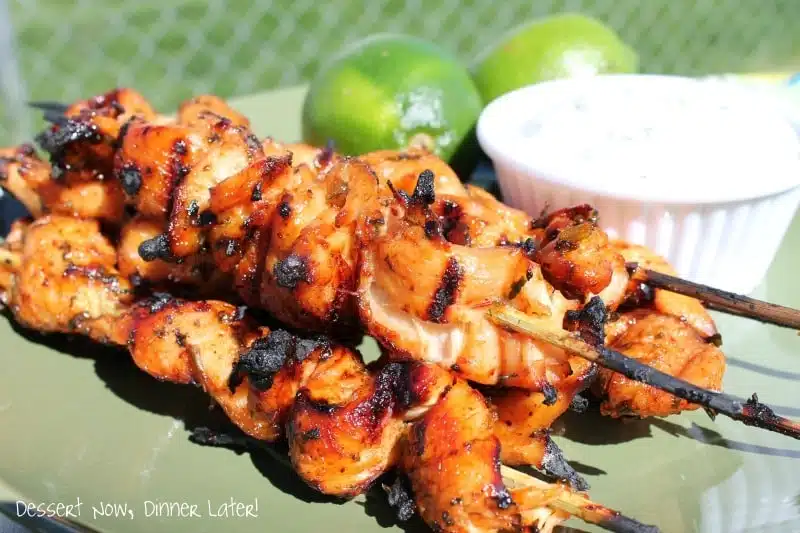 One thing I love about this recipe is how simple it is. Especially using my new favorite Gourmet Garden Herbs & Spices. I cannot tell you how much I love those little green tubes! I am in love with them! It saves so much prep time & mess! I will not go back to chopping cilantro again!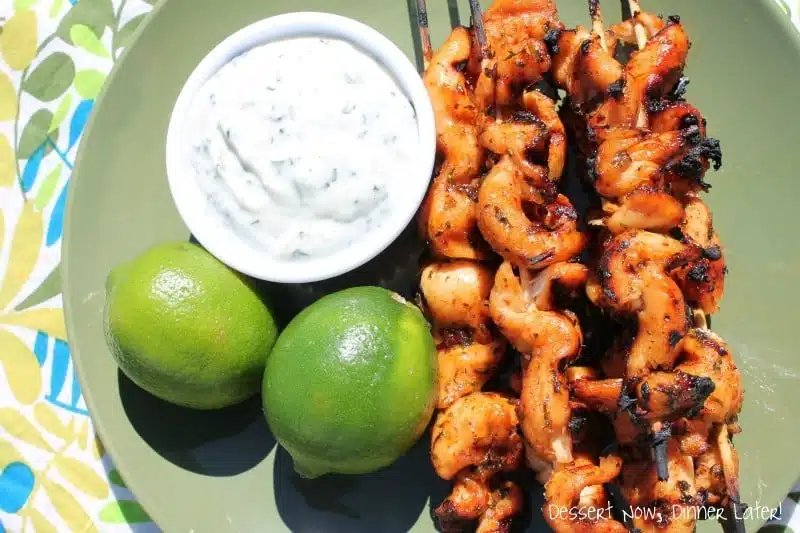 Anyway, this recipe needs to go on your Summer Grillin' Bucket List ASAP!!! Get it done, because you will not regret it!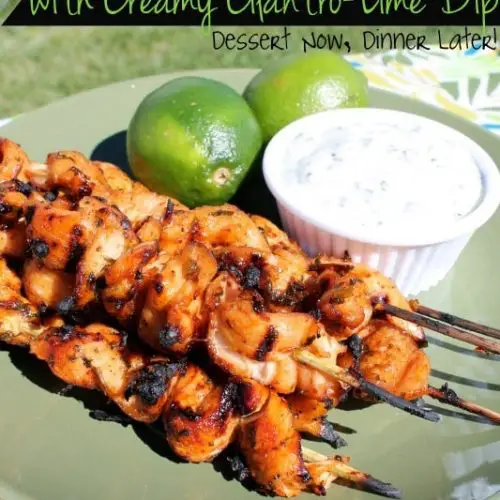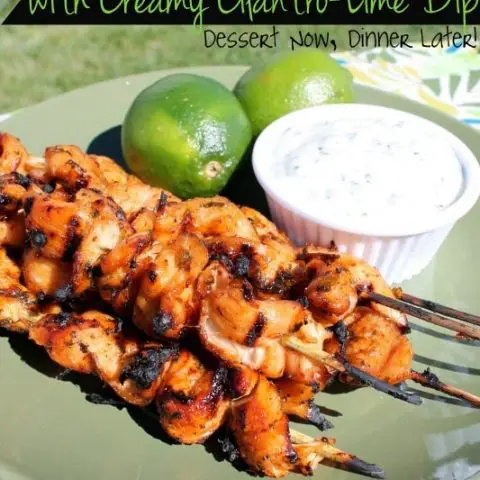 Chipotle Chicken Skewers with Creamy Cilantro-Lime Dip
Ingredients
Chicken Skewers:
2 lbs boneless skinless chicken breasts or tenders (about 4 breasts or 12 tenders)
1/4 cup packed light brown sugar
2 Tbsp Gourmet Garden Cilantro Paste (or freshly minced cilantro)
1 chipotle chile in adobo sauce, minced; remove seeds to reduce spiciness (*I actually puree the whole can with adobo sauce & freeze ice cube portions which equal about 1 1/2 Tbsp each; I used 1 cube, thawed)
2 tsp adobo sauce (if not using the pureed method I just talked about)
1 1/2 tsp salt
1/2 tsp chili powder
1/4 tsp garlic powder
1/4 tsp ground black pepper
12 bamboo or metal skewers
Vegetable Oil, for grill
Creamy Cilantro Lime Dip:
3/4 cup low-fat sour cream
1/4 cup low-fat mayonnaise
1/4 cup lime juice, from 2-3 limes
1/8 tsp garlic powder
2 Tbsp Gourmet Garden Cilantro Paste (or freshly minced cilantro)
2 green onions, finely sliced
1/2 tsp salt
1/8 tsp ground black pepper
Instructions
In a small bowl combine brown sugar, cilantro, chipotle chile, adobo sauce, salt, chili powder, garlic powder, & pepper. Coat chicken in the mixture, cover & refrigerate for at least 30 minutes & up to 24 hours.
For the dipping sauce, stir all ingredients together in a bowl. Cover & let stand at room temperature for 30 minutes until the flavors combine. Meanwhile cover & soak bamboo skewers; skip this step if using metal skewers.
Pre-heat grill. Loosely weave 3 strips of chicken onto each skewer so that they cook evenly. Place prepared skewers onto a plate, keep as much of the marinade on them that you can.
Grease grill grates with a pastry brush & vegetable oil (may also use a paper towel.) Grill chicken for 5-8 minutes until cooked through, turning half-way. Serve with dipping sauce.
Nutrition Information:
Yield: 4
Amount Per Serving:
Unsaturated Fat: 0g