Pretzel Crusted Honey Mustard Chicken
This post may contain affiliate links, meaning that I may receive a commission at no cost to you if you use a link provided. All opinions shared are my own. You can review my full disclosure policy here.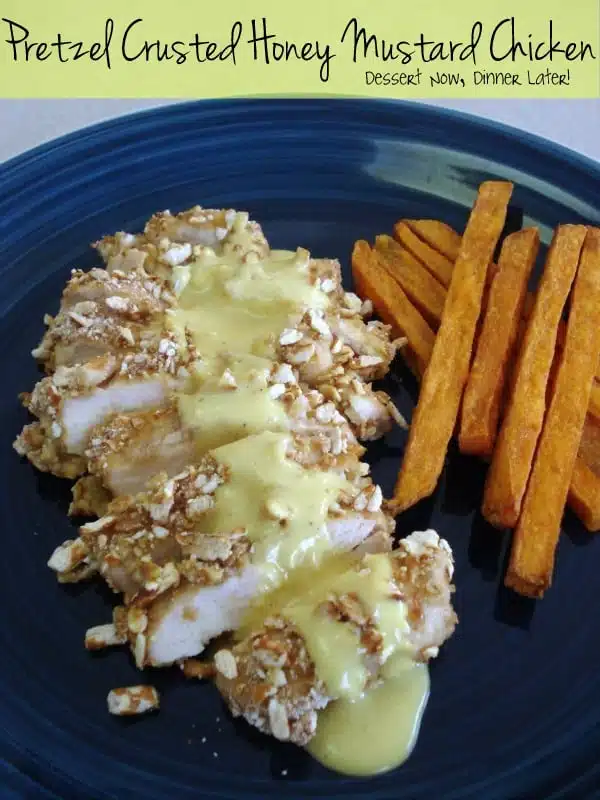 This is one of my new dinner FAVORITES! I kept asking my husband if I was just raving about it because I was hungry or if it was really that good & he said it was really that good. I love how the chicken is rolled in some honey mustard before it's coated in pretzels rather than just topped with the honey mustard sauce. My kids loved the "dip" like crazy too. Plus this meal was super fast! Definitely an easy weeknight meal. We served ours with sweet potato fries. No veggies (I am such a good mom–haha)…unless you consider a sweet potato a vegetable & not a starch. But it's extremely versatile so any sides you serve will be great!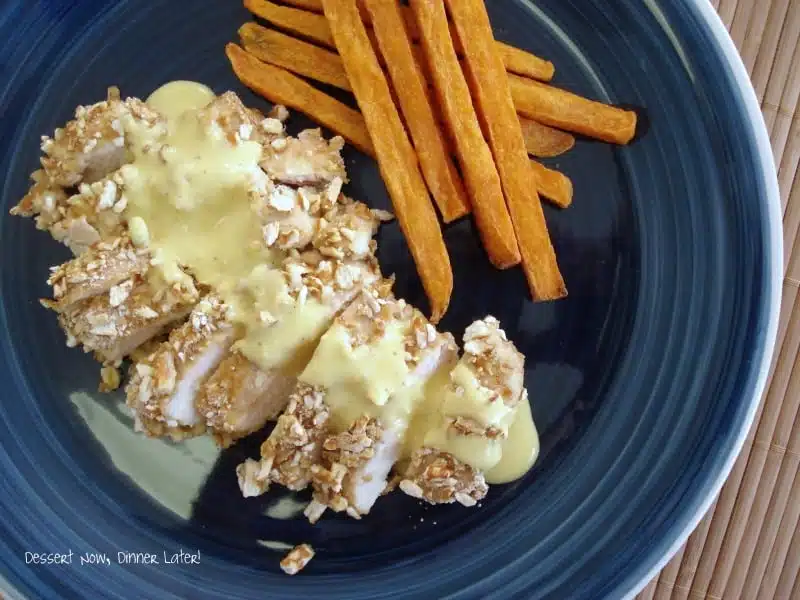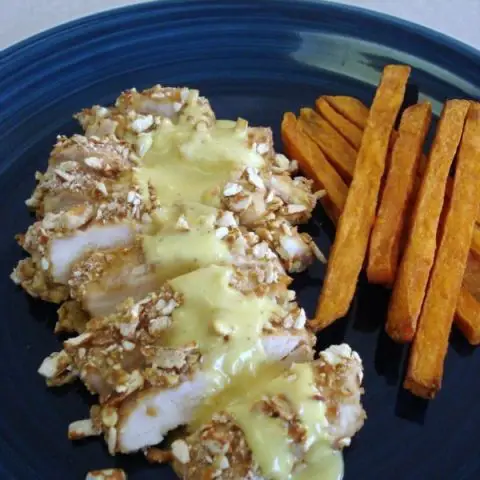 Pretzel Crusted Honey Mustard Chicken
Ingredients
2 large chicken breasts (halved width-wise to make 4 breasts)
2 cups pretzels
3/4 cup light mayonnaise
3 Tbsp yellow mustard
3/4 tsp garlic powder
1 1/2 Tbsp apple cider vinegar
3 Tbsp honey
3/4 tsp salt
1/4 tsp pepper
Instructions
Pre-heat oven to 400*F. Place a piece of parchment paper in a large rimmed baking sheet & then set a wire rack (like an oven-safe cookie rack) on top of the parchment paper. Set aside.
Make honey mustard by combining mayonnaise, mustard, garlic powder, cider vinegar, honey, salt & pepper in a bowl with a whisk. Pour one-third to one-half of the mixture onto a plate. Save the rest in the bowl in the refrigerator.
Pulse pretzels in a food processor until coarsely ground, leaving little bits of pretzels visible. Pour onto a plate.
Roll chicken breasts in the honey mustard & then dredge them in the pretzel bits. Place breaded chicken breasts onto the prepared wire racks. Bake for 20-25 minutes or until chicken is done (165*F). Allow chicken to rest a few minutes. Slice & then drizzle extra honey mustard over the top or serve on the side for dipping.