Instant Pot Indian Butter Chicken with Potatoes
This post may contain affiliate links, meaning that I may receive a commission at no cost to you if you use a link provided. All opinions shared are my own. You can review my full disclosure policy here.
Instant Pot Indian Butter Chicken is quick, easy, creamy and flavorful. Chunks of chicken and potatoes are smothered in a mild tomato and coconut milk sauce that's filled with fragrant Indian spices. Serve it with some garlic naan for a restaurant quality dinner at home.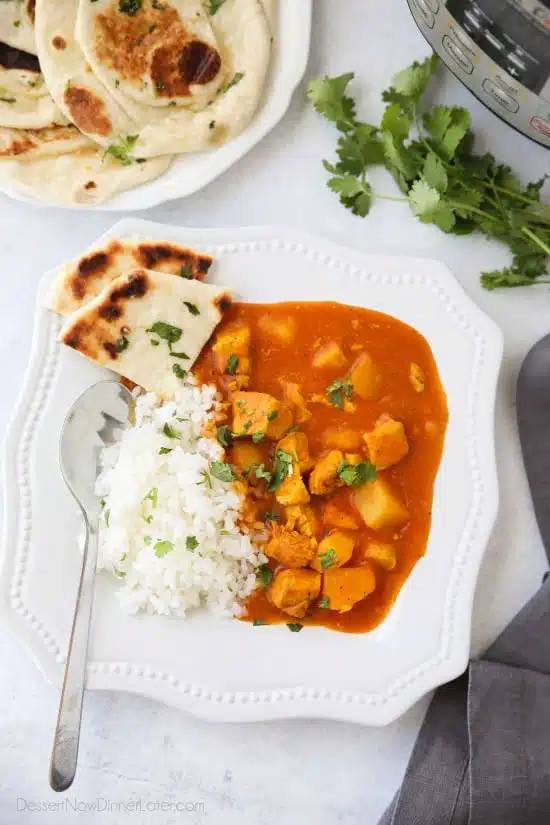 We've been making this Instant Pot Butter Chicken recipe for over a year now. I've altered it from Mel's Kitchen Cafe to accommodate our young family and still use up full cans. Nobody wants leftover ingredients sitting in their fridge. Am I right?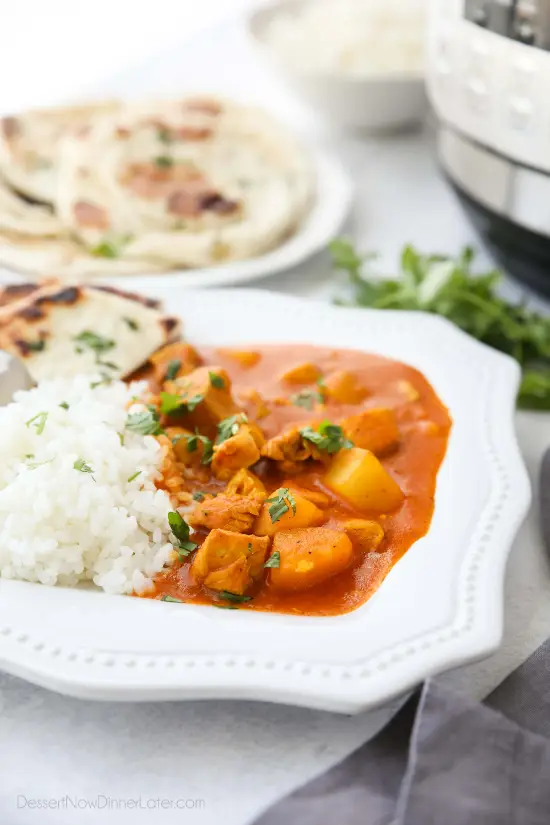 Instant Pot Indian Butter Chicken
A lot of Indian butter chicken recipes use heavy cream for the creamy texture. This recipe uses canned coconut milk. I even use the light or reduced fat coconut milk to save on fat and calories. It's so quick to whip up, start-to-finish in the instant pot.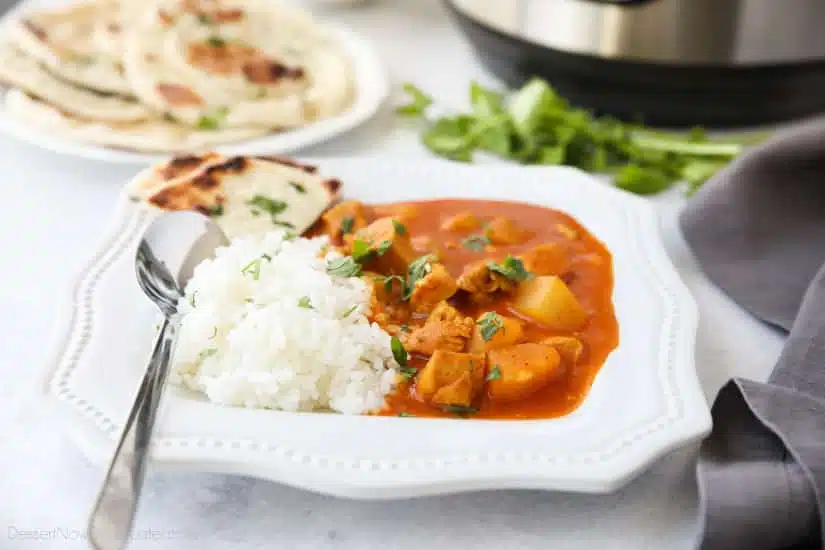 My picky kids absolutely LOVE this Instant Pot Indian butter chicken. There are no leftovers when we make it, and it goes perfectly with my Easy Garlic Naan.
The addition of potatoes is simply a preference. It stretches the dish a little bit and gives it more texture and heartiness. You could substitute more chicken, if you don't want the potatoes.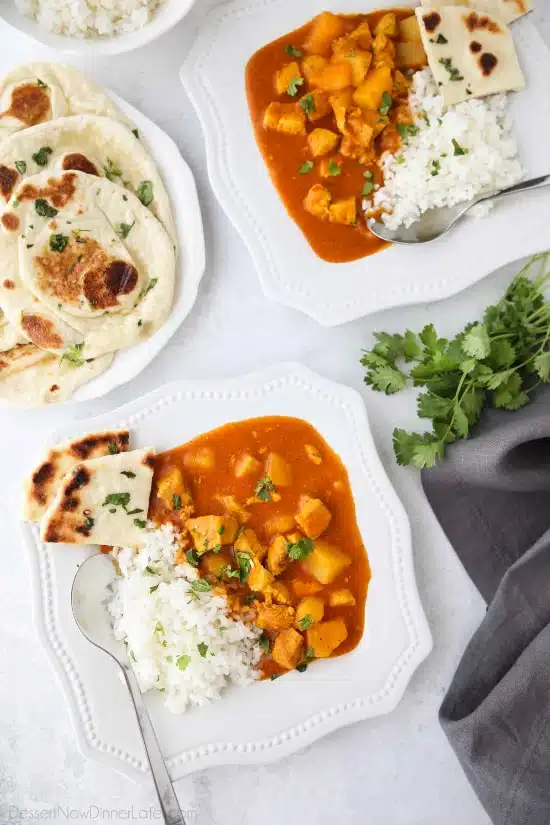 Butter Chicken vs. Chicken Tikka Masala
Butter chicken and chicken tikka masala are very similar, but aren't exactly the same thing.
Tikka masala has more of a complex, layered flavor because the chicken is first marinated for several hours in yogurt and spices.
Butter chicken doesn't require marinating, making it quicker and more mild in flavor. NOTE: Butter chicken was originally made from leftover dry tandoori chicken mixed with butter, or ghee, and a creamy tomato sauce to give it moisture.
There is also conflicting information about tikka masala being boneless, and butter chicken being bone-in.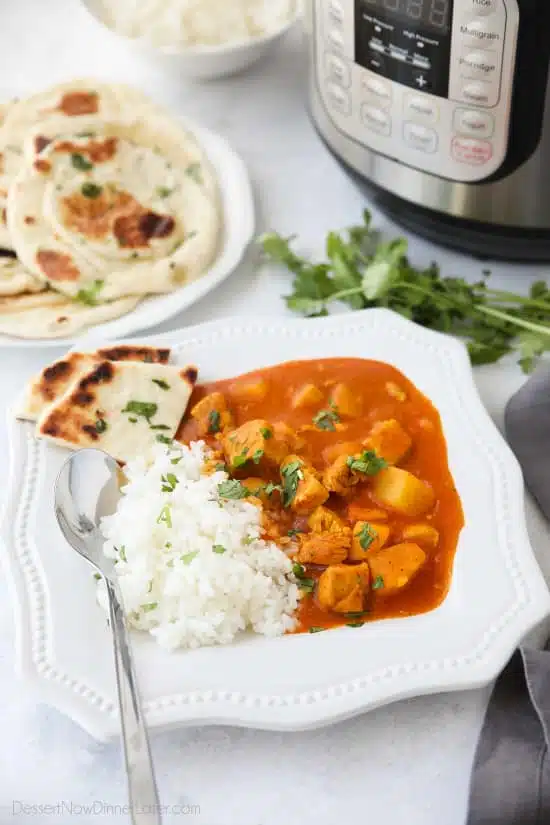 Regardless, this Instant Pot Indian Butter Chicken recipe, is easy, quick, flavorful, and lightened up with the use of canned coconut milk.
It's perfect for the cold weather months or whenever you're craving a restaurant style Indian dish. The flavors are bold, yet mild and you can't beat the easiness of the Instant Pot.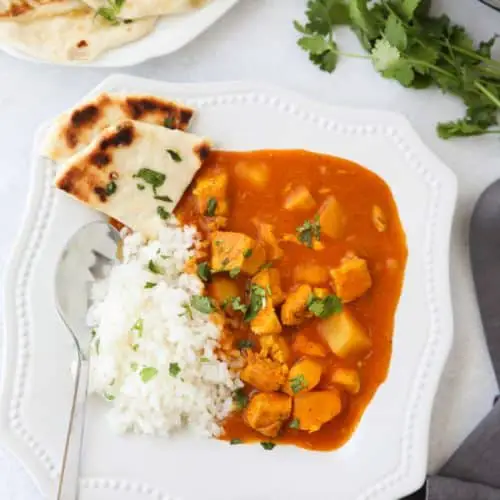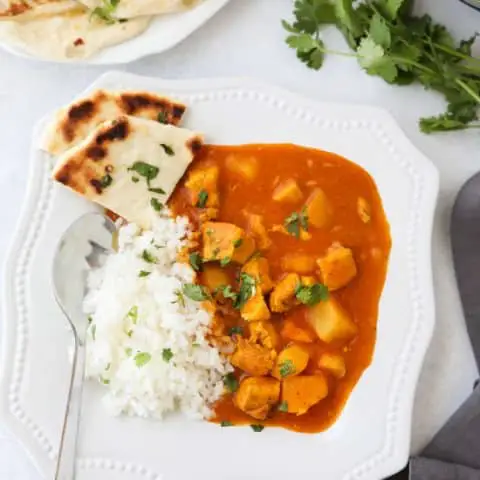 Instant Pot Indian Butter Chicken with Potatoes
Prep Time: 20 minutes
Cook Time: 12 minutes
Total Time: 32 minutes
Yield: 4 servings
Chunks of chicken and potatoes are smothered in a mild tomato and coconut milk sauce that's filled with fragrant Indian spices.
Ingredients
3 Tbsp butter, divided
1/4 cup diced onions (white or yellow)
1 tsp minced garlic (about 2 cloves)
1 tsp ginger paste (or grated fresh ginger)
1 lb boneless, skinless chicken breasts, cut into 1-inch pieces
1 tsp ground coriander
1 tsp garam masala
1 tsp turmeric
1/4 tsp paprika
1/2 tsp salt
1 cup potatoes, peeled and cut into 1-inch pieces (russet or yellow)
1 (8oz) can tomato sauce
1 (15oz) can light/reduced fat coconut milk
1-2 Tbsp cornstarch
1-2 Tbsp COLD water
Hot, cooked rice, for serving
Fresh, chopped cilantro, optional - for garnish
Instructions
Place the stainless steel inner pot into the Instant Pot. Select the Sauté function. Use the + or - button and set it to Normal.
Melt 2 Tbsp of butter. Add the onions and cook, stirring often for 2-3 minutes, or until onions start to soften and turn translucent. Add minced garlic and ginger paste. Stir and cook for 10-20 seconds.
Add the cubed chicken and spices (coriander, garam masala, turmeric, paprika, and salt). Cook, stirring often for 1-2 minutes.
Add the diced potatoes, tomato sauce, and coconut milk. Stir well.
Attach lid and make sure the valve is closed. Select Manual or Pressure Cook button, set to high pressure, and adjust time to 6 minutes. The Instant Pot will start on its own.
After the cooking time has finished, quick release the pressure by carefully turning the valve to the open position. (If it splatters too much, close the valve and let rest 5 minutes before trying again.) Remove the lid after all pressure has been successfully released (and the float valve drops).
Switch over to the Sauté feature (by cancelling first) and add 1 Tbsp of butter to melt into the sauce.
In a small bowl, stir together equal amounts of cornstarch and COLD water (1-2 Tbsp, each) Add the cornstarch slurry to the pot once it comes to a boil, stirring constantly until thickened. (Use more cornstarch for a thicker sauce, less for a thinner sauce. The sauce will continue to thicken as it cools.) Adjust seasoning if needed, by adding more salt, if desired.
Serve Indian Butter Chicken over hot, cooked rice with fresh chopped cilantro, optional.
Notes
*Ginger paste can be found in a tube in most refrigerated produce/herb sections of the grocery store. Alternately peel and grate a piece of fresh ginger with a microplane zester.
*Recipe altered from Mel's Kitchen Cafe