Herb Crusted Chicken with Tomato Cream Sauce
This post may contain affiliate links, meaning that I may receive a commission at no cost to you if you use a link provided. All opinions shared are my own. You can review my full disclosure policy here.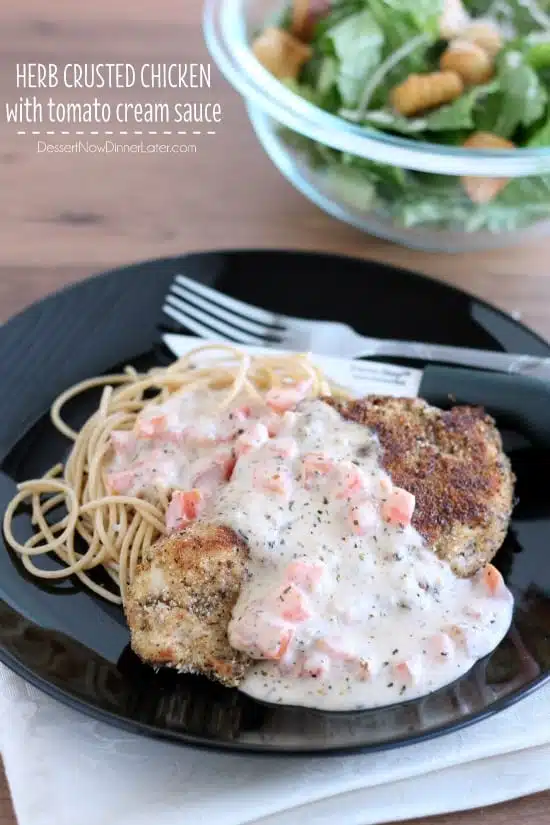 I am incredibly excited to share today's recipe with you all! When I saw this recipe over at my friend Aimee's blog, I knew I had to make it! I am part Italian, my maiden name is Venezia. My great grandparents came to the United States from Italy. I can't say that this dish is an authentic Italian dish, but it's definitely similar to Americanized Italian, like Olive Garden. We loved this dinner and will most definitely be making it again!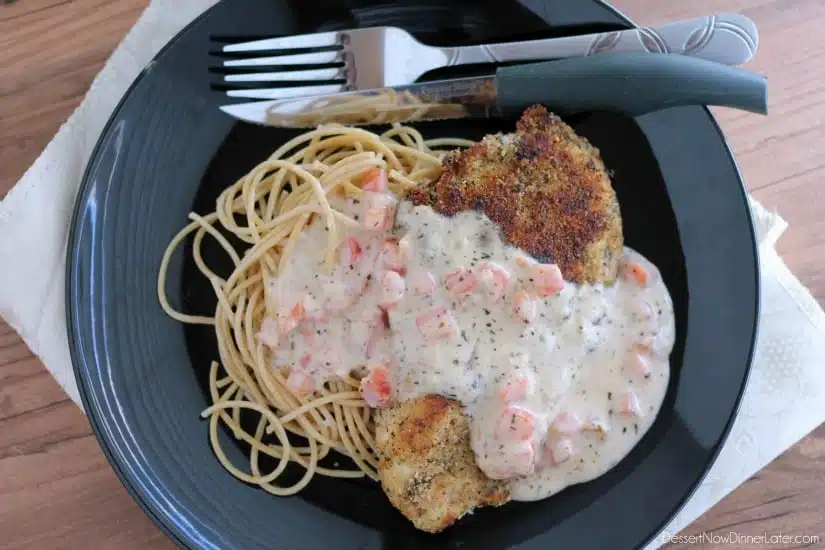 This Herb Crusted Chicken with Tomato Cream Sauce is full of flavor and simple to prepare. The chicken has a crispy and flavorful batter, sealing the juices inside the chicken. The tomato cream sauce is seasoned with Italian herbs, has juicy roma tomatoes, and a light parmesan cream sauce. It's perfectly balanced and delicious atop a bed of whole wheat spaghetti. I hope you make this for dinner in your house soon!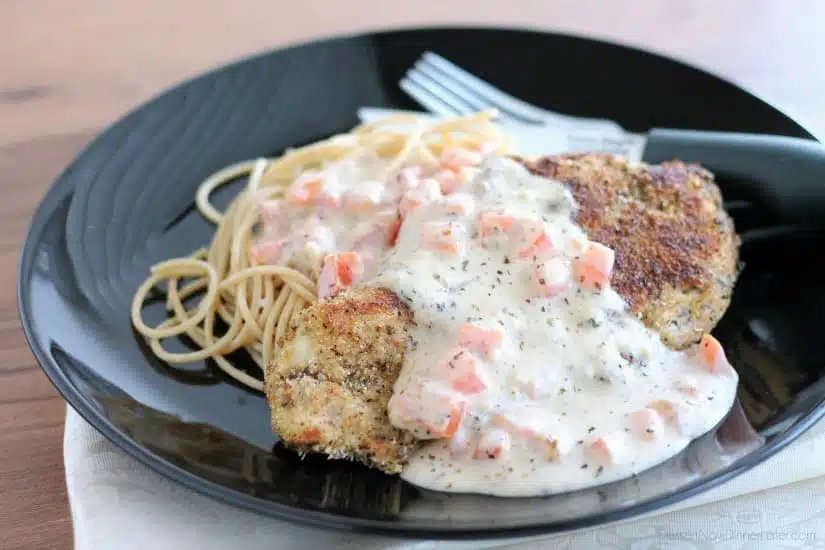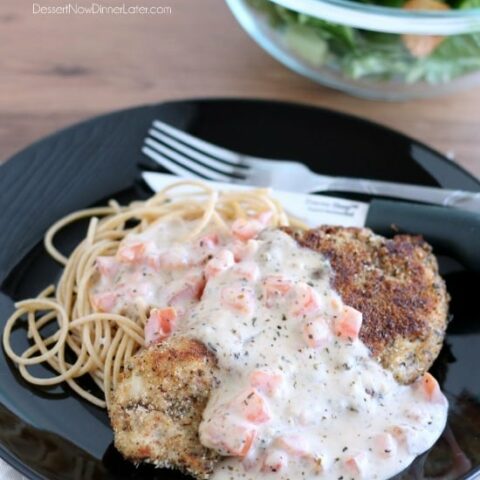 Herb Crusted Chicken with Tomato Cream Sauce
Ingredients
Herb Crusted Chicken:
2 large chicken breasts
Salt & Pepper
1/4 cup flour
1 egg
2 Tbsp milk
1/2 cup Italian seasoned bread crumbs
1 Tbsp dried Italian Seasonings
1 tsp garlic powder
1 tsp salt
3 Tbsp olive oil
Tomato Cream Sauce:
1 Tbsp minced garlic
1/2 cup chicken broth
1 cup diced tomatoes (about 2 roma tomatoes)
1 cup half and half
1/2 cup shredded parmesan cheese
1 Tbsp dried Italian seasonings
1/2 Tbsp cornstarch
1/2 Tbsp COLD water
Instructions
Cut chicken breasts in half, width-wise to create 4 chicken cutlets. Season both sides of each chicken breast with salt and pepper.
Place flour on one plate. Whisk the egg and milk on another plate. Combine bread crumbs, Italian seasonings, garlic powder, and salt onto a third plate. This is your breading station.
Dredge a chicken breast in the flour, dip it into the egg/milk mixture, then coat it in the bread crumb mixture. Place prepared chicken breast on a plate and repeat with remaining chicken breasts.
In a large saute pan heat olive oil. Gently place breaded chicken breasts into the oil. Cook on medium-low heat for 5 minutes on EACH SIDE, until brown, crispy and internal temperature reaches 165 degrees Fahrenheit. Remove chicken from pan and place it on a cooling rack that has been placed inside of a baking tray. Place the tray of chicken in a warm oven to keep it hot and crispy while you work on the sauce
Add garlic to the pan that you cooked the chicken in. Saute for one minute or until fragrant. Add chicken broth, diced tomatoes, half and half, parmesan and Italian seasonings. Whisk constantly until mixture comes to a boil.
In a small dish, whisk the cornstarch and COLD water. Add the cornstarch slurry to the boiling sauce and whisk until the sauce returns to a boil and thickens up. Season additionally with salt and pepper.
Serve chicken and sauce over a bed of cooked, whole wheat spaghetti noodles.
Nutrition Information:
Yield: 4
Amount Per Serving:
Unsaturated Fat: 0g