Low-Fat Baked General Tso's Chicken
This post may contain affiliate links, meaning that I may receive a commission at no cost to you if you use a link provided. All opinions shared are my own. You can review my full disclosure policy here.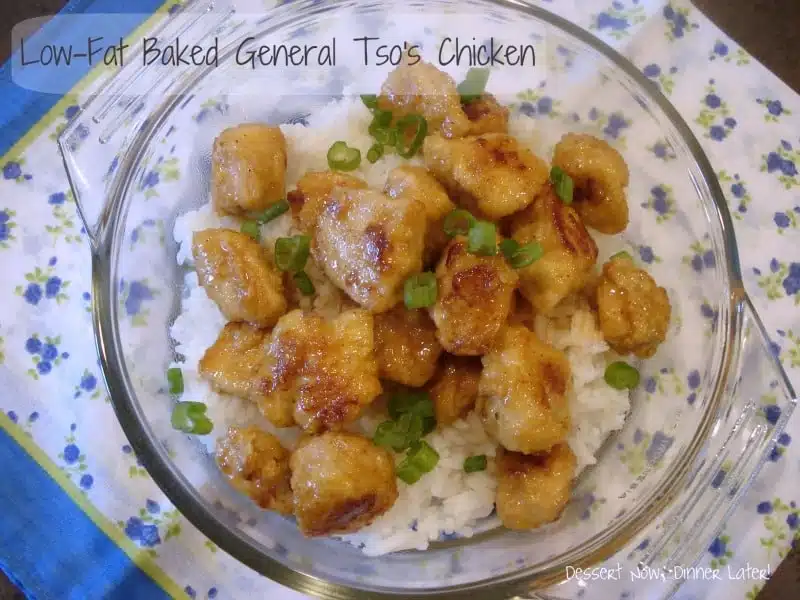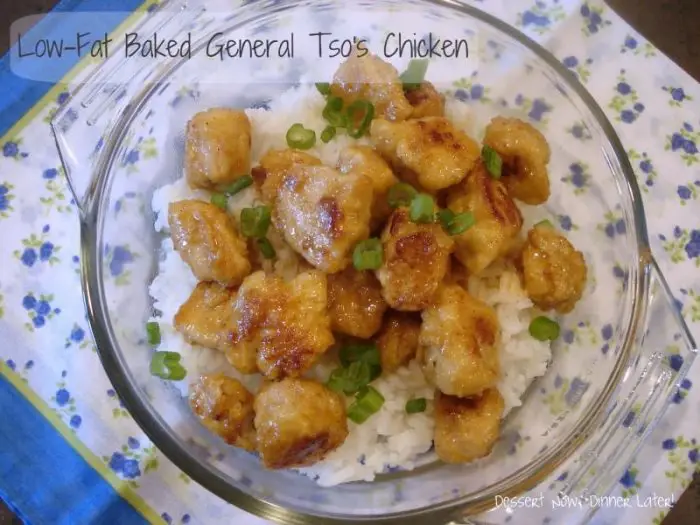 This dinner rocked my world! I am absolutely hands down making this again! I love homemade chinese & this recipe is just bursting with flavor. It has a nice heat, but the ginger really makes this recipe so flavorful. I loved every bite!
It looks like a lot of work, but it really wasn't that bad. Plus it was nice to have my hubby help me coat the chicken, because let's be honest, that is the hardest part of making the breaded chinese chicken that tastes so good!
This oven baked chicken is obviously not going to be super crisp like a fried chicken, but it still browned nicely in the oven & was pretty dang decent for being baked. I made a few notes about the sauce at the bottom as well, so read the whole recipe through before starting & get to cooking!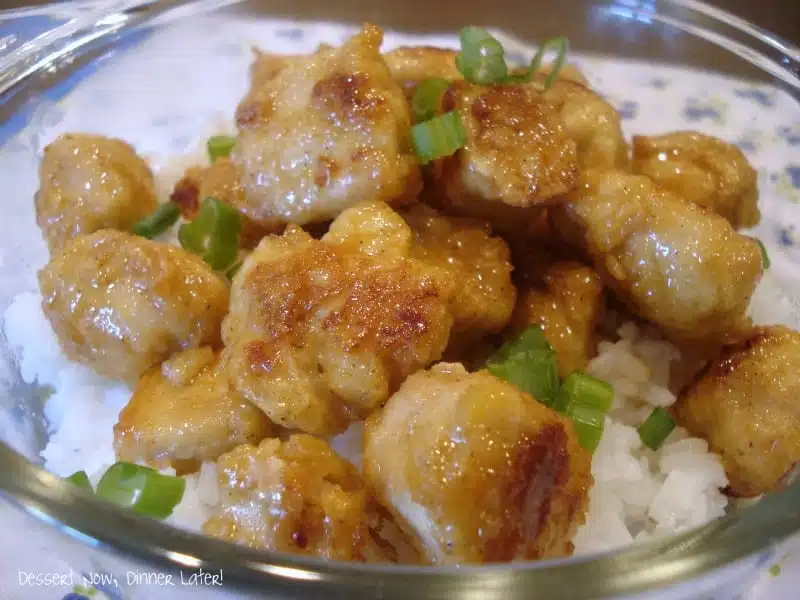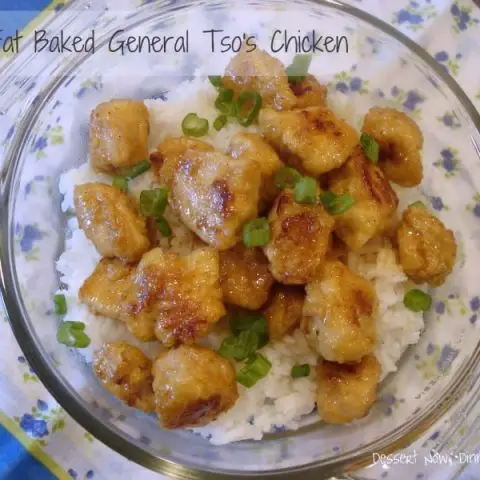 Low-Fat Baked General Tso's Chicken
Ingredients
FOR THE CHICKEN:
2 pounds boneless chicken thighs or breasts, cut in chunks
1 egg + 2 tbsp water whisked together to make an egg wash
1 cup flour
1/2 tsp black pepper
1/4 tsp cayenne pepper
3 Tbsp ground dried ginger
2 tsp salt
Olive oil
PART I FOR THE SAUCE:
4 Tbsp soy sauce
4 Tbsp rice wine vinegar (I used just plain rice vinegar)
1/4 cup water
2 Tbsp toasted sesame seed oil
1 Tbsp + hot chili paste or sauce (also known as Sriracha; I would start at 1 Tbsp, but you can add more if you like it super spicy.)
1/2 tsp salt
2 Tbsp cornstarch
3 cloves minced garlic
3 Tbsp freshly grated ginger or 1 Tbsp dry ground ginger
PART II FOR THE SAUCE:
1 cup sugar
1/4 cup water
Instructions
FOR THE CHICKEN: Make egg wash & place in a bowl. On a large plate combine the flour, black pepper, cayenne pepper, dried ginger, & salt.
Dip the chicken pieces in the egg wash then dredge them in the flour mixture.
Place on a lightly greased baking sheet and lightly drizzle the tops with a little olive oil (or spray the tops with pan spray.) Bake at 375*F for about 25-30 minutes. Flip the pieces at half way through the cooking time. While the chicken is baking, prepare your sauce. Don't walk away from this sauce; it gets very hot when making the caramel base and can burn easily so pay careful attention while cooking it.
PART I FOR THE SAUCE: In a small bowl, mix together. Set this mixture aside.
PART II FOR THE SAUCE: In a medium saucepan give a quick stir to the sugar & water to get all the sugar wet, & then DO NOT STIR the rest of the cooking period until adding the other sauce components. Next, boil the sugar & water over medium heat, watching constantly until the caramel starts to turn a light amber color (again, NO STIRRING) and you can begin to smell the caramel.
When it reaches this stage, give the other ingredients in the bowl a quick stir to make sure the cornstarch is dissolved then add it all at once to the hot caramel. Be careful when combining the two mixtures because this sauce can foam up considerably for a few seconds and it is very hot. (Your caramel may seize up for a minute, just keep stirring & it will work itself out & be smooth again.)
Simmer for only few minutes and remove from the heat and allow to cool down slightly. (If the sauce isn't as thick as you would like, go ahead & add a cornstarch slurry [1.5 parts cornstarch to 1 part COLD water] to the boiling sauce & it should thicken up some more & then you can let it cool down.)
Toss the sauce with the cooked chicken pieces and serve over plain steamed rice & top with chopped green onions.
Recipe lightly altered from Rock Recipes