Healthy Loaded Sweet Potato
This post may contain affiliate links, meaning that I may receive a commission at no cost to you if you use a link provided. All opinions shared are my own. You can review my full disclosure policy here.
Full of flavor and ingredients that are good for you, this healthy loaded sweet potato will satisfy your hunger and tantalize your tastebuds!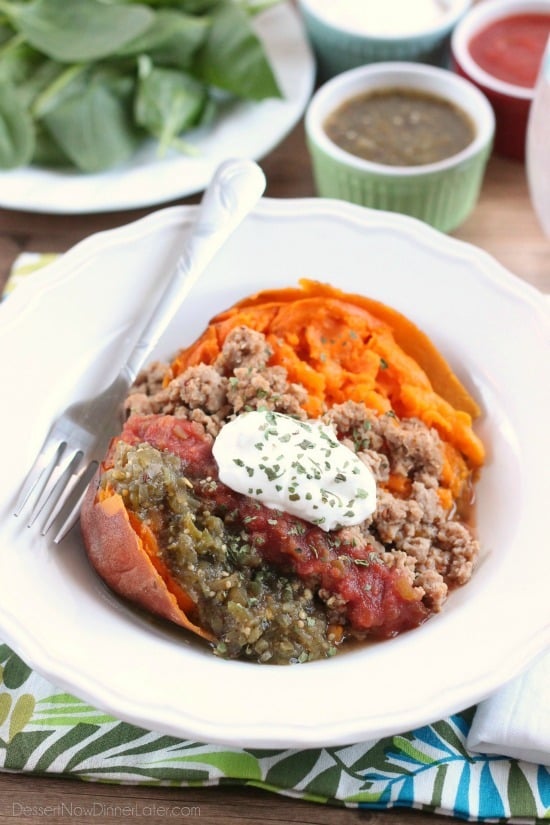 I learned real quick how hard it is to style and photograph a healthy loaded sweet potato. No glistening bacon. And no melty cheese to make you drool, but I really don't want that to deter you from trying this recipe, because I've eaten it for lunch twice in a row already! It's incredibly delicious! It's just a bonus that it's good for you!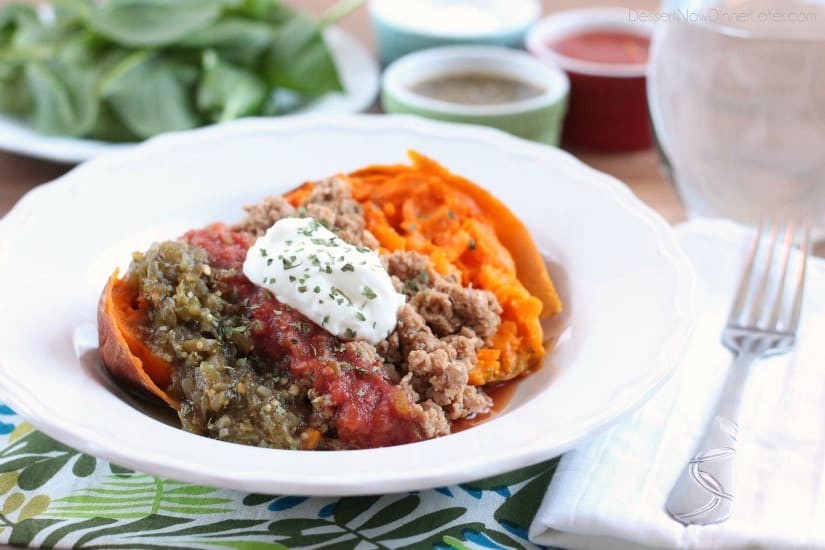 I totally should have added green onions to the top like a regular baked potato because those are healthy and I added them to my lunches, which added just the right touch, but if you hate green onions, no worries. This is tasty as is, the way it's photographed.
My first love about this recipe is that I totally "bake" the sweet potatoes in the crockpot. I like putting them in foil still so they stay moist and don't dry out, but you don't have to. Then all you have to do is cook up a little bit of lean ground turkey with some low-sodium or homemade taco seasoning and you are all set. The salsas come from the store and that white stuff is not sour cream. It's plain Greek yogurt. Which tastes exactly like sour cream. You will never know the difference (unless you are psyching yourself out about it).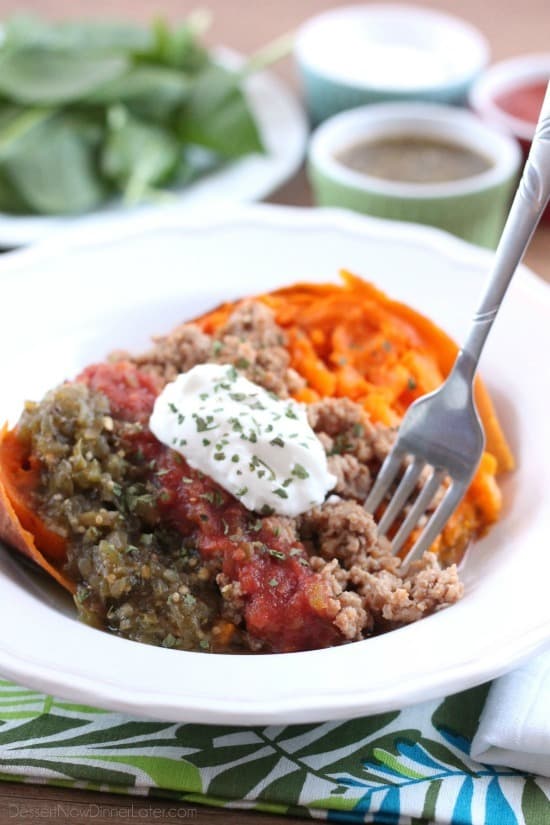 Like I am so in love with this healthy loaded sweet potato, that I could eat it for lunch every day. Since I'm in a health challenge right now, it's seriously one of the few things keeping me full and satisfied. It's so hearty with the meat in there, and the salsas give it a nice kick of flavor. Bonus! The salsas and fat-free Greek yogurt are low in calories, but they make everything "saucy", so it doesn't feel like you're eating health food. Win-win!
I hope you give this recipe a try. It's slightly altered from a Biggest Loser recipe, so it's got to be good, right?! (Yes, that is right.)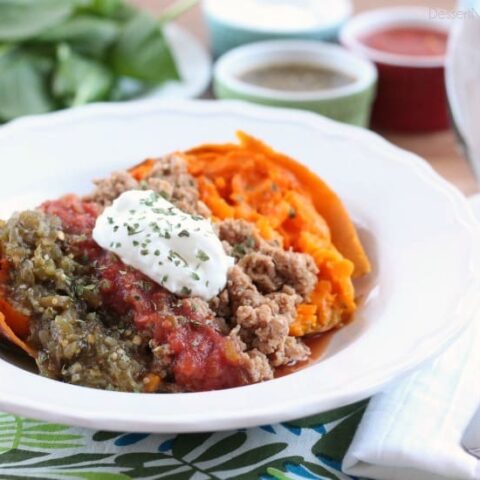 Healthy Loaded Sweet Potato
Full of flavor and ingredients that are good for you, this healthy loaded sweet potato will satisfy your hunger and tantalize your tastebuds!
Ingredients
4 sweet potatoes
1 tsp pure olive oil
1 lb ground turkey
2 Tbsp low-sodium taco, fajita, or southwest seasoning
1/2 cup Medium Red Salsa
1/2 cup Roasted Green Salsa (Salsa Verde)
1/2 cup Plain Fat-Free Greek Yogurt
Optional: chopped cilantro or green onions
Instructions
Scrub and foil wrap the sweet potatoes. Put the sweet potatoes in a slow cooker. Cook on high for 3 to 4 hours depending on the size of the potatoes. (Alternately bake potatoes in the oven at 450 degrees Fahrenheit for 1 hour, turning over halfway through baking.)
Heat olive oil in a pan and brown the ground turkey. Add homemade taco seasoning. Stir to season all of the meat.
Unwrap a sweet potato from its foil, and slice it in half. Spoon ¼ of the meat mixture on top. Dollop 2 Tbsp EACH of the red salsa, green salsa, and greek yogurt on top of the meat. Sprinkle with cilantro or green onions, if desired. Enjoy!
Nutrition Information:
Yield: 4
Amount Per Serving:
Unsaturated Fat: 0g