Chicken Mulligitawny Soup
This post may contain affiliate links, meaning that I may receive a commission at no cost to you if you use a link provided. All opinions shared are my own. You can review my full disclosure policy here.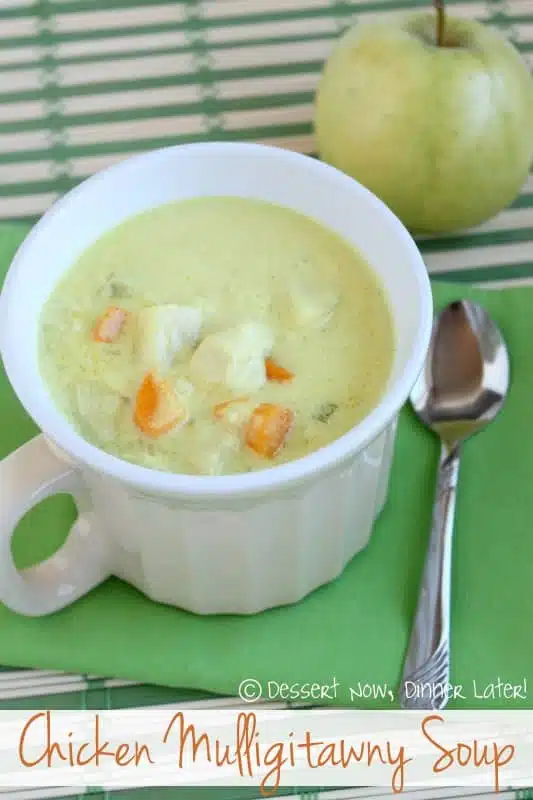 This is an old favorite soup of mine. I first discovered it when I was in high school & I attended the applied technology college twice a week my senior year. I was trying out the Culinary Arts program to see if that's what I wanted to pursue after I finished high school. The Culinary program there was basically just students running the cafeteria. I was assigned soups for quite a while actually and I was really starting to get sick of making soup. Regardless, I frequented this recipe because the customers liked it & it was easy to make. We made ours with egg noodles instead of rice, but I have changed the recipe here for a more traditional Indian inspired chicken, rice & curry soup.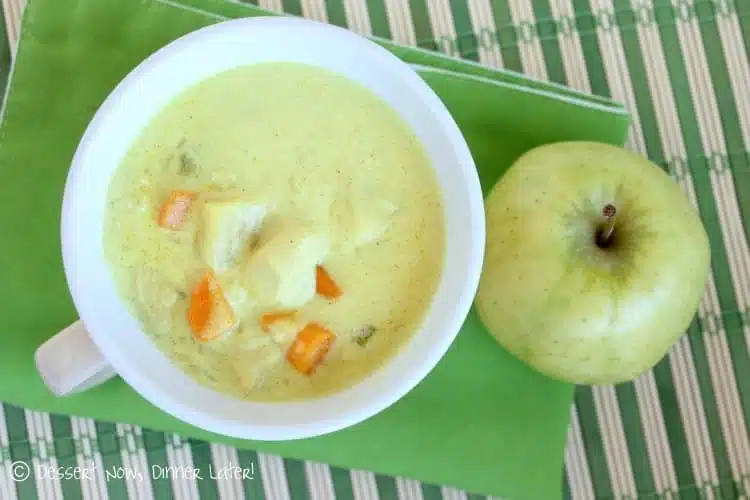 The most unique thing about this soup is that it has chunks of apple in it. It adds a light sweetness to the soup & it's quite delicious. My kids gobbled this up as well, which is a miracle in itself. My 2 year old daughter was slurping it out of her bowl like it was a cup of chocolate milk. So this is an incredibly kid-friendly meal! Enjoy!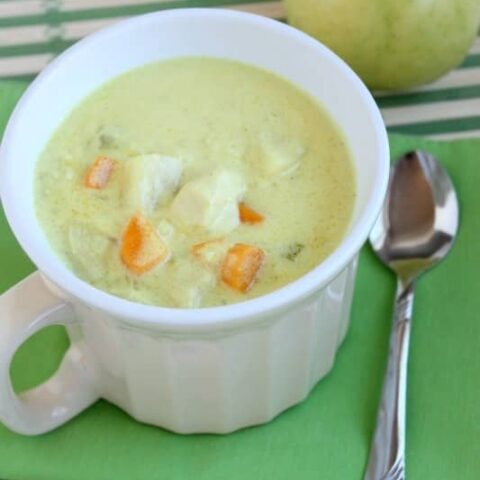 Chicken Mulligitawny Soup
Ingredients
1/4 cup butter
1/2 cup diced onion
1/2 cup diced celery
1/2 cup diced carrots
2 Tbsp flour
2 tsp curry powder
2 small granny smith apples, peeled & diced (can substitute any tart apple)
1-2 chicken breasts, cubed
4 cups low-sodium chicken broth
1 pt (2 cups) half & half
1/2 cup long-grain white rice
1 tsp sugar
Salt & Pepper
Instructions
Heat butter in a large stock pot. Saute onion, celery, & carrots for 5 minutes. Add flour & curry powder. Cook 3 more minutes.
Next, add the apples, chicken cubes, chicken broth, half & half, rice & sugar. Simmer for 30 minutes.
Season to taste with salt & pepper. Serve hot.
Nutrition Information:
Yield: 6
Amount Per Serving:
Unsaturated Fat: 0g
Recipe instruction altered from AllRecipes