Candy Corn "Corn"
This post may contain affiliate links, meaning that I may receive a commission at no cost to you if you use a link provided. All opinions shared are my own. You can review my full disclosure policy here.
Today I am excited to be part of a 30 Days of Halloween series over at Cupcake Diaries. Alli & I are great friends & I love that she adores Halloween so much. This series is filled with fun food & crafts from some super creative bloggers. Make sure you check out the links for other ideas in the series that have already been shared (located at the bottom of this post) & check back daily over at Cupcake Diaries through the whole month of September for more Halloween inspiration.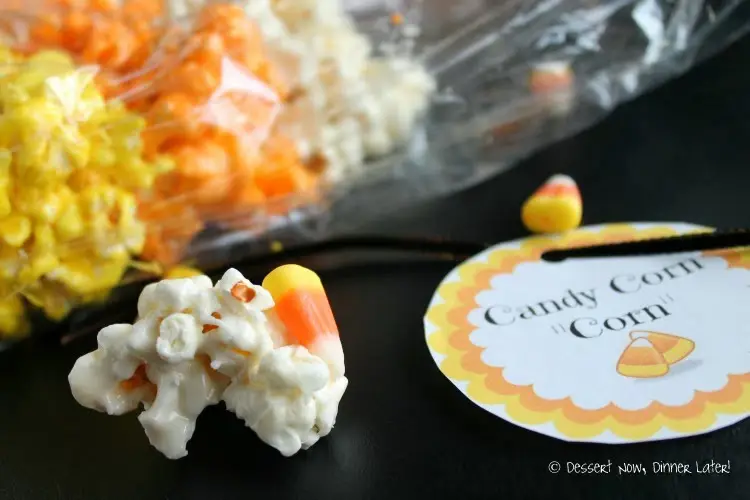 I am sharing some cute Candy Corn "Corn" for this 30 Days of Halloween series. It's a delicious soft & gooey marshmallow popcorn colored orange & yellow, layered & shaped like candy corn, with real pieces of candy corn candy. Phew, that was a long sentence. Basically it's a fun goodie bag that looks like candy corn. I have even included a link below the recipe for printable tags if you want them. Oh & you know how certain colors make you think things taste like certain flavors? Example: Yellow=Lemon. Orange=Orange. Yeah, this popcorn doesn't taste like those, but I almost expected it to. Haha. Instead of this marshmallow popcorn, you can alternately use Wilton colored candy melts to coat the popcorn with & let it dry on a piece of parchment before layering it. Just have fun with it! It's for Halloween after all!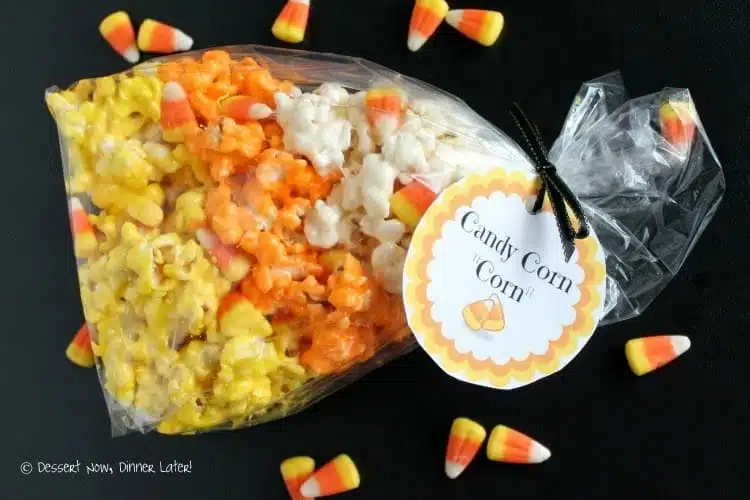 Download the Candy Corn "Corn" Printable HERE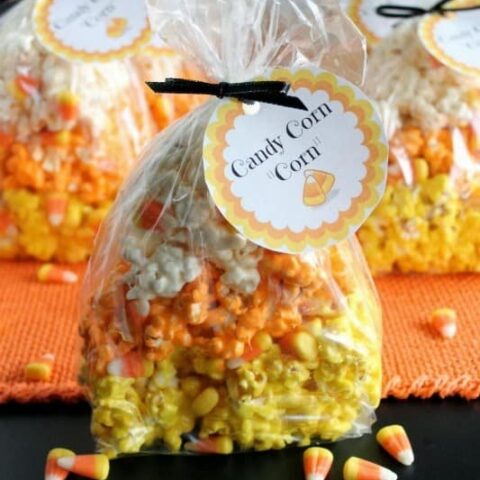 Candy Corn "Corn"
Ingredients
3 bags butter flavored popcorn, popped & divided (6 QT popped popcorn)
1 bag of kettle corn, popped (2 QT popped popcorn)
1 cup (2 sticks) butter
1 1/3 cup sugar
1/2 cup light corn syrup
1 tsp vanilla
1 (16oz) bag mini marshmallows
Yellow & Orange Food Coloring/Paste
Candy Corn
Pan Spray
8 5"x11" Clear Cellophane Bags & Ribbon
Instructions
Pop butter flavored popcorn & divide into two bowls. Pop kettle corn & place into another bowl. (IMPORTANT: Remove any un-popped kernels before moving on with the recipe.)
In a large saucepan combine butter, sugar, & light corn syrup. Bring mixture to a boil & cook 3 minutes stirring frequently. Do not overcook or it won't be soft & chewy. Remove from heat & add vanilla (careful it bubbles up.) Then add marshmallows & stir until melted.
Pour just under ⅓ of the mixture into the bowl with the kettle corn. Fold the popcorn until coated.
Pour half of the remaining mixture into a clean bowl. Color one half yellow & the other half orange with food coloring or paste (I used Wilton paste.)
Quickly add colored marshmallow mixture to the two separate bowls of butter flavored popcorn. Fold/stir to coat the popcorn. Allow all the different colored popcorns to cool for 5-10 minutes.
Grease hands with pan spray & grab a handful of yellow popcorn. Place in the bottom of a clear cellophane bag. Grab a handful of orange & place on top of the yellow. Grab a small handful of white popcorn & place it on top of the orange stacking the colors to resemble candy corn.
Lightly press & shape the popcorn inside the bag into a triangle/candy corn shape. Fat on bottom where the yellow is & skinny on top where the white is. Press a few pieces of candy corn on the sides of the sticky popcorn. Tie bag shut with a ribbon & Candy Corn "Corn" tag. Repeat with remaining bags. *It's fine to fill them all at once, then shape them & add the candy corn pieces, but I wanted to tell the step by step instructions before you get too excited 🙂
Nutrition Information:
Yield: 16
Amount Per Serving:
Unsaturated Fat: 0g