Chocolate Truffle Pie
This post may contain affiliate links, meaning that I may receive a commission at no cost to you if you use a link provided. All opinions shared are my own. You can review my full disclosure policy here.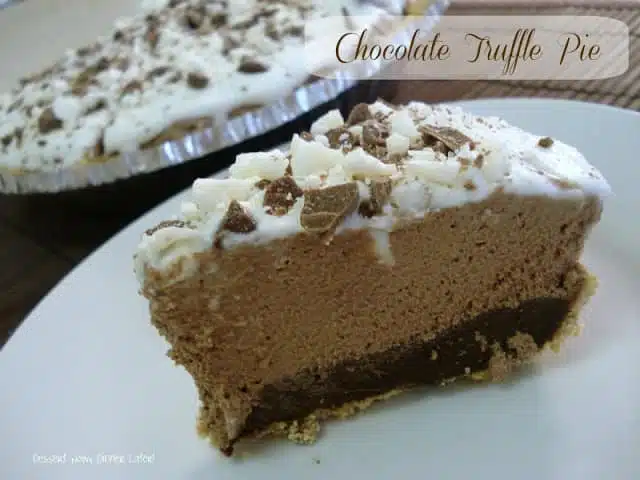 If you are a chocoholic like I am, the word, "truffle" makes your mouth water! My friend forwarded this recipe to me to try & it is decadent.
Lots of smooth, creamy chocolatey pleasure, & a little goes a long way. A small slice will curb that chocolate craving of yours & then some. It was almost too rich for me, but my husband & his co-workers really loved it!
This pie is seriously so simple to put together & will wow your guests for the holidays. You will not be disappointed!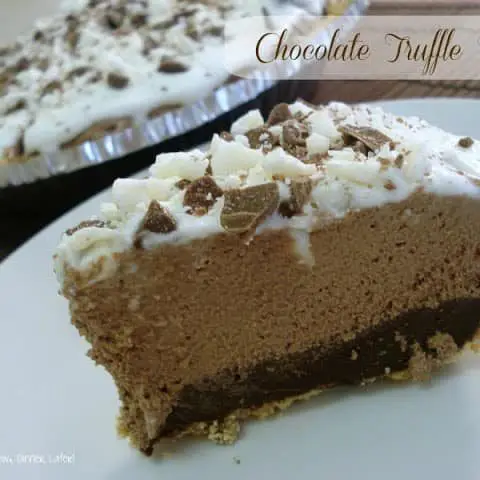 Chocolate Truffle Pie
Ingredients
Truffle Filling:
2/3 cup heavy cream
6 oz semi-sweet/dark chocolate chips
1 (9-inch) prepared graham cracker crust (I used a 7-inch crust & it was almost overflowing with all the fillings, so if you can find or make a 9" crust, that will be best.)
Whipped Chocolate Filling:
6 oz semi-sweet/dark chocolate chips
1 1/2 cups heavy cream
1/2 tsp vanilla
Whipped Cream Topping (double this if using a 9-inch pie crust):
1/2 cup heavy cream
2 Tbsp powdered sugar
Garnish:
1/4 cup white chocolate chips, roughly chopped
1/4 cup milk chocolate chips, roughly chopped
Instructions
TRUFFLE FILLING: In a saucepan, bring ⅔ cup heavy cream to a simmer. Place the 6oz chocolate chips in a bowl & pour the hot cream over the chocolate. Let stand for 1 minute, then gently whisk until smooth. Spread truffle filling over the bottom of the prepared pie crust. Freeze 20 minutes.
WHIPPED CHOCOLATE FILLING: Filling, in a bowl in the microwave on half power, heat the 6oz chocolate chips with ½ cup of the heavy cream for 30 seconds at a time, until just melted, stirring often. Let cool to room temperature (or place in fridge for 5-10 minutes.)
In a chilled bowl, beat the chocolate mixture with the remaining 1 cup of cream & the vanilla until soft peaks form (tips curl.) Spread the whipped chocolate mixture over the truffle filling in the crust. Refrigerate 6+hours or overnight.
WHIPPED CREAM TOPPING: Just before serving, beat ½ cup heavy cream on medium speed until it begins to thicken. Add powdered sugar & whip until stiff peaks form (tips stand straight.) Spread the whipped cream over the top of the pie.
GARNISH with chopped white & milk chocolate chips. Serve immediately.