Pumpkin Chocolate Chunk Cookies
This post may contain affiliate links, meaning that I may receive a commission at no cost to you if you use a link provided. All opinions shared are my own. You can review my full disclosure policy here.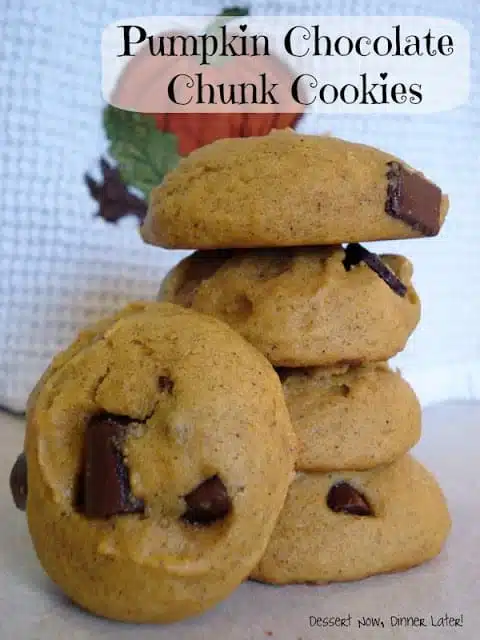 There is just something about pumpkin chocolate chip cookies that has everyone scarfing them down. It might be because they are thick & fluffy, it might be because of the chocolate, or it might be because of the pumpkin & spice, but all I know is all those things together makes one yummy cookie! I dare you to just eat one!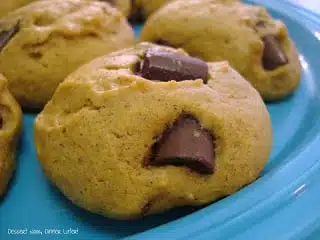 What sets these cookies apart from all the other pumpkin chocolate chip cookie recipes? These are fluffy & light without being dry, almost like a muffin top. They are not dense or heavy & they don't look wet & under-baked, like other kinds sometimes do. So if light & cake-y is your thing, these are the cookies for you.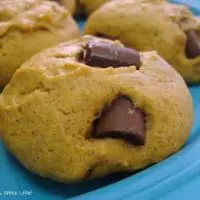 Pumpkin Chocolate Chunk Cookies
Prep Time: 15 minutes
Cook Time: 10 minutes
Total Time: 25 minutes
Yield: 3 to 4 dozen cookies
Ingredients
1/2 cup oil
1/2 cup brown sugar
1/2 cup granulated sugar
1 egg
1 cup pumpkin
1 tsp vanilla
2 cups flour
1 Tbsp pumpkin pie spice
1/2 tsp salt
2 tsp baking powder
1 tsp baking soda
6 oz (1/2 bag) chocolate chunks, roughly chopped if they are too big
Instructions
Beat together oil & both sugars. Add egg, pumpkin & vanilla. Blend well.
Combine dry ingredients. Add to wet mixture until incorporated. Fold in chocolate chunks.
Drop by tablespoonfuls onto a greased cookie sheet.
Bake at 375˚F for 10 minutes. Enjoy!