White Chocolate Peanut Butter Brookies
This post may contain affiliate links, meaning that I may receive a commission at no cost to you if you use a link provided. All opinions shared are my own. You can review my full disclosure policy here.
White Chocolate Peanut Butter Cookies atop a layer of fudgy brownies combine together to create these brownie/cookies = brookies!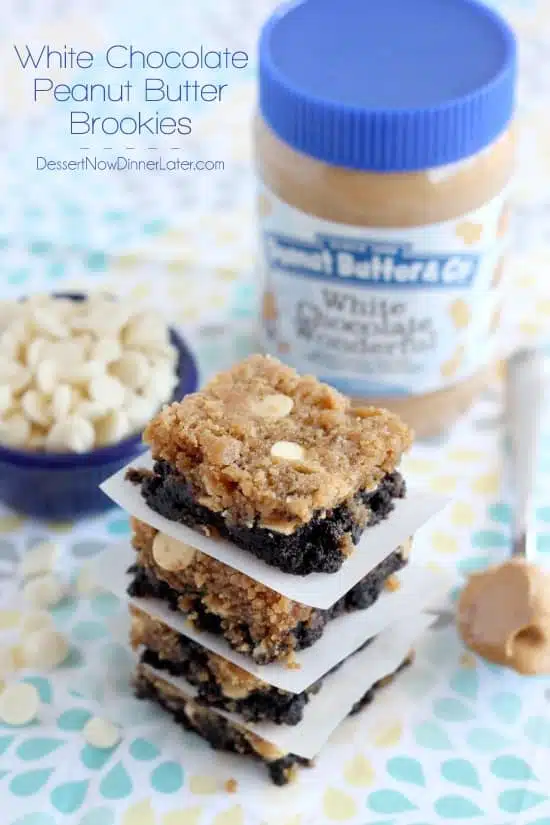 A month ago I received a complimentary box of peanut butter from Peanut Butter and Co. and although I eat a TON of peanut butter, I knew I wanted to create something with one of the flavors in particular. (No, this is not a sponsored post.)
So I feel kind of guilty because I have seen these peanut butters in the store, but this is the first time I have tried them. One of the cool things I didn't know, is that ALL of their peanut butters are all-natural. You can read EVERY ingredient on the label. I don't know about you, but that makes me feel good!
I tried 5 flavors: Mighty Maple, White Chocolate Wonderful, The Bee's Knees, Dark Chocolate Dreams, and Cinnamon Raisin Swirl. I think my favorite is The Bee's Knees. It's for sure my son's favorite because he likes peanut butter and honey sandwiches, so honey in the peanut butter is a plus! I chose the White Chocolate Wonderful Peanut Butter for my recipe today because it just screams dessert to me!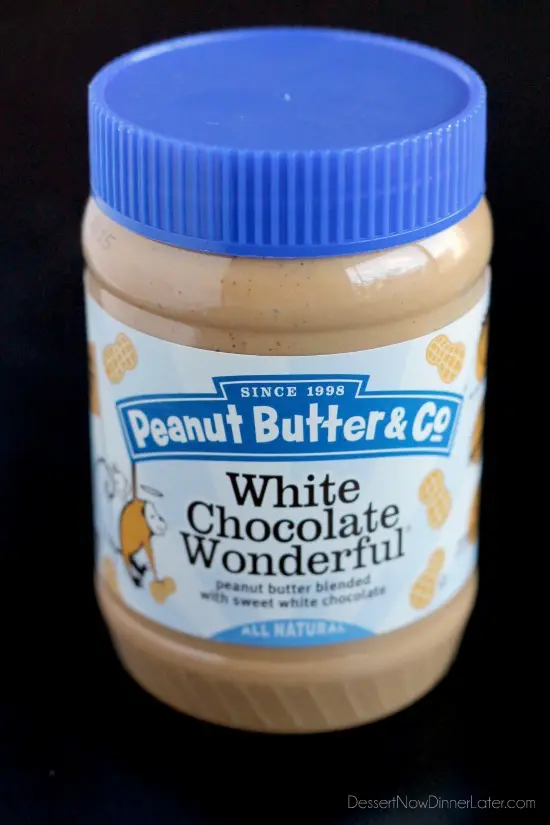 Peanut butter blended with sweet white chocolate = delicious!
This peanut butter contains no cholesterol, no trans fats, no hydrogenated oils, and no high-fructose corn syrup. It is also gluten-free, certified vegan, and certified kosher pareve by the Orthodox Union. The shelf life is 6 months after opening, if stored in a cool, dry place, but who on earth doesn't eat their peanut butter with the first week, uh, I mean month?!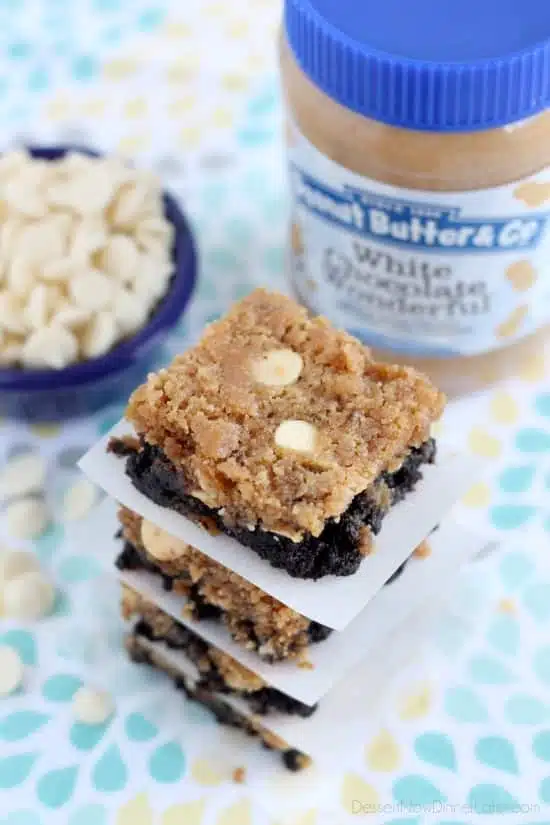 I decided I wanted to play with the white chocolate in the peanut butter, so I made peanut butter cookie dough with white chocolate chips, and stacked it on top of a dark chocolate brownie mix to make brownies + cookies = brookies!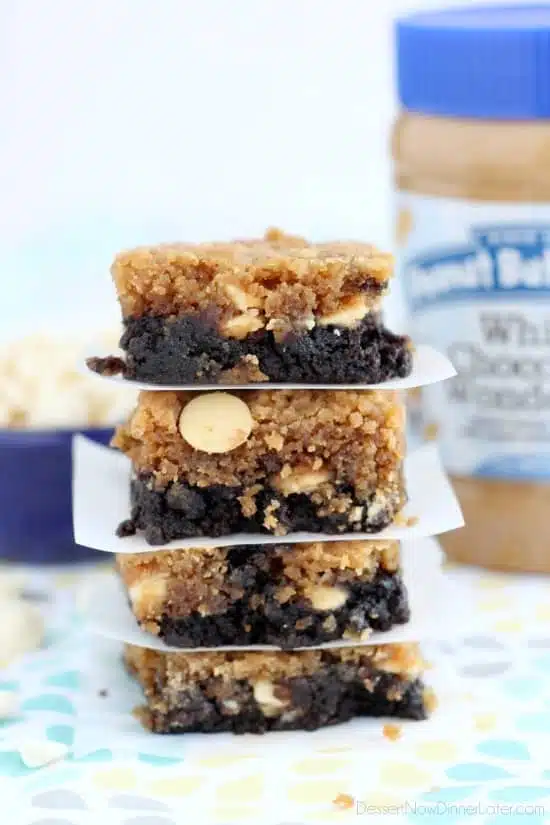 They took a while to bake, but they were worth it!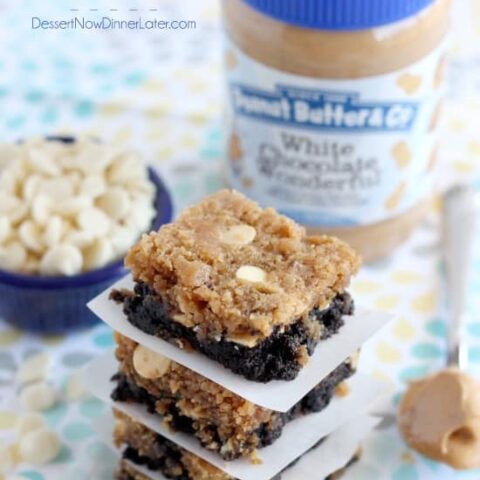 White Chocolate Peanut Butter Brookies
Ingredients
1/2 cup granulated sugar
1/2 cup brown sugar
8 Tbsp (1 stick) butter
1/2 cup White Chocolate Wonderful Peanut Butter
1 egg
1 tsp vanilla
1 1/4 cup flour
1 1/2 tsp baking soda
1/8 tsp salt
1 cup white chocolate chips
1 (13x9) Family Size Duncan Hines Dark Chocolate Fudge Brownie Mix
1 egg
1/3 cup water
1/3 cup oil
Instructions
Preheat oven to 350 degrees Fahrenheit. Grease a 13x9 inch pan with cooking spray.
Cream the sugars and butter together in a stand mixer with the paddle attachment. Add peanut butter, egg, and vanilla. Mix together; scrape bowl as necessary.
Add flour, baking soda, and salt. Mix. Add white chocolate chips. Mix.
Prepare brownies by whisking the brownie mix, egg, water, and oil together in a large bowl. Pour into the prepared baking dish.
Scoop out some cookie dough and flatten it with your hands. Gently place the flattened cookie dough over the brownie batter, repeat until all of the brownie layer is covered with flattened cookie dough.
Bake for around 45 minutes, covering with foil after the first 20 minutes, until the cookie is firm when touched.
Notes
*Swap out your favorite family size brownie mix and use the ingredients listed on the box in place of the one mentioned above.
Nutrition Information:
Yield: 24
Amount Per Serving:
Unsaturated Fat: 0g