Samoa Bark
This post may contain affiliate links, meaning that I may receive a commission at no cost to you if you use a link provided. All opinions shared are my own. You can review my full disclosure policy here.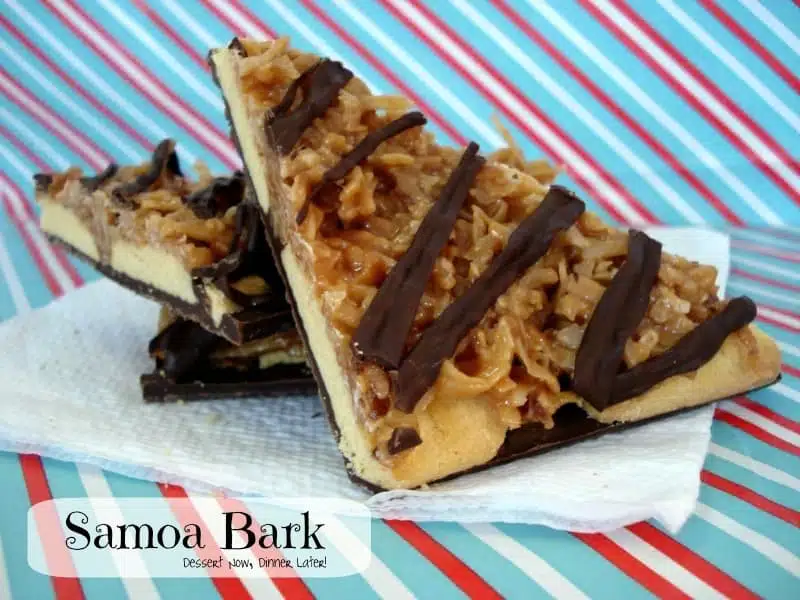 It's day 10 of the 12 days of Christmas Sweets, can you believe it?
When the girl scouts come around I always buy two boxes of cookies: thin mints, & samoas! So when I saw this recipe I knew I had to make it.
I need something to get me through until the girl scouts come knocking at my door during cookie season, & this recipe is it! Plus it's really pretty & makes a lot! It works great for neighbor gifts. I hope you like it & come back tomorrow! I am not done baking yet!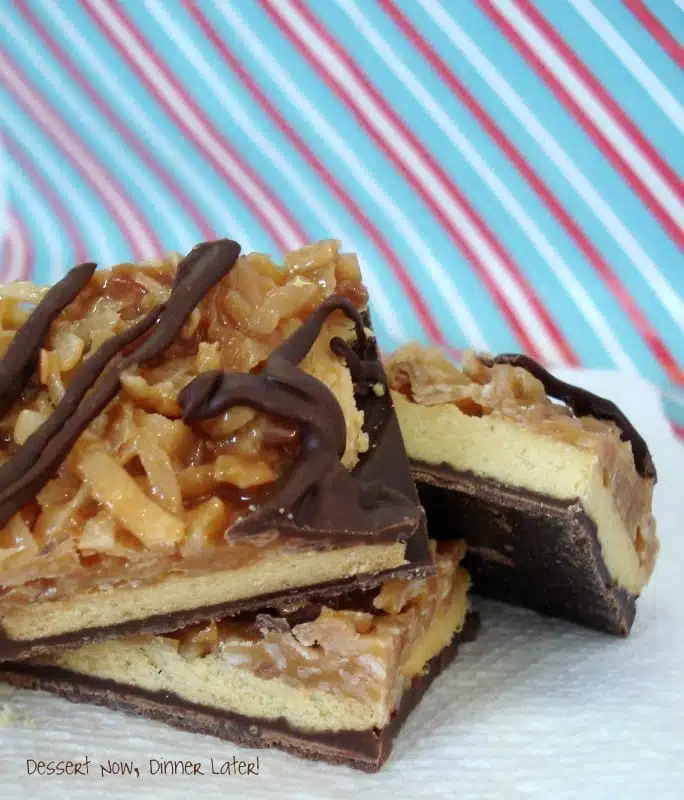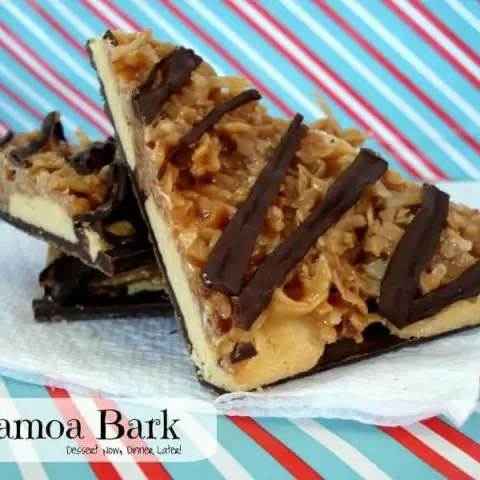 Samoa Bark
Ingredients
12 oz (1 bag) semi-sweet chocolate chips, divided
35-40 shortbread cookies (I used Stauffers & it had 35 exactly)
11 oz caramel bits or 14oz bag caramel squares
2 1/2 cups sweetened flaked coconut
2 Tbsp water (3 Tbsp if using 14oz of caramel squares)
Instructions
Line a baking sheet with foil. Set aside.
Save 2 oz of chocolate chips & set aside. Melt the remaining 10 oz of semi-sweet chocolate over a double boiler or in the microwave on half power for 30 second intervals. Spread the melted chocolate to your desired thickness (kind of thin like ¼".)
Top the warm chocolate evenly with your shortbread cookies. The closer together, the easier it is to top with the caramel-coconut mixture. Place baking sheet in the freezer while you do the next steps.
In a non-stick skillet on medium-low heat, toast your coconut, stirring occasionally. This will take about 10 minutes or so, but be watchful because once it starts to brown it happens quickly & you do not want to burn the coconut! When the coconut is toasted, set aside.
Meanwhile melt your caramel bits with 2 Tbsp of water over medium-low heat in a non-stick saucepan. Stir constantly until just melted (it will get hard if you cook it longer.) Turn heat off & remove pan from heat immediately. Add coconut & fold gently.
Remove your chocolate from the freezer & spread the caramel-coconut mixture evenly on top.
Melt your remaining 2 oz of chocolate in the microwave on half power for 30 second intervals until melted. Drizzle over the top. (I put mine in a plastic bag, cut the corner & squeeze it over the top for more even results.)
Put back in the freezer for 5 minutes to set the chocolate. Cut & enjoy! Store in an airtight container.