English Toffee
This post may contain affiliate links, meaning that I may receive a commission at no cost to you if you use a link provided. All opinions shared are my own. You can review my full disclosure policy here.
Day 9: I don't think I have dabbled in candy making since I was in school, but it being almost Christmas and all, I thought it was time to give it a go.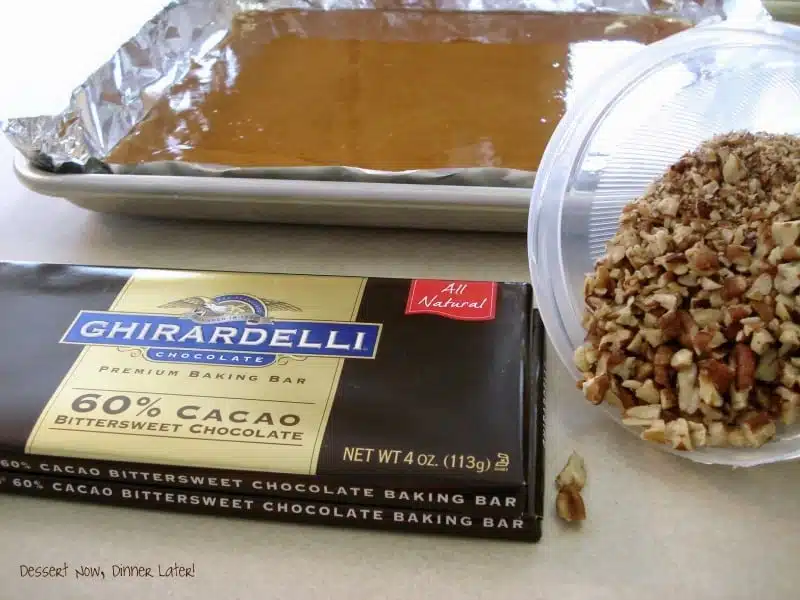 Really, it's quite simple to make this recipe. The only problem I had was that my pot wasn't deep enough to attach my candy thermometer, so I had to hold it the whole time, but other than that, this is so easy! It was really fun to make my own toffee & it smelled wonderful as it was caramelizing.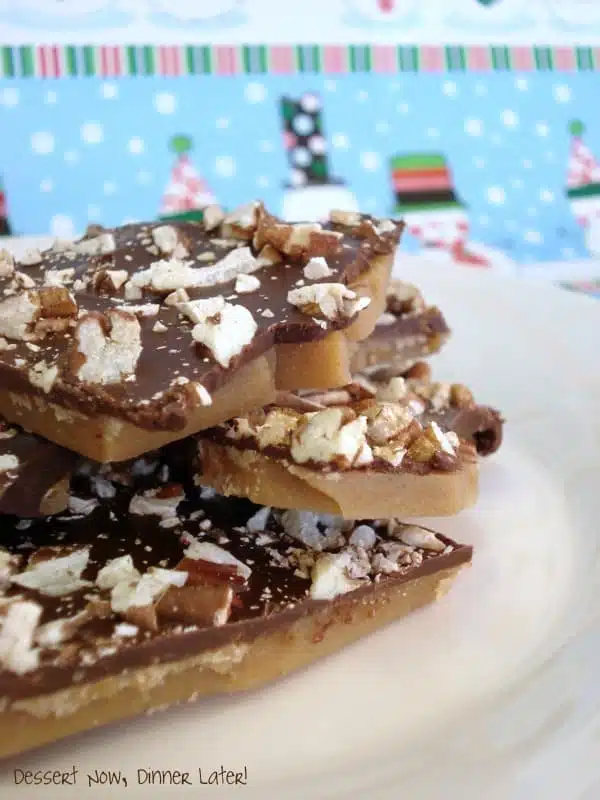 This toffee is crunchy, buttery, chocolatey, & nutty. I can't stop eating it! If you want an easy recipe to try your hand at candy making, then this is a great starter recipe for you. Plus, who doesn't love toffee? See you back tomorrow!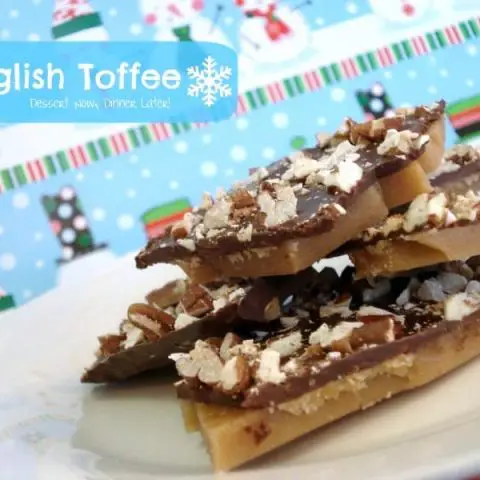 English Toffee
Ingredients
2 (4oz) bars Ghirardelli 60% Cacao Bittersweet Chocolate Baking Bar
3/4 cup pecans, finely chopped
1 cup 2 sticks butter
1 cup sugar
2 Tbsp water
1/8 tsp salt
1 tsp pure vanilla extract
Instructions
Preheat oven to 350*F. Toast the chopped pecans on a baking sheet in the oven for 6-8 minutes, or until fragrant. (I actually did mine in a saute pan on the stove top, medium heat, stirring frequently until fragrant.)
With heavy-duty aluminum foil, form a 10-inch square shell with 1-inch high sides. Place foil shell on a baking sheet, & set aside.
In a heavy saucepan, cook the butter, sugar, water, & salt over medium heat until the temperature reaches 305*F (hard-crack stage), stirring occasionally (watch closely after it reaches 290*F because the temperature will increase rapidly.)
When the mixture becomes dark golden brown, (mine took about 30 minutes) immediately remove the pan from the heat. Stir in the vanilla extract. (Be careful it will bubble up.) Pour the mixture into the foil shell. It will spread, but may not reach the edges of the square. COOL at room temperature for 45 minutes, or until hard.
Melt the chocolate according to the instructions on the inside of the wrapper. Spread melted chocolate over the COOLED toffee, & sprinkle with the pecans, pressing lightly to set pecans into chocolate. LET SET at room temperature for 1 hour, or until the chocolate is set.
Break toffee into pieces. Store covered at room temperature for up to 1 month.