Chocolate Mint Pie
This post may contain affiliate links, meaning that I may receive a commission at no cost to you if you use a link provided. All opinions shared are my own. You can review my full disclosure policy here.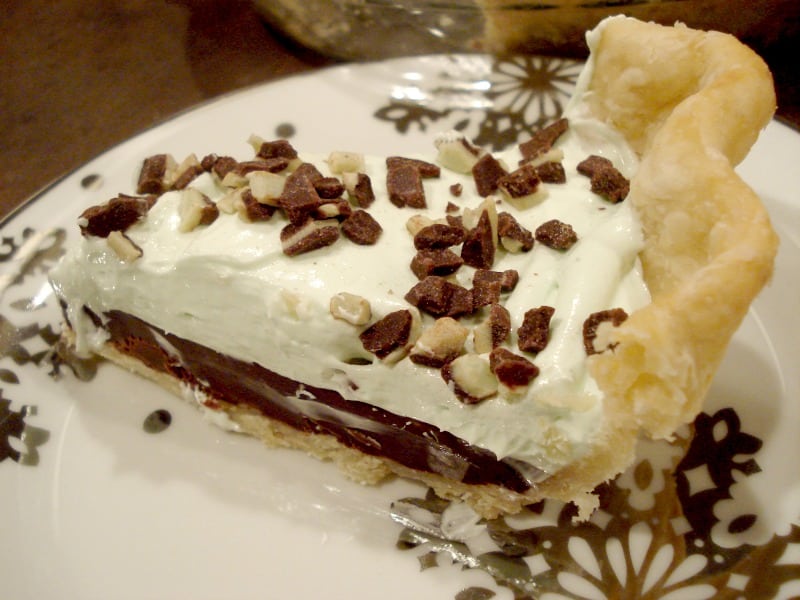 So the inspiration of this dessert was from watching Studio5 one morning. It was before Thanksgiving & they were talking about the best pies in Utah & where to get them. One of the pies was so unique & I am nowhere close enough to drive to go & get it, wherever it was, so I decided to make it up myself. I have no idea if this is even comes remotely close to the pie that they talked about, but I think I made a nice version of a Christmas Chocolate Mint Pie.
Now for the record, any real deal foodies/culinarian's out there will notice that my ganache is missing a key ingredient: heavy cream (& even corn syrup in some cases.) I am very aware of that fact & in this case you can call it a cheater ganache, but this melted chocolate has similar qualities & is great for dipping your cake balls/pops or truffles in as well. If you have a regular ganache recipe you can try that; it might be a little softer than my cheater ganache since this pie stays in the fridge due to the mint cream cheese mixture.
This recipe seems long & has lots of steps, but if you have your mise en place ready & thoroughly read the recipe first, you should be able to pull it out in a timely manner. It's a nice addition to any holiday party/meal.
p.s. This is very rich, so you might want to cut it into 16 pieces instead of 8. I also adjusted the recipe b/c there was a lot of chocolate & that made it hard to cut or eat with a fork, so less chocolate & more mint filling.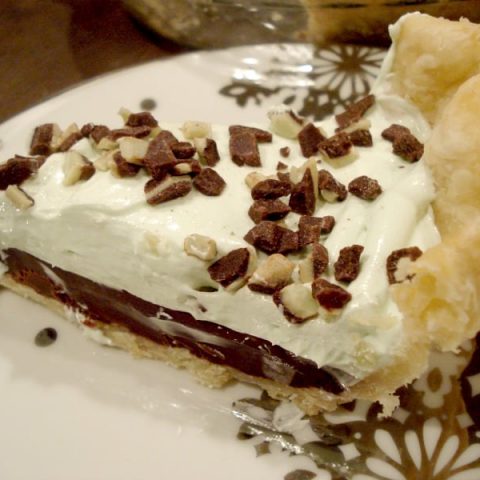 Chocolate Mint Pie
Ingredients
1 blind baked pie crust (*Recipe & instructions to follow)
1/2 cup heavy cream
1 cup semi-sweet chocolate chips
2 (8oz) pkgs Neufchatel Cream Cheese
1 cup granulated sugar
2 tsp pure mint extract (not peppermint oil/extract)
4 + drops of green food coloring
1 (8oz) tub cool whip (I use light cool whip)
Instructions
CRUST: Bake 1 empty pie crust until golden brown. (Instructions in recipe below.) Allow to cool completely.
GANACHE LAYER: Heat the heavy cream in a small saucepan on the stovetop until simmering. Remove from heat, add chocolate chips & stir briskly with a whisk until chocolate melts & is smooth.
Once everything is melted, pour ganache into your cooked pie crust. Refrigerate/Freeze until the chocolate is solid enough to spread mint filling on top.
MINT LAYER: Cream the sugar & cream cheese until well blended. Add mint extract & green food coloring to your preferred color green (I like mine lighter b/c you don't want your mouth turning green & the green does darken some the longer it sits.) Add cool whip & blend just until it comes together; sometimes the longer you blend it the soupier/stringier it will get. So don't over do it!
Spread mint filling on top of solidified ganache, sprinkle Ande's baking chips on top & enjoy plain or with an extra dollop of whipped cream. Keep pie refrigerated.