Chocolate Mint Pie
This post may contain affiliate links, meaning that I may receive a commission at no cost to you if you use a link provided. All opinions shared are my own. You can review my full disclosure policy here.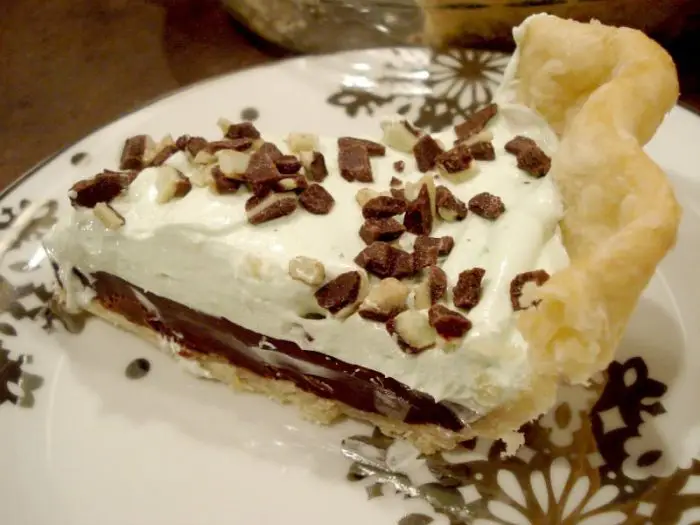 So the inspiration of this dessert was from watching Studio5 one morning. It was before Thanksgiving & they were talking about the best pies in Utah & where to get them. One of the pies was so unique & I am nowhere close enough to drive to go & get it, wherever it was, so I decided to make it up myself. I have no idea if this is even comes remotely close to the pie that they talked about, but I think I made a nice version of a Christmas Chocolate Mint Pie.
Now for the record, any real deal foodies/culinarian's out there will notice that my ganache is missing a key ingredient: heavy cream (& even corn syrup in some cases.) I am very aware of that fact & in this case you can call it a cheater ganache, but this melted chocolate has similar qualities & is great for dipping your cake balls/pops or truffles in as well. If you have a regular ganache recipe you can try that; it might be a little softer than my cheater ganache since this pie stays in the fridge due to the mint cream cheese mixture.
This recipe seems long & has lots of steps, but if you have your mise en place ready & thoroughly read the recipe first, you should be able to pull it out in a timely manner. It's a nice addition to any holiday party/meal.
p.s. This is very rich, so you might want to cut it into 16 pieces instead of 8. I also adjusted the recipe b/c there was a lot of chocolate & that made it hard to cut or eat with a fork, so less chocolate & more mint filling.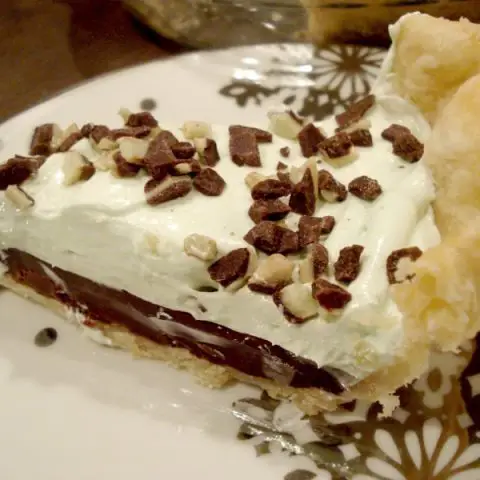 Chocolate Mint Pie
Ingredients
1 blind baked pie crust (*Recipe & instructions to follow)
1/2 cup heavy cream
1 cup semi-sweet chocolate chips
2 (8oz) pkgs Neufchatel Cream Cheese
1 cup granulated sugar
2 tsp pure mint extract (not peppermint oil/extract)
4 + drops of green food coloring
1 (8oz) tub cool whip (I use light cool whip)
Instructions
CRUST: Bake 1 empty pie crust until golden brown. (Instructions in recipe below.) Allow to cool completely.
GANACHE LAYER: Heat the heavy cream in a small saucepan on the stovetop until simmering. Remove from heat, add chocolate chips & stir briskly with a whisk until chocolate melts & is smooth.
Once everything is melted, pour ganache into your cooked pie crust. Refrigerate/Freeze until the chocolate is solid enough to spread mint filling on top.
MINT LAYER: Cream the sugar & cream cheese until well blended. Add mint extract & green food coloring to your preferred color green (I like mine lighter b/c you don't want your mouth turning green & the green does darken some the longer it sits.) Add cool whip & blend just until it comes together; sometimes the longer you blend it the soupier/stringier it will get. So don't over do it!
Spread mint filling on top of solidified ganache, sprinkle Ande's baking chips on top & enjoy plain or with an extra dollop of whipped cream. Keep pie refrigerated.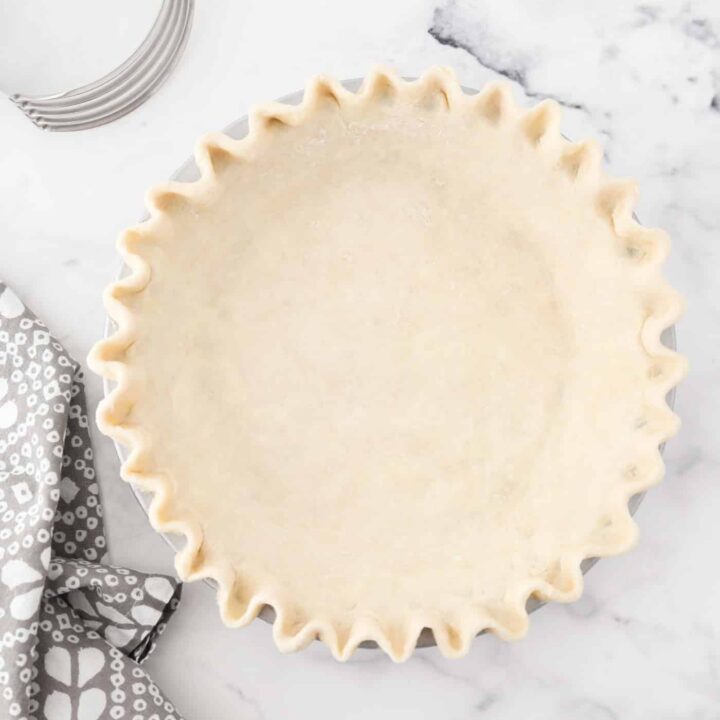 All Butter Pie Crust
Prep Time: 10 minutes
Chill Time: 1 hour
Total Time: 1 hour 10 minutes
Yield: 1 single pie crust
A standard all-butter pastry dough used for making pies and tarts.
Ingredients
1 1/4 cups all-purpose flour
1/2 tsp salt
1/2 tsp granulated sugar
1/2 cup (1 stick) unsalted butter
4 Tbsp (+/-) ICE COLD water
Instructions
To Make the Pie Crust:

Mix flour, salt, and sugar together in a large bowl. Cut butter into Tablespoons and add to flour.
Cut butter into flour using a pastry blender until mixture resembles petite pea-size pieces with some course crumbs. (Don't cut the butter into all crumbs, or the crust will be crumbly instead of flaky.)
Add 2-3 Tablespoons of ice cold water.
Stir together with a spatula.
Empty mixture onto the countertop and press/squeeze dough together.
Add extra ice cold water 1 Tablespoon at a time (usually only 1-2 Tablespoons more) pressing and squeezing until dough just comes together. Do not add too much water and do not over-mix. Flatten dough into a round disk. Wrap tightly in plastic wrap and refrigerate for 1 hour before using.

To Roll the Pie Crust:

Sprinkle flour over countertop, rolling pin, and pie crust.
Use your knuckles to press the edges of the dough to prevent cracking when you roll it out.
Begin rolling the crust from the center outwards in all directions. Rotating the crust after every few rolls to prevent sticking. Add extra flour as needed.
Continue rolling and rotating the crust until the dough is about 1/8-inch thick, and about 14-inches round. (Flip the dough over before it gets too big, and roll on both sides to help smooth any cracks.)
Carefully roll the pie dough around the rolling pin, then slowly unroll the pie dough into a 9-inch standard pie pan.
Shape crust to pan. Use one hand to lift the edge of the crust up as the other hand's knuckles press the crust down the inner sides of the pie plate to the crevice where the sides meet the bottom.
Cut off any excess crust leaving about a 1-inch overhang.
Fold the overhanging dough underneath and pinch it together to form a rim.
Use the pointer finger and thumb of both hands to crimp/flute the edges into a wavy ruffle.
If pie crust seems noticeably warm or soft, chill for 5-8 minutes in the freezer before baking. See instructions for how to blind bake pie crust.
Notes
MAKE AHEAD OPTION: Wrap crust in pie pan with saran wrap and put in freezer for several hours to overnight. Pull crust 10-20 min before baking; just enough that when you touch the crust it will give a little bit but still be really cold. Don't thaw crust completely.
TO FREEZE LONG TERM: Shape pie crust into a flat disk and double wrap with plastic wrap. Label and freeze up to 3 months. Can place in a freezer bag for added protection. THAW in refrigerator overnight before using.
FOR A DOUBLE CRUST PIE: Double the recipe and divide dough half (making two disks). Ensure enough time to chill dough completely.
If you are baking a pie with a double crust, you need to cut slits into the top layer and bake the pie at 350˚F for a minimum of 1 hour or until the filling bubbles and the crust is brown. You should notice through the slits in the crust if the filling has bubbled. If your crust is getting overly brown, cover it with foil until the filling bubbles. In my experience it usually takes 1 hour plus 10 to 15 minutes for the filling to bubble and the crust to be completely baked.
Recommended Products
As an Amazon Associate and member of other affiliate programs, I earn from qualifying purchases.
Nutrition Information:
Yield: 8
Serving Size: 1/8
Amount Per Serving:
Calories: 170
Total Fat: 11.3g
Saturated Fat: 7g
Trans Fat: 0g
Unsaturated Fat: 0g
Cholesterol: 30mg
Sodium: 147.5mg
Carbohydrates: 14g
Fiber: 1g
Sugar: 0g
Protein: 2g
This data was provided and calculated by Nutritionix, and is an estimation only.
Here is a step-by-step tutorial for the Pie Crust:
Have everything ready and COLD.
Cut butter into the flour.
Mix flour & salt in a bowl. Put some of flour mixture on a cutting board or counter top. Roll stick of butter in flour. Using a bench scrape/dough cutter, cut up butter into slices. Cut slices into toothpick shaped twigs. Cut twigs into pea size squares. Rough chop all butter pieces to make sure they are small enough.
Add water to form a dough. Then chill.
Add ice water until your dough can be molded into a ball. Flatten dough into a disk. (Option: Freeze disk for several hours before pulling out to roll & fit in pie dish. If you use this option you will want to pull the dough from the freezer 10-20 minutes before working with it, but you will need to be fast to not heat the dough too much, or butter will melt before it bakes.)
Roll, fill, and crimp pie crust.
On a floured surface roll dough into a round circle. Only roll from center to the edges & turn crust periodically so as to make sure it is not sticking to your surface. Roll till 1/4″ thick.
Roll dough onto your rolling pin & unroll into pie dish. Make sure it is fairly even with dough hanging 1-2″ over the edges. Trim any super long pieces.
Fold/tuck edges underneath for the crust's edge, & crimp all around for a nice finished look. (Option: Cover crust with saran wrap & put in freezer for several hours – overnight. Pull crust 10-20 min before baking; just enough that when you touch the crust it will give a little bit but still be really cold. Don't thaw crust completely.)
Blind bake crust.
To BLIND BAKE the crust:  Dock crust with a fork or knife on the bottom & sides. Place parchment paper into pie crust enough to cover most of the crust (I cut my piece in half & had it going opposite ways to form a "x" but you can cut a large circle if you wish.)  Fill your parchment paper with dry beans (I used pinto.)  You want to use enough beans as a weight to hold the crust down & keep the pies shape.
In a 375*F preheated oven (don't turn oven on too early or the room may get too warm for your crust) place prepared pie crust in the oven for 20 minutes. Pull crust out of the oven & take out the parchment/bean layer. Return crust to oven & bake an extra 10-15 minutes or until crust is golden brown & dry (if you kept your butter cold enough it shouldn't be greasy, but you want it to not be oily b/c that means your crust may not be done.)
Tips for Success
*The key to an all butter crust is to keep EVERYTHING cold! If you are going to do the crust from start to finish without putting it in the freezer/fridge to keep the butter cold you need to be quick & have all of your items cold: bowl, flour/salt/water/bench scrape/etc.
If you are not fast enough, have kids as a distraction, or the room is too warm the butter will melt too quickly & will make for a greasy, saggy crust that will be tough to eat instead of having the nice flaky layers that the butter makes between the dough. (I guess I should probably do a pie dough 101 post…maybe in the future.)