Mint Chocolate Chip Cookies
This post may contain affiliate links, meaning that I may receive a commission at no cost to you if you use a link provided. All opinions shared are my own. You can review my full disclosure policy here.
Mint Chocolate Chip Cookies are soft, chewy, and chocolatey, with just the right amount of mint! Makes a great Christmas cookie and is perfectly green for St. Patrick's Day!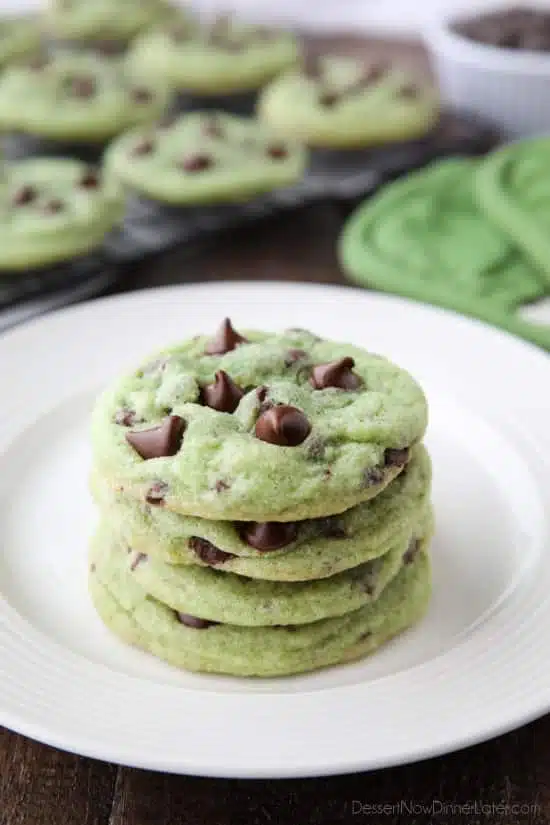 Mint chocolate is a classic holiday combination. And with Christmas in just a couple of days, I thought I would share this flavorful cookie with you. Of course the green color makes it perfect for St. Patrick's Day too!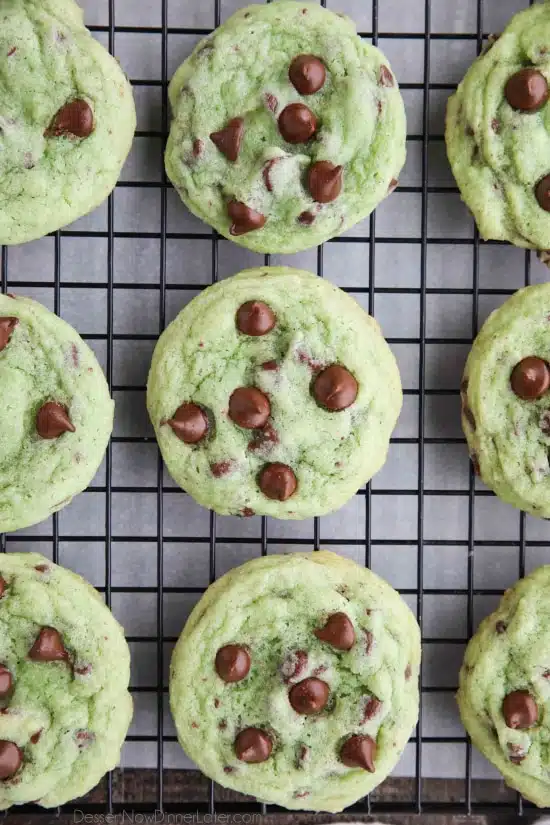 Spearmint vs. Peppermint
There are two main kinds of mints when it comes to desserts: Spearmint and Peppermint. Spearmint is more mild, whereas peppermint has a higher menthol content, giving it a stronger flavor. Both are appropriate for baking.
If you see "mint extract" at the store, it is usually a combination of spearmint and peppermint, but is definitely not as strong as peppermint by itself. "Creme de Menthe extract" is another name for spearmint. And of course "peppermint extract" is what you think of when it comes to candy canes.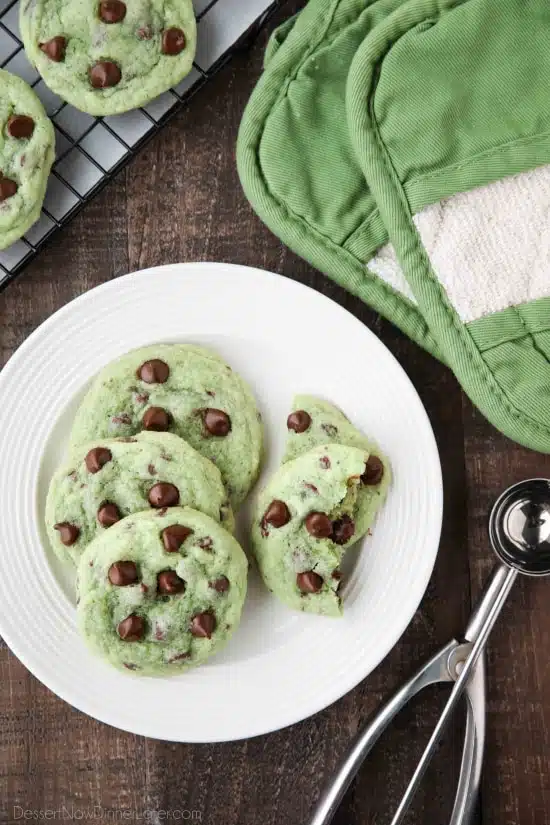 I personally prefer a light mint flavor over peppermint, because I don't want to feel like I'm eating toothpaste in my desserts. Obviously the choice is up to you, and recipes can be easily adjusted to your personal tastes, just adjust the amount or type of extract.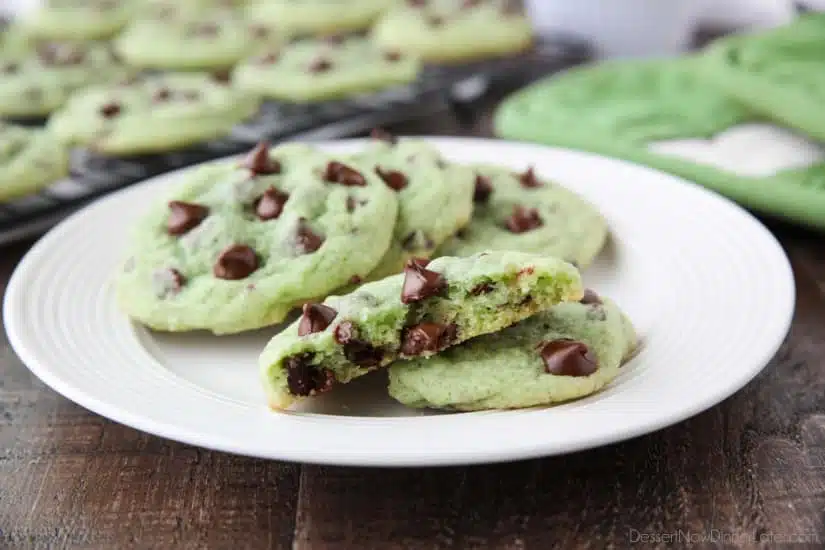 Mint Chocolate Chip Cookies
These mint chocolate chip cookies use mint extract to flavor the cookie dough, green food coloring to make it fun, and lots of chocolate chips for added decadence. Plus, they're soft, chewy, and delicious!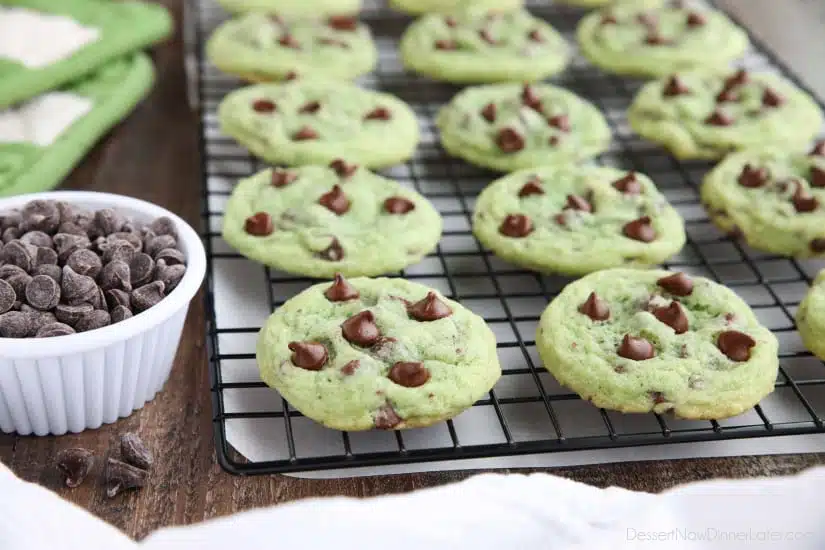 If you're a big fan of mint chocolate, be sure to check out my Homemade Mint Oreos, Mint Brownies, Grasshopper Pie Recipe or Chocolate Mint Chip Cookies too!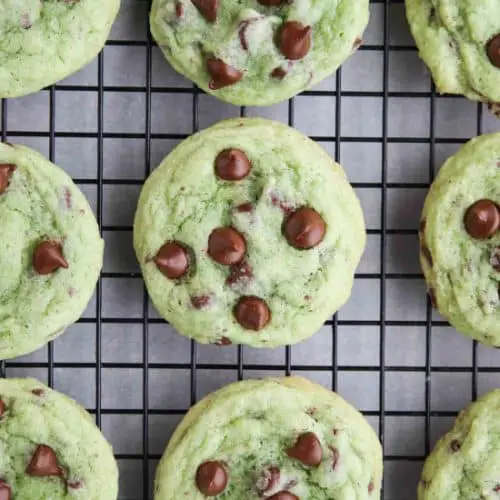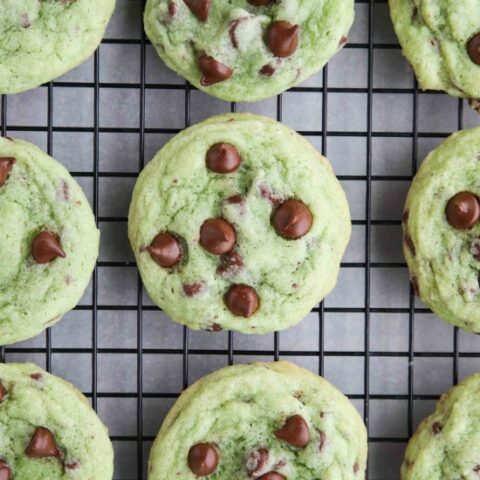 Mint Chocolate Chip Cookies
Prep Time: 10 minutes
Cook Time: 8 minutes
Total Time: 18 minutes
Yield: 3 dozen cookies
Mint Chocolate Chip Cookies are soft, chewy, and chocolatey, with just the right amount of mint!
Ingredients
1 cup unsalted butter, room temperature
1 1/4 cups granulated sugar
2 large/XL eggs
1 tsp mint extract (or more to taste)
8-10 drops green food coloring, optional
2 3/4 cups all-purpose flour (stir, spoon, and level)
1 tsp baking soda
1 tsp salt
1 Tbsp cornstarch
12 oz bag semi-sweet chocolate chips (about 2 cups)
1/4-1/2 cup mini chocolate chips, optional
Instructions
Preheat oven to 350 degrees Fahrenheit. Line baking sheets with parchment paper or silicone baking mats. (Can also substitute cooking spray.)
In the bowl of a stand mixer with the paddle attachment, cream the butter and sugar together. Add the eggs, mint extract, and food coloring. Mix and scrape bowl.
In a separate bowl, stir together the flour, baking soda, salt, and cornstarch. Add the dry ingredients to the wet ingredients and mix to combine.
Fold in the chocolate chips. (*I save about 1/2 cup to press into the tops of the cookies.) Scoop cookie dough balls (I use a #40 scoop) onto prepared baking sheets. (Top with extra chocolate chips, if desired.)
Bake at 350 degrees Fahrenheit for 8-10 minutes, or until the edges are barely starting to brown. Allow cookies to rest on tray for 1-2 minutes. Then transfer to a cooling rack.
Notes
*Mini chocolate chips are optional, but help distribute more chocolate throughout the whole cookie. 
Nutrition Information:
Yield: 36
Amount Per Serving:
Unsaturated Fat: 0g