Cracker Toffee + Video
This post may contain affiliate links, meaning that I may receive a commission at no cost to you if you use a link provided. All opinions shared are my own. You can review my full disclosure policy here.
Cracker Toffee (aka Christmas Crack) is so easy to make and highly addictive! Saltine crackers are coated in a quick toffee layer and topped with chocolate and nuts.
This cracker toffee is the easiest candy I've ever made. It's practically foolproof, so if candy making stresses you out, this recipe is stupid easy, and ridiculously delicious. It makes a lot, and is super quick, so it's perfect for holiday neighbor plates.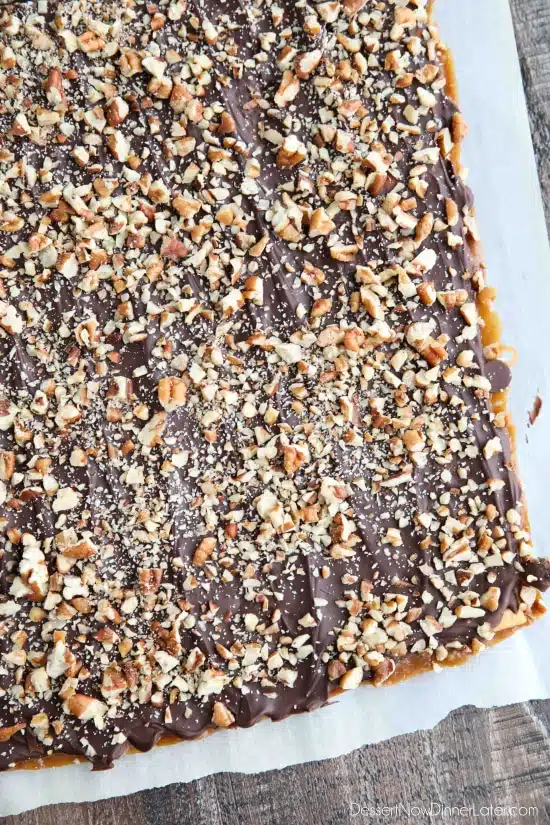 Cracker Toffee
I've made homemade English Toffee before, which is almost the same, but this cracker toffee recipe is easier. It doesn't require a candy thermometer, and is literally 5 ingredients. Crackers, butter, brown sugar, chocolate chips, and nuts. You can omit the nuts or substitute the nuts with M&Ms, sprinkles, or anything else that sounds good to you. The saltine crackers can even be substituted with graham crackers. Make it how you would like it!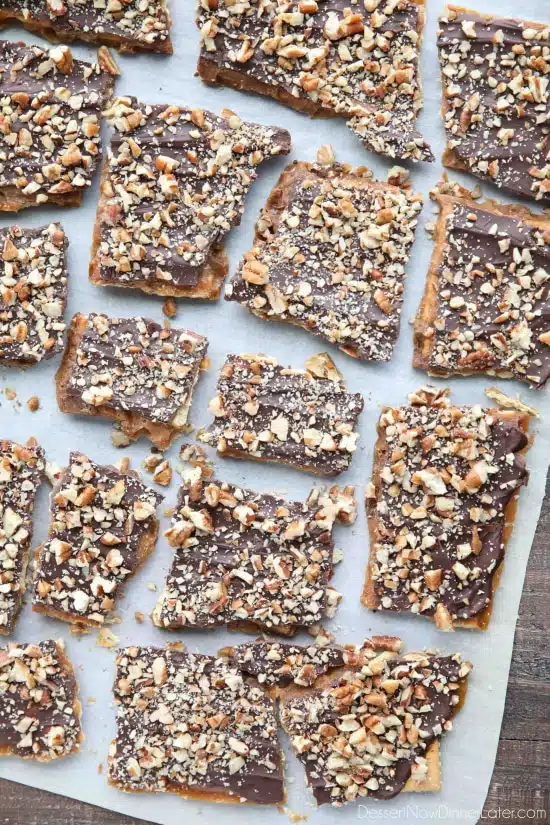 The saltine crackers add a nice texture and just the right amount of saltiness to this Christmas classic. In fact, it balances out all the sugar in the toffee layer, which is why it's easy to eat so much of it without it being too rich.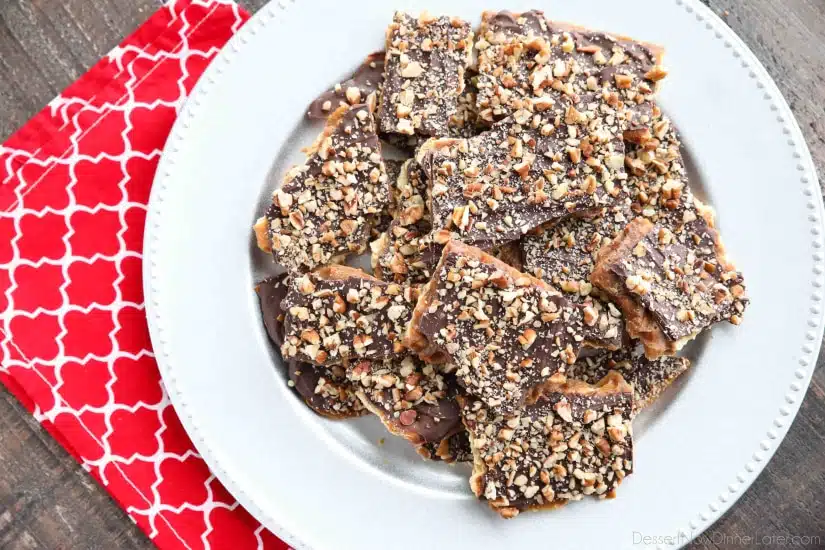 And that's the reason why they've nicknamed this Cracker Toffee "Christmas Crack." It's SO hard to stop eating! Be sure to share with neighbors and friends.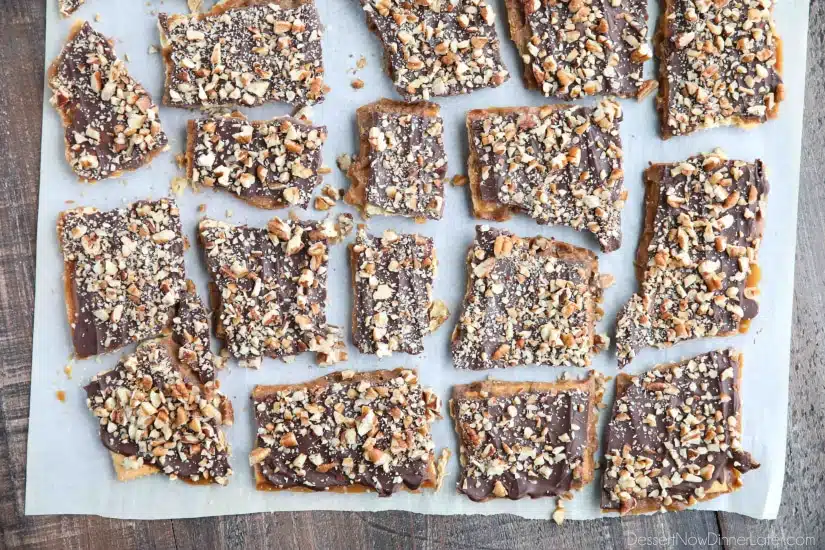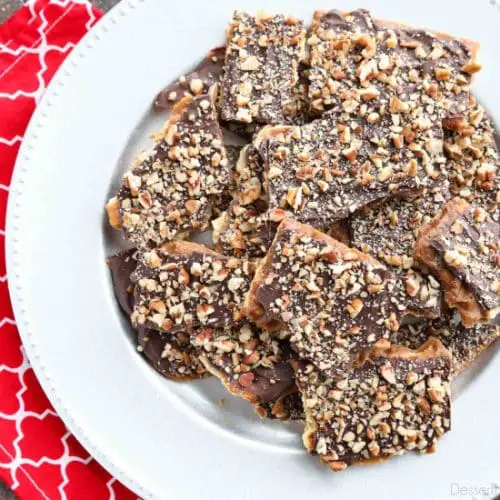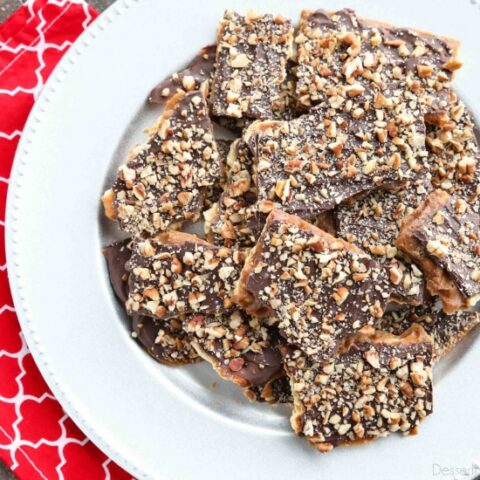 Cracker Toffee
Prep Time: 5 minutes
Cook Time: 15 minutes
Total Time: 20 minutes
Yield: 35 servings
Cracker Toffee (aka Christmas Crack) is so easy to make and highly addictive! Saltine crackers are coated in a quick toffee layer and topped with chocolate and nuts.
Ingredients
35 saltine/club crackers (about 1 sleeve)
1 cup butter
1 cup brown sugar, packed
2 cups (one 12-oz bag) semi-sweet chocolate chips
1 cup nuts*, chopped (pecans, walnuts, almonds)
Instructions
Preheat oven to 400 degrees Fahrenheit. Spread parchment paper over a rimmed cookie sheet, covering the sides/edges too. (A half sheet/jelly roll pan works best.)
Place crackers in a single layer, close together, on top of the parchment paper.
In a saucepan, combine the butter and brown sugar over medium-high heat, stirring occasionally.
Bring to a full, rolling boil (that won't go away when you stir). Turn heat down slightly to medium/medium-low (so there is still a boil, but not so high that it caramelizes too quickly). Set a timer for 3 minutes and stop stirring. After 3 minutes, immediately pour the sugar mixture over the saltine crackers. (Try to pour some on each cracker, but it will spread more in the oven so don't worry.)
Bake at 400 degrees Fahrenheit for 7 minutes. (After about 3 minutes, it will start to bubble and cover the crackers better.)
Remove from the oven and sprinkle chocolate chips over the top. Return to the oven for 2 minutes. Remove from the oven and let the chocolate chips soften for 1-2 minutes. Use an offset spatula to spread the melted chocolate evenly over the toffee.
Immediately top with chopped nuts while the chocolate is warm. (*Toasted nuts taste better. You can place them in a skillet over medium heat and stir them until they get nutty and fragrant. About 3-5 minutes.) Cool completely and break into pieces.
Notes
*Nuts can be omitted or replaced with M&Ms, sprinkles, etc. 
May substitute other similar salty crackers (Ritz, Club, etc.) or try it with graham crackers. 
Recipe altered from Butter With A Side Of Bread
Nutrition Information:
Yield: 35
Amount Per Serving:
Unsaturated Fat: 0g