Red Velvet Brownies
This post may contain affiliate links, meaning that I may receive a commission at no cost to you if you use a link provided. All opinions shared are my own. You can review my full disclosure policy here.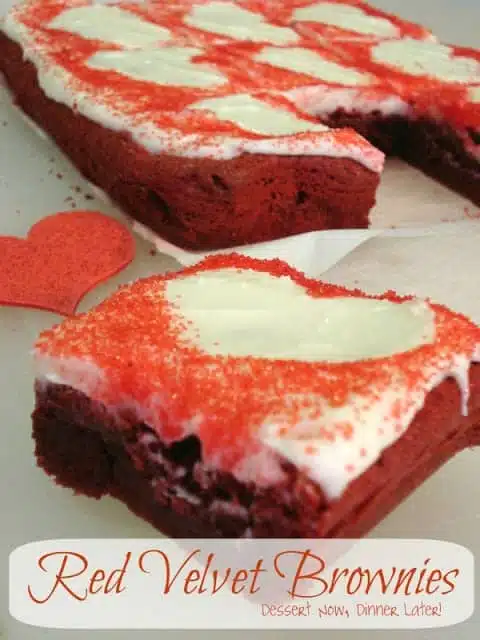 I think it's safe to say that I am a red velvet fanatic! And Valentine's Day is the perfect excuse for me to make red velvet anything! These red velvet brownies were quick to whip up & get in the oven. The hardest part was waiting for them to cool down so I could frost the top & dig in! Another red velvet success! These brownies are soft, moist, & perfectly red velvet with that hint of chocolate. I love my red velvet! Now I was too excited to make these & the original recipe has a white chocolate buttercream frosting on top, which I am sure is killer with these brownies, so if you want to try that, just click on the link. Enjoy!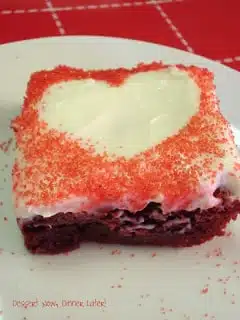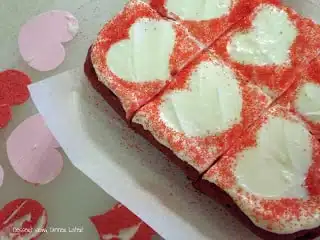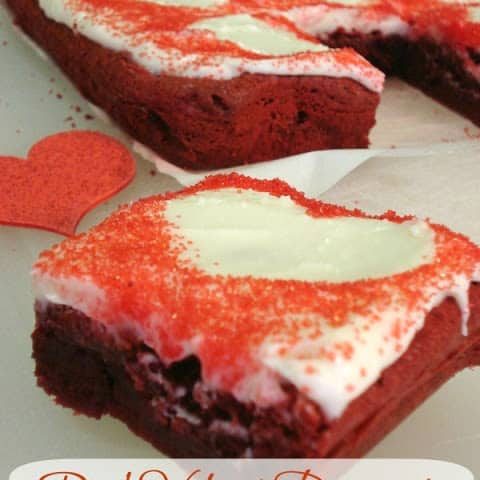 Red Velvet Brownies
Ingredients
Brownies:
3 Tbsp unsweetened cocoa powder
1 oz red food coloring (or scant 2 Tbsp; I actually only had 1 Tbsp & added 1 Tbsp water for the other Tbsp & they still turned out a nice red.)
2 tsp vanilla, divided
1/2 cup (8 Tbsp or 1 stick) unsalted butter; room temperature
1 1/2 cups sugar
2 large eggs; room temperature
1 1/4 cups all-purpose flour
1/4 tsp salt
Frosting:
4 oz Neufchatel cream cheese
1/4 cup 4 Tbsp or 1/2 stick unsalted butter
1/2 tsp vanilla
1 cup powdered sugar
Red Sugar Crystals, for decoration
9 foam heart cutouts, optional
Instructions
Preheat oven to 350*F. Grease & flour an 8x8" baking dish. (I used parchment on the bottom of mine that came up the sides just a bit to help lift it out after it cooled.)
In a small bowl, slowly stir together the cocoa powder, food coloring, & 1 tsp vanilla into a thick paste until no lumps of cocoa remain. Set aside.
In the bowl of a stand mixer fitted with the paddle attachment, beat together the butter & sugar on medium speed until light & fluffy; about 2 minutes. Add eggs one at a time, mixing well after each addition, then stir in the remaining 1 tsp of vanilla.
With the mixer off, add in the cocoa mixture, then turn the mixer to medium & beat the two mixtures together until they are one uniform color. Slowly add in the flour & salt & mix on medium-low speed, just until combined. Do not overmix.
Remove the bowl from the mixer & stir up the batter with a rubber spatula once or twice, just to ensure all of the flour has incorporated from the sided of the bowl & there isn't anything stuck on the bottom of the bowl. You'll want on uniformly colored (red) batter.
Spread into the prepared pan & bake for 30-40 minutes or until a toothpick comes out clean when inserted into the center of the brownies. Allow brownies to completely cool in the pan on a baking rack, about 45-60 minutes.
Prepare frosting by whipping butter & cream cheese until all lumps are gone. Add vanilla & powdered sugar & mix until just incorporated. Spread over cooled brownies.
Optional: Place the 9 foam heart cutouts in rows 3x3 on top of the frosting. Sprinkle red sugar crystals around the hearts & all over the frosting not covered by the hearts. Remove foam heart cutouts & using a knife cut brownies into 9 squares, each with a heart in the middle. Happy Valentine's Day!