Red Velvet Cake Truffles
This post may contain affiliate links, meaning that I may receive a commission at no cost to you if you use a link provided. All opinions shared are my own. You can review my full disclosure policy here.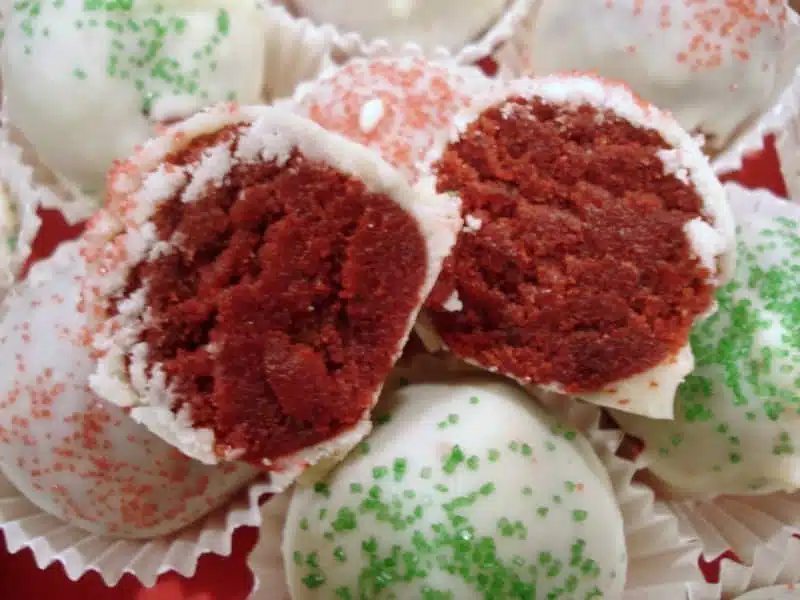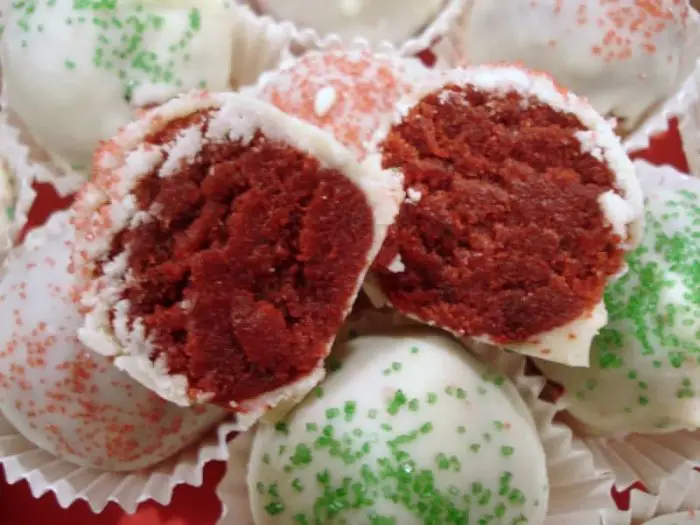 Here is another fun holiday, red velvety treat! Bring these red velvet cake truffles to your next Christmas party or hand them out for neighbor gifts.
They look extra fancy & are super easy to prepare! This is basically the same recipe as the cupcakes cut down to make about 30 cake truffles. Have fun with them! You can even try using semi-sweet chocolate to dip them in as well.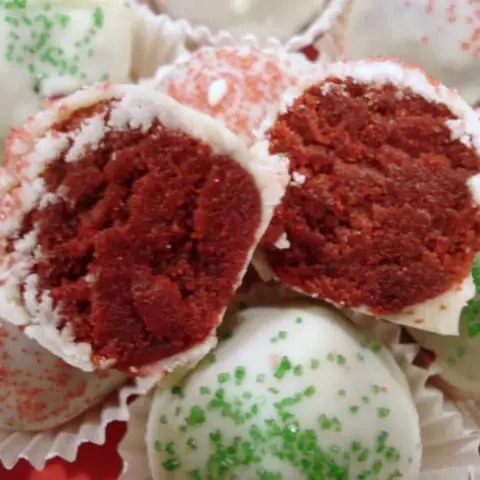 Red Velvet Cake Truffles
Ingredients
Red Velvet Cake:
1/4 cup and 2 tsp butter
3/4 cup and 2 Tbsp white sugar
1 large egg
1/2 cup and 2 Tbsp milk
1 3/4 tsp lemon juice
1 3/4 tsp red food coloring
1/2 tsp vanilla extract
1 tsp baking soda
1 3/4 tsp distilled white vinegar
1 cup plus 3 Tbsp all-purpose flour
3 Tbsp unsweetened cocoa powder
1/2 teaspoon salt
Cream Cheese Frosting:
4 oz cream cheese
2 Tbsp butter
6 Tbsp sugar
1/4 tsp vanilla
Extras:
1 (12oz) bag Guittard White Chocolate Chips
Instructions
RED VELVET CAKE: Add lemon juice to milk. Set aside & let stand for 10 min.
Beat butter & sugar until fluffy.
Add eggs, milk mixture, red food coloring, & vanilla. Combine.
Add soda & vinegar stir lightly.
Sift flour, cocoa, & salt together in a separate bowl.
Add dry ingredients to wet ingredients in mixer. Mix until just blended. DO NOT OVERMIX!
Spray or line cupcake pan & fill ½-3/4 full with cake batter. Will make 10 cupcakes.
Bake at 350*F for 20-25 min or until cake springs back when touched.
CREAM CHEESE FROSTING: Add sugar & vanilla until incorporated. Let sit in fridge 10 minutes so sugars can dissolve.
MAKING THE TRUFFLES: Take cupcakes out of their wrappers & put in a stand mixer. Start the mixer & wait until all the cake has been crumbled. Add frosting to cake mixture. Should come together & look wet. Shape 1-inch balls & place on a wax paper on a baking tray. Cover with plastic wrap & freeze 2 hours.
DIPPING THE TRUFFLES: Melt 1 bag Guittard white chocolate chips using a double boiler. Make sure water does not touch the bottom of the top (melting) bowl & only melt over low heat; white chocolate burns easily.
Using a fondue fork or bbq scewer, dip frozen cake truffles into melted chocolate chips. Roll around till covered all around & shake off any excess chocolate.
Place on wax paper & immediately sprinkle with red/green sugar crystals. Continue with all the cake truffles. Let sit until chocolate hardens. Keep refrigerated.