Egg Nog Cream Puffs
This post may contain affiliate links, meaning that I may receive a commission at no cost to you if you use a link provided. All opinions shared are my own. You can review my full disclosure policy here.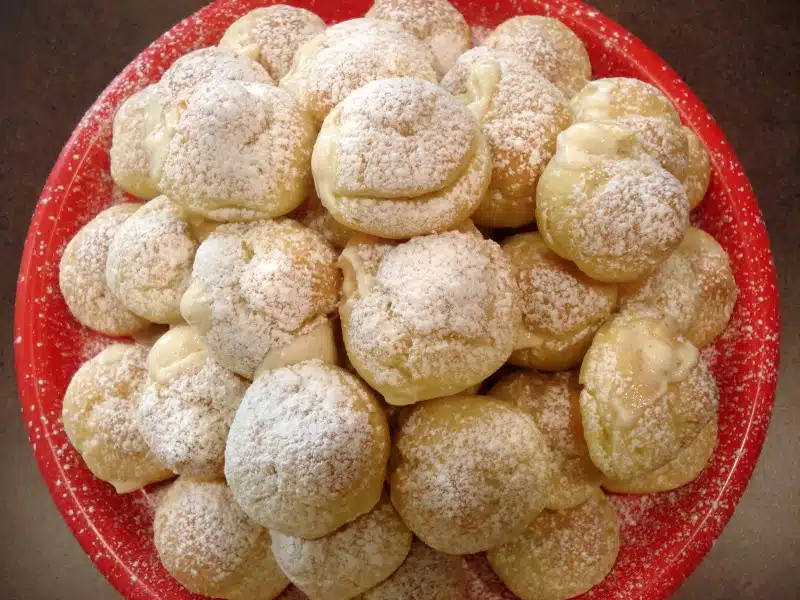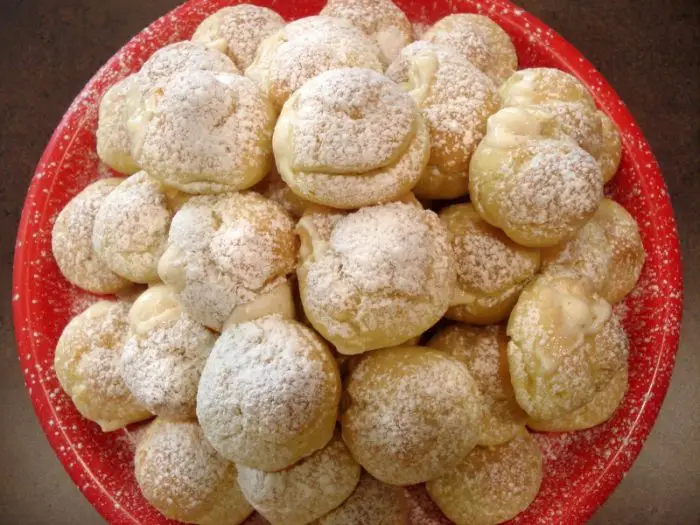 Want to try something new & fun for the holidays? Try these egg nog cream puffs. This is a recipe to wow the crowds. Plan ahead & read the recipes carefully, it goes fast so you want to be ready. Happy Holidays!!!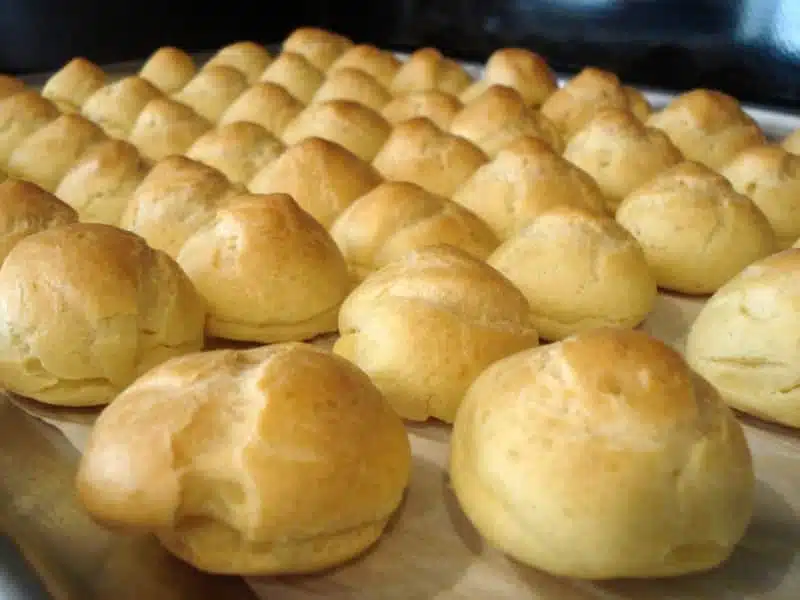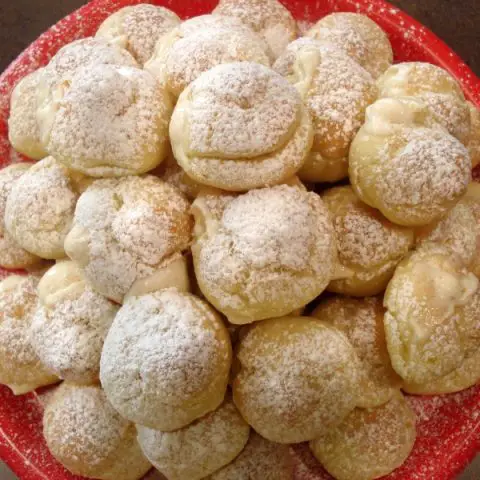 Egg Nog Cream Puffs
Ingredients
Pate a Choux (Cream Puff Shell):
1 cup water
6 Tbsp butter
1 Tbsp sugar + 1/8 tsp salt
5 3/4 oz (approx 1 1/4 cup) flour
1 cup eggs (approx 4 large eggs + 1 egg white)
Egg Nog Pastry Cream:
1 cup milk
2 Tbsp sugar
2 Tbsp cornstarch
1 egg yolk
1 whole egg
2 Tbsp sugar
1 Tbsp butter
1 tsp pure vanilla
1 tsp rum extract
1 tsp nutmeg
1/4 tsp ginger
Cool Whip
Instructions
PATE A CHOUX (CREAM PUFF SHELL): Heat water, butter, sugar in a saucepan until rolling boil.
Remove from heat, add flour stir; return to heat & keep stirring with a spoon until it balls up & is less steamy.
Put mixture in stand mixer. With a paddle attachment mix on medium speed until it's cooled down slightly; can touch it without it being too hot.
Add eggs in one at a time, waiting until the egg has mixed in completely before adding another one.
Once all eggs are incorporated, place mixture in a pastry bag & pipe 2" cream puffs on a pan lined with parchment paper.
Bake at 425*F for 10-13 minutes or until the cream puffs have some nice height.
Lower the oven to 350*F & bake an extra 10 min or until GOLDEN BROWN (It took me like 20 or more extra minutes instead of 10.)
**You want to make sure the cream puffs are done on the inside & won't fall when you remove them from the oven. They must be browned well. You can pull one out of the oven if you think it is done & see if it keeps it's shape. You should be able to tell when you pick it up if it feels light & airy or dense & heavy. If it is still heavy, leave them in the oven. It is basically impossible to fix these if you pull them from the oven too early.
EGG NOG PASTRY CREAM: In a saucepan dissolve the sugar in the milk & bring just to a boil.
With a whip, beat the egg yolks & whole eggs in a bowl.
Sift the cornstarch & sugar into the eggs. Beat with the whip until perfectly smooth.
Temper the egg mixture by slowly beating in the hot milk in a thin stream.
Return the mixture to the heat & bring to a boil, stirring constantly.
When the mixture comes to a boil & thickens, remove from the heat.
Stir in the butter, vanilla, rum, & spices. Mix until the butter is melted & completely blended in.
Pour out into a clean, sanitized container; dust lightly with sugar & cover with plastic wrap pressed onto the pastry cream to prevent a crust from forming.
Cool quickly. (Can use an ice water bath with a stainless steel bowl, or refrigerate immediately in a shallow pan).
Once cooled remove from fridge, add half an 8oz tub of cool whip (or make your own whipped cream) & fold into pastry cream.
ASSEMBLY: With a star tip & pastry bag, poke the bottom of the cream puff & fill with egg nog cream. Dust tops of cream puffs with powdered sugar & serve. KEEP COLD. You may also like to freeze the puffs & pull them 5 min or so before serving.