Empty Tomb Rolls + Video
This post may contain affiliate links, meaning that I may receive a commission at no cost to you if you use a link provided. All opinions shared are my own. You can review my full disclosure policy here.
Empty Tomb Rolls (aka Resurrection Rolls or Hocus Pocus Buns) are delicious cinnamon-sugar sticky buns with a melting marshmallow inside. A family-friendly recipe that teaches the story of Easter. So easy to make with Rhodes rolls.
*This post is brought to you by Rhodes Bake-N-Serv. Thanks for supporting the brands that make Dessert Now Dinner Later possible.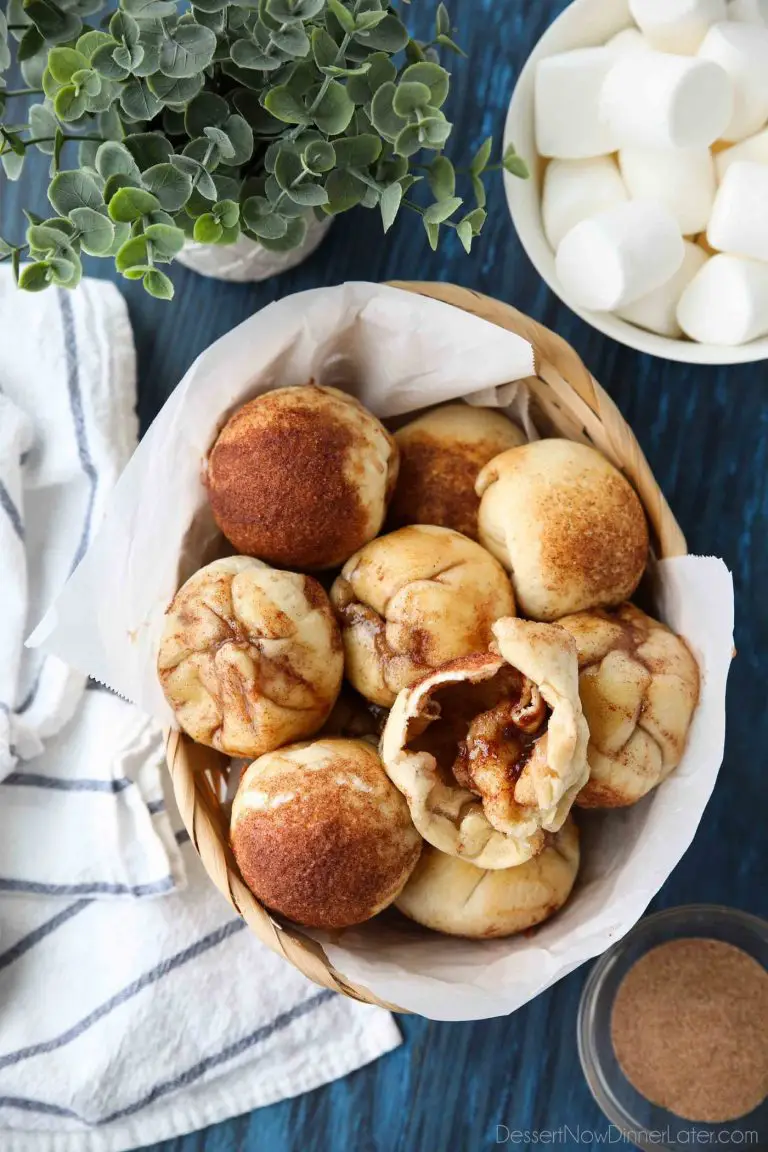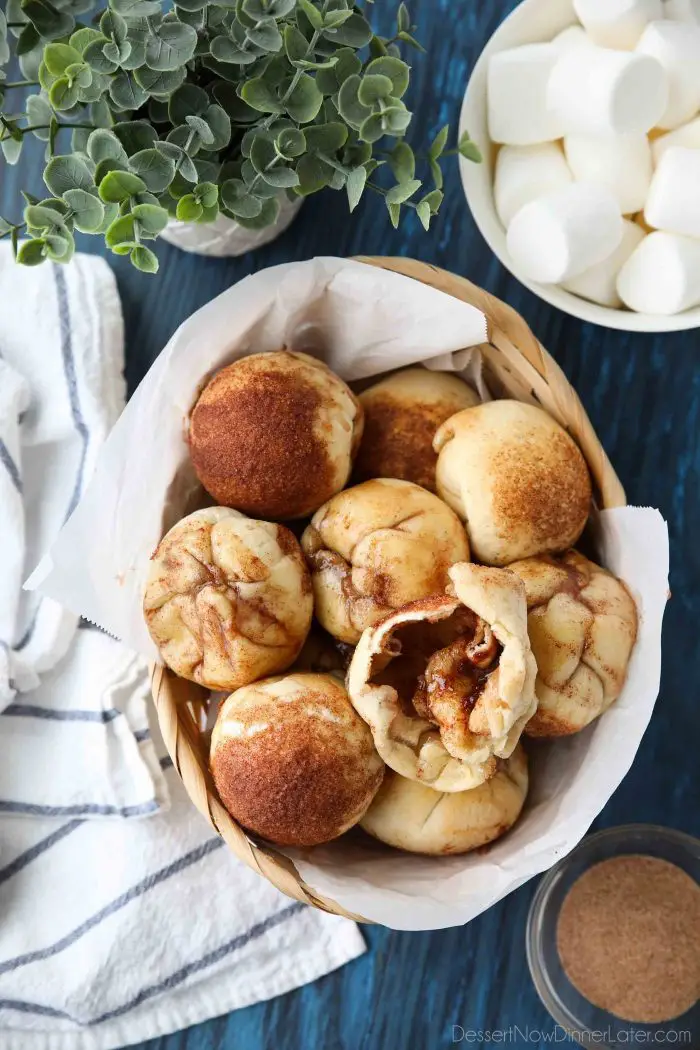 These magic disappearing marshmallow rolls (aka Hocus Pocus Buns) were something I was first introduced to in a home economics class in high school. They're so easy to make and super delicious.
It wasn't until a little later in life that I learned that these rolls were a symbolic recipe for Easter and the resurrection of Christ.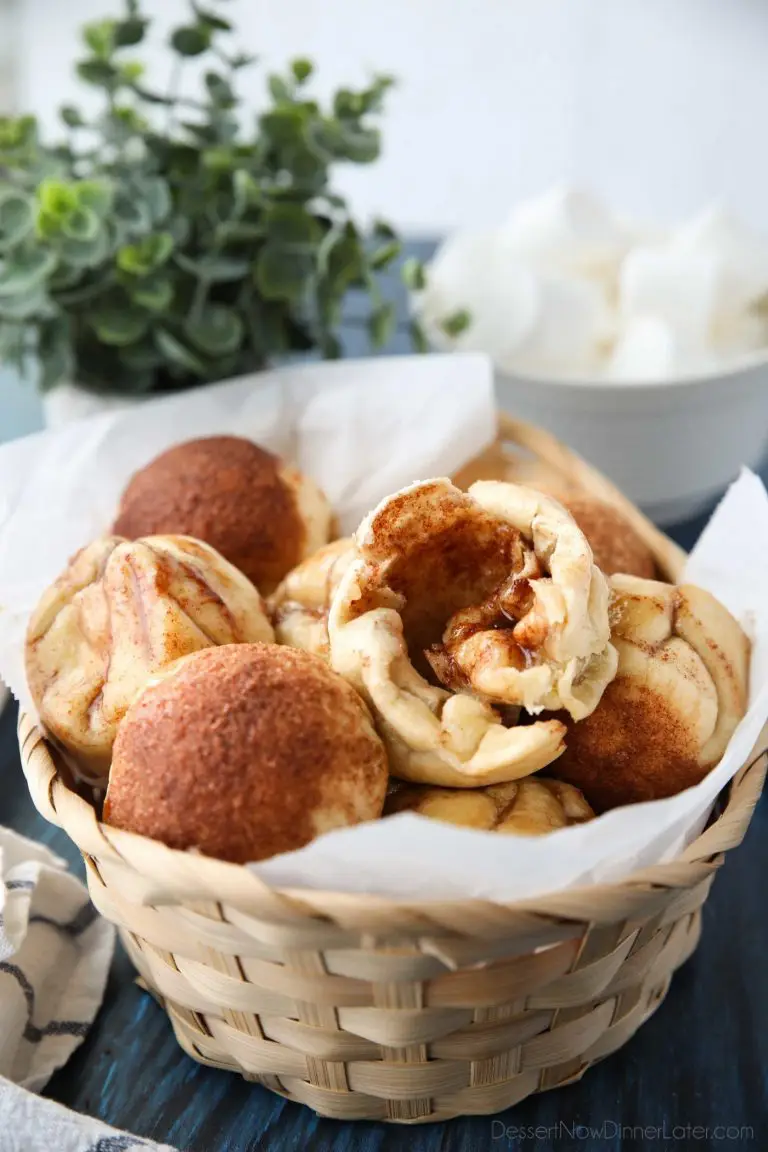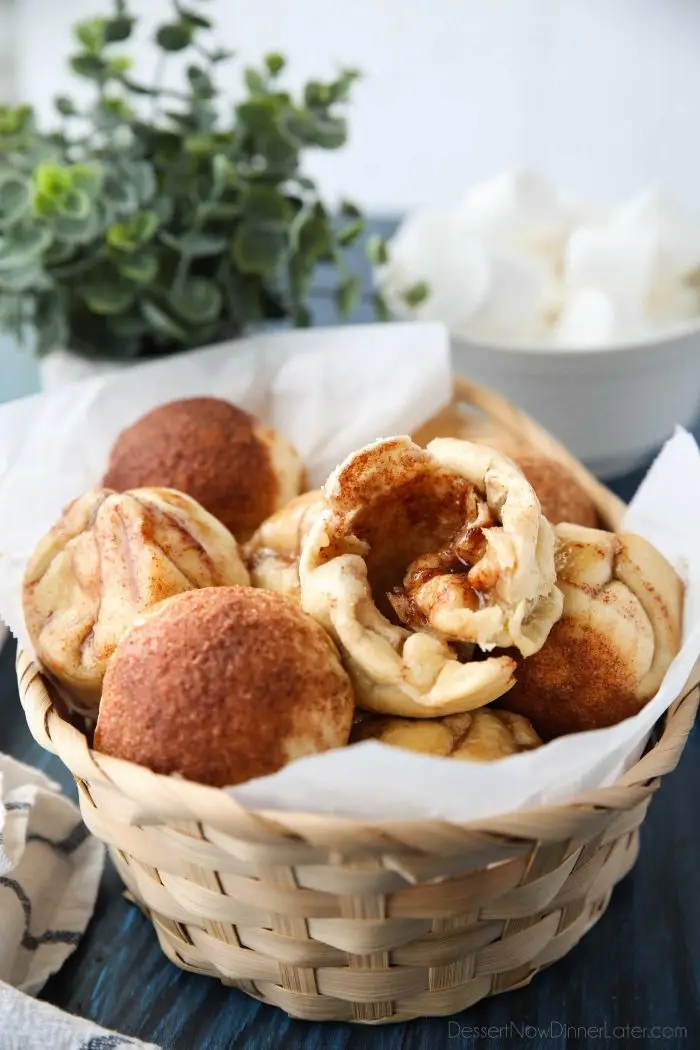 Symbolism of Empty Tomb Rolls
Easter is celebrated because of the resurrection of Christ. You can read the story of Christ's death and resurrection from the Bible found in Matthew 27-28, Mark 15-16, Luke 23-24, and/or John 19-20.
These four separate accounts are virtually the same, and are recounted by four of the disciples of Christ.
Reading the story before making these resurrection rolls is a nice way to ponder what Christ did. It also helps bring home the meaning of the object lesson when making the rolls.
The ingredients of these empty tomb rolls symbolize these elements of Christ's resurrection:
Large Marshmallow – body of Jesus
Melted Butter – oils of embalming
Cinnamon-Sugar — spices used to anoint Christ's body
Yeast Dough (I use Rhodes Rolls) – the wrapping of Jesus' body and his body being placed in the tomb
Empty Roll (after being baked) – the empty tomb or the empty cloths (Christ is resurrected!)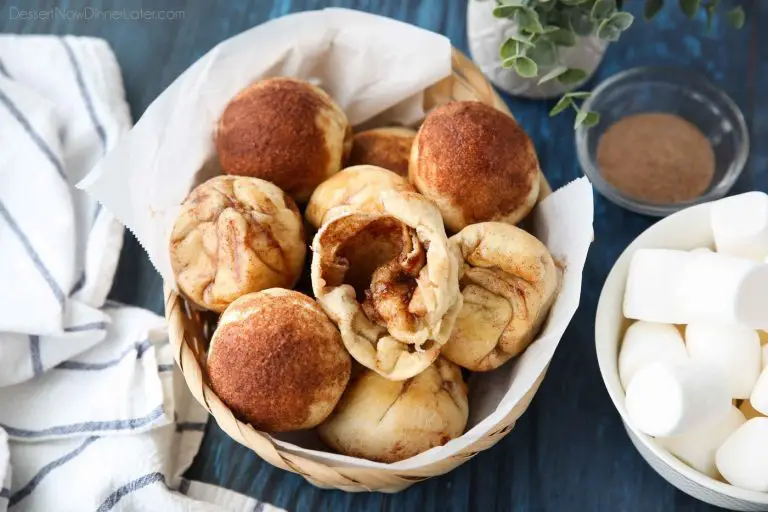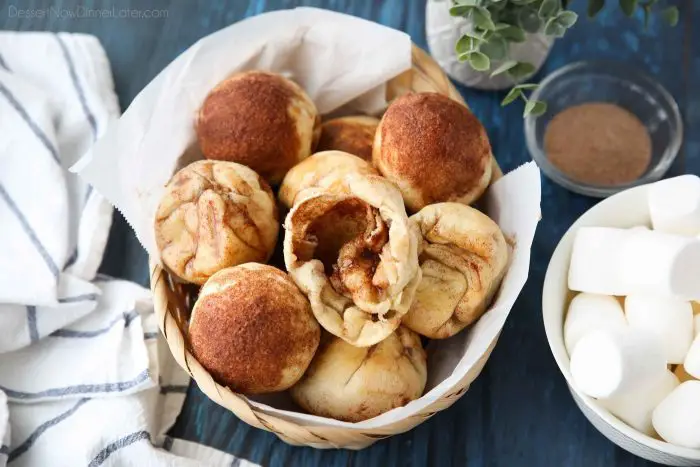 Empty Tomb Rolls (aka Resurrection Rolls)
These rolls have a lot of names: they can be called empty tomb rolls, resurrection rolls, or (magic) disappearing marshmallow rolls.
Either way, they are a soft, homemade roll that has a buttery cinnamon-sugar dipped marshmallow inside.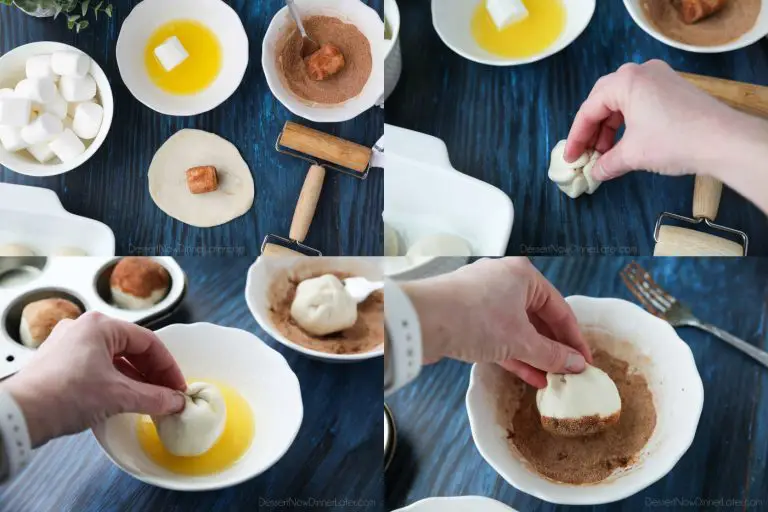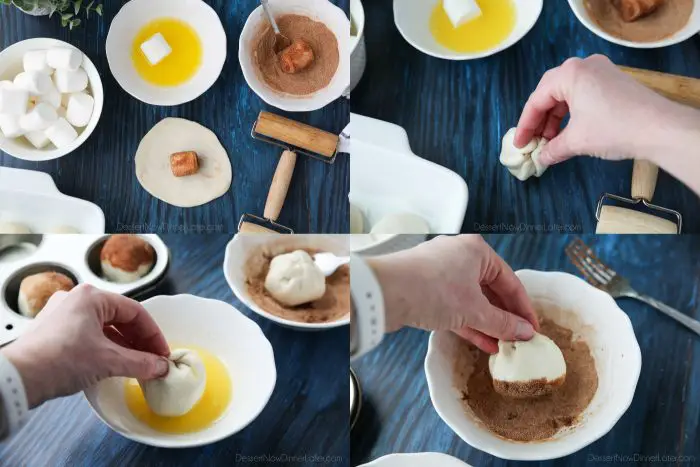 The dough is formed around the marshmallow and dipped in more butter and cinnamon sugar, and then baked.
As the dough bakes, the marshmallow melts inside the dough. When you open the resurrection rolls the marshmallow is gone but the dough is sweet and sticky.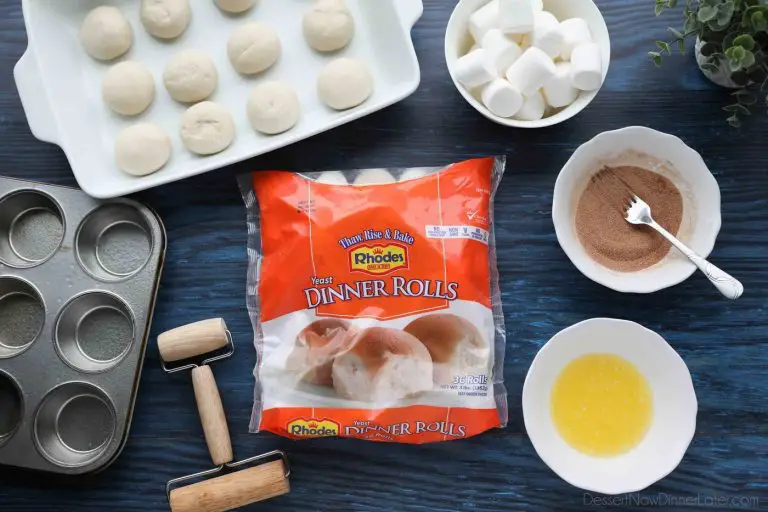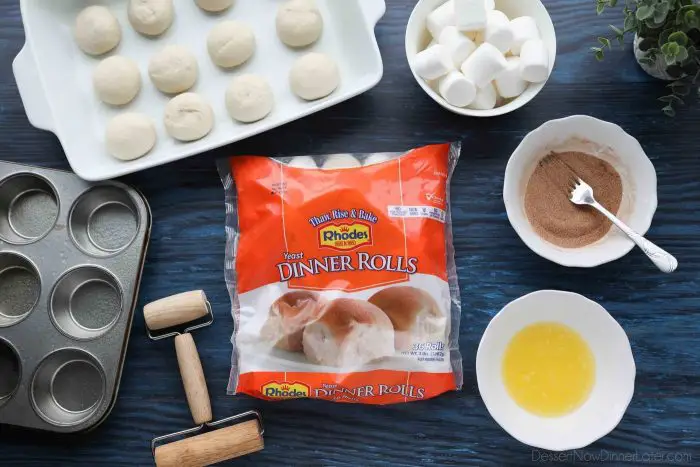 These empty tomb rolls are an indulgent breakfast or dessert. They are similar to sticky buns, and so easy to make with Rhodes (real yeast) dinner rolls.
I like to thaw my Rhodes rolls in the refrigerator overnight to make these rolls for breakfast, or you can thaw them on the counter during the day to make them for dessert.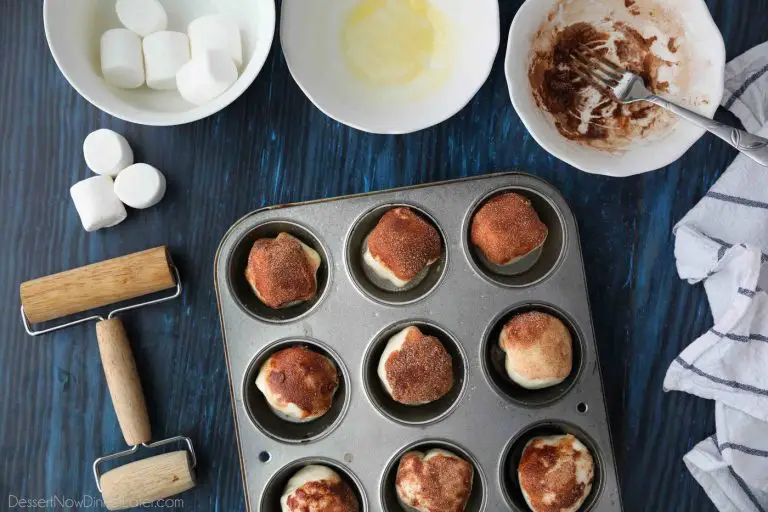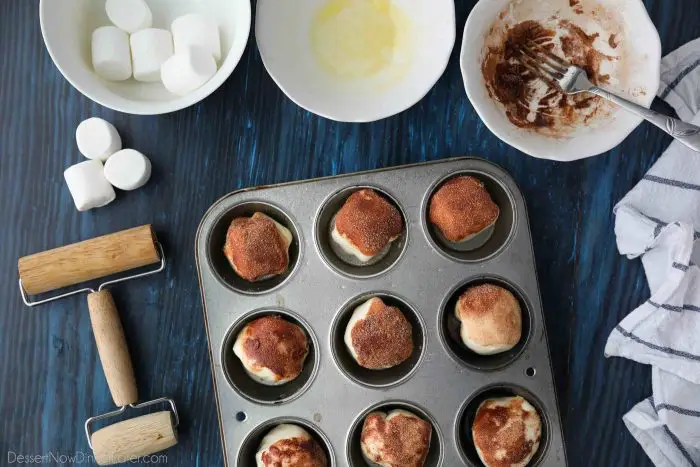 I actually think we used canned biscuits to make these in high school, but nothing beats real, yeast bread. So soft, fluffy, and delicious. My kids love to help make these resurrection rolls. It's a sweet, meaningful family tradition.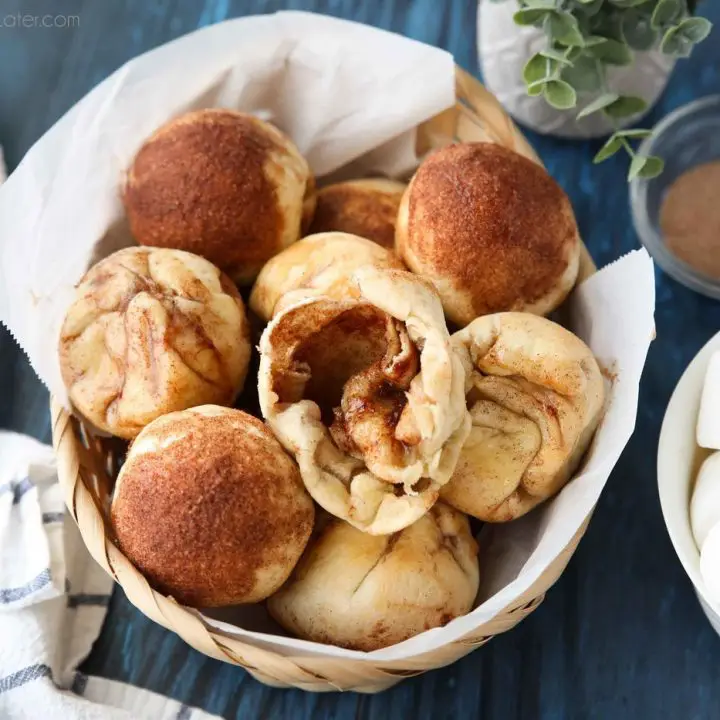 Empty Tomb Rolls
Prep Time: 20 minutes
Cook Time: 15 minutes
Thaw Time: 1 hour
Total Time: 1 hour 35 minutes
Yield: 12 rolls
Empty Tomb Rolls (aka Resurrection Rolls) are delicious cinnamon-sugar sticky buns with a melting marshmallow inside. A family-friendly recipe that teaches the story of Easter. 
Ingredients
12 Rhodes Rolls, thawed*
12 large marshmallows
4 Tbsp butter, melted
1/4 cup granulated sugar
1 Tbsp ground cinnamon
Instructions
*THAW Rhodes rolls on a lightly greased baking sheet covered with sprayed plastic wrap for 1-2 hours at room temperature, or overnight in the refrigerator. Just long enough for the rolls to thaw and be pliable, but not completely risen.
Preheat oven to 350 degrees Fahrenheit. Grease a 12-cup muffin/cupcake pan with cooking spray. Set aside.
Melt butter in a bowl in the microwave. Mix the cinnamon and sugar in a separate bowl.
Use a rolling pin to flatten a thawed roll into a circle.
Roll a large marshmallow in melted butter, then cinnamon sugar, and place it in the center of the flattened dough.
Lift the edges of the dough around the marshmallow and pinch the seams together well. Dip the top of the roll in the melted butter and then the cinnamon sugar. Place the roll seam-side down into the prepared muffin/cupcake pan.
Repeat with each dinner roll. Let rolls rest for 15 minutes.
Bake rolls at 350˚F for 15 minutes or until golden. Immediately invert rolls onto a platter. Eat while warm. (TIP: Soak pan ASAP for easy cleaning, especially if marshmallow oozed out.)
Notes
Store leftovers in an airtight container up to 3 days. Must nuke leftovers in microwave 10-15 seconds to soften before eating.
Recommended Products
As an Amazon Associate and member of other affiliate programs, I earn from qualifying purchases.
Nutrition Information:
Yield: 12
Serving Size: 1 roll
Amount Per Serving:
Calories: 175
Total Fat: 6g
Carbohydrates: 29g
Protein: 2g