Lime Bars + Video
This post may contain affiliate links, meaning that I may receive a commission at no cost to you if you use a link provided. All opinions shared are my own. You can review my full disclosure policy here.
Lime Bars are exactly like lemon bars, but made with limes instead. A shortbread crust is topped with a tangy lime custard. Easy and delicious!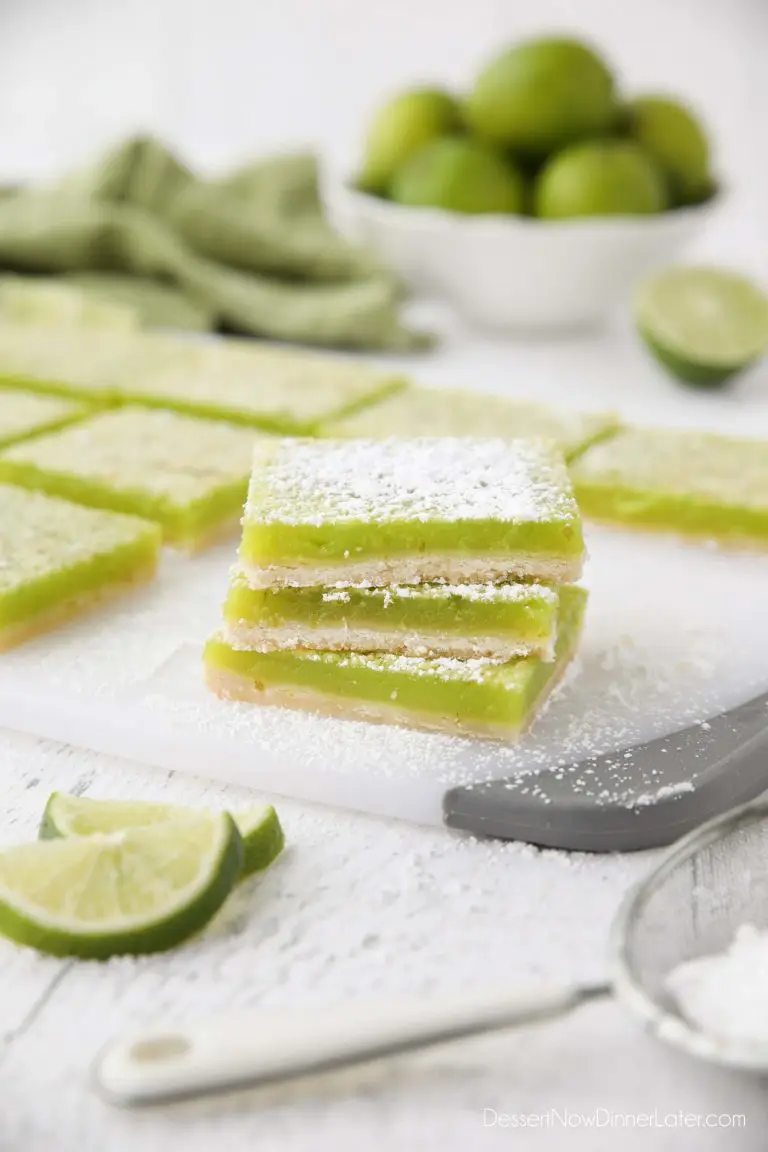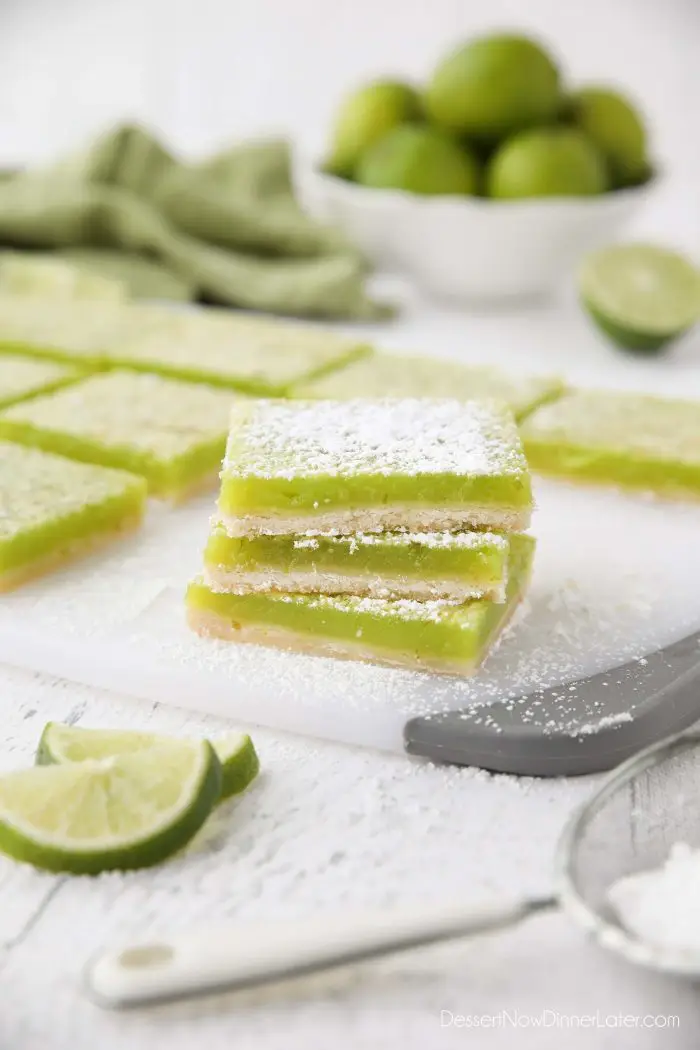 If you're a citrus fan like me, then you're going to love this recipe. It's a knock-off of classic lemon bars but made with limes.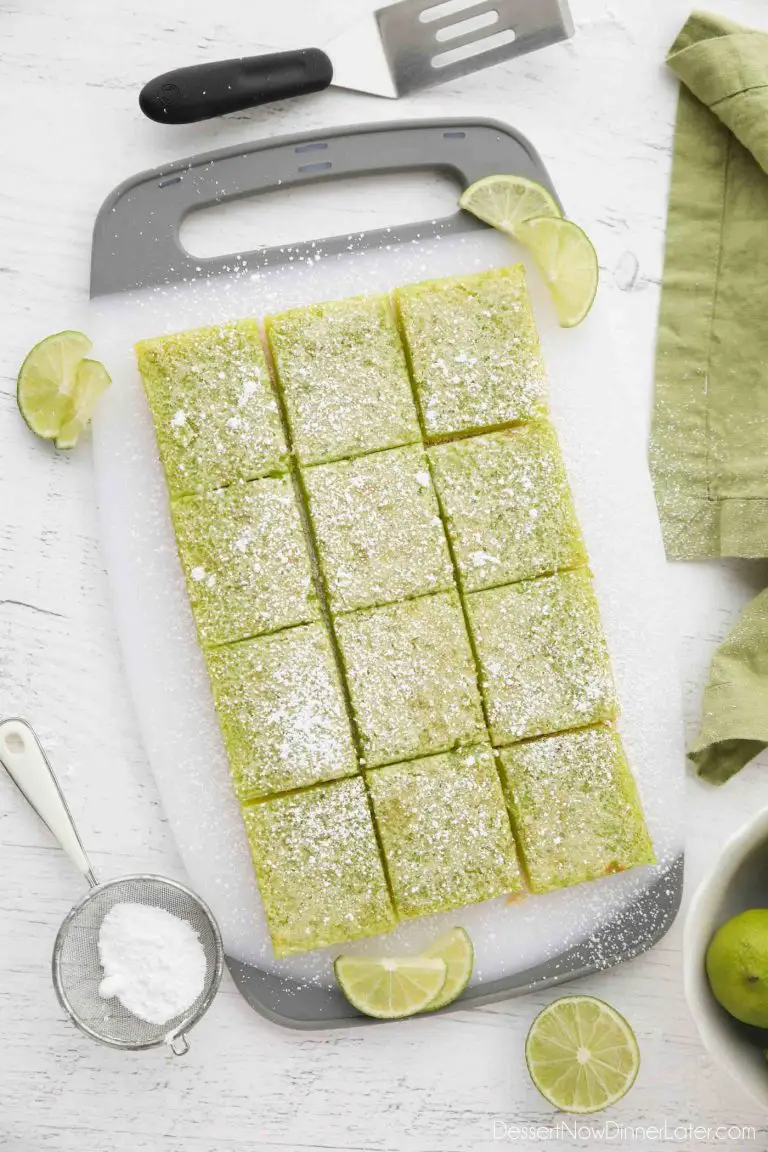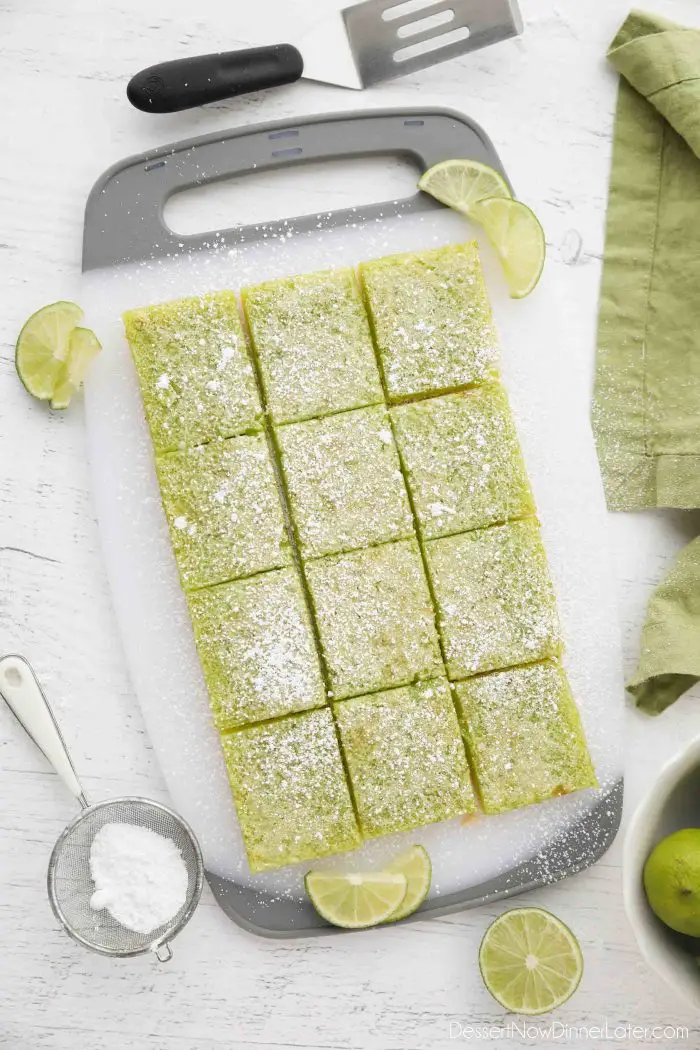 I've even made Ruby Red Grapefruit Bars with the same basic recipe, if you want to keep the citrus bar trend going. Just think of all the citrus variations you can try!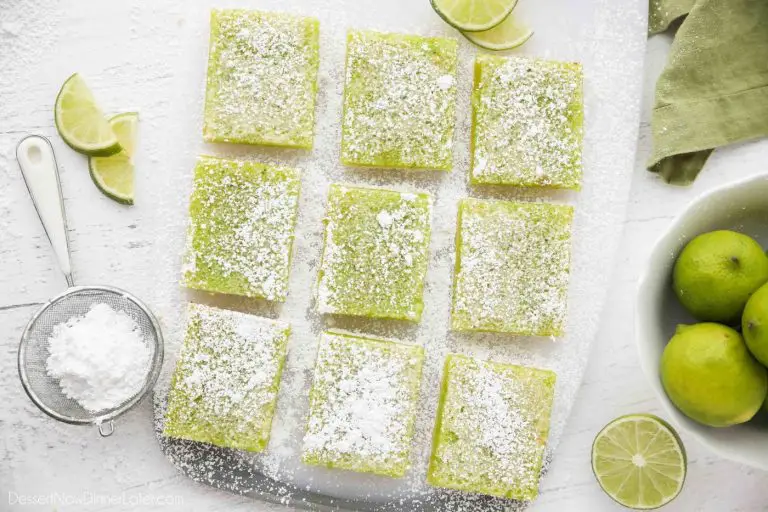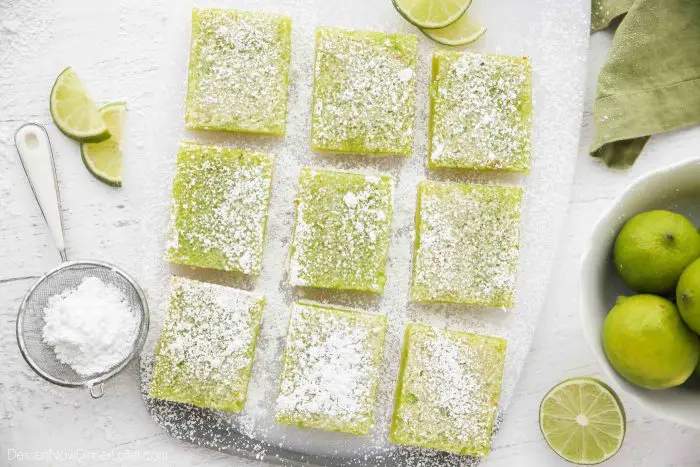 Lime Bars
I love my citrus desserts to be tangy. The lime filling in these lime bars is creamy and tart with just enough sweetness.
The shortbread crust is a simple and sturdy base to hold the lime filling. And a dusting of powdered sugar on top is the "icing on the cake."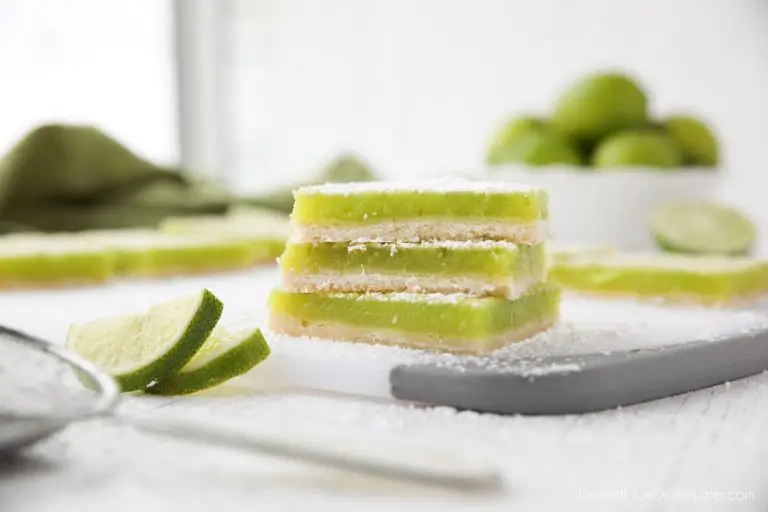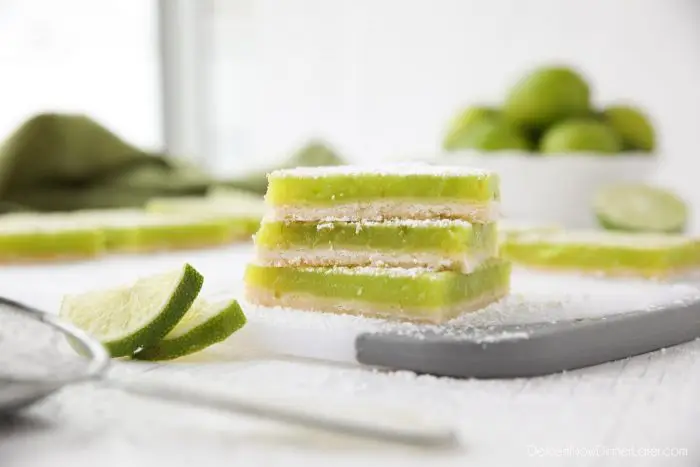 Obviously these lime bars wouldn't really be this green without food coloring, but if you are against stuff like that in your food, then just leave it out.
If the green food coloring is left out, they will be more yellow, like lemon bars.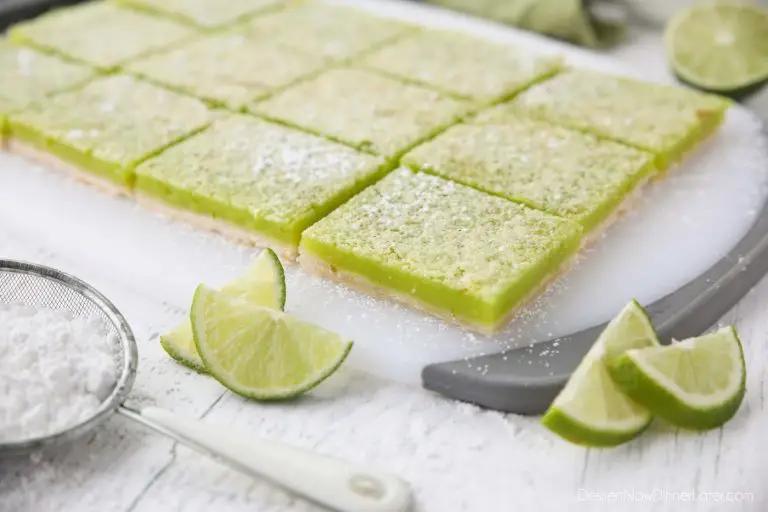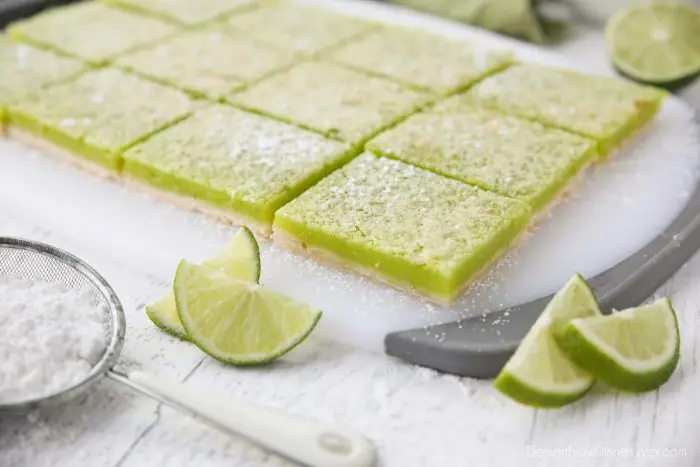 Baking Tips:
Use parchment paper with a 2-inch overhang on both sides. Anytime I make bars, I like to be able to lift them out of the pan for easy cutting. This also makes it easy to trim the edges off if everyone wants "the middle piece."
Prepare the lime filling while the crust is baking. Then pour it over the crust while it's still in the oven. Pouring the filling over a hot crust creates a nice evenly baked custard.
Use a microplane zester to create a fine zest, that will be unnoticeable to eat, but give you maximum lime flavor.
I used a little yellow and green food coloring to create the same green color as the limes I was using, but food coloring is optional.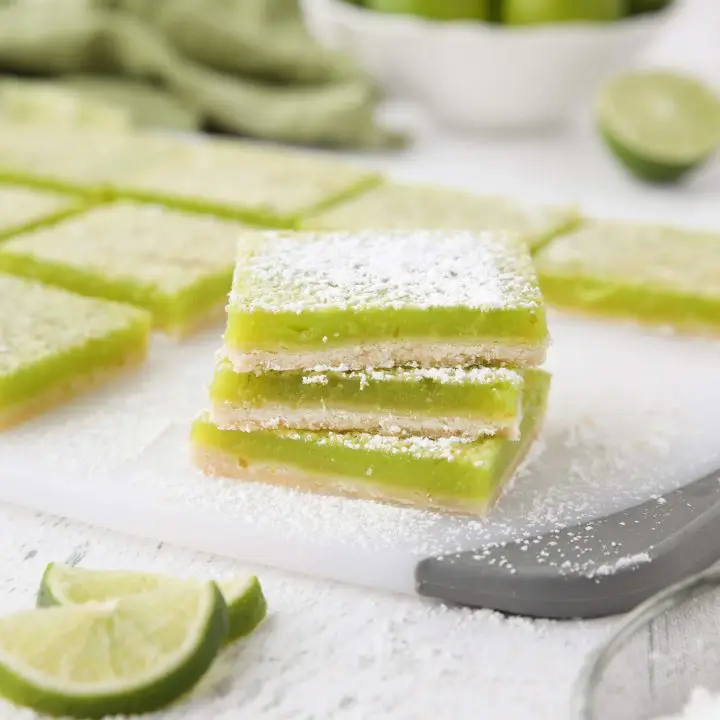 Lime Bars
Prep Time: 10 minutes
Cook Time: 40 minutes
Chill Time: 2 hours
Total Time: 2 hours 50 minutes
Yield: 12 bars
Lime Bars are exactly like lemon bars, but made with limes instead. A shortbread crust is topped with a tangy lime custard. Easy and delicious!
Ingredients
Crust:
1 cup all-purpose flour
1/4 cup powdered sugar
1/4 tsp salt
1/2 cup butter (cut into 8 pieces)
Filling:
1 1/4 cup granulated sugar
1/4 cup all-purpose flour
4 large eggs
2 tsp lime zest
2/3 cup fresh lime juice
drop of green (+ yellow) food coloring, optional
Instructions
Preheat oven to 350 degrees Fahrenheit. Lightly grease or line an 11x7-inch or 8 to 9-inch square glass baking dish with parchment paper that overhangs 2-inches on both sides.
To make the crust: Combine the flour, powdered sugar, salt and butter in a food processor. Pulse until mixture resembles fine crumbs. Press into prepared pan and bake for 18 to 20 minutes, or until golden brown.
Meanwhile make the filling: Whisk together the sugar and flour in a bowl. Add the eggs, one at a time, whisking well after each addition. Add the zest, lime juice, and a drop of green (+ yellow) food coloring, if desired. Mix until everything is smooth and combined.
Pour filling over hot crust and return to oven to bake for an additional 18 to 20 minutes or until set. When done, the filling will no longer jiggle.
Let cool completely in the pan, about 1 hour. Then refrigerate for 1-2 hours and serve cold. Lift bars out of pan with parchment paper for easy cutting and serving. Store leftovers in the refrigerator.
Recommended Products
As an Amazon Associate and member of other affiliate programs, I earn from qualifying purchases.
Nutrition Information:
Yield: 12
Serving Size: 1
Amount Per Serving:
Calories: 232
Total Fat: 9g
Saturated Fat: 5g
Trans Fat: 0g
Unsaturated Fat: 3g
Cholesterol: 82mg
Sodium: 134mg
Carbohydrates: 34g
Fiber: 0g
Sugar: 23g
Protein: 4g
This data was provided and calculated by Nutritionix, and is an estimation only.
*Originally published on my blog 3/3/13.