Key Lime Pie Recipe + Video
This post may contain affiliate links, meaning that I may receive a commission at no cost to you if you use a link provided. All opinions shared are my own. You can review my full disclosure policy here.
This classic Key Lime Pie recipe is smooth and creamy, tart yet sweet, and super easy to make! Top it with freshly sweetened whipped cream for the perfect bite!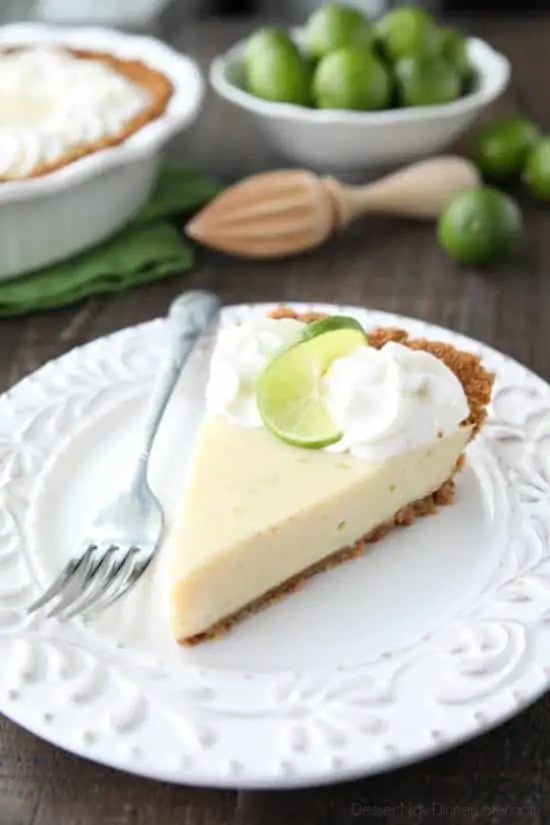 Key Lime Pie is one of my absolute favorite desserts! When I first made this key lime pie recipe in a bakery that I worked in, I was hooked! It's so easy, and packed with citrus flavor!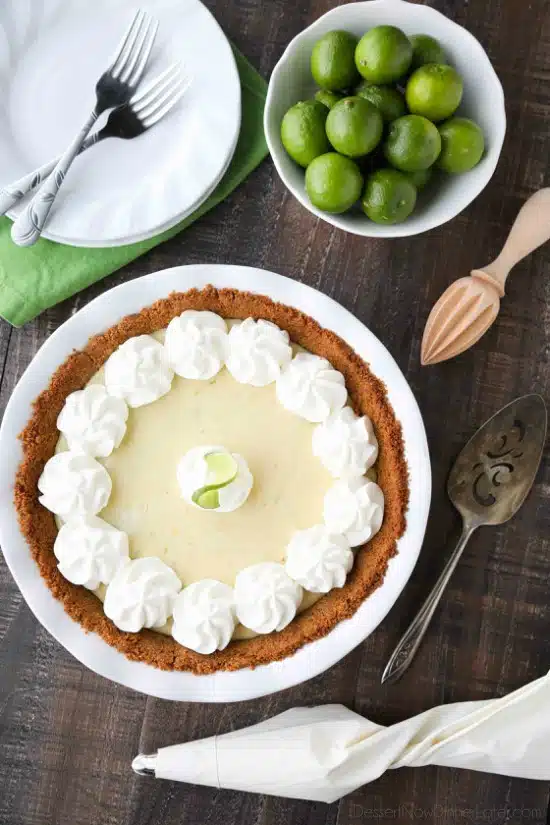 There's just something about a classic, no-frills recipe, that makes a huge impact on us. Sometimes simple is better.
First, is the graham cracker crust. Crushed graham crackers, a little sugar, and butter to bind it. So easy! You could definitely cheat and use a store-bought crust if you are pressed for time, but the homemade crust is quite simple.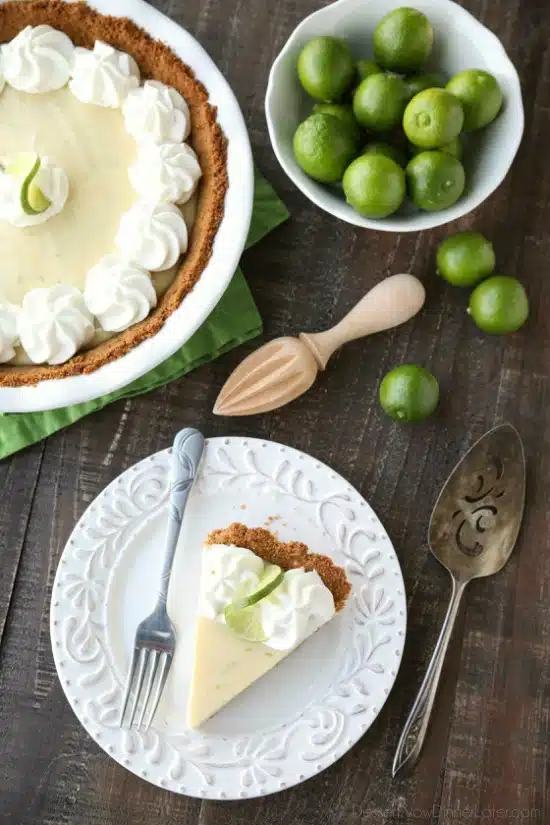 Next is the key lime pie filling. Zest is optional. I like it, but others might not. Totally up to you! As for the juice, key limes are much smaller than regular limes, but they pack a powerful punch of tart lime flavor. If you aren't up for juicing a bunch of tiny limes (like 12+ key limes), then I recommend Nellie & Joe's Famous Key West Lime Juice.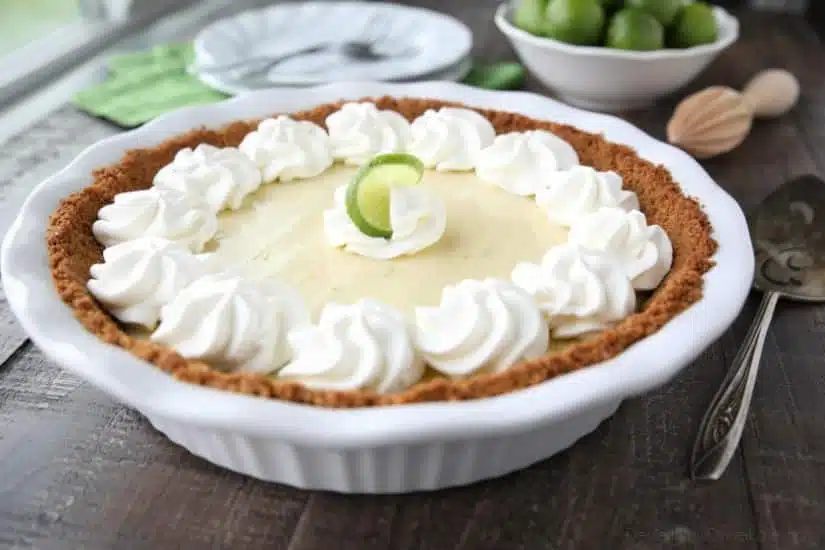 After you have your lime juice, you simply mix it with sweetened condensed milk, egg yolks, and a pinch of salt. It thickens up for a great creamy filling.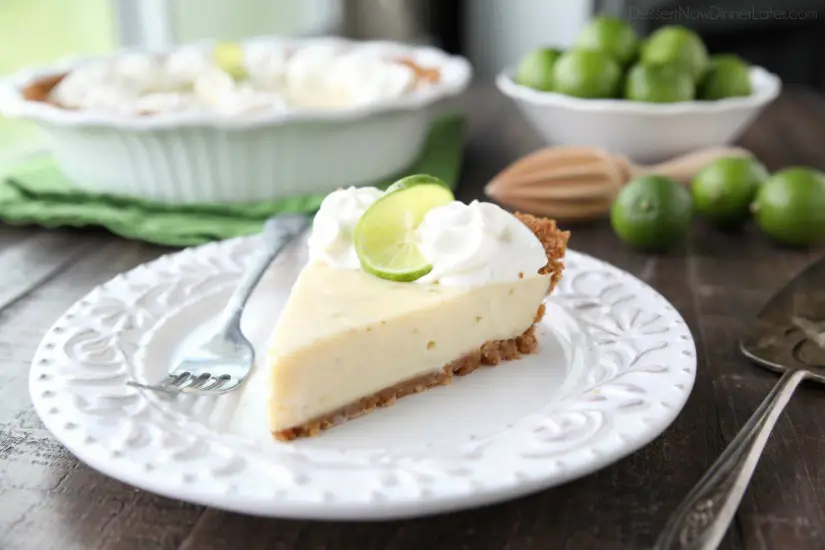 Start to finish this pie takes like 30 minutes. That's another reason why I love it so much. You do need to chill it, but it's a fast pie to make!
I like to top my key lime pie with sweetened whipped cream. It rounds out the tartness and creates the perfect bite. Enjoy my friends!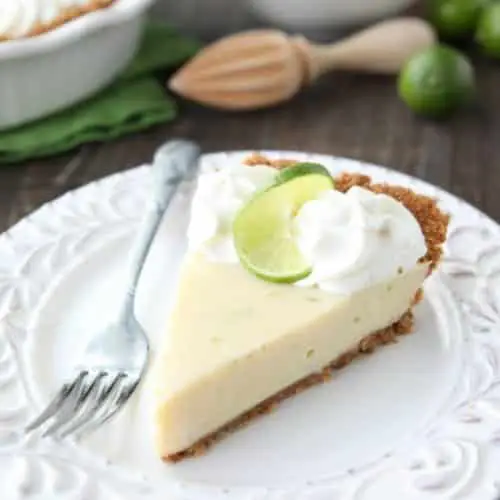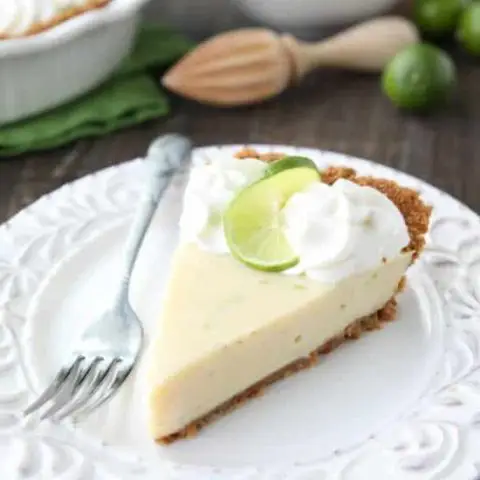 Key Lime Pie Recipe
Prep Time: 10 minutes
Cook Time: 20 minutes
Total Time: 30 minutes
Yield: 8 slices
Ingredients
Crust:
12 graham crackers (rectangles)
1 Tbsp granulated sugar
6-7 Tbsp butter
Filling:
2 (14 oz) cans sweetened condensed milk (I use fat-free)
2 large egg yolks
1/4 tsp salt
2 tsp key lime zest (about 5-6 key limes), optional
3/4 cup key lime juice (12-18 key limes, depending on size)
Whipped Cream:
1 cup heavy whipping cream
1/4 cup powdered sugar
Instructions
Preheat oven to 350 degrees Fahrenheit.
In a food processor, crush graham crackers until they resemble fine crumbs. Add 1 Tbsp of sugar. Melt 6 Tbsp butter and add to crumbs. (If any crumbs are still dry, melt 1 more Tbsp of butter and add to crumbs.) Press evenly in the bottom of a standard 9-inch pie dish. Bake for 8-10 minutes or until golden brown.
In a medium bowl, just before crust is done, combine all filling ingredients with a whisk until well blended and thick. Pour into hot crust and bake an additional 10-12 minutes until filling is solid when jiggled in the pan.
Cool completely and then refrigerate for 3 hours, or until chilled. Top with whipped cream before serving. (Whisk heavy whipping cream and powdered sugar in a stand mixer until stiff peaks form. Dollop or pipe onto top of pie.)
Notes
*This recipe can be used for key lime pie bars as well. Just press the crust into a square baking dish and half the recipe for the filling; follow the rest of the steps as usual.
*1 key lime = 2-3 tsp of juice.