Caramel Apple Cheesecake Bars + Video
This post may contain affiliate links, meaning that I may receive a commission at no cost to you if you use a link provided. All opinions shared are my own. You can review my full disclosure policy here.
Caramel Apple Cheesecake Bars have a brown sugar shortbread crust and a creamy cheesecake center, topped with a fresh apple pie filling, crunchy streusel, and a caramel drizzle. This loaded dessert is perfect for the holidays!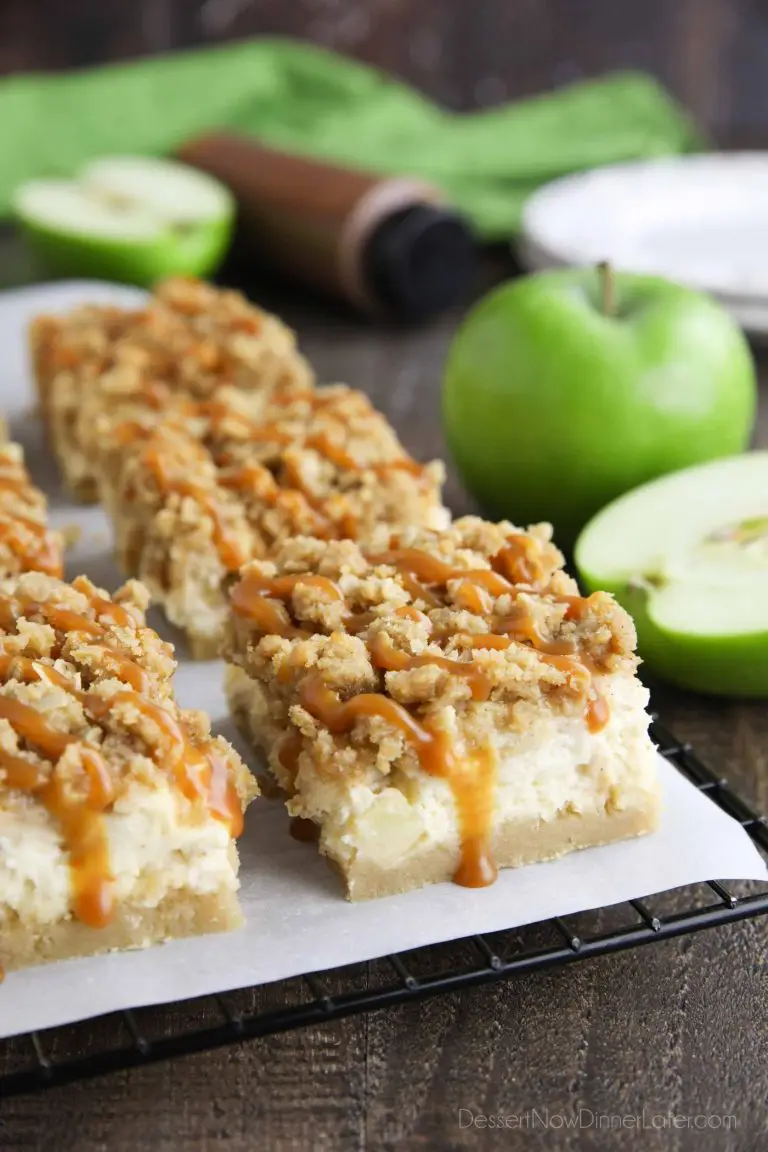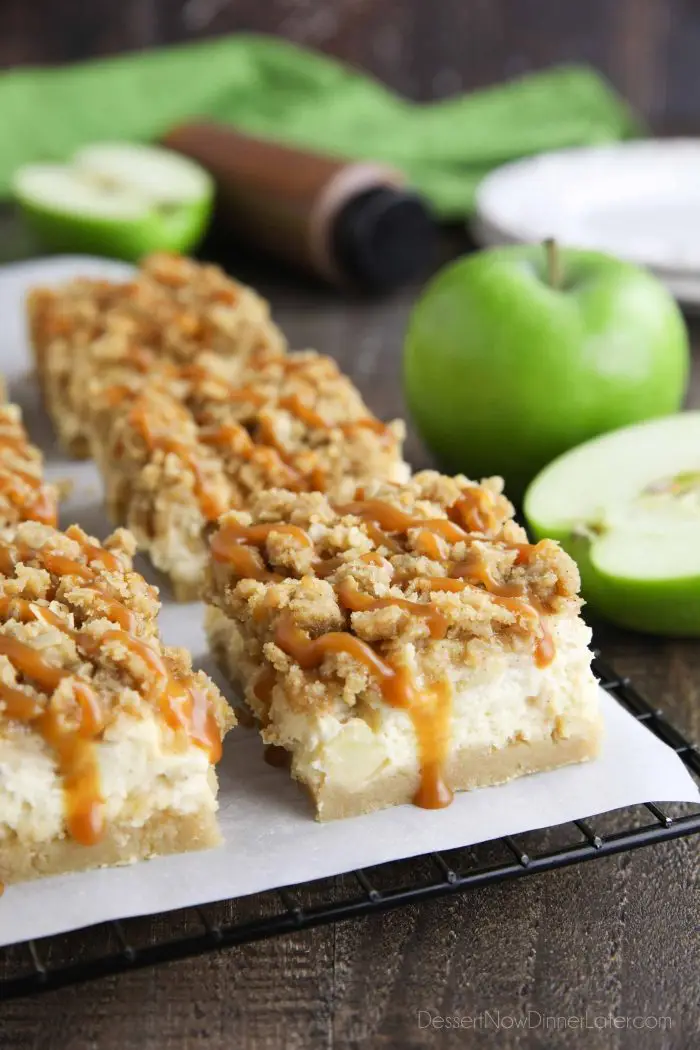 Caramel apple cheesecake is made better, by creating bars that will feed a crowd.
No worrying about cracks in this cheesecake bar dessert. It's loaded with apples and smothered with a streusel crumb topping. Apple crumble cheesecake anyone? Yes, please!
Caramel Apple Cheesecake Bars
This dessert HAS. IT. ALL. We are obsessed!
The shortbread crust uses brown sugar, which gives it a depth of flavor that you don't get with a regular shortbread crust.
The cheesecake is perfectly creamy and just the right thickness.
The diced apples are slightly tart and crisp adding texture to each bite.
The streusel on top is crunchy, buttery and sweet. Oh how I love streusel!
Let's not forget the caramel drizzle! It adds that little something extra and ties it all together.
Caramel Apple Cheesecake Bars are so incredibly delicious. Plus, they can be cut into 15+ squares, which is perfect for serving family and friends for special occasions and holidays.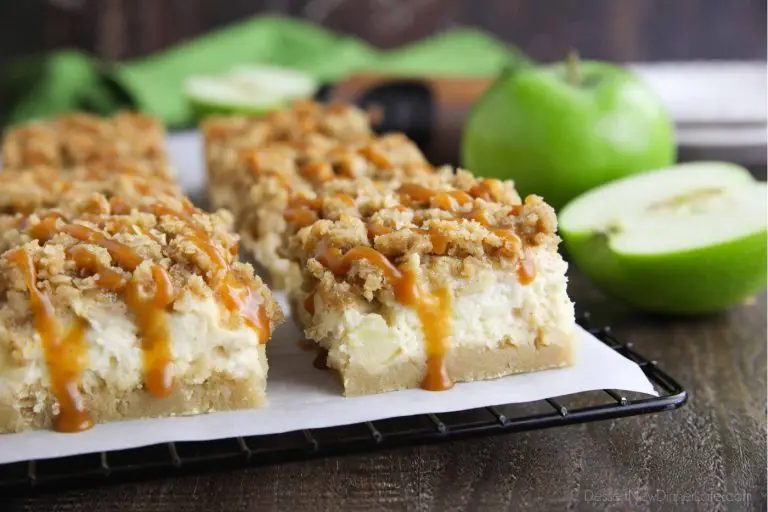 How To Make This Apple Cheesecake
Use a stand mixer fitted with the paddle attachment to mix butter into flour, brown sugar, and a little salt, until it clumps together.
Press or roll the crust into the bottom of a 13×9-inch pan. I like to line my pan with parchment paper and leave a couple inches hanging over on each side, so that I can lift the bars out for easy cutting.
Bake the crust at 350˚F for 15-20 minutes until it's lightly browned.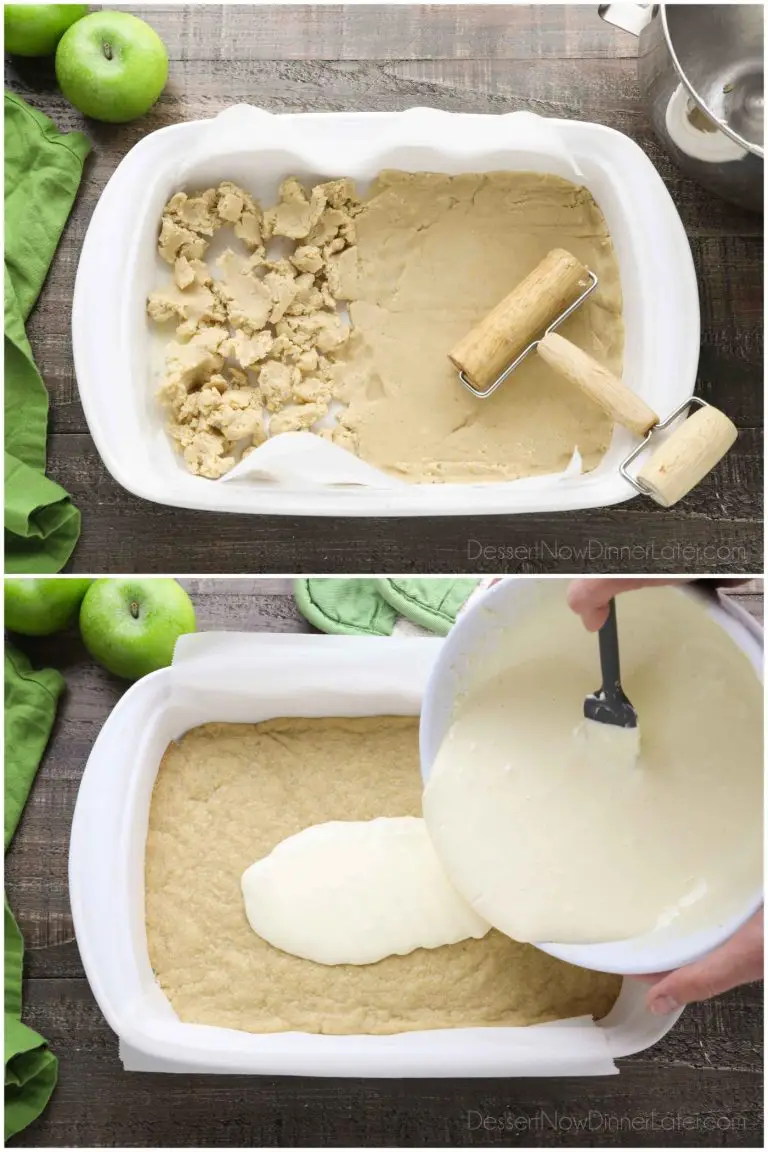 While the crust is baking, make the cheesecake filling. Then pour it over the warm baked crust.
Mix the diced apples with sugar, cinnamon, nutmeg, and lemon juice.
Dollop the apples on top of the cheesecake mixture with a spoon. They will sink a little and that's okay.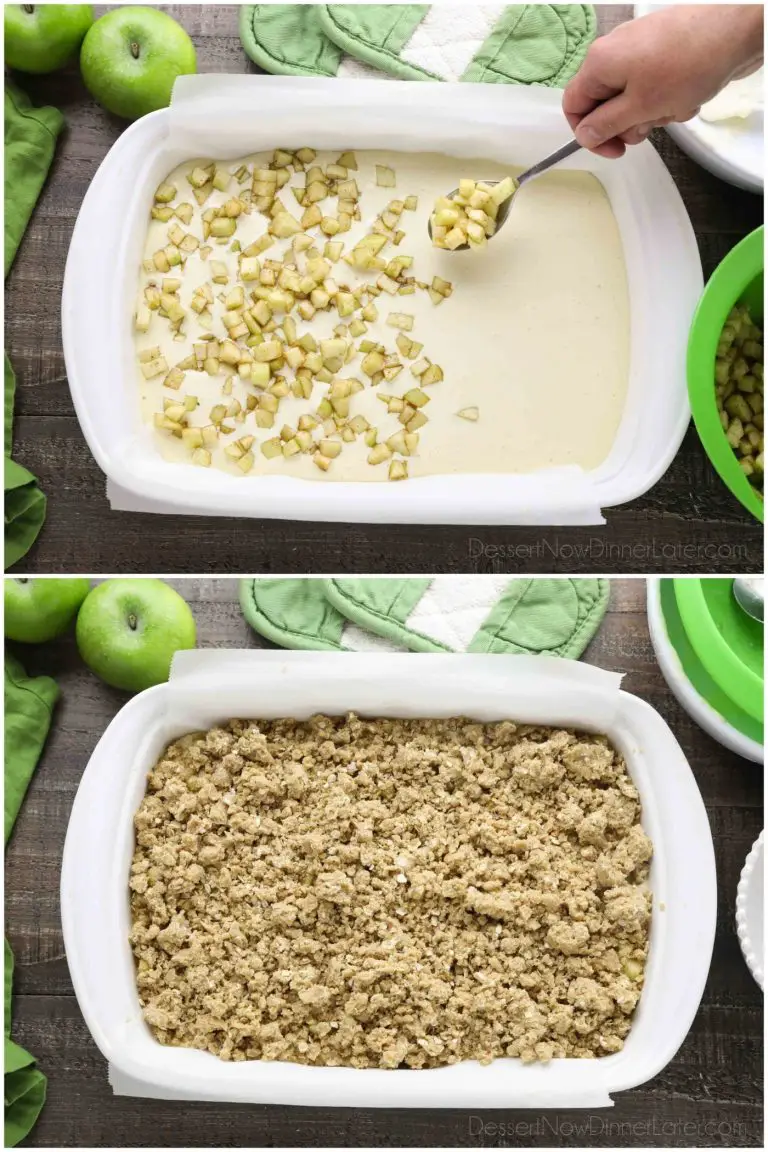 Combine flour, brown sugar, oats, cinnamon, and butter in a bowl until crumbly. Sprinkle the streusel over the diced apples.
(TIP: If you like big chunks of streusel, just squeeze/clump it together in your hands a little bit first.)
Return the apple cheesecake bars to oven and bake an additional 30-35 minutes or until filling is set.
Allow the cheesecake to cool at room temperature before refrigerating it to firm up completely.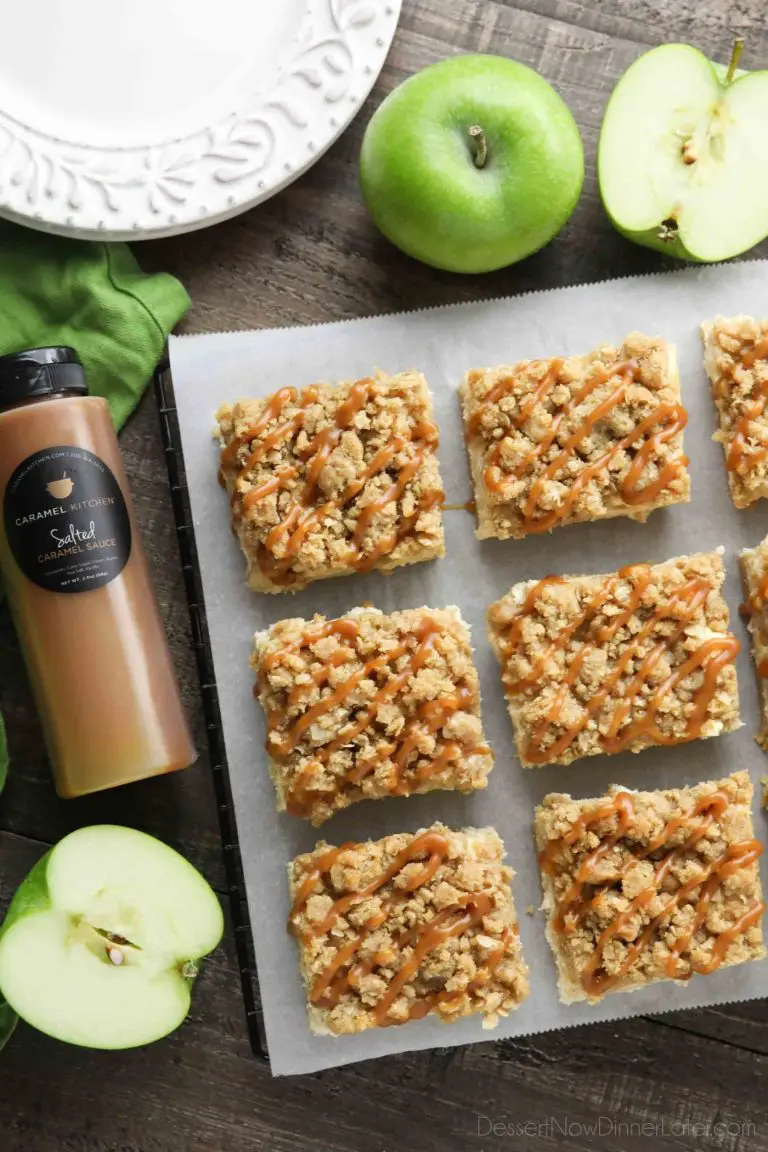 For the Caramel Topping
It's best to drizzle the caramel on top just before serving.
I like my caramel thick, so I used this Salted Caramel from Caramel Kitchen. Mrs. Richardson's caramel is also a good, thick caramel to use.
Don't freak out if you haven't heard of those brands because you can still use any caramel ice cream topping you can find at the store. Even if it's not quite as thick. I'm thinking dulce de leche would also work.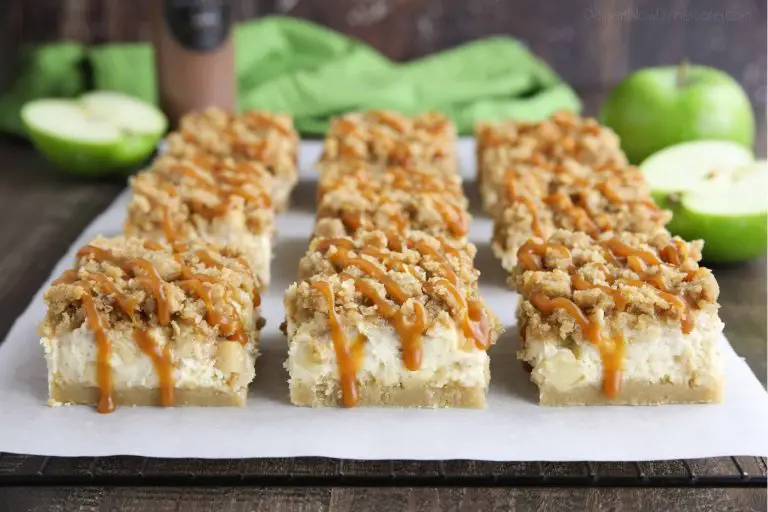 Tips and Storage
Use Granny Smith apples. Sometimes you worry that with a dessert like this, it's going to be extremely sweet and hard to eat. Using a tart apple balances out all the other sweet elements. A salted caramel helps too.
Store in the refrigerator. These apple cream cheese bars must be stored in the refrigerator. Keep them covered or in an airtight container. They will last up to 7 days if you don't eat them all before then. You can even freeze them if you desire, just leave off the caramel, and wrap them tightly.
To cut the cheesecake bars: Run a chef's knife under hot water, and shake off any excess water before making each cut. This ensures clean cuts.
NOTE: The crust on these caramel apple cheesecake bars is quite thick and firm straight from the fridge, so be sure to remove the bars from the refrigerator about 15-20 minutes before cutting and or serving.
I don't like picking favorites on my blog, but you HAVE to try this ASAP!
Make this dessert for your neighbors, for the holidays, for the weekend, who cares! Just make it, and soon!
More Dessert Bars
FOLLOW ME on PINTEREST, FACEBOOK, OR INSTAGRAM for more great recipes!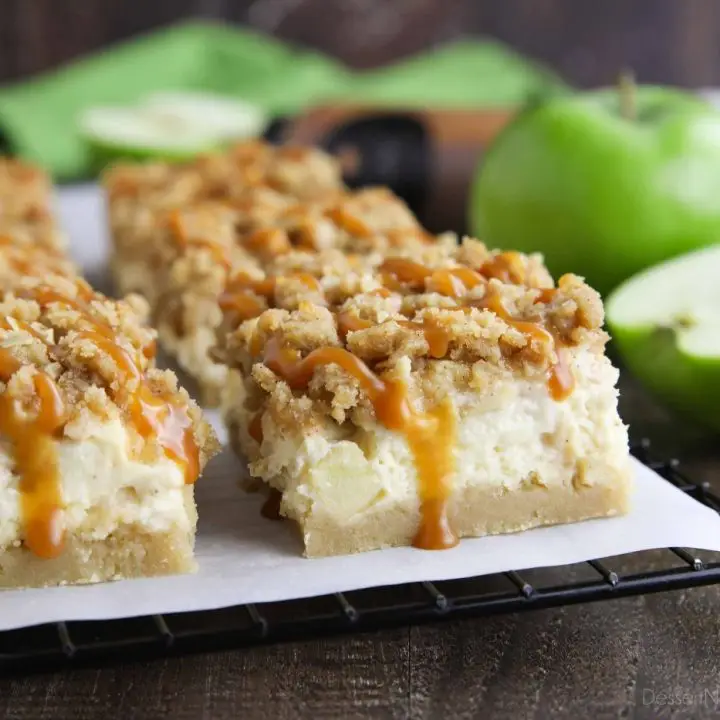 Caramel Apple Cheesecake Bars
Prep Time: 20 minutes
Cook Time: 55 minutes
Chill Time: 2 hours
Total Time: 3 hours 15 minutes
Yield: 15 bars
Caramel Apple Cheesecake Bars have a brown sugar shortbread crust and a creamy cheesecake center, topped with a fresh apple pie filling, crunchy streusel, and a caramel drizzle.
Ingredients
Crust:
2 cups all-purpose flour
1/2 cup light brown sugar, packed
1/4 tsp salt
1 cup (2 sticks) butter, softened
Cheesecake:
2 (8oz) packages cream cheese, softened
1/2 cup granulated sugar
2 large eggs
1 tsp vanilla extract
Apples:
4 cups Granny Smith apples, peeled, cored, & diced (about 3 large apples)
2 Tbsp granulated sugar
1/2 tsp ground cinnamon
1/4 tsp ground nutmeg
1 tsp lemon juice
Streusel:
1 cup all-purpose flour
1 cup light brown sugar, packed
1/2 cup quick cooking oats
1/2 tsp ground cinnamon
1/2 cup (1 stick) butter, softened
Extras:
1/2 cup caramel topping, for drizzling after being baked
Instructions
Pre-heat oven to 350 degrees Fahrenheit. Lightly grease or line a 13x9-inch baking pan with parchment paper, leaving a 2-inch overhang on each side.
FOR THE CRUST: In a stand mixer fitted with the paddle attachment, combine the flour, brown sugar, salt, and softened butter until it comes together. It will be super dry and crumbly at first, and then will suddenly pack together and look moist. Press evenly into the prepared pan. Bake at 350˚F for 15-20 minutes or until lightly browned.
FOR THE CHEESECAKE: In a large bowl, beat the cream cheese and sugar with an electric hand mixer at medium speed until smooth. Add the eggs, one at a time, mixing after each addition. Then add vanilla. Stir to combine. Pour over warm crust.
FOR THE APPLES: In a small bowl, stir together the diced apples, sugar, cinnamon, nutmeg and lemon juice. Spoon apple mixture evenly over the cheesecake filling.
FOR THE STREUSEL: Combine all ingredients in a medium-size bowl with a fork (or your fingers) until crumbly. Sprinkle over the top of the apples. (Can squeeze/clump streusel together for bigger chunks.)
Bake at 350˚F for an additional 30-35 minutes, or until the filling is set. Cool to room temperature, then refrigerate until chilled, about 2 hours. Drizzle the cheesecake bars with caramel topping just before eating.
Notes
Remove dessert from fridge 15-20 minutes before cutting and serving (crust can be quite firm after chilling).
If you used parchment paper, use the overhang to lift the dessert out of the pan before cutting.
Use a hot knife to cut the dessert into squares, rinsing the knife under hot water between each cut.
Recommended Products
As an Amazon Associate and member of other affiliate programs, I earn from qualifying purchases.
Nutrition Information:
Yield: 15
Serving Size: 1 grams
Amount Per Serving:
Calories: 261
Total Fat: 2g
Saturated Fat: 1g
Trans Fat: 0g
Unsaturated Fat: 1g
Cholesterol: 27mg
Sodium: 98mg
Carbohydrates: 58g
Fiber: 2g
Sugar: 35g
Protein: 4g
This data was provided and calculated by Nutritionix, and is an estimation only.
Originally published 10/20/13. Updated 11/22/20.