Blueberry Delight
This post may contain affiliate links, meaning that I may receive a commission at no cost to you if you use a link provided. All opinions shared are my own. You can review my full disclosure policy here.
Blueberry Delight (aka Blueberry Lush) is an easy layered dessert with a graham cracker and pecan crust, no bake cheesecake, blueberry pie filling, and cool whip topping. A light, fruity, and delicious summer dessert with minimal baking.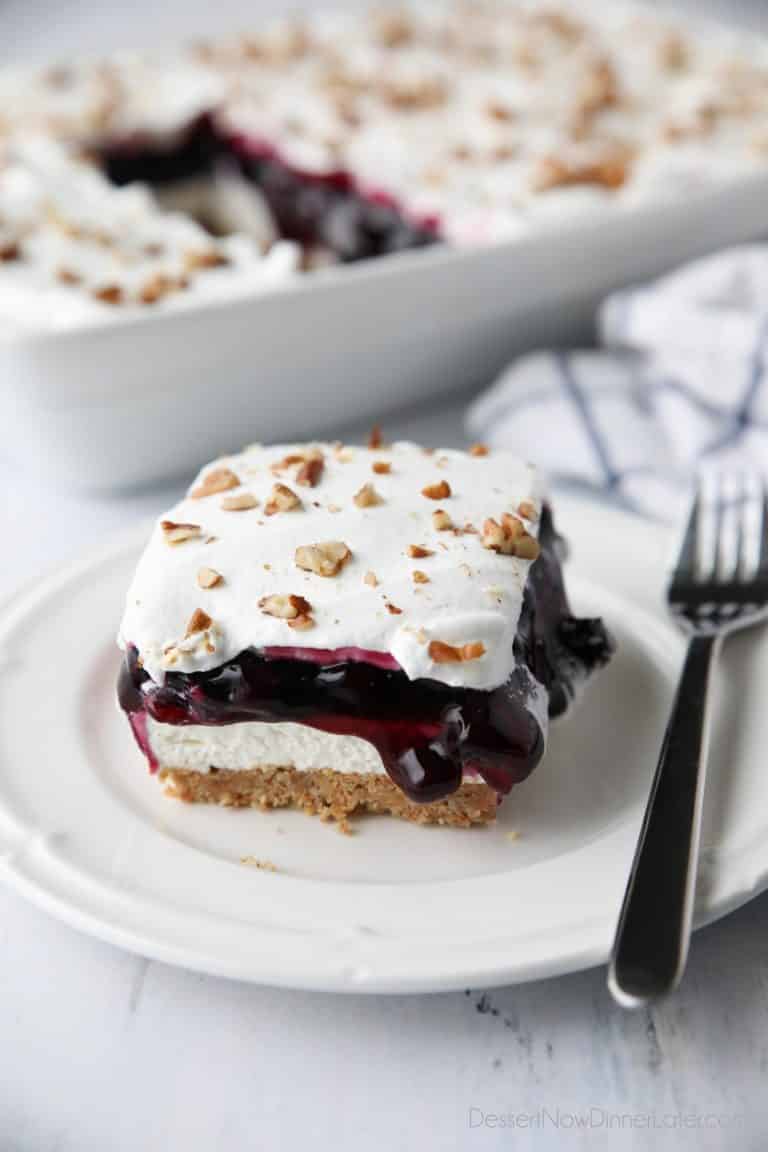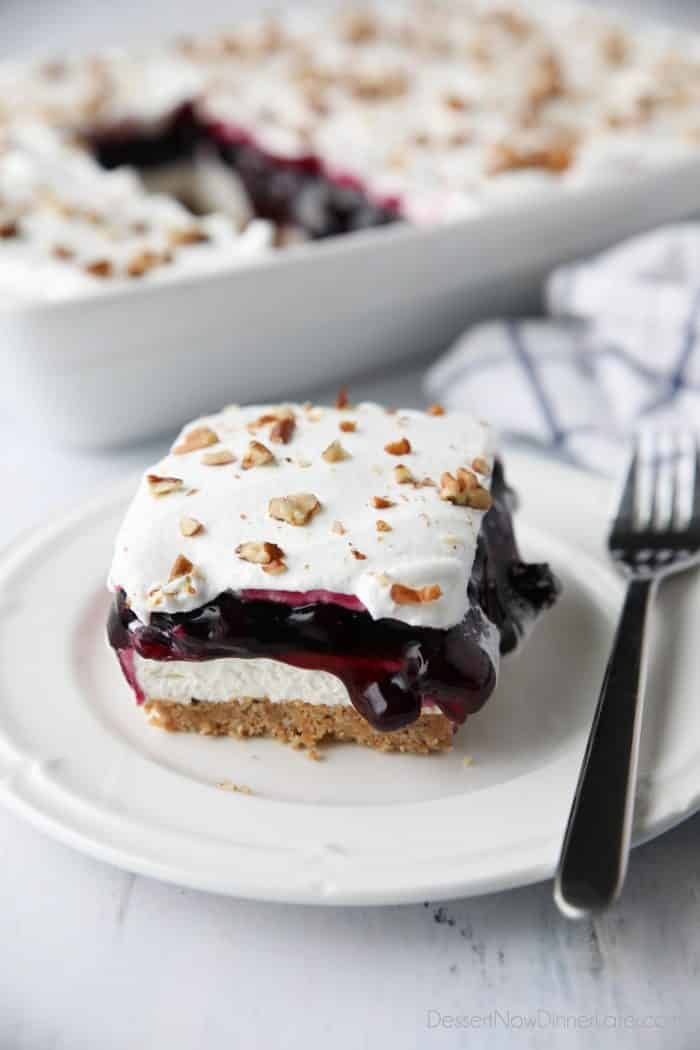 If you're a fan of pie and cheesecake, the two marry wonderfully together in this layered blueberry delight dessert.
This easy, 4-layer dessert actually has many names: Blueberry Delight, Blueberry Lush, Blueberry Jamboree, Blueberry YumYum, Blueberry Dream, and Blueberry Bliss.
Whatever you call it, be sure to put it on your "To Do" list ASAP. It's so creamy, dreamy, and good.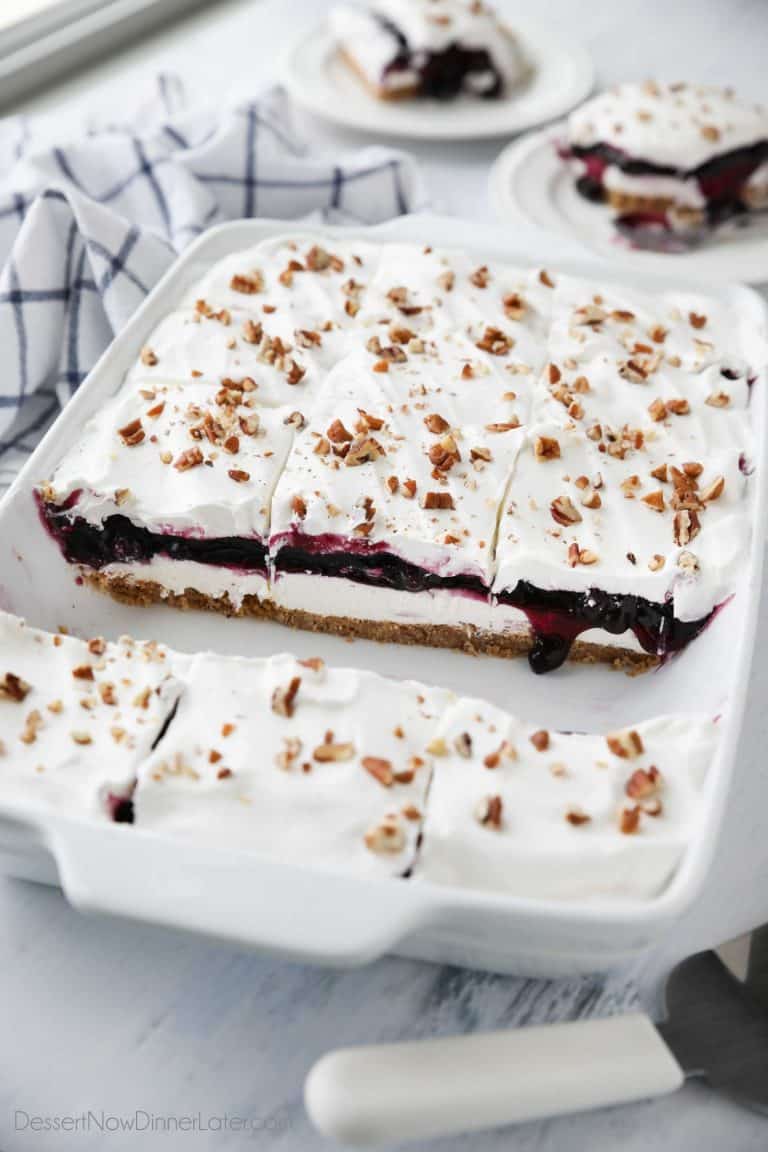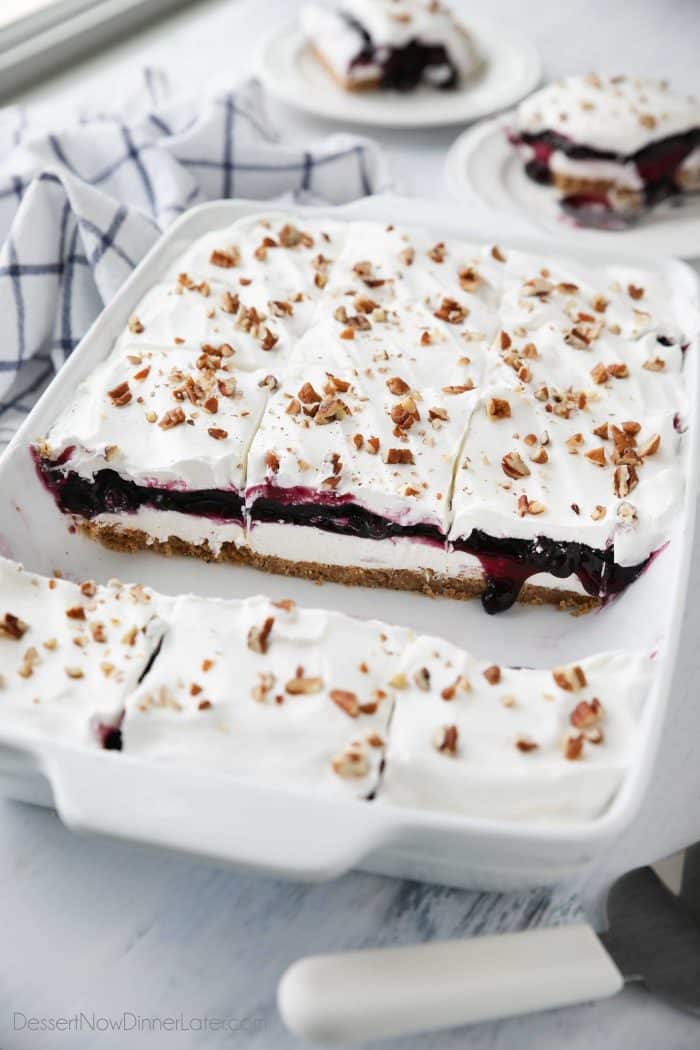 Blueberry Delight with Graham Cracker Crust
Blueberry delight is almost completely no bake, with the exception of the graham cracker crust. You can chill or freeze the crust instead of bake it, if you really wanted to. It just might not be quite as sturdy as a baked crust.
The graham cracker crust is the first layer in this summer dessert. And it's not an ordinary graham cracker crust. The graham crackers are ground together with pecans. This adds a delicious nutty flavor. Then the crumbs are sweetened with a little sugar, and bound together with melted butter.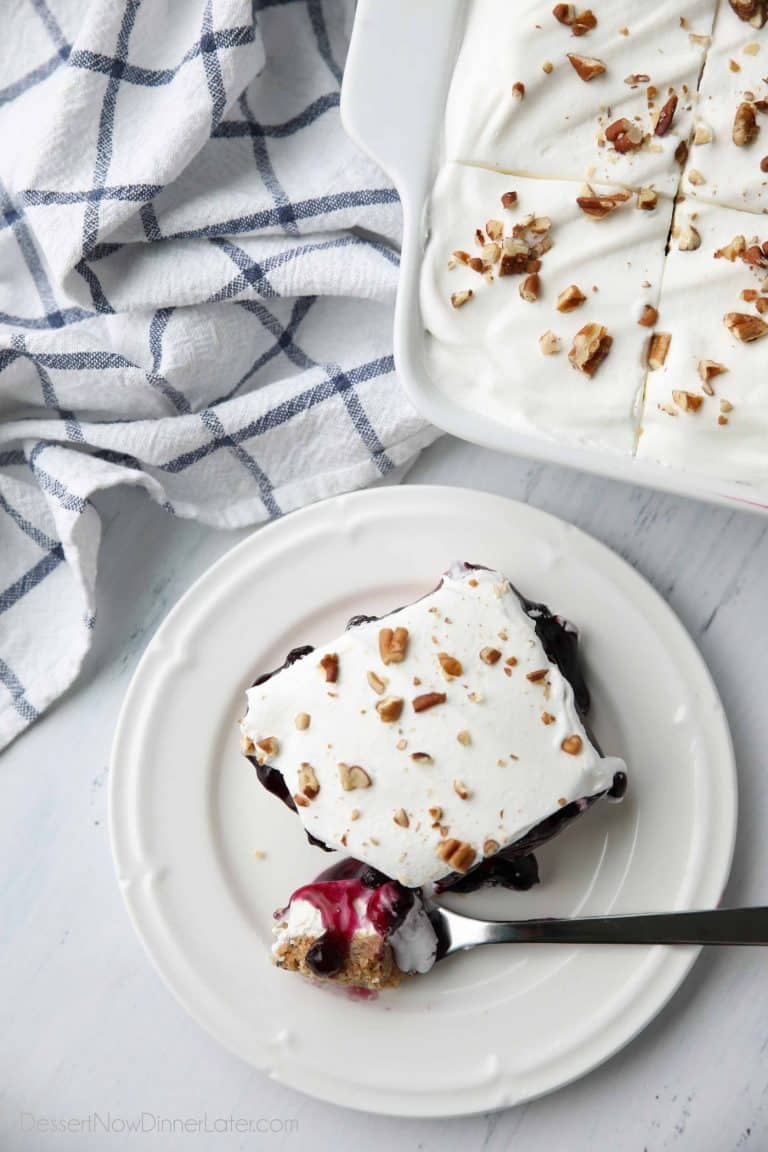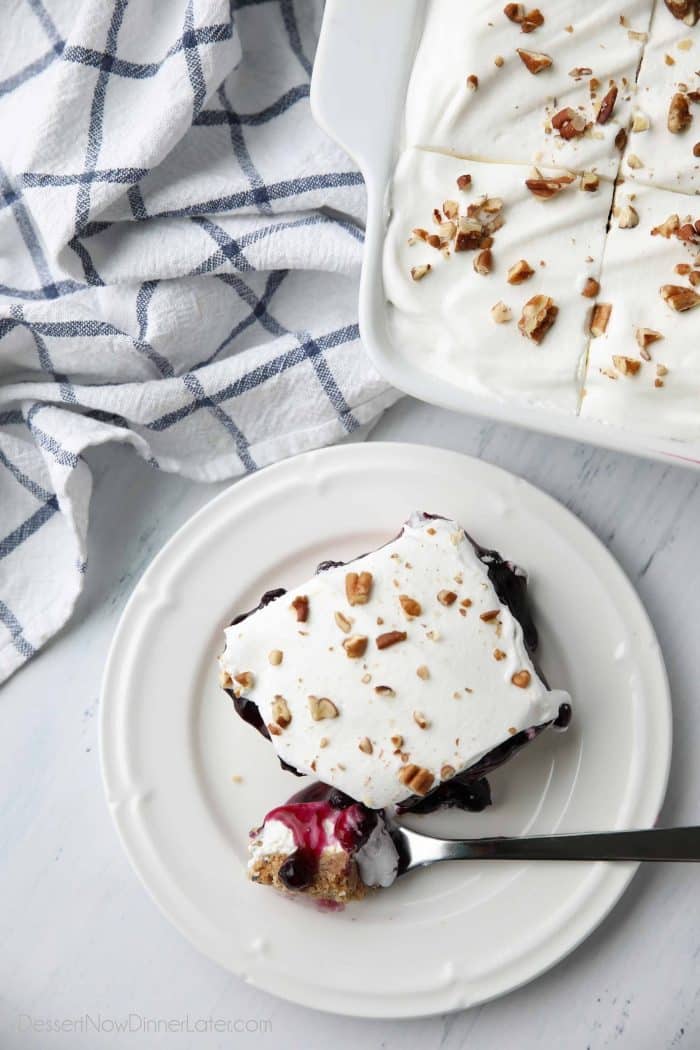 The second layer is basically a no-bake cheesecake, made of sweetened cream cheese folded with whipped topping. It's spread over the cooled crust.
Two (yes two!) cans of blueberry pie filling are gently dolloped on top of the cream cheese layer and spread evenly to complete the third layer.
The fourth and final layer is whipped topping. I use Cool Whip for convenience, but homemade sweetened whipped cream is a fine substitute, if you prefer.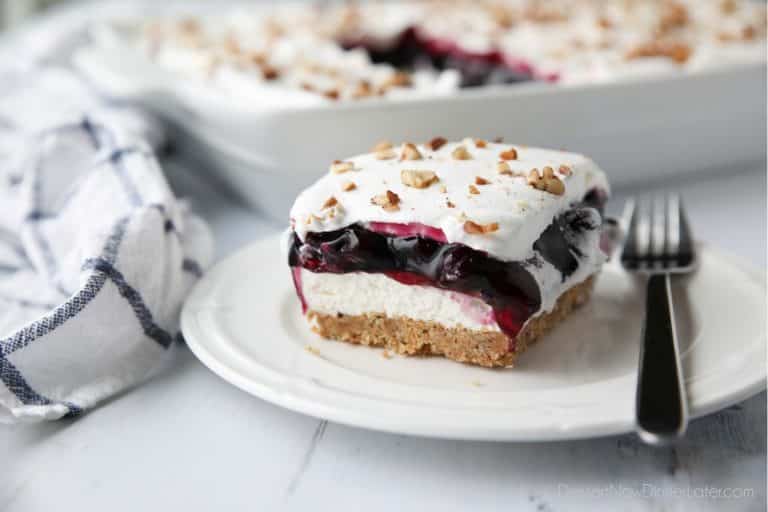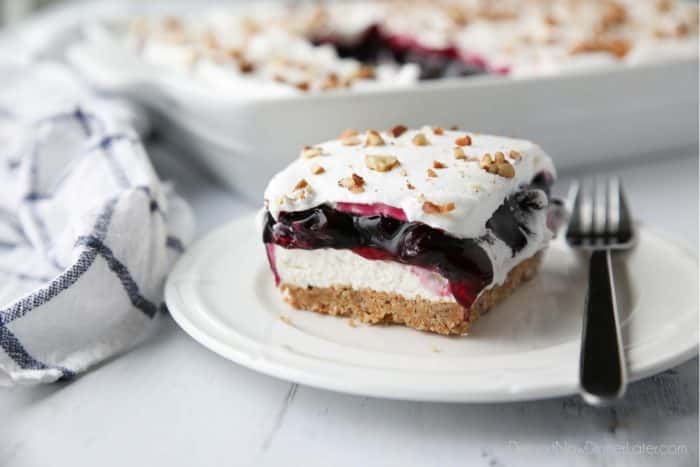 Add a sprinkle of chopped pecans for fun and this dessert is ready to set up in the refrigerator for 2+ hours.
This is a perfect, make-ahead dessert because the longer it chills the better it sets up.
Fair warning — despite a sufficient chill time, this blueberry delight dessert will still shift and slide slightly once plated due to the blueberry pie filling. Every slice may not be super pretty, but it is super delicious!
Blueberry Delight is a great potluck dessert for those summer gatherings and barbecues. Everyone loves it! I also have a lemon and peach variation for you to try. Enjoy my friends!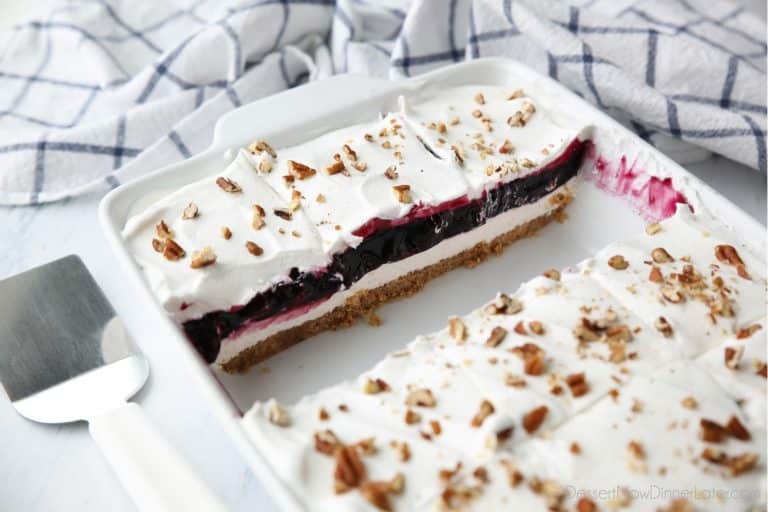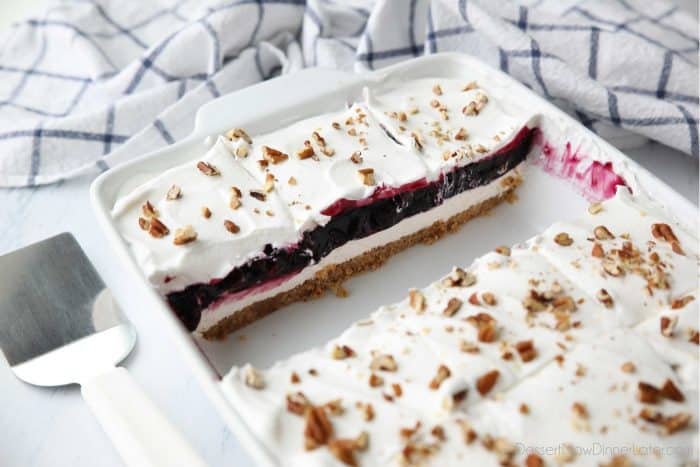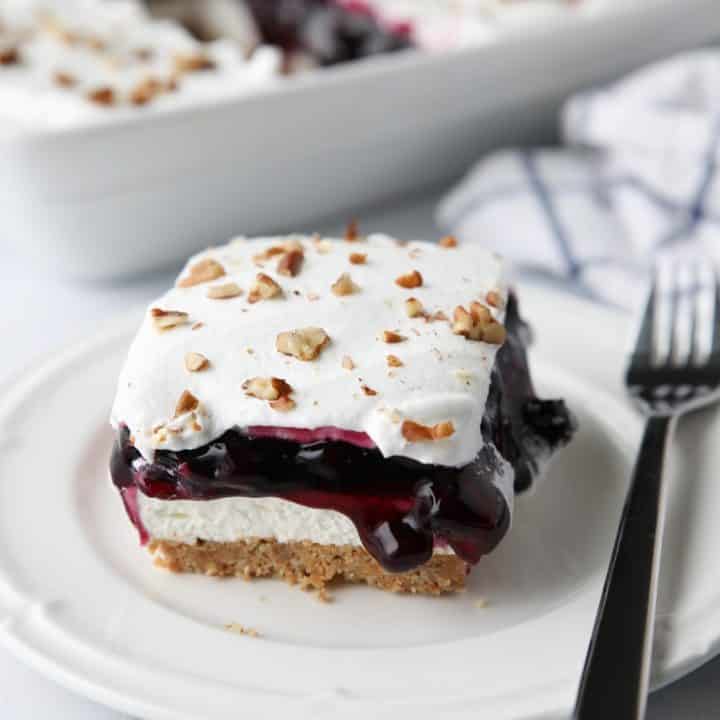 Blueberry Delight
Prep Time: 15 minutes
Cook Time: 8 minutes
Chill Time: 2 hours
Total Time: 2 hours 23 minutes
Yield: 15 servings
Blueberry Delight (aka Blueberry Lush) is an easy layered dessert with a graham cracker and pecan crust, no bake cheesecake, blueberry pie filling, and cool whip topping.
Ingredients
1 sleeve graham crackers (9 rectangles)
1 cup pecans
1/2 cup (1 stick) butter, melted
2 Tbsp granulated sugar
8oz cream cheese, room temperature
1 cup powdered sugar
16oz (two 8oz tubs) whipped topping (Cool Whip), thawed & divided
42oz (2 cans) blueberry pie filling
2 Tbsp chopped pecans, for garnish (optional)
Instructions
Preheat oven to 350 degrees Fahrenheit.
Blend graham crackers and pecans in a food processor or blender until fine crumbs. Add melted butter and granulated sugar, pulse or stir to coat, and press into the bottom of a 13x9-inch pan. Bake at 350˚F for 8-10 minutes, until butter has absorbed and crust no longer looks wet. Cool completely. (*See notes for a no-bake crust.)
Using an electric hand mixer, beat the cream cheese and powdered sugar together in a large bowl. Beat in one (8oz) container of whipped topping, until smooth. Spread over the cooled crust.
Gently dollop blueberry pie filling over the cream cheese layer and smooth in an even layer. Top with the remaining (8oz) container of whipped topping. Sprinkle with chopped pecans, if desired.
Cover and chill 2 hours or overnight. Cut into 15 pieces and serve. Keep leftovers refrigerated.
Notes
NO-BAKE: Chill un-baked crust in the fridge for 1 hour or freezer for 30 minutes before topping. --OR-- Chill the complete dessert for at least 4 hours before serving.
I used Neufchatel cream cheese and light Cool Whip, for less calories and fat.
Recommended Products
As an Amazon Associate and member of other affiliate programs, I earn from qualifying purchases.