Lemon Curd Dessert
This post may contain affiliate links, meaning that I may receive a commission at no cost to you if you use a link provided. All opinions shared are my own. You can review my full disclosure policy here.
This Lemon Curd Dessert has a sweet shortbread crust, rich cream cheese layer, tangy lemon curd, and fresh whipped cream. A perfect combination of tangy-sweet flavors!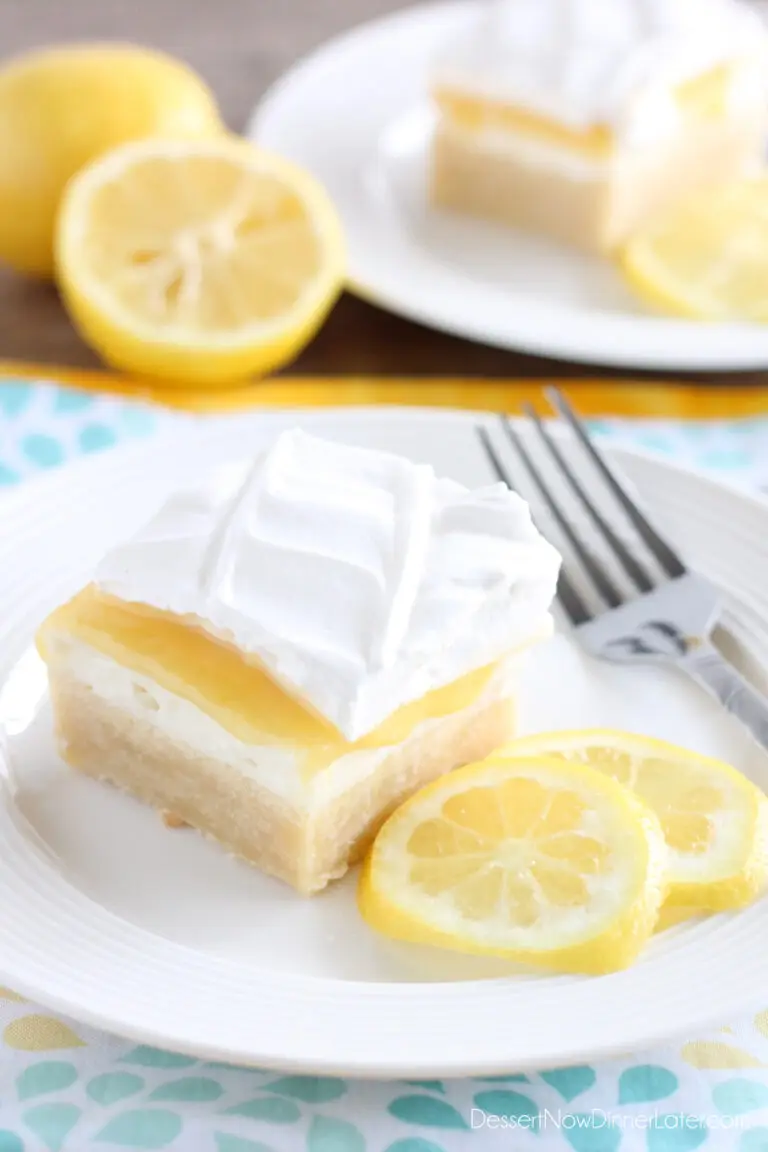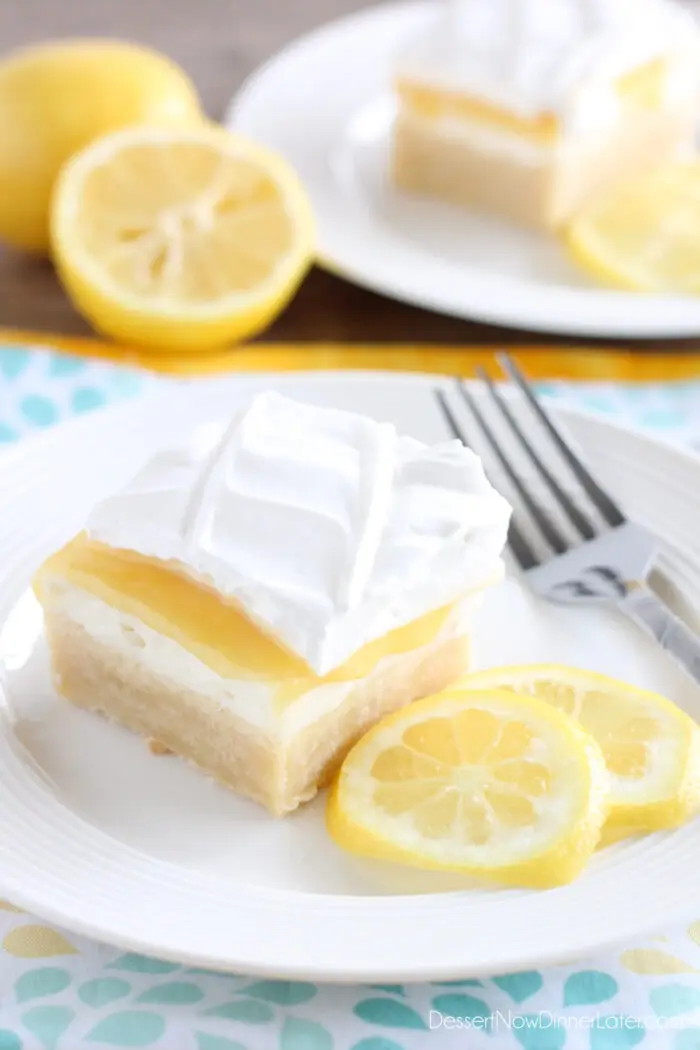 I may be addicted to citrus, but this dessert, is just heavenly!!! The lightly sweet cookie-like crust goes perfectly with the 3 layers on top of it: sweetened cream cheese, lemon curd, and whipped cream.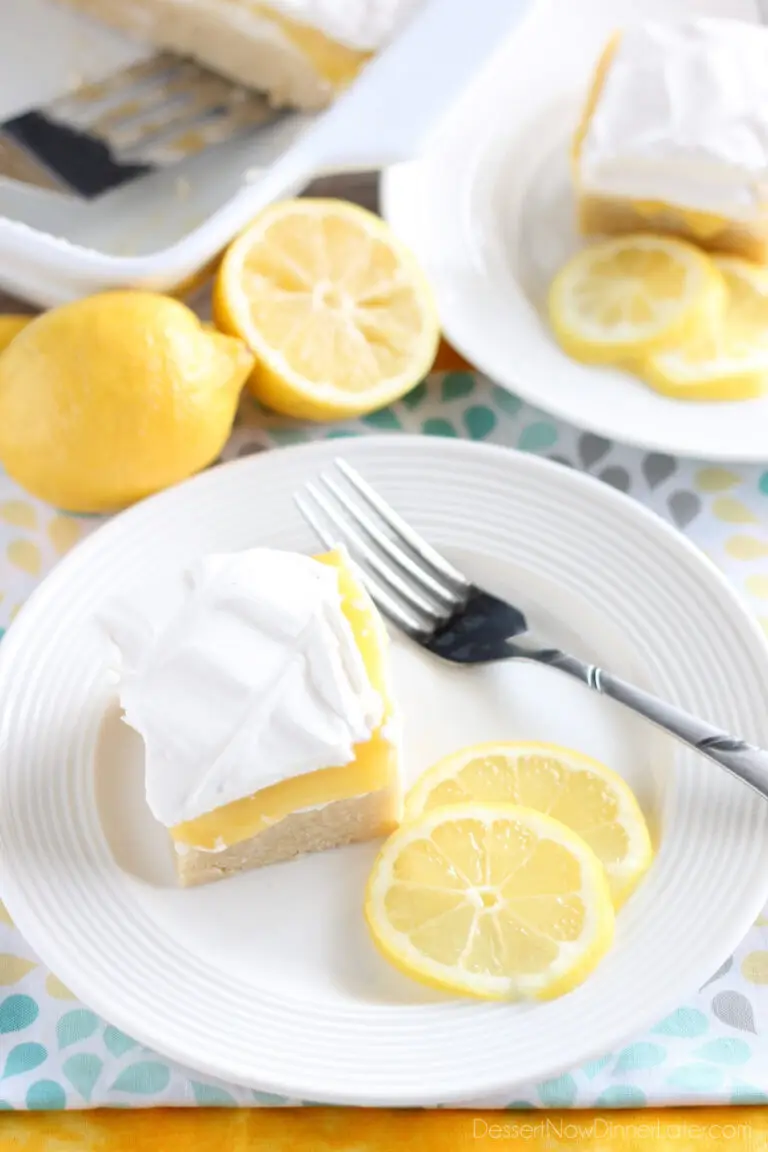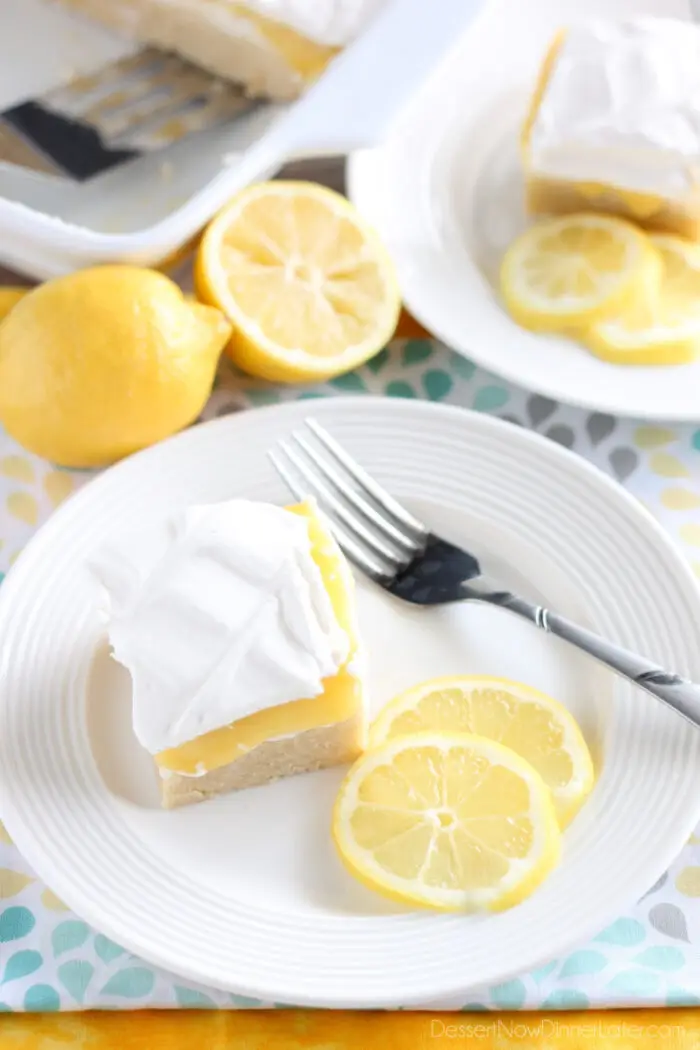 What is lemon curd?
Lemon curd is a spread, much like jam. It's also a great dessert topping because of its highly concentrated flavor.
The tart lemon flavor in the curd is balanced by the cream cheese and whipped cream in this lemon curd dessert.
I made my homemade lemon curd the night before so it could set up and thicken in the fridge overnight before making these lemon dessert bars.
If tempering eggs makes you nervous, I also have an even easier microwave lemon curd recipe.
You can even buy a jar of it from the store if you are pressed for time. Check by the jellies and jams or pie fillings.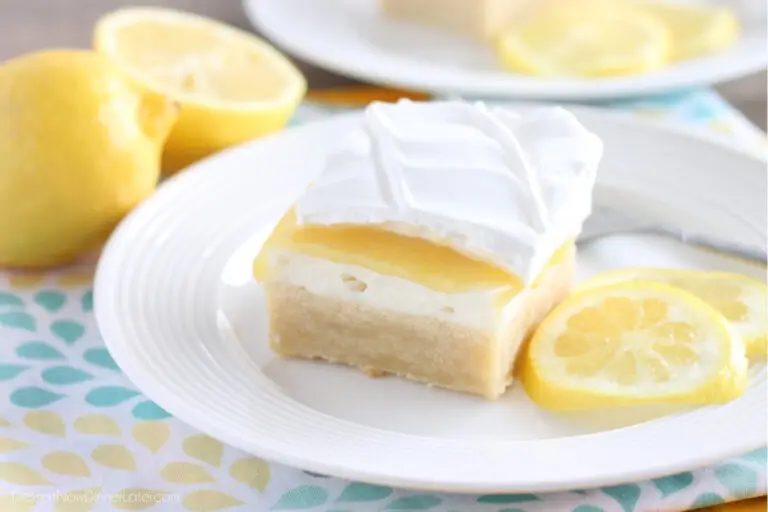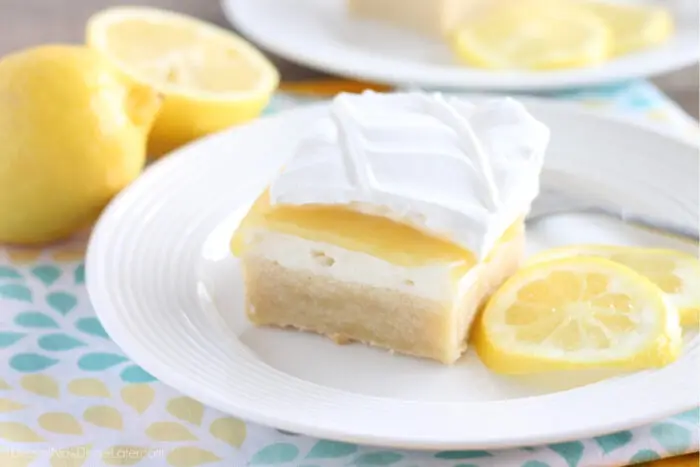 Lemon Curd Dessert Squares
The most important thing is that you MAKE THIS! These lemon curd dessert squares are sweet and tangy and full of chewy, smooth, creamy pleasure!
The only downfall is that the whipped cream starts sliding off the lemon curd once you slice it up and serve it, so don't do that until you are ready to eat!
If you like the pattern that I have in the whipped cream, I have a tutorial that shows you how to make bakery swirled icing. It's super easy!
Updated Recipe
I've updated this recipe since first publishing it. As you can see in the previous photos, my original recipe had a really thick crust. While delicious, it was very difficult to cut through after being chilled.
I've remade the recipe to use half of the crust. I feel like it's a much better proportion to the other layers and is easier to cut through.
Still, I recommend removing this lemon curd dessert from the refrigerator 15-20 minutes before cutting and serving. Enjoy!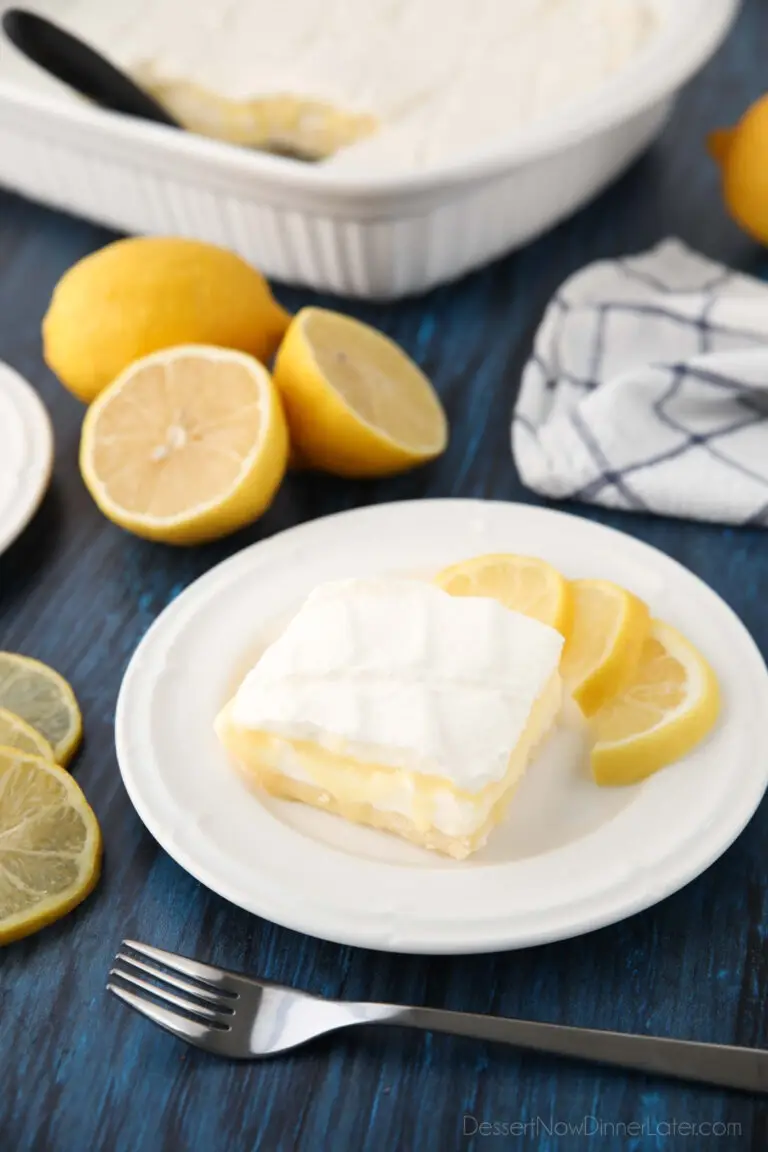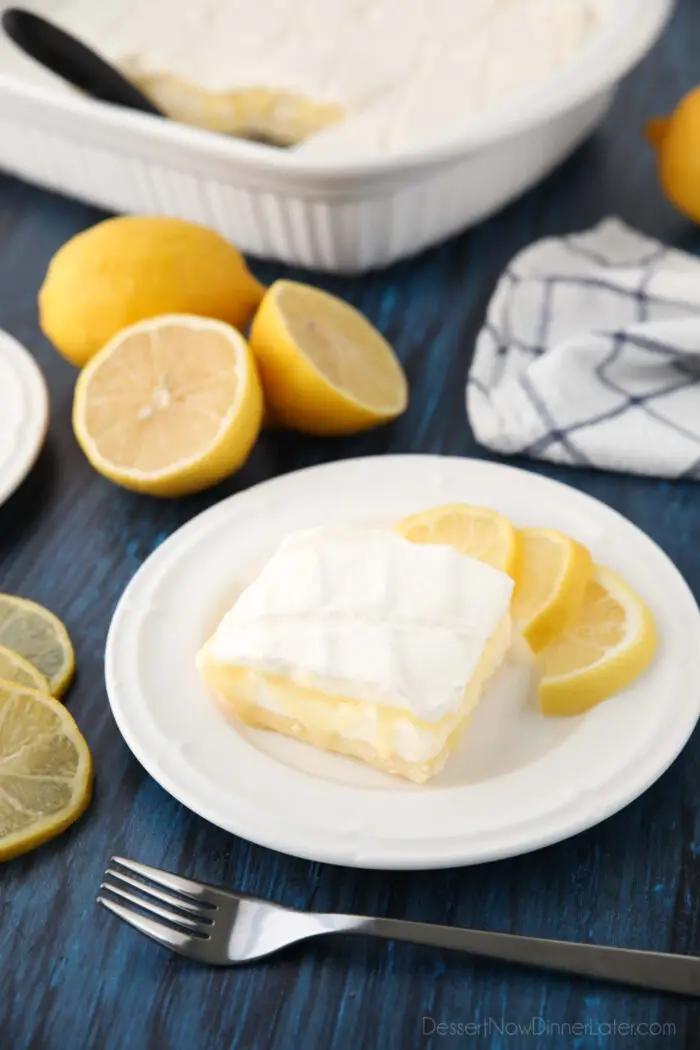 More Recipes That Use Lemon Curd
Love lemon desserts? Check out these other recipes that use lemon curd: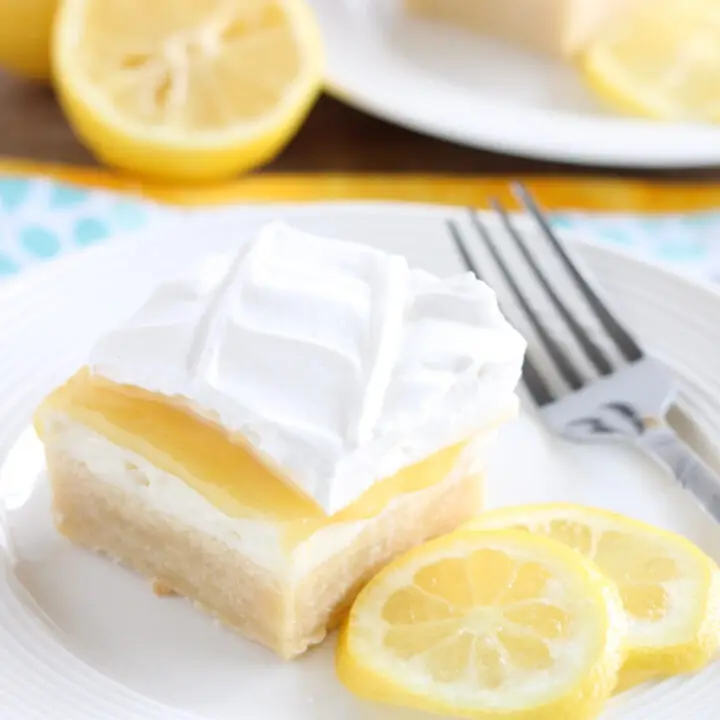 Lemon Curd Dessert
Prep Time: 20 minutes
Cook Time: 20 minutes
Chill Time: 2 hours
Total Time: 2 hours 40 minutes
Yield: 15 squares
This Lemon Curd Dessert has a sweet shortbread crust, rich cream cheese layer, tangy lemon curd, and fresh whipped cream. A perfect combination of tangy-sweet flavors!  
Ingredients
1 recipe Lemon Curd (link to recipe in instructions) or 1 1/2 cups store-bought
Crust:
1 1/2 cups all-purpose flour (stir, spoon & level)
1/2 cup granulated sugar
1/2 tsp baking powder
1/4 tsp salt
1/2 cup (1 stick) butter, room temperature, cut into Tablespoons
1 large egg
Cream Cheese Layer:
2 (8oz) packages cream cheese (I use Neufchatel), room temperature
2 cups powdered sugar
2 Tbsp lemon juice
Whipped Cream:
1 cup heavy whipping cream
1/4 cup powdered sugar
1/2 tsp vanilla
Instructions
Prepare Lemon Curd the night before, so it has time to thicken and set up in the refrigerator overnight.
To make the Crust: In a large food processor, pulse the flour, sugar, baking powder, and salt. Add the butter and egg and pulse until the mixture comes together. You may need to knead it a little bit with your hands. Press the shortbread dough into the bottom of a lightly greased 13x9-inch baking dish. Bake at 350 degrees Fahrenheit for 20 to 25 minutes or until the edges and top are lightly browned. Allow to cool completely.
To make the Cream Cheese: In a large bowl with a hand mixer, beat the cream cheese until light and fluffy. Add the powdered sugar and lemon juice all at once. Mix until combined.
To make the Whipped Cream: In the bowl of a stand mixer with the whisk attachment, whip the heavy cream with the powdered sugar and vanilla until stiff peaks form.
To Assemble: Spread the cream cheese layer over the cooled shortbread crust. Dollop the lemon curd over the cream cheese and spread it evenly. Dollop the whipped cream over the lemon curd and spread it evenly and smooth. You may swirl it, if you like.
Chill for an hour or two. Then cut and serve the dessert immediately. (The whipped cream tends to slide off the lemon curd.) Store the leftovers, cut, and covered in the refrigerator up to 7 days.
Notes
Remove dessert from refrigerator 15-20 minutes before cutting and serving. The chilled crust may be hard to cut through.
Recommended Products
As an Amazon Associate and member of other affiliate programs, I earn from qualifying purchases.
Nutrition Information:
Yield: 15
Serving Size: 1 square
Amount Per Serving:
Calories: 208
Total Fat: 7g
Saturated Fat: 4g
Trans Fat: 0g
Unsaturated Fat: 2g
Cholesterol: 32mg
Sodium: 72mg
Carbohydrates: 35g
Fiber: 1g
Sugar: 24g
Protein: 3g
This data was provided and calculated by Nutritionix, and is an estimation only.
*Originally published 4/2/15. Updated 1/11/21.