Microwave Lemon Curd
This post may contain affiliate links, meaning that I may receive a commission at no cost to you if you use a link provided. All opinions shared are my own. You can review my full disclosure policy here.
This fast and easy Microwave Lemon Curd is thick and creamy, and cooked in only 5 minutes or less. Use it in pies, tarts, cream puffs, cakes, and more!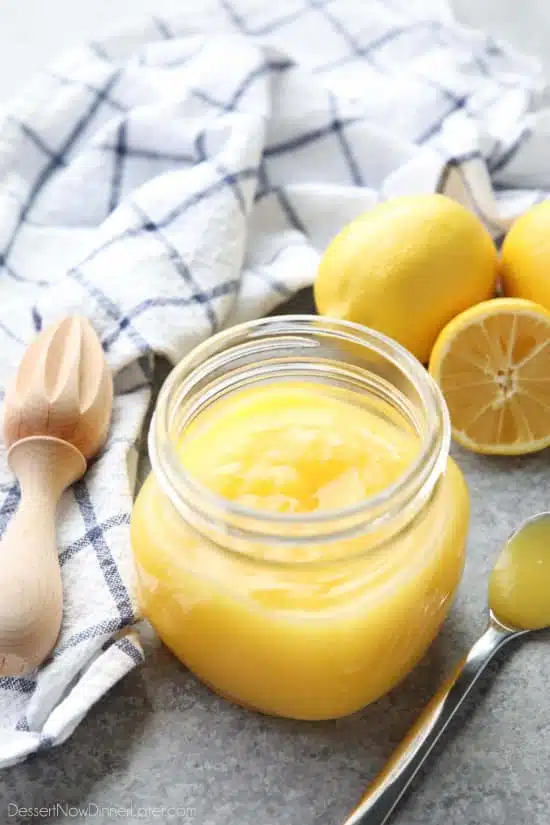 What is Lemon Curd?
Lemon Curd is a preserve, like a jam or jelly, and is also used as a dessert spread and topping. It is smooth and creamy like custard, but with a more powerful citrus flavor.
Lemon Curd is thick enough to spread on toast and scones (biscuits), or be used as a filling for pies (lemon meringue), or in cakes. But there are several more uses for lemon curd, which I'll mention a little later.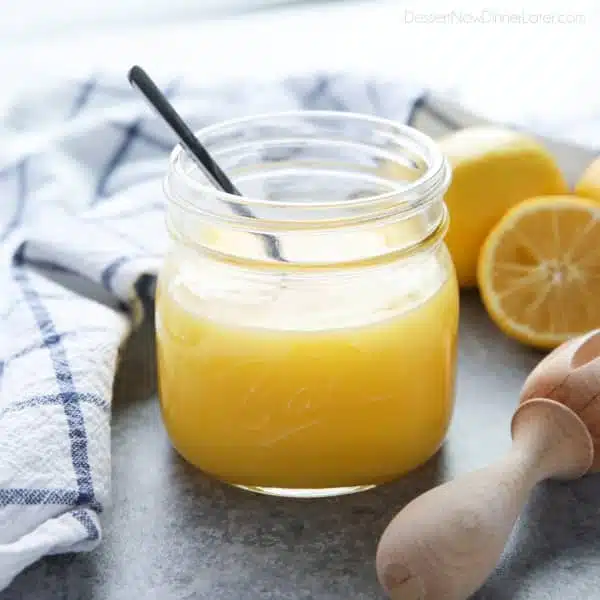 Stovetop vs. Microwave Lemon Curd
Classic Lemon Curd is made from lemons, butter, eggs, and sugar. The stovetop version gives you the best smooth and velvety consistency, but you can still achieve a great lemon curd made much quicker in the microwave.
This microwave lemon curd recipe uses cornstarch. Cornstarch ensures a super thick curd that won't slide off of the pie you are slicing into. It doesn't effect much other than the look of the curd once it has cooled, which will be more opaque than transparent.
Instructions
Combine the cornstarch with the granulated sugar before adding any wet ingredients. This will prevent clumps.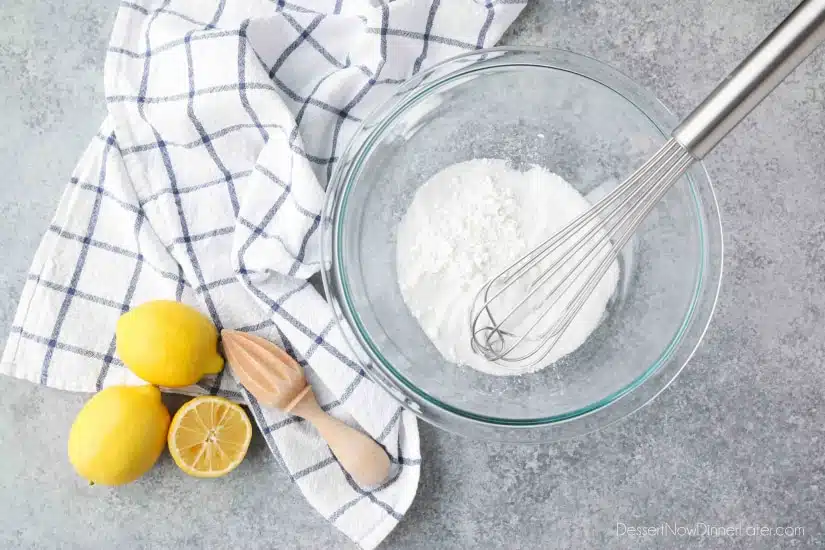 Next you will add some lemon zest and egg yolks. NOTE: Other microwave lemon curd recipes will want you to use the whole egg. I tested this recipe several times and did not care for the texture or taste of the whole egg in the curd.
Lemon zest really brightens up the flavor, and will be strained out in a later step, so do not skip this! Slowly whisk in the freshly squeezed lemon juice after the zest and yolks have been incorporated.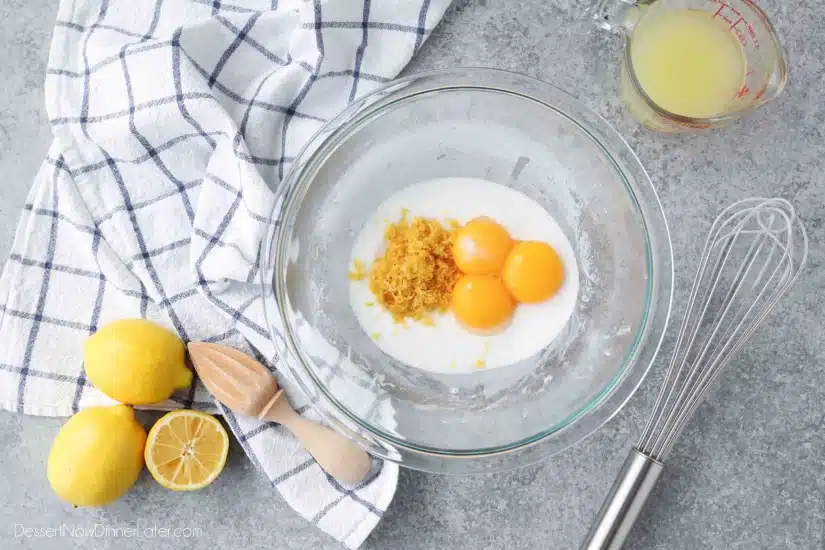 Add small cubes of butter to the bowl and you are ready to start microwave cooking. NOTE: If you overheat lemon curd, the texture becomes pretty grainy. Other microwave lemon curd recipes call for melted butter, which didn't work out as well as when I left the butter whole to melt with the rest of the ingredients.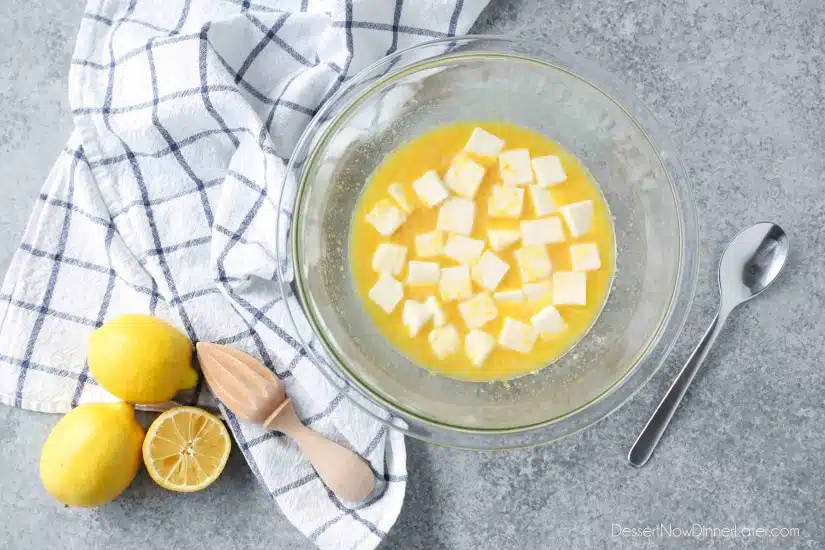 Simply microwave the lemon curd at full power in 60-second/1-minute increments. Whisking/stirring in-between each interval. It will be ready when the curd thickens and coats a metal spoon. This can happen anywhere from 3-5 minutes, depending on your microwave.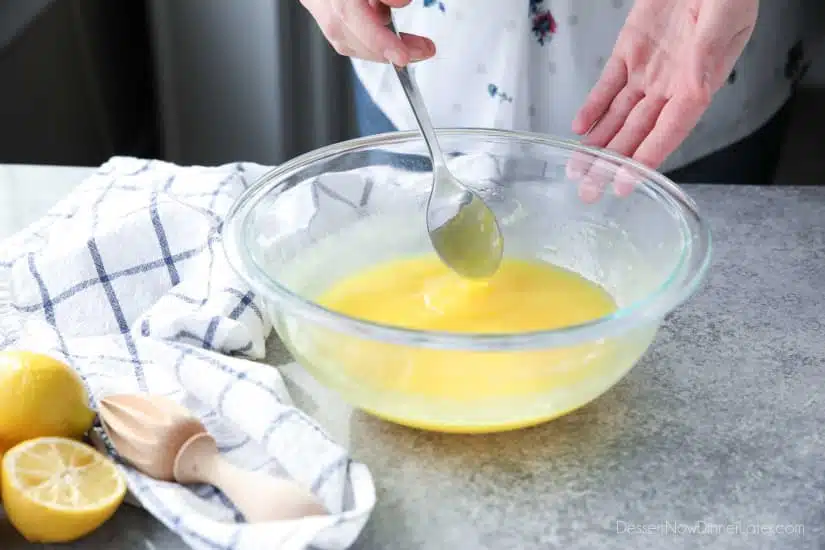 Strain the lemon curd through a fine mesh sieve into a clean jar/container and allow it to cool to room temperature. Store the lemon curd in the refrigerator after it has cooled completely.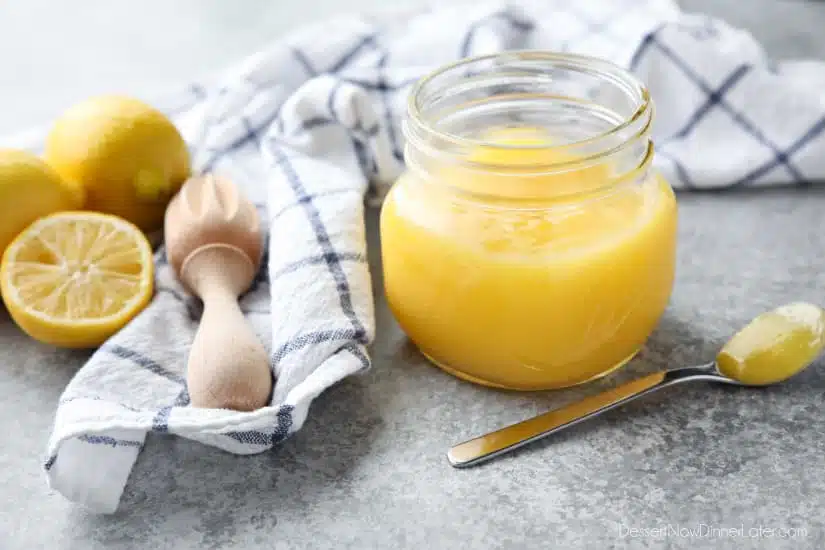 Lemon Curd Uses
Here are some ideas on how to use lemon curd:
As a topping: On scones, biscuits, pancakes, waffles, ice cream, cheesecake, other cakes (vanilla/white/lemon/almond/coconut), cookies, or even a plain piece of toast!
As a filling: Between cake layers or the middle of a cupcake, in a tart or pie, in a crépe, cream puff, or eclair, or as a filling for macarons and other sandwich cookies.
With a spoon: Layered in a parfait, stirred into yogurt, or eaten straight from the jar.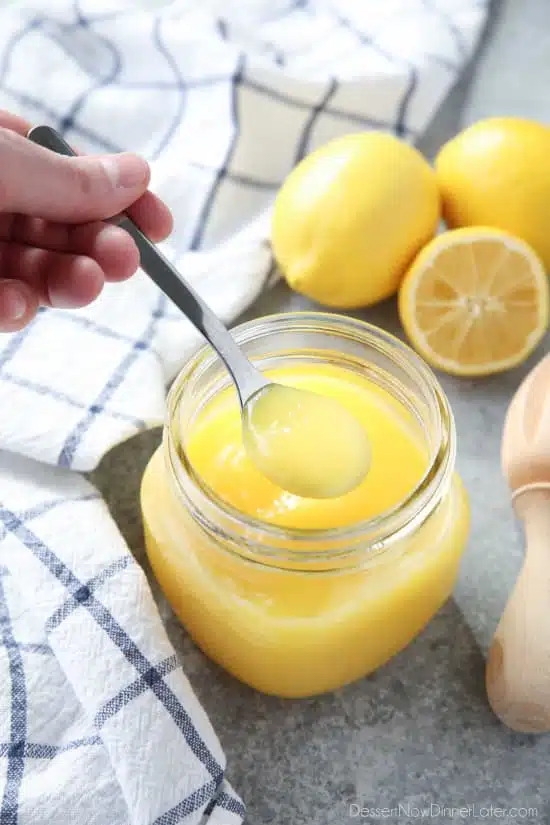 Recipes That Use Lemon Curd
These are a few of our favorite recipes that will help you use lemon curd:
How Long Does Lemon Curd Keep Fresh?
The downside to lemon curd is that it doesn't keep fresh as long as other fruit preserves do. When you make a batch, you'll need to use it up quickly—ideally within a week or two.
If you can't use it up by then, freeze it, which can stretch its shelf life for up to a year, and (surprisingly) does not impact its texture.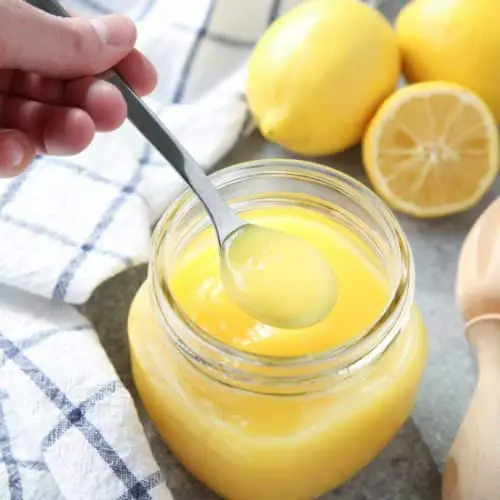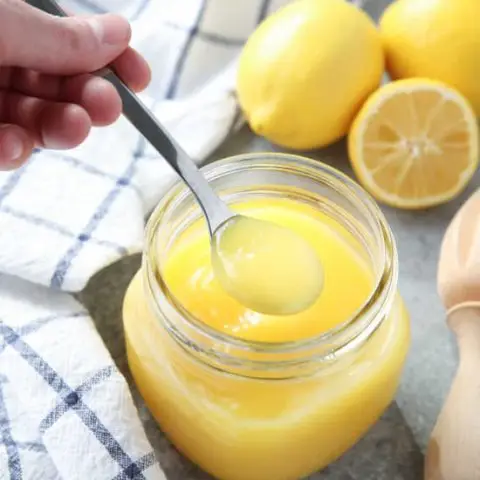 Microwave Lemon Curd
Prep Time: 5 minutes
Cook Time: 5 minutes
Total Time: 10 minutes
Yield: 1 1/2 + cups
This fast and easy Microwave Lemon Curd is thick and creamy, and cooked in only 5 minutes or less. Use it in pies, tarts, cream puffs, cakes, and more! 
Ingredients
3/4 cup granulated sugar
2-3 tsp cornstarch (more for solid fillings, less for softer spreads)
1 Tbsp lemon zest
3 large egg yolks (no whites)
3/4 cup lemon juice, freshly squeezed
1/2 cup (1 stick) unsalted butter, room temperature, cut up into small cubes
Instructions
In a large microwave-safe bowl, whisk together the sugar and cornstarch.
Add the lemon zest and egg yolks. Whisk together. Keep whisking while slowly adding the lemon juice. Add the small cubes of butter.
Microwave cook on full power for one-minute intervals, whisking/stirring after each minute. This process will take about 3-5 minutes depending on the strength of your microwave. The lemon curd is ready when it has thickened and will coat a metal spoon. Do not overheat.
Strain curd through a fine mesh sieve into a clean jar or container, preferably with a funnel to prevent spilling.
Allow curd to cool to room temperature. Then cover with a lid and store in the refrigerator up to 2 weeks. *Curd will continue to thicken as it cools.
Notes
Note: After testing several variations of this recipe, I've concluded that Microwave Lemon Curd is just not going to be as smooth as Lemon Curd made on the stovetop. It will still have a slight texture to it, but it's so quick and easy that I will continue to make it this way from now on. It's still equally delicious!