Peach Crumb Bars
This post may contain affiliate links, meaning that I may receive a commission at no cost to you if you use a link provided. All opinions shared are my own. You can review my full disclosure policy here.
These Peach Crumb Bars are made with fresh summer peaches, sandwiched between a sweet buttery crust and crumb topping, with a hint of cinnamon, and are drizzled with a fresh almond (or vanilla) glaze. The most delicious summer dessert!
*This post is brought to you by Smith's (a Kroger store). Thanks for supporting the brands that make Dessert Now Dinner Later possible.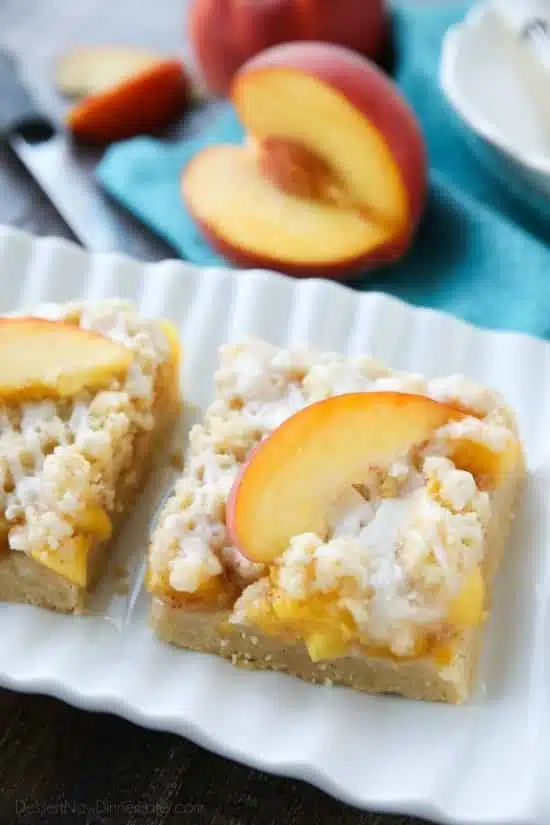 How is it that summer is half over already?! I'm dying to savor every bright, beautiful day, and every fresh grown produce that summer has to offer. And these Peach Crumb Bars are the way to go!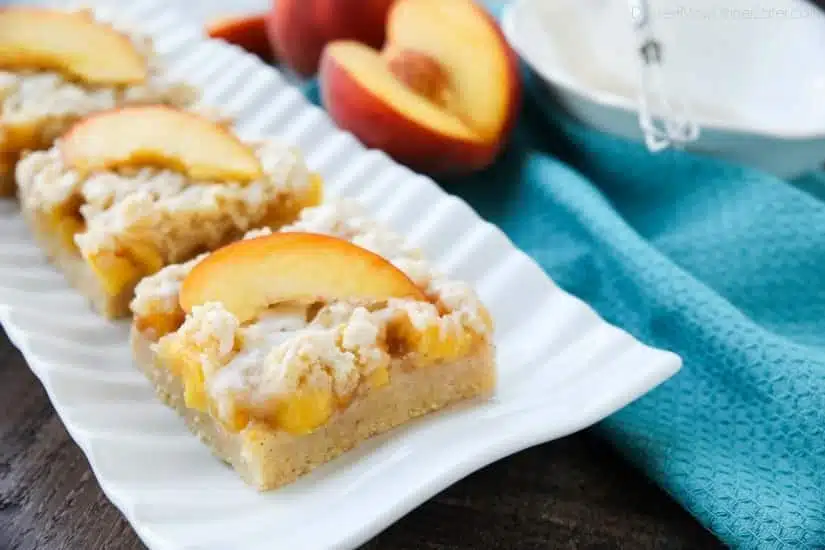 In Utah, the peach trees are almost ready to harvest. We actually live close enough to attend the Brigham City's Peach Days Festival every September. It's always something we look forward to. We always get the peach cobbler, and sometimes even a fresh peach pie! Peaches are one of my favorite fruits, especially in desserts.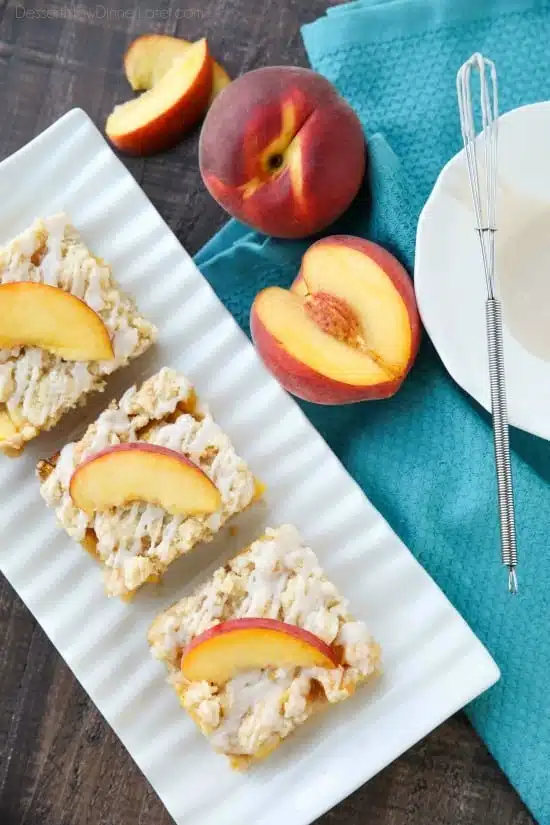 Even though the peaches aren't quite available locally, the prices are going down in the stores, so I'm taking advantage of it because I've been dying to make a peach dessert.
A New Shopping Experience:
One of my favorite places to grocery shop is at Smith's (a Kroger store) because they have the best fresh produce. Smith's also has two great lines of high-quality products that I look for while I'm shopping: Simple Truth Organic, and Private Selection. I know when I reach for those products that my food will taste even better. I used all of these products (pictured below) in today's recipe.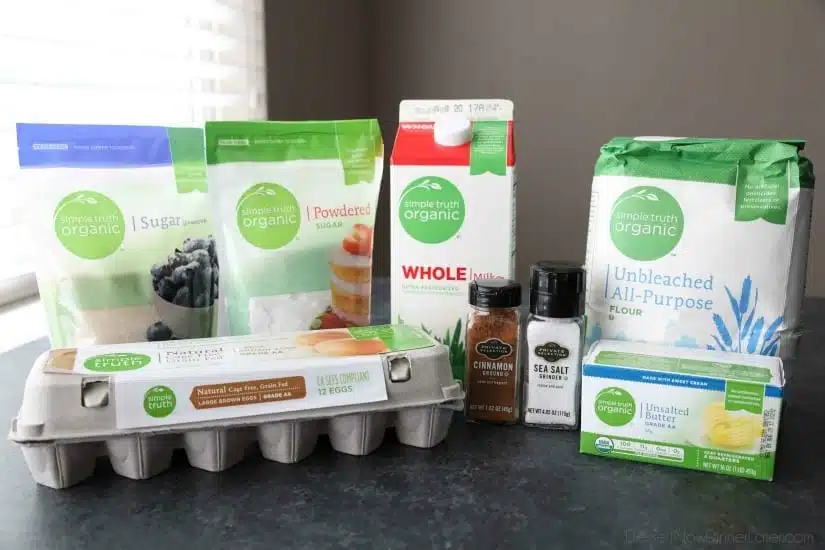 Speaking of Smith's, have you tried the new ClickList grocery pickup option? It's going to be available at my store soon, and I can't wait to try it, because being a work-at-home mom is hard, and taking kids to the store is not a fun option. ClickList looks simple enough:
Add items to your cart.
Reserve a time slot to receive your groceries.
Place your order!
I'm already clicking around the ClickList website in anticipation, and if you click on "Start My List", you will see things you have purchased in the past linked from your Fresh Values Savings Card. LOVE that feature because it's going to make online grocery shopping a cinch! FYI: I will doing a Facebook LIVE video about ClickList next month when it's available at my store, so stay tuned for that! (Make sure you have liked my page.) There will be special prizes to giveaway too!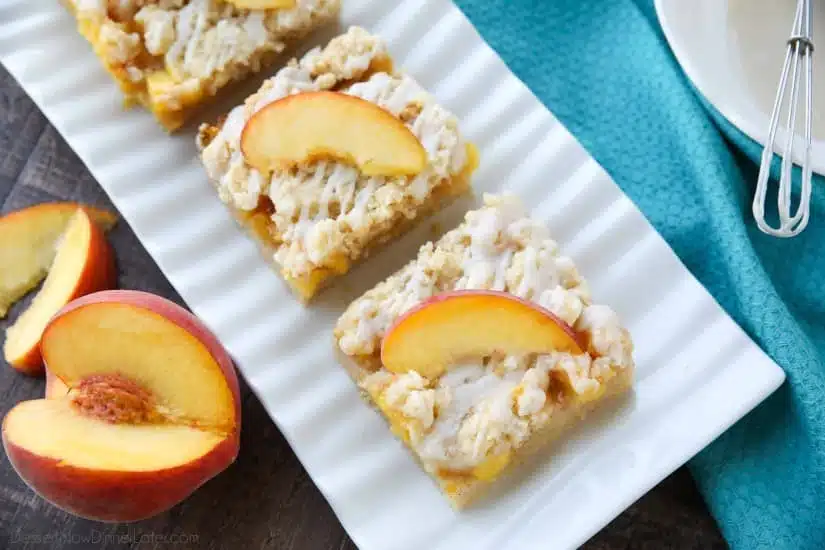 Let's get back to today's recipe. I've made Blueberry Crumb Bars, Strawberries & Cream Crumb Bars, and a few others in the past, but these Peach Crumb Bars are ridiculously delicious too. I don't think I can pick a favorite. Basically, I'd eat all the fruit crumb bars! You're going to love this recipe! The glaze on top makes these bars even better! I can't wait to make them again!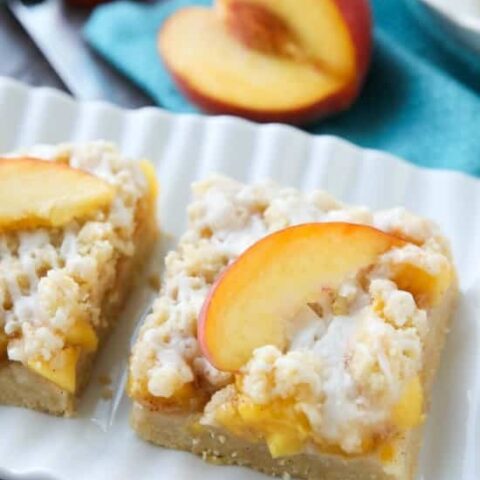 Peach Crumb Bars
Prep Time: 20 minutes
Cook Time: 50 minutes
Total Time: 1 hour 10 minutes
Yield: 12 to 24 squares
Ingredients
Crust/Topping:
3 cups all-purpose flour
1 cup granulated sugar
1 tsp baking powder
1/2 tsp salt
1/2 tsp cinnamon
1 cup (2 sticks) unsalted butter, cold, cut into Tablespoons
1 large egg
Peach Layer:
5 large peaches, pitted, peeled, and diced (about 4 to 4 1/2 cups)
1/2 cup granulated sugar
1 Tbsp cornstarch
1 tsp lemon juice
1/2 tsp cinnamon
Glaze:
1 cup powdered sugar
1/4 tsp almond or vanilla extract
1-2 Tbsp milk
Instructions
Preheat oven to 375 degrees Fahrenheit. Lightly grease a 9x13-inch baking dish.
FOR THE CRUST/TOPPING: In a medium bowl, whisk together the flour, sugar, baking powder, salt, and cinnamon. Use a fork or pastry blender to cut in the butter until mixture resembles coarse sand. Add the egg and mix with hands until dough starts to hold together, but is still crumbly. Press 2/3 of the mixture onto the bottom of the prepared baking dish. Save the other 1/3 for later.
FOR THE PEACHES: In a medium bowl, whisk the sugar, cornstarch, lemon juice, and cinnamon. Add the diced peaches and toss to combine. Evenly distribute the peaches over the bottom crust. Crumble the remaining crust mixture over the peach layer. (I like to squeeze/clump it together in my hands first, for bigger chunks.)
Bake for 45 to 50 minutes or until lightly golden brown on top and bubbling in the center. Cool completely.
FOR THE GLAZE: Whisk ingredients together in a small bowl, adding milk a little at a time until desired consistency is reached. Drizzle over cooled bars. Cut and serve. Keep covered and store at room temperature.
Nutrition Information:
Yield: 12
Amount Per Serving:
Unsaturated Fat: 0g