Blueberry Crumb Bars
This post may contain affiliate links, meaning that I may receive a commission at no cost to you if you use a link provided. All opinions shared are my own. You can review my full disclosure policy here.
These Blueberry Crumb Bars have a buttery crumb crust and a juicy, plump blueberry filling, all topped with more buttery streusel for a delicious bar treat!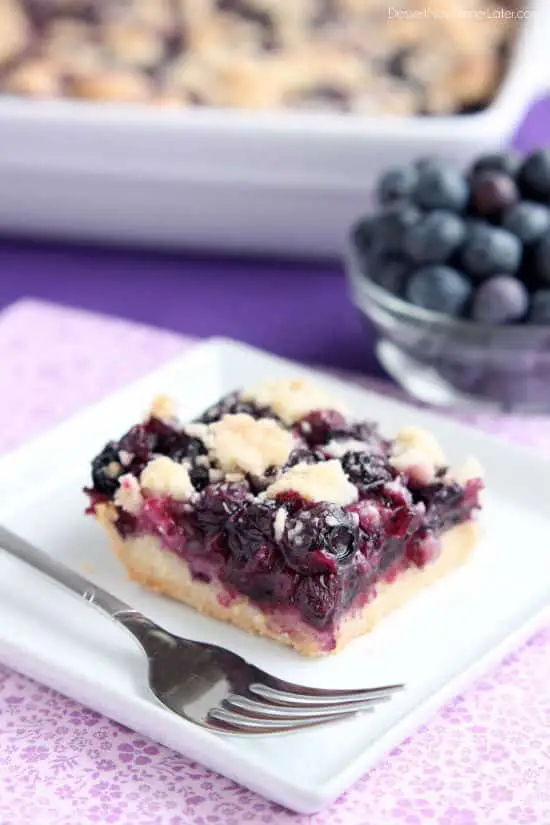 If you love blueberries and crust as much as I do, then this dessert should come with a warning label, because it is ADDICTIVE! I'm not even joking, I think I ate half of this pan myself. It's that buttery crust and crumble with the sweet, plump blueberries…I die!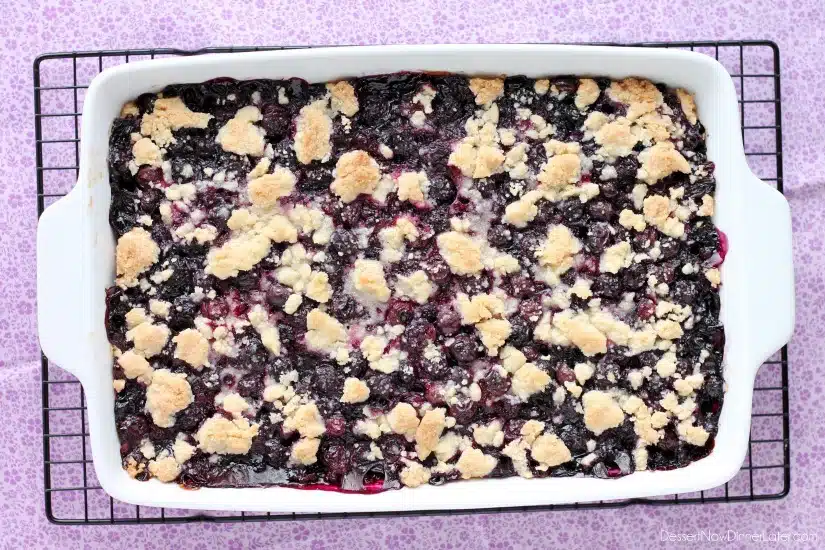 These Blueberry Crumb Bars, so super simple to throw together! Six ingredients for the crust, four ingredients for the fruit, and VOILA! Throw that dish into the oven!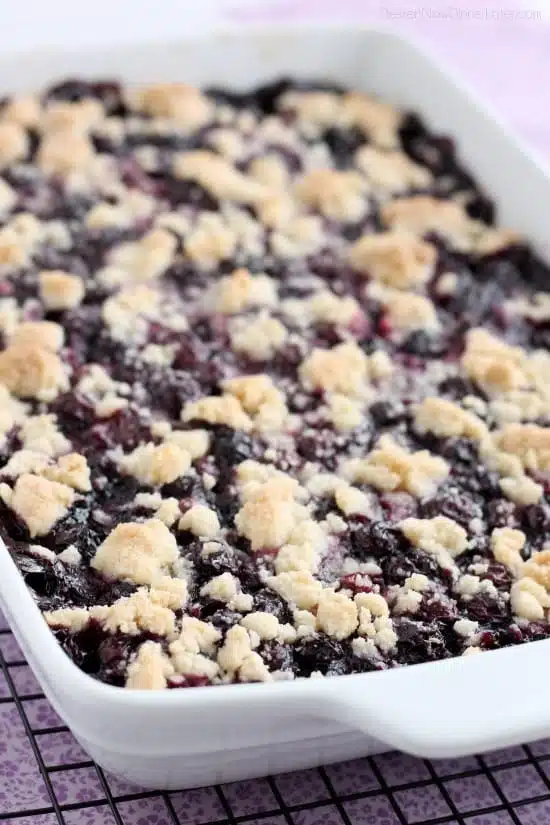 Now, I actually hate using fresh fruit for desserts because I feel like it's a waste of a crisp, juicy, healthy snack, but because I got a 2lb package of blueberries for $3.50, I decided it was okay, maybe just this once. That's why you will see me using frozen berries/fruit for most of my baking recipes on this blog. I just like to eat fruit while it's fresh, unaltered, in it's whole, pure form. It usually gets gobbled up before it gets baked into anything.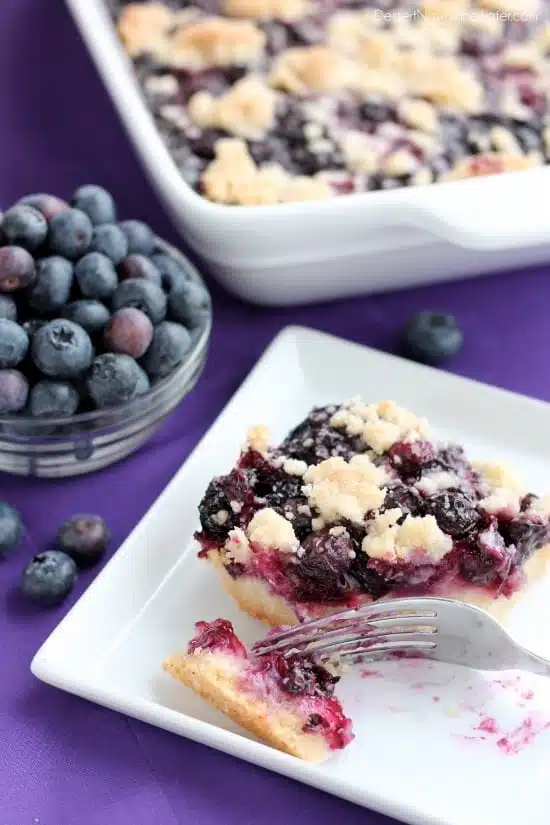 I will admit that fresh blueberries bake better than frozen ones though. Especially for muffins and quick breads, etc. It was fun to use fresh blueberries in these bars, even though they get all jellied up like pie filling.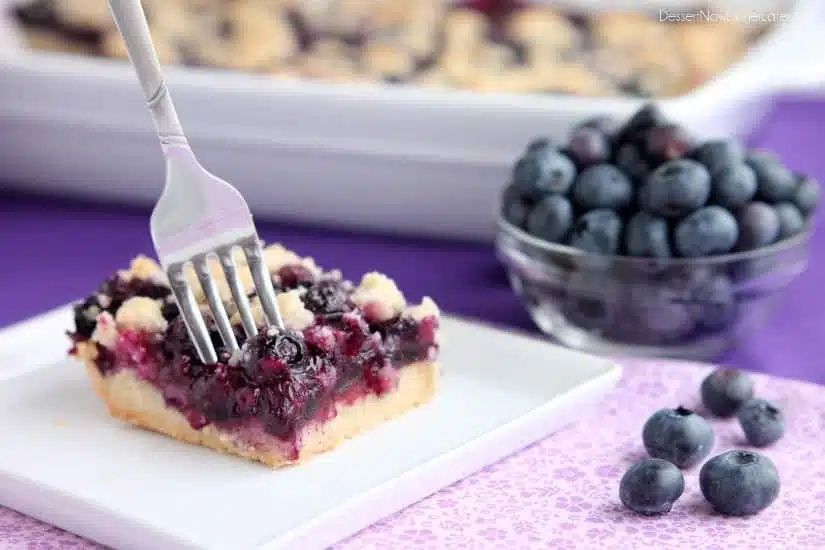 I have heard of those farms where you can go to and pick your own fruit for a discounted price. As far as I know, I don't live anywhere near one of those, so I will have to keep my baking to the frozen variety and eat the fresh fruit for my snacking pleasure, unless of course, I snag a super deal like I did with the blueberries for these Blueberry Crumb Bars.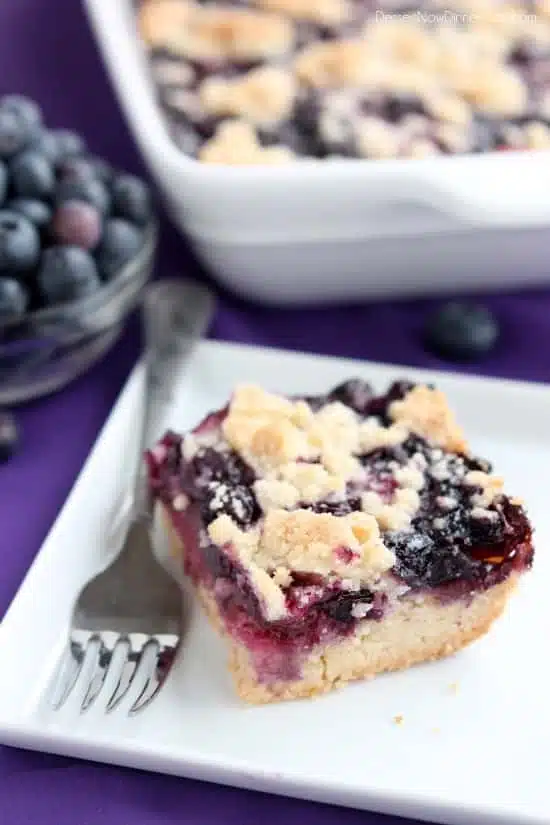 Anyway, I hope you decide to make these, and share them with your friends because you might eat the whole pan yourself!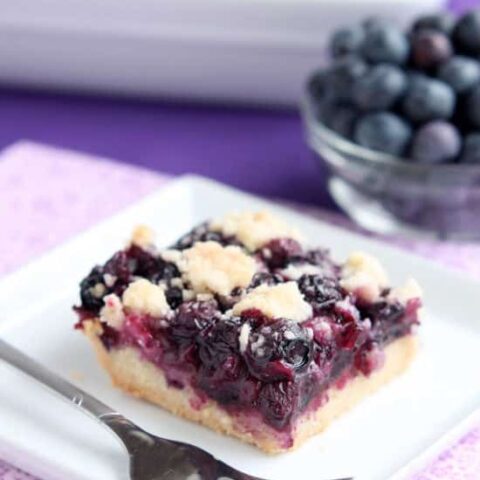 Blueberry Crumb Bars
Ingredients
Crust/Crumble:
3 cups all-purpose flour
1 cup sugar
1 tsp baking powder
1/2 tsp salt
1 cup butter, cold, cut into Tablespoons
1 egg
Blueberries:
4 to 5 cups fresh blueberries (2lbs)
1/2 cup sugar
4 tsp cornstarch
3 Tbsp lemon juice
Instructions
Preheat oven to 375 degrees Fahrenheit. Lightly grease a 9x13-inch baking dish.
In a medium bowl, whisk together the flour, sugar, baking powder and salt. Use a fork or pastry cutter to blend in the butter, and then the egg (the dough will be crumbly). You can alternately do this process in a food processor. Press ¾ of dough into the prepared pan.
In a separate large bowl, whisk together the sugar, cornstarch and lemon juice. Gently fold in the blueberries to coat evenly with the sugar mixture. Spread the blueberry mixture evenly over the crust, including all the juices.
Crumble the remaining dough evenly over the blueberry layer.
Bake for 45 to 50 minutes, or until the top is light golden brown. Cool completely before cutting into squares. Leftovers can be stored in an airtight container or wrapped in plastic wrap at room temperature or in the refrigerator.
Nutrition Information:
Yield: 15
Amount Per Serving:
Unsaturated Fat: 0g